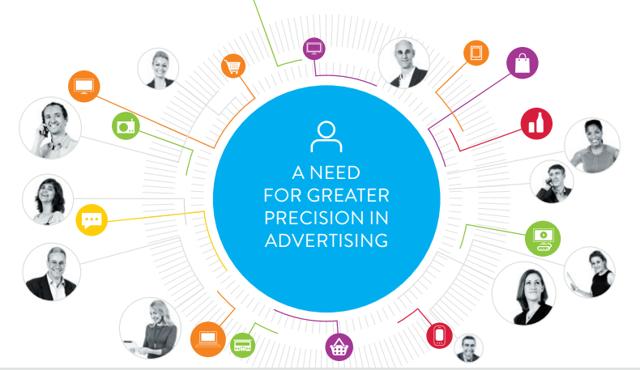 Nielsen (NYSE: NLSN) has had a challenging year, with its stock price trailing the Dow Jones Industrial Average and the S&P 500 index, as shown below. Yesterday, the company's stock price closed up by 2.34% after the company posted higher-than-expected revenues. In the quarter, the company generated revenues of $1.6 billion, beating the analysts forecasts by $10 million. The EPS of $0.44 missed by $0.35. In this article, I will highlight the reasons why I believe the company is a buy at the current price.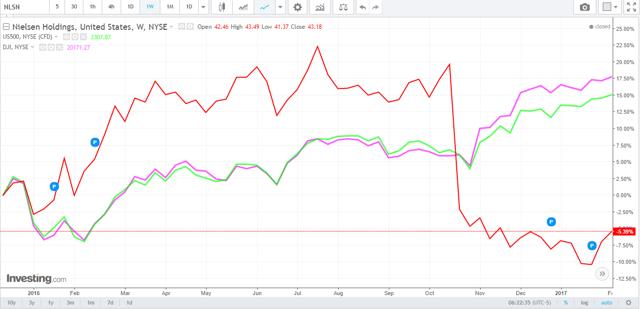 Source. Investing.com
About Nielsen
Nielsen is a leading performance management company that provides companies with information about their customers. The information provided by Nielsen is used by companies to target the customers in an effective manner. The company is broadly divided into two segments: Buy and Watch. The Buy segment gives companies information on what and where customers buy, while the Watch segment provides customers with information about what consumers read, watch, and listen to. In the United States, Nielsen's data are synonymous with television viewership, especially after events such as the presidential inauguration. Nielsen is present in more than 100 countries, with more than 40,000 employees.
Nielsen has managed to grow organically and through acquisitions. Last year, the company bought VisualDNA, Gracenote, REPUCOM, Informate Mobile, and Pointlogic.
Summary of earnings
In the 4Q'16, the Buy segment's revenues decreased 1.3% to $868 million. On a constant currency basis, the revenues were up 0.9%. In the emerging markets, the buy revenues increased by 4%, while in developed markets, they decreased by 1.4%. In the Watch segment, revenues increased by 5.8% to $788 million. In total, the company had a net profit of $159 million, which was down 36% compared to the same quarter in 2015. The decline was associated with the company's increased stake in Nielsen Catalina Solutions. A similar event did not happen in the quarter. In the full year, the company's revenues were up 2.2% to $6.309 billion, with revenues in the Buy segment decreasing to $3.2 billion while revenues in the Watch segment went up by 5.3% to $2.9 billion.
Valuation
Nielsen's stock price is currently $43.14, giving it a market capitalization of $15 billion and an enterprise value of $23.13 billion. The company has a trailing twelve month PE of 26.65 and a forward PE of 14.72. The trailing multiple is a point lower than the industrial average and slightly higher than the S&P 500 multiple of 25.13. Using the discounted cash flow (DCF), method, the company is currently trading at a 29% discount, with the future cash flow value being $60.40 as shown below.

Source. Simply Wall Street
Financial Position and Dividend
For dividend investors, the goal is to invest in a company that shows a significant level of dividend growth. It is also desirable for the company to have adequate free cash flow (FCF). Personally, I see it as a red light when a company borrows money to fund dividends and share repurchases. In some instances, such as when it is cheaper for a company to borrow than repatriate funds, this is usually acceptable.
In the last report, the company reported cash and cash equivalents of $754 million with net debt of $7.1 billion. The company has a net leverage ratio of 3.70x. Free cash flow increased from $808 million in 2015 to $941 million. As a result of the company's recent Gracenote acquisition and the recent $500 debt offering, the FCF guidance for 2017 was raised to $900 million.
Nielsen has a TTM dividend yield of 2.87% and a forward yield of 3.14%. The company has a healthy dividend payout ratio of 47%. The table below shows the historical annual dividend data and growth.

Source. Dividends.com
The chart below shows how Nielsen's dividend history compares with the industry, keeping in mind that the company started paying a dividend four years ago.

Source. Simply Wall Street
Final Thoughts
In 2014, executives from major media companies such as Viacom have complained that Nielsen's systems of audience tracking were outdated as they did not capture mobile customers. It was also reported that the executives were looking for alternative companies to provide the data. However, in the audience tracking industry, Nielsen is the market leader and has invested billions of dollars to improve the services. It has done this internally and through acquisitions. The Gracenote acquisition from Tribune media was intended to help the company accelerate its "total audience measure," which captures viewing from all sources. While there have been a number of competitors in the field such as comScore (NASDAQ: SCOR), GFK and IDC, Nielsen has established itself as a market leader in the industry.
In the United States, Donald Trump has proposed policies that will see companies make huge savings. These savings will be from tax savings and regulatory overhaul. He has also announced huge investments in infrastructure. If these policies are implemented, I believe companies will accelerate spending in marketing and other corporate activities. Nielsen will not only benefit from a low tax regime but a high demand for its audience measurement services.
As mentioned above, the company is currently trading at a 30% discount and is expected to increase its dividend this year. In addition, the company will continue with its $850 million share repurchase program, which it initiated in 2015. According to its estimates, the FCF is also expected to grow. Therefore, as the company is trading near its 52-week low, I believe this is a great time to buy the company.
Disclosure: I am/we are long NLSN.
I wrote this article myself, and it expresses my own opinions. I am not receiving compensation for it (other than from Seeking Alpha). I have no business relationship with any company whose stock is mentioned in this article.