There is a story about a small pub on a busy road that was trying to garner attention for itself. The owner of the pub had a sign over the bar that said "Free Beer Tomorrow". Some patrons grasped the meaning right away, while others came back the next day in hopes of getting a free beer. The next day the owner of the pub would simply point to the sign and smile. After a few seconds, the patron would have reality set in. The sign still stated "Free Beer Tomorrow". In essence, it was the promise of something great that would never really come to fruition. As the years passed, the joke would play out again and again, with the only difference being more and more people were in on it.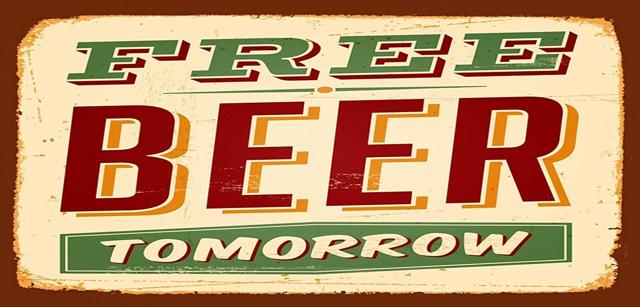 The story above can in many ways relate to MannKind (NASDAQ:MNKD) and Afrezza.
Success will come when we pass phase 1 trials.
Success will come when we pass phase 2 trials.
Success will come when we get FDA approval.
Success will come when we get a partner.
Success will come when we take over on our own with dedicated contract sales reps.
Success will come when we are able to change the label.
Success will come when new sample and titration packs are introduced.
Success will come when we have a directly employed sales force.
Success will come when we begin advertising.
It always seems that there is always another step that needs to happen to deliver success, and just when an investor thinks it is within reach, the secret to success has a new step that needs to be navigated. As time passes some investors step aside, while others accept the new step and determine that financial rewards are just around the corner.
I did not share this story to rub salt in the wounds of investors. I shared it because I hope that investors learn lessons about the market and learn to appreciate potential, but bet on probabilities.
This past week Afrezza saw sales remain about where they were the week prior, which is about where they were seven months ago. Sales are still below 300 scripts per week, and the latest promise is that a new direct hire sales team will hit the ground in the next week or so. Will that be the catalyst that brings about success? There will certainly be those that hope the new team works, but the realities are that changing the sales force is not the major issue with Afrezza sales. The issues are more complex than that.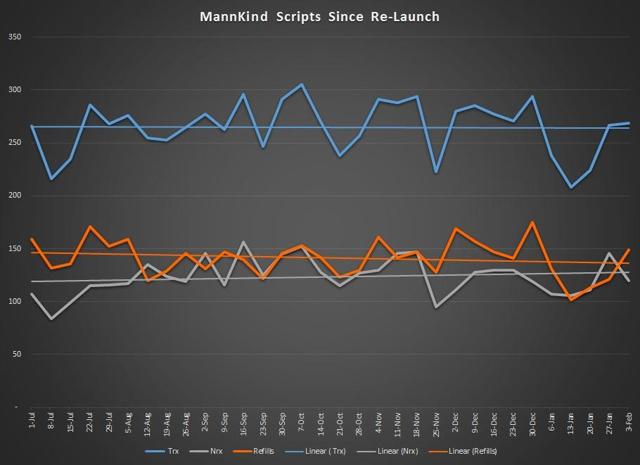 Chart Source - Spencer Osborne
The quarter over quarter data is slipping back into negative numbers. Sales at five weeks into Q1 of 2017 are pacing 11% slower than what was delivered in the first five weeks of Q4 2016. This is a dynamic that must change investors want to see the stock price improve. MannKind needs to demonstrate growth. Last quarter the company pulled off a modest positive in the quarter over quarter metrics, but even that modest gain has lost its shine already.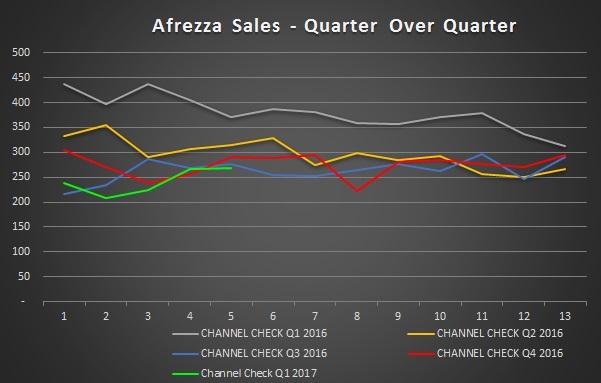 Chart Source - Spencer Osborne
The year over year has seen a small amount of traction. Sales are down 41% from a year ago, which is nothing to celebrate. That being said, it is an improvement from sales being down 50% from a year ago. The year over year comparisons will be challenging for MannKind this year. It would be great if the company could demonstrate some growth, but what we are seeing up until now is simply not impressive. Thus far, 2017 Afrezza Sales have generated a negative trend line.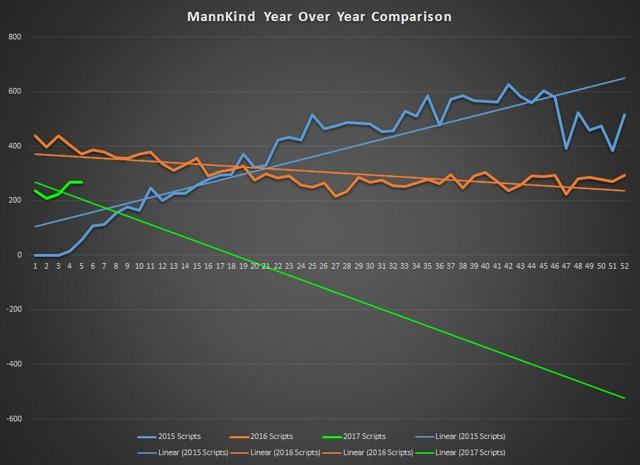 Chart Source - Spencer Osborne
The cash situation at MannKind remains troublesome. I have cash tallies with the assumption that the sale of the office building in California is already complete. By my estimation the company has about $57.7 million in cash and additional credit of $30.1 million. I estimate that the company is burning through about $10 million per month, which is likely conservative.
This essentially means that MannKind will run out of cash in about 6 months and would run out of any credit 3 months after that. The company does not have much in the way of assets to sell, and it appears very likely that some form of dilution is on the horizon unless something very compelling happens. MannKind could really use a restructuring of its debt, but with the current situation that is more difficult than some may imagine.

Chart Source - Spencer Osborne
Afrezza sales is what needs to drive MannKind at this stage. Back in October of 2016 I outlined a sales projection through Q2 of 2017. I am sad to say that my projection was too aggressive (if you consider 600 scripts per week by mid 2017 aggressive). Last year, when MannKind re-launched Afrezza it did so with what it described as a great sales force that was 100% dedicated to success. Just 6 months later we learn that a new fully dedicated sales force will be hitting the streets.
Sales since MannKind took over Afrezza from its former partner have never really gotten off of the ground. Many readers would have said that projecting sales of less than 300 per week 7 months into the re-launch was bashing. As it turns out, it is the reality. These days I do not see many people questioning even what is a very modest projection for 2017. Therein lays the rub. If you agree that sales might be just 500 scripts per week 4 months from now, where does that land the company?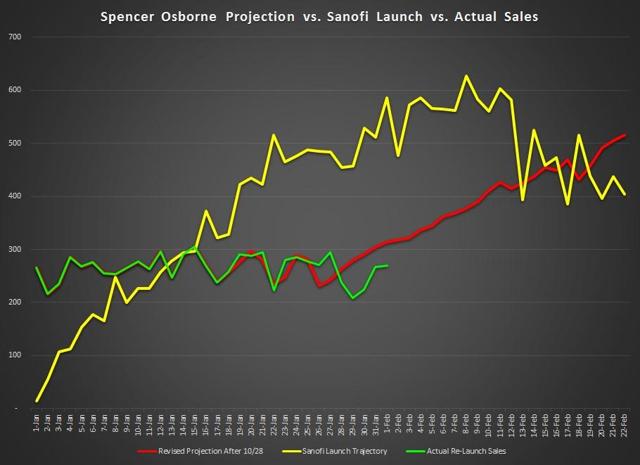 Chart Source - Spencer Osborne
The Nasdaq listing issue seems to be on cruise control for a reverse split. That being said, there are 20 days left on the clock in which MannKind could possibly get above $1 per share for 10 consecutive days. The probability of that happening is very small. Most readers will agree that a reverse split is now going to happen. This leaves the ratio. In my opinion the company will do at least a 1-for-7 split, and most likely will do the 1-for-10 ratio. I think it is possible that the company will do some form of dilution in conjunction with the reverse split in order to raise much needed cash, or even extend the terms on some debt. It will be a tough pill to swallow for many investors, but it may be a valuable lesson in the roller coaster of betting on hope and imagined potential.
As I have often stated, an emotional investment can be a dangerous thing. Afrezza certainly helps some people. That being said, the refill numbers indicate that many try it and then stop. The reasons for that dynamic are many and can be debated, but in simple terms: It is not selling well enough. Perhaps one day there will indeed be "free beer tomorrow, but we have seen about 725 tomorrows happen since initial launch, with unsatisfactory traction. Stay tuned.
Disclosure: I/we have no positions in any stocks mentioned, and no plans to initiate any positions within the next 72 hours.
I wrote this article myself, and it expresses my own opinions. I am not receiving compensation for it (other than from Seeking Alpha). I have no business relationship with any company whose stock is mentioned in this article.
Editor's Note: This article covers one or more stocks trading at less than $1 per share and/or with less than a $100 million market cap. Please be aware of the risks associated with these stocks.