A couple of days ago I wrote an article titled "Why Nvidia Is Very Likely To Beat Earnings". I reasoned that the Wall Street consensus of $0.83 earnings per share and revenue of $2.1 billion was far too low. There were too many things going in the company's favor, and Wall Street had missed the mark on Nividia (NASDAQ:NVDA) for four consecutive quarters. (Make that five now.) I even suggested my own estimate of between $0.93 to $1.01 in earnings per share and revenue of $2,142 billion was on the conservative side:
Based on my rework of the company's guidance, I believe that it will report $0.93 to $1.01 and revenues of $1,960 million to $2,142 million. I wouldn't even be surprised if the company surpasses my estimations since it has very favorable secular trends working for it.
It turns out I was right: Nvidia blew past my own estimations with EPS coming in at $1.13 and revenue reported at $2.19 billion. I was right, but have nothing to show for it. As it also turns out the guidance was what Wall Street wasn't happy with. Not that there was anything wrong or pessimistic about the guidance, it just wasn't enough.
If one ever wondered how people started associating Wall Street with greed, they no longer have to. A fitting title crossed my eye as I scanned the news: "Not All Beats Are Created Equal". The above-average performance had created far-above-average expectations. That in turn meant that guiding in line with expectations was equal to underperforming. There have been many examples where this happens. Apple couldn't seem to sell enough million phones to please Wall Street last year, but is blowing past its all-time high this year.
Decline is not based on fundamentals
This short-sightedness may seem very silly to retail and common-sense investors, but it actually makes sense in a Wall Street sort of way. Hedge funds are judged quarterly by their clients and the world. Things can go south really fast for hedge funds when clients start withdrawing their funds — quite possibly even collapsing the hedge fund itself if (losing) positions need to be unwound to meet withdrawals, a fund owner's worst nightmare. Hedge funds do not have time for patience, and sometimes not even for common sense.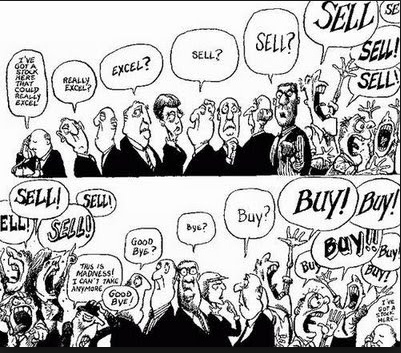 Friends of mine in the industry have complained to me about not being able to add a certain company to the portfolio because the thesis would take too long to play out. Too long sometimes meant twelve months; depending on what month of the year it was, six months could be seen as too long. This is because hedge funds aim to secure their fees in the latter half of the year. Trying to outperform in that period could come at the cost of their own salaries. The point of this anecdote is that this decline has nothing to do with Nvidia's underperformance — because it didn't underperform.
There was nothing in the company's report that warranted a downward revision to the valuation. Things are, in fact, going according to management's plans. That is what "in line" means, after all.
The bear case
The bear argument is simple: The company's stock has risen by roughly 64% since 2016, and that is too much in relation to the fundamental performance. This pullback was much needed and long overdue, if you ask them. The truth of the matter is that the increase in fundamental performance has actually been greater than the stock price appreciation. The company made $1.13 in the entire previous year. Now it's made that same amount in a mere quarter. This is hardly Nvidia's peak. You might even say it's just getting started.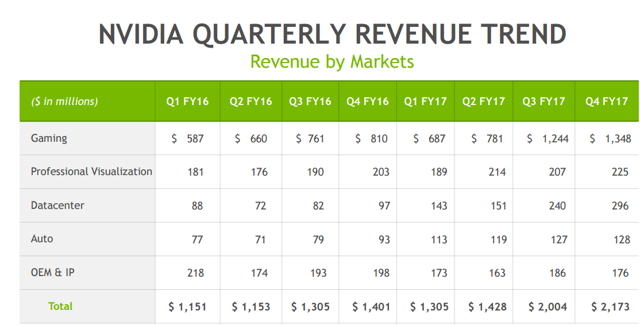 Nvidia is no longer just a gaming company. It is heavily involved in deep learning and AI, and these activities are bolstering revenues. Not much as of yet, but if the data center segment continues to grow at the same rate as it has this quarter (23% quarter-over-quarter — and there is ample indication to suggest it will), the data center business will be a billion-dollar business by mid-2018.
This is even more impressive if we consider that just last year, this business was bringing in less than $100 million in revenue. In other words, the data center business grew by a factor of three within a year. The historical performance even suggests that my estimate of a billion dollars in annual revenue by mid-2018 is on the conservative side. Nvidia is at the forefront of a new industry that is growing, and the company is growing with it.
Intel royalties
Another less often heard bear argument is the drying up of the Intel royalties Nvidia currently receives. Once these dry up, it will supposedly significantly impair Nvidia's gross margin. Nvidia CFO Colette Kress said of the Intel royalties:
The delta from Q4 to Q1 is, we only have a partial part of recognition from the Intel, and that stops in the middle of March. So as we move forward as well, going into Q2, we will also have the absence of what we had in Q1 moving to Q2.
From this we can easily deduce what the impact on the gross margin is. The 4Q16 GAAP gross margin was 60%, while the company expects GAAP gross margin to come in at 59.5% in the upcoming quarter. This 0.5% decrease is presumable as a result of the Intel royalties decreasing.
Luckily for us, a Goldman Sachs (NYSE:GS) analyst wondered if that was the case:
I had a question on gross margins. I think you're guiding Q1 gross margins only mildly below levels you saw in fiscal Q4, despite the royalty stream from Intel rolling over. And I'm guessing improvement of mix in Data Center and parts of Gaming are driving this. But A, is that kind of the right way to think about the puts and takes going into Q1?
To which the CFO replied:
So you're correct in terms of how to look at that in Q1.
Now this means that roughly a half quarter of Intel royalties translates to a 0.5% decrease in gross margin. So the maximum impact would seem to be a 1% impact on the gross margin if all else were to stay equal. It is likely however that gross margin will continue to be driven up due to the growing business segments like the data center segment.
Conclusion
There really isn't any bear case. Not to sound like Donald Trump, but this was a terrific quarter from a terrific company. The roughly 2% decline isn't based on fundamentals. The stock price hasn't increased materially higher than the fundamental performance. Gross margin compression will hardly be present, if it is present at all. The one good thing we can take away from this is that, presumably, expectations will be more realistic for the upcoming quarter.
Disclosure: I am/we are long NVDA.
I wrote this article myself, and it expresses my own opinions. I am not receiving compensation for it (other than from Seeking Alpha). I have no business relationship with any company whose stock is mentioned in this article.