I want to continue my focus on high-yielding, fixed-income CEFs, a topic I started on last week asking the question: Is It Time To Rotate Out Of High-Yield CEFs? To put the high-yield situation in perspective, here is a look at the two ETFs I sometimes use as benchmarks for high-yield and investment-grade fixed-income: iShares iBoxx $ High Yield Corporate Bd (NYSEARCA:HYG) and iShares iBoxx $ Invst Grade Crp Bond (NYSEARCA:LQD). First for two years, where we can see the turn-around in high yield from just about a year ago.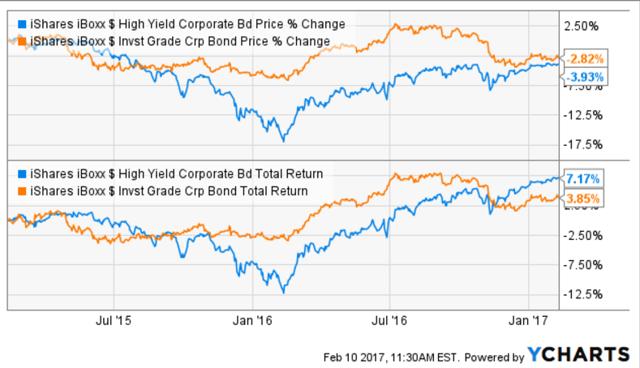 And second, for the past year to emphasize the gains that have been chalked up in high yield.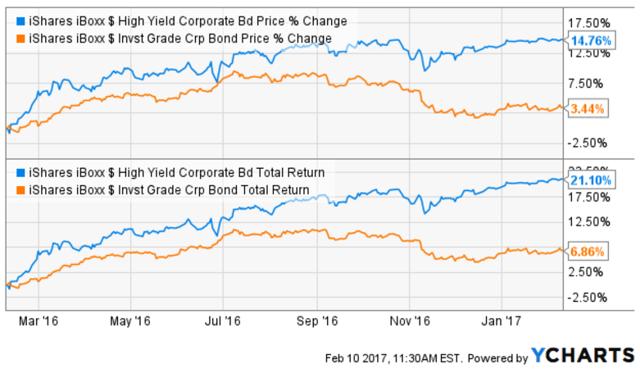 Let's keep those numbers in mind as we proceed. A high-yield, fixed-income CEF had to earn a total return of 21% over the past year to keep pace with the ETF. How many did that? Of 125 fixed-income funds listed on cefanalyzer, 95 (76%) have a one-year total-return over 21.1% on a market price basis, and half (62) beat the ETF on NAV. Using the same 8% threshold for high-income as in the previous article and looking at those funds that are paying yields over 8%, we find that 47 of 52 (90.4%) beat the ETF on price and 67.3% did on NAV.
Leading the category for NAV total return are three credit funds and two convertible-securities, high-yield corporate-bond hybrid funds:
Oxford Lane Capital Corp. (NASDAQ:OXLC)
Eagle Point Credit Co Inc. (NYSE:ECC)
Avenue Income Credit Strategies Fund (NYSE:ACP)
AllianzGI Convertible & Income Fund II (NYSE:NCZ)
AllianzGI Convertible & Income Fund (NYSE:NCV)
And for total return on market price, ECC and ACP are replaced by two emerging-market bond funds:
Stone Harbor Emerging Markets Total Income Fund (NYSE:EDI)
Stone Harbor Emerging Markets Income Fund (NYSE:EDF)
The bottom five on both the TR NAV and TR Price lists are the same:
DoubleLine Opportunistic Credit Fund (NYSE:DBL)
MFS Intermediate Income Trust (NYSE:MIN)
Western Asset Mortgage Defined Opportunity Fund (NYSE:DMO)
Aberdeen Asia-Pacific Income Fund (NYSEMKT:FAX)
PIMCO Strategic Income Fund (NYSE:RCS)
Here are the total returns (price and NAV) for the top and bottom five.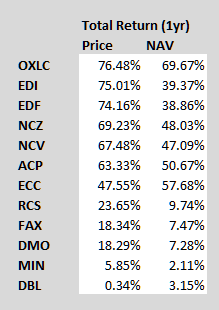 Interestingly, RCS, the fifth-worst market performer still beat HYG for the last twelve months, despite falling well short of the ETF on its NAV performance. As that piece of information might suggest, discount points were lost across the board in these funds. Z-score demonstrate:

These data indicate to me a category that may be overheated and due for some cooling off. Toward the end of 2015 I began noting potential opportunities in this category. From then and over the course of the year-long run-up, I have been writing about the category and pointing out funds that I felt presented opportunities. I'd like to turn my attention to some of those funds now and as I continue with this series.
I'm going to start with a group of funds that are heavily (or wholly) invested in mortgage bonds. I'll summarize funds I've been discussing noting when I first wrote about them, and what actions I have been taking in my own portfolio and suggesting to readers.
PIMCO Dynamic Income Fund (NYSE:PDI)
PDI may be the most discussed fixed-income CEF. It has been a consistently strong performer since its inception in May 2012. I have written about it often, but in the context of this discussion, let's start with observations from September and December of 2015, when high yield was in the throes of that long slide: "This Best-Of-Class CEF Has An Historically Deep Discount And Exceptional Yield" and "Buy PIMCO's Best Yielding CEF At A Discount." At an 8.5% discount, I felt this fund was screaming to be bought. It's now carrying a 10% premium. Here is the chart since September 2015 vs. the two category leaders (OXLC and ECC) and HYG, our makeshift benchmark.
You'll notice the returns but also notice the volatility here in those credit funds. Well-timed, they can be extremely lucrative, but a miscall on timing can end up in disaster. PDI is hardly a low-volatilty investment, but on this chart it starts to look like one.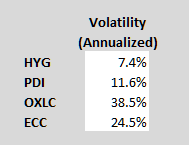 But what about the future? Is PDI's 10% premium telling us that it's time to sell the fund? I'm of two minds on this. One could still do what I did with half my position in mid-2016 and sell PDI and use the proceeds to by its sibling, PCI, which I'll discuss below. Otherwise, I see no reason to move out of PDI. PIMCO funds have shown a remarkable ability to sustain and grow huge premiums, so I'm not concerned by the potential for losses due to shrinkage of PDI's 10% premium. The distribution (9.2% market, 10.1% NAV) is adequately covered and certainly at no risk of being cut. To the contrary, the fund has paid a hefty year-end special distribution every year, sufficient to put it among the top yielders from PIMCO. At the most recent update, Dec 1, 2016, PIMCO reported PDI with UNII (Undistributed Net Investment Income) of $0.14/share and a rolling three month distribution coverage of 136%.
PIMCO Dynamic Credit & Mortgage Income Fund (NYSE:PCI)
I've also written regularly about PCI. At the time I was noting PDI's historically deep discount, I felt PCI had a "High Yield (10.5%), Historic Discount (14.6%), But An Uneven Recent Record," and I suggested holding the fund but not adding more. By mid-2016 PCI had undergone a makeover. It was renamed (adding Mortgage Income to its title) and repositioned to be more closely aligned with PDI which led me to ask: "Is PCI Today's Best Buy From PIMCO?" and I concluded it offered a buying opportunity. This was when I moved half my PDI position into PCI and swapped PDI for PCI in the model portfolio I update quarterly here at SA.
Here's what's happened since then: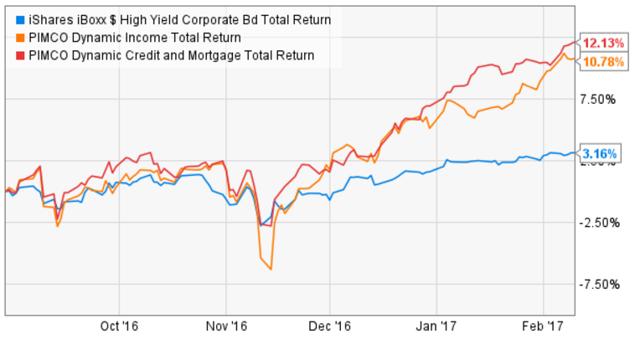 I don't have a total return chart showing NAV and market, but this price chart (from Yahoo Finance) shows price only for the NAV tickers (XPCIX and XPDIX in bold lines) and the market tickers (in fine lines). It should be clear that the returns we see in the above chart are coming from distributions (as expected) and a movement toward reduced discounts or a growing premium.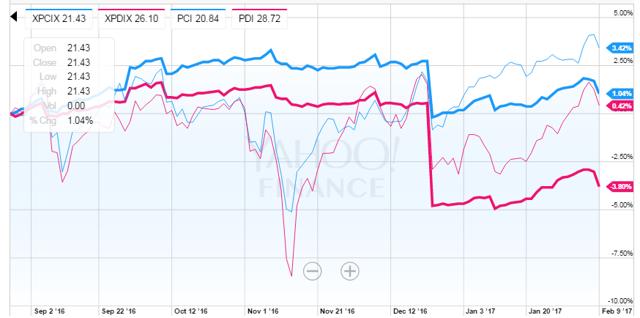 Those sharp, year-end drops represent the special distribution shareholders received from each of the funds. This has become an annual event, especially for PDI. When you factor those special distributions into the total picture, PCI and PDI rank among the highest yielders in PIMCO's lineup.
So what to do with PCI today? Like PDI, its distribution appears safe. UNII from the December report is $0.26/share and the three-month rolling distribution coverage was 119.4%. It's my view that the fund will continue to move away from its current discount (-2.75%) perhaps getting into premium territory before long. If you accept that premise, there's certainly no reason to rotate out of the fund and, in fact, I continue to add to my position in PCI monthly. The fund is paying 9.5% (9.2% on NAV) and, like PDI, typically adds a special distribution every December. This, to me, is truly a buy and hold fund.
Western Asset Mortgage Defined Opportunity Fund
DMO was another fund that caught my interest in late 2015 when I was turning over rocks in the depressed high-yield landscape looking for bargains. In September, I was attracted to DMO and reiterated that point of view in December. Turns out not to have been one of my finer calls, but even so, if you had bought DMO at that time you would have earned a total return of 18.4% through today, not PDI but not bad either. Here I've added it to the PDI, PCI chart.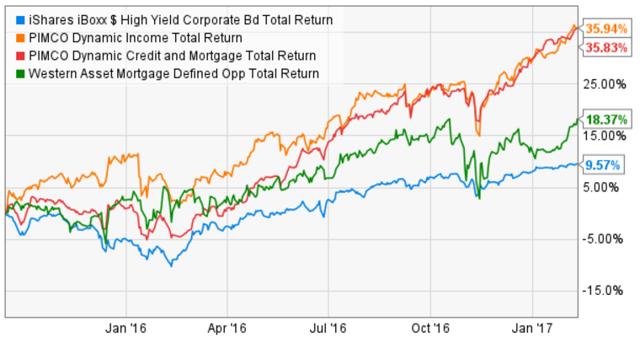 That looks pretty good, but consider that much of the 18.4% has come from the fund's movement from a small discount to an 11.6% premium. It pays an attractive 12.4% (13.4% on NAV) and it has been consistently adding to that with an annual special distribution. Its special equaled a full month's extra payment in 2016. In addition, it has increased its regular distribution for each of the past three years, going from $0.15/share in 2013 to its present $0.235/share, a 57% increase.
DMO is, in my view, an excellent mortgage bond fund, but I find it difficult to believe it is going to sustain a premium at that level despite the high yield. It hasn't held a big premium in the past, so I'd not be surprised to see it start to decline. In the High Yield, Sustainable Principal model portfolio I maintain, I decided to replace DMO at the end of 2016 ("The High-Yield Sustainable-Capital CEF Portfolio 2016 Report"). As you can see in the chart above, that move missed a nice run-up in the fund since the beginning of the year. However, I swapped it for an equity fund, Miller/Howard High Income Equity (NYSE:HIE), and the trade has been essentially a wash for the six weeks.
In my own holdings, I traded out of DMO last October as the premium had risen to double-digit levels. In addition to my apprehensions about that premium, increasing my stake in PCI was driving up the allocation to mortgage debt to levels beyond what I wanted.
If you feel DMO is going to hold onto that premium or are willing to accept some decline there, it's still a good fund to hold in my view. But I'd not be adding at this time.
Next Up
In coming installments, have several other funds I want to review, and perhaps introduce some new ones. Next I plan to look at those Convertible Securities/Corporate Bond fund (NCV and NCZ, along with ACV).
I'll leave you with a chart that regular readers will recognize. Here, I've plotted Premium/Discount vs. Yield on NAV. When I survey a category I like to look at this relationship. There is a trend in CEF markets for funds to adjust NAV yield to a category equilibrium Market yield through premium/discount changes that can be examined in this chart. The relationship works best for closely related types of funds, say national muni bonds or covered-call equity funds, which really doesn't apply well here. It is only an overview screening tool; I never make decisions based on this chart but I like it for pointing out market anomalies. In general the funds that fall below the trend line may be undervalued on their discount/premium than the funds that fall above it.
I've included the full chart of FI funds paying more than 8% (market) and a subset of the crowded lower left for some clarity on those funds.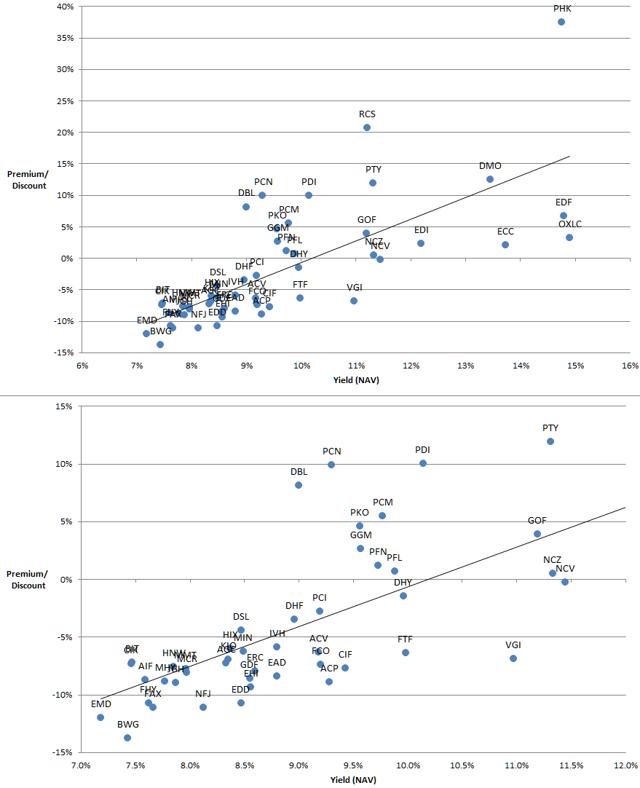 As we see, the region above the trend line is packed with PIMCO funds, but this illustrates one of the failings of this chart, it really requires like funds and PIMCO funds consistently get a PIMCO-premium. It's hard to measure the rest of the category against them on this metric.
Even so, PCI stands out as the PIMCO fund well below the rest, reinforcing my views above on this fund's relative bargain status. PDI, by contrast, continues it drift into that rarefied atmosphere that PIMCO funds tend to inhabit.
I haven't discussed RCS and PHK here, but I did recently cover them as they cut their distributions. Neither of these is, in my view, a fund to hold at this time.
Interestingly, the credit funds, ECC and OXLC, are now falling below the line, along with the other high-yielders, the EM-bond fund EDF and EDI, and the convertible/bond fund, NCZ and NCV. Note, however, that if we were to remove the PIMCO funds, the line would move well below all of these.
One that does stand out is Virtus Global Multi-Sector Income Fund (NYSE:VGI). It's deep into discount territory and yielding almost 12% (11.0% on NAV as seen here). It could be worth a look depending on your interest in global (mainly emerging markets) income. The Stone Harbor funds (EDF and EDI) look to be stretched to near breaking ("Which Emerging Market Bonds Closed-End Fund Is Worth Holding?").
Finally, notice that DMO is third in the premium sweepstakes, behind PHK and RCS, which is precisely what makes me uncertain about holding the fund at this time.
Disclosure: I am/we are long PCI PDI ECC HYG NCV.
I wrote this article myself, and it expresses my own opinions. I am not receiving compensation for it (other than from Seeking Alpha). I have no business relationship with any company whose stock is mentioned in this article.
Additional disclosure: I am not an investment professional and this article does not constitute investment advice. I am passing along the results of my research on the subject. Any investor who finds these results intriguing will certainly want to do all due diligence to determine if any security mentioned here is suitable for his or her portfolio.