| | | | | |
| --- | --- | --- | --- | --- |
| | 3FQ17 | 3FQ16 | Change | Change % |
| Revenue | 1,353 | 1,398 | (45) | -3.2 |
| Net Income | 271 | 294 | (23) | -7.8 |
| Same Store Sales | -6.9 | -0.9 | | |
| Store Count | 816 | 589 | | |
| Gross Margin (%) | 59.6 | 59.5 | | |
| Operating Margin (%) | 25.3 | 29.3 | | |
| Tax Rate | 20.6 | 28.0 | | |
Source: KORS' 8-k filing for its F3Q17 results
Michael Kors Holdings, Ltd. (NYSE:KORS) reported weak results for the third quarter of its 2017 fiscal year (F3Q17) that foreshadowed prolonged deterioration in both sales and profit margins. The problem is that management has oversaturated the KORS brand in its overzealous pursuit of revenue growth. There's too much merchandise, too many stores, too many employees, and even too many sub-brands.
Downward Spiral in Same Stores Sales (SSS)
The most troubling statistic from KORS F3Q17 earnings release was a 7% decline in SSS. SSS has been negative in seven of the past eight quarters, and the lone positive quarter was only a 0.2% increase. During that time, the company opened 164 stores excluding those stores acquired through KORS' purchase of major licensees in Asia. The priority should have been turning SSS positive by making sure the stores had the right merchandise at the right price not building new stores in a hopeless strategy to preserve revenue growth. The chart below shows the strong, negative correlation between store openings and SSS.
Change in Store Count and SSS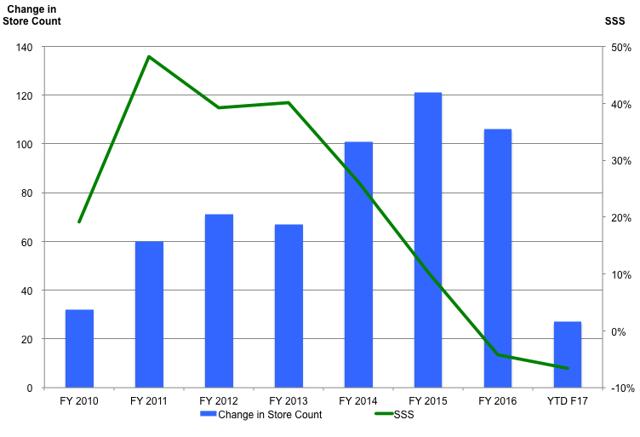 Source: KORS' 10-k filings and 8-k filings for F3Q17
Management identified a long list of causes for KORS' poor top line performance.
Weak mall traffic, strong dollar that adversely impacted revenue, decrease in average unit due to promotional activity, Great Britain's decision to exit the Euro Zone, and anxiety created by terrorist attacks.
While the above issues are relevant, KORS may have a bigger, more difficult problem to solve. Data from the Bureau of Economic Analysis suggests there has been a long-term shift in consumers' preferences away from apparel. Since the beginning of 2000, consumers' spending on clothing has grown at an annual rate of 2% compared with 5% for all types of expenditures and 4% for non-durable goods.
Change in Personal Consumption Expenditures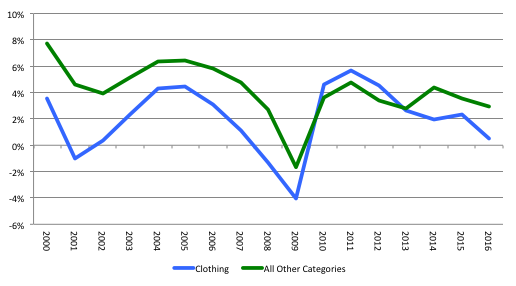 Source: Bureau of Economic Analysis
The low growth rate for spending on clothing means apparel retailers face an uphill battle in maintaining even mid single digit revenue growth. Therefore, it is not surprising promotional activity has become intense within the sector. Management has described the pressure to discount as being most acute at the department stores. Consequently, it is not surprising that KORS' wholesale segment experienced the most severe decline in revenue, especially after recognizing that most of the decline in licensing stems from KORS acquisition of licensees in Asia.
| | | | |
| --- | --- | --- | --- |
| Percentage Change | Retail | Wholesale | License |
| Americas | -1% | -15% | -18% |
| Europe | 0% | -12% | -30% |
| | | | |
| Dollar Change | Retail | Wholesale | License |
| Americas | -6 | -67 | -5 |
| Europe | 0 | -12 | -7 |
Source: KORS' 8-k filing for its F3Q17 results
The Floor Becomes the Ceiling
Judging by the 11% plunge the day KORS released earnings, it looks like management startled analysts and investors when they provided an operating margin of 14% for F4Q17 compared with over 20% for F4Q16. The pernicious effect of discounting has caught up with KORS. Since management's guidance for gross margin of 58.4% represents a 20 basis point increase from F4Q16, KORS must be forecasting a dramatic jump in the ratio of selling and general administrative expenses (SG&A). The real question is whether KORS is capable of generating an operating margin above 20s, the level management previously described as a floor for KORS' profitability.
KORS' gross margin was flat in F3Q17 compared with the same period in the prior year. KORS has been relatively successful at preserving its gross margin despite the heightened promotional activity. This outcome likely reflects a combination of economies of scale and deceleration in store growth. Although cost of goods sold is often thought of as a mostly variable cost, it will fluctuate when companies expand significantly. KORS' revenue was $4.7 billion for F2016 compared with only $397 million in F2009. That type of growth creates opportunities for savings through volume discounts. During that seven-year period, KORS' gross margin improved almost 12 percentage points. Unfortunately, it appears KORS has maximized this benefit especially since revenue is not supposed to increase significantly.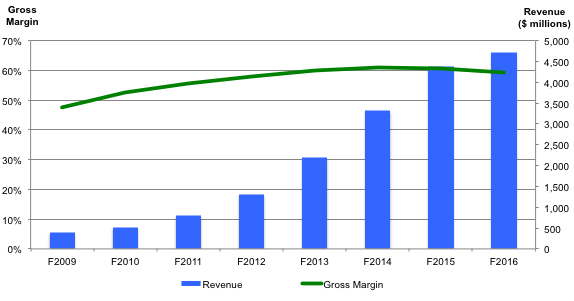 Source: KORS' 10-k filings
Although this article strongly criticizes the number of stores KORS has opened, the pace of openings has slowed considerably, and that should bolster the firm's gross margin. New stores negatively impact gross margin for two reasons. First, they often cannibalize sales from nearby retail stores or department stores that offer KORS' products. Second, it may take a new store some time to reach its steady state volume. After excluding stores added through acquisition of a licensee, KORS opened an average of 110 stores per year between F2014 and F2016. It has only opened 27 stores in the first nine months of F2017.
SG&A Ratio and Revenue Growth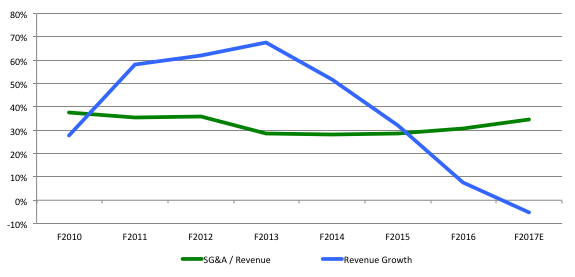 Source: KORS' 10-k filings, 8-k filing for F3Q17 results and management's comments
Management's guidance implies a ratio of SG&A to revenue approaching 40% for F4Q17. The actual guidance was total operating expenses would be 44% of revenue, but total operating expenses include depreciation and amortization which most investors exclude from SG&A. The chart below shows that the SG&A ratio has been evolving and is negatively correlated to revenue growth. The SG&A ratio declined between F2012 and F2014 because KORS was achieving economies of scale through strong revenue growth. In the past three years, the SG&A ratio has increased over six percentage points most likely for two reasons.
Promotional activity has decreased KORS' revenue per item. KORS expenses the costs of opening a new store as SG&A, and management opened more stores than the brand could support.
What's Next?
KORS is in a very difficult position due to a combination of bad decisions by management and industry-wide trends. Revenue is unlikely to rebound which makes the company's cost structure unfavorable. Management can take two steps to better position the company. First, KORS needs to be serious about cutting back on promotional activity. Management highlighted Feb. 1 as a critical date for curtailing promotions. The below picture is from a major department store in Raleigh, NC. The 50% off sign clearly indicates that someone is still offering discount, and it seems unlikely that it is the department store.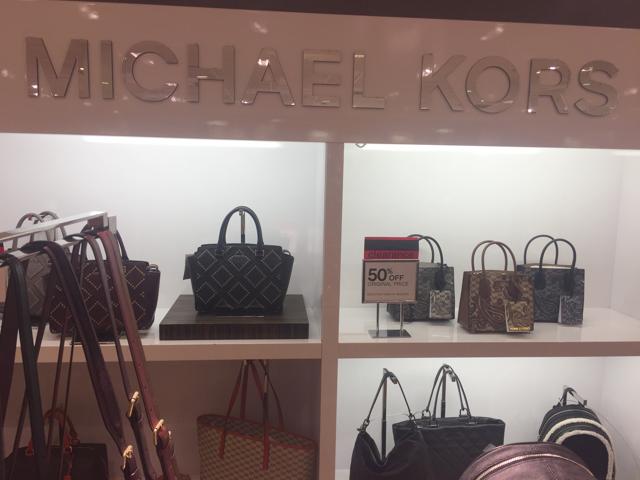 The second action item for management is closing stores and reducing its headcount. Management bristled when an analyst asked if the company's North American footprint needed to be rightsized. The hard fact is that KORS' revenue per employee has decreased to $352,000 in F2017 from almost $476,000 in F2014. These numbers combined with negative SSS emphasize the need for KORS to reduce its footprint.
Investors could be rewarded nicely if management can turn the business around, but KORS is still a risky proposition. The table below shows that KORS trades at a much lower price-to-earnings multiple than its competitors. This discount likely reflects concerns that KORS' prospective earnings could be significantly less than historical earnings. KORS reported diluted earnings per share (EPS) of $4.43 for F2016. After initially providing EPS guidance with a midpoint of $4.60, management has lowered that guidance to a midpoint of $4.11. Furthermore, management has not provided a definitive timetable for generating positive SSS and an operating margin above 20%.
| | |
| --- | --- |
| | Price-to-Earnings Ratio |
| KORS | 9 |
| Ralph Lauren Corp. (NYSE:RL) | 34 |
| Kate Spade (NYSE:KATE) | 19 |
| Coach, Inc. (NYSE:COH) | 22 |
Source:Yahoo Finance
Disclosure: I am/we are long KORS.
I wrote this article myself, and it expresses my own opinions. I am not receiving compensation for it (other than from Seeking Alpha). I have no business relationship with any company whose stock is mentioned in this article.