In this article, I want to make clear why I prefer US stocks over emerging market stocks. In other words, I will be discussing why the ratio spread between the S&P 500 (SPDR S&P 500 Trust ETF SPY) and emerging markets (iShares MSCI Emerging Markets ETF EEM) will go up.
Emerging markets have dramatically underperformed after the election results of November 8th. However, the ratio has gone up from 0.152 in December to over 1.165 as of today.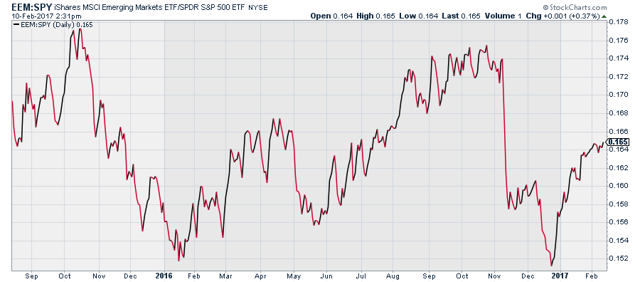 The most important leading indicator for economies is the purchasing managers index. This index tells us what we can expect in term of growth over the next 1-3 months.
Emerging markets have performed a bit better on average in January. The average PMI went up from 49.2 in December to 49.8 in January. The bad news is that China didn't continue its growth rally. Note that this is a nonweighted average of seven emerging markets. This gives us an overview of the direction and strength of emerging markets.

Also note that the PMI is rising since the first quarter of 2016. This quarter has been a global growth bottom and the start of a commodity rally.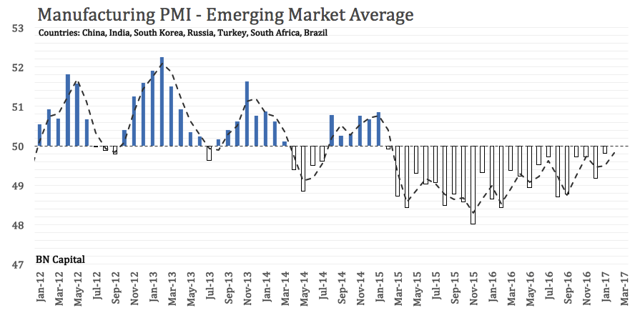 The US economy has accelerated much faster. Growth is currently back at 2014 levels after bottoming in Q1/2016 and accelerating in September of the same year.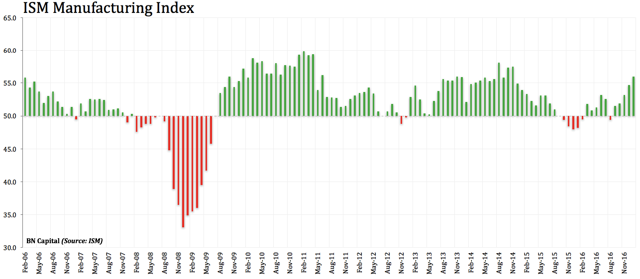 One reason, if not THE reason of the slower outlook for emerging markets is the fact that the USD is strengthening. Trump's protection policies as well as higher US growth and the likelihood of higher rates are very bullish for the US Dollar.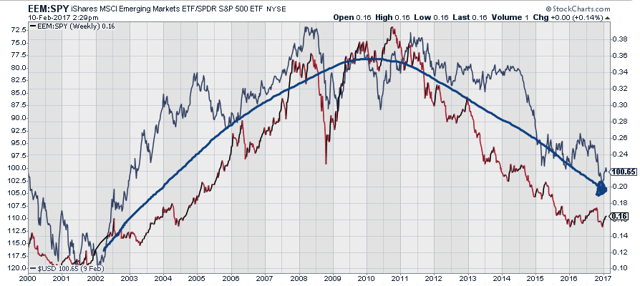 This eliminates the odds that emerging markets are going to outperform. It also makes the 2017 rally seem less powerful if we look at the bigger picture.
The spread between emerging market bonds EMB and US government bonds TLT also looks a bit stretched.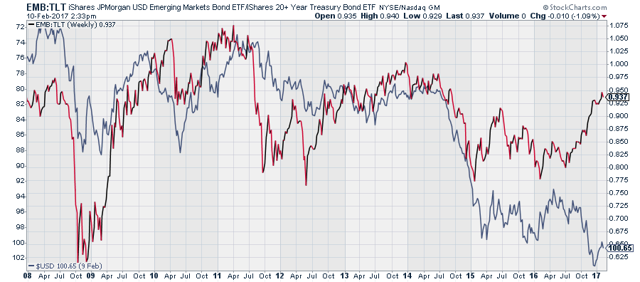 We are currently in the situation of:
Outperforming US growth
A fundamentally supported USD rally
An interesting entry of the SPY/EEM ratio spread (graph below)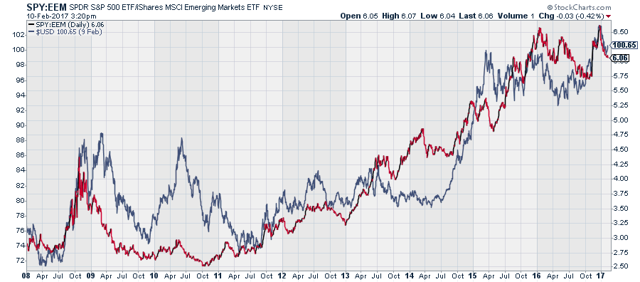 The biggest downside is a weaker USD. This would be a tailwind for emerging markets and a reason to exit this trade. I am very positive that this trade will make money. Another positive thing is that this trade is less volatile and won't mess up other returns.
Please be aware that you are responsible for your own risk management. Stick to your own stops and exposure calculations.
Many thanks for reading my article. Please leave a comment below if you have questions or remarks.
Disclosure: I/we have no positions in any stocks mentioned, and no plans to initiate any positions within the next 72 hours.
I wrote this article myself, and it expresses my own opinions. I am not receiving compensation for it (other than from Seeking Alpha). I have no business relationship with any company whose stock is mentioned in this article.