AT&T (NYSE:T) is a solid dividend choice - the company pays out one of the highest annualised yields of the Dividend Aristocrats at 4.74% for 32 years running - and this remains significantly higher than the technology industry average at 1.46%.
As we can see from the chart, the company had seen a fall in price to roughly $37 before rebounding to $41.28 at the time of writing.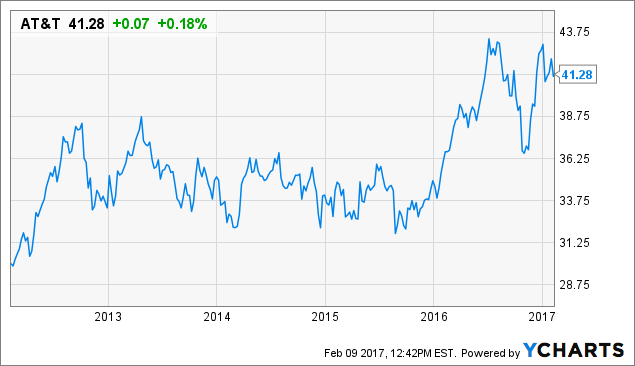 While catching the dip would clearly have been preferable (although I would never recommend market timing outright), is AT&T still a buy at this price?
If you're a long-term investor in a stock like AT&T, you are after its yield more so than capital gains. Therefore, while it is good to catch the dips if you can - steady dividend growth and reinvestment is ultimately what will yield a large bulk of the return from a mature company like this.
With that being said, there is a case to be made for further upside from here. On a valuation basis, we see that while AT&T is trading slightly higher than that of competitor Verizon (NYSE:VZ) on its P/E ratio, it is trading well below that of Verizon on a price to free cash flow basis:
Earnings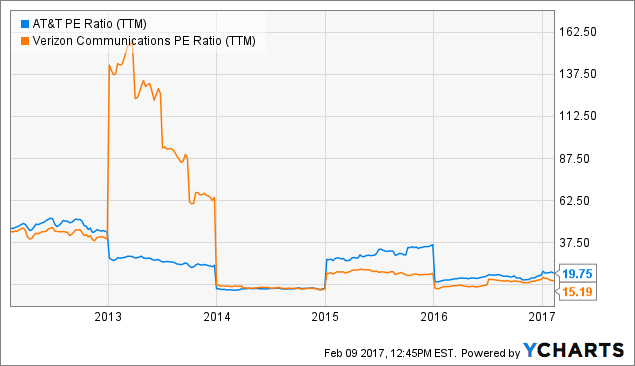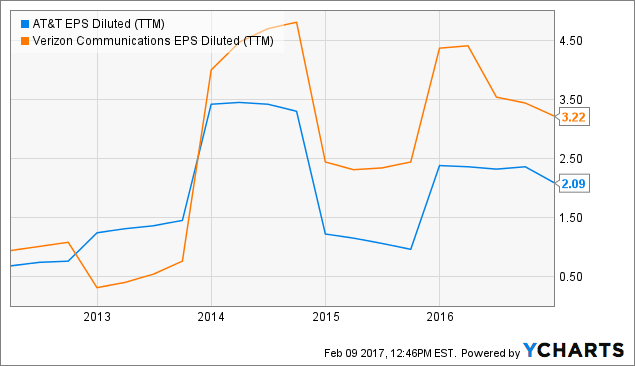 Free Cash Flow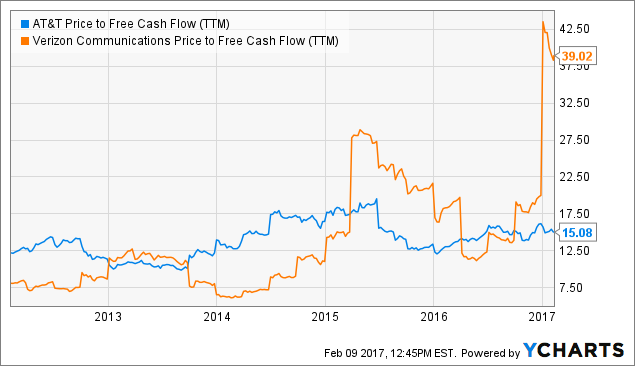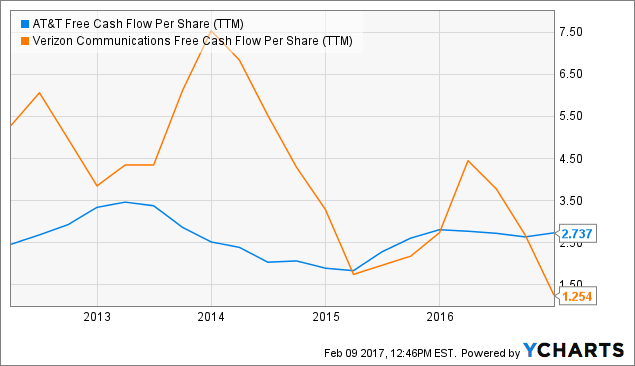 As a general rule, I prefer to look at a firm's free cash flow performance over that of earnings. While higher earnings can be indicative of industry-specific factors such as long-term reinvestment or high cost of capital in an industry, the fact that AT&T is outperforming on a free cash flow basis in an industry which is quite capital intensive is encouraging.
Even on the basis of earnings, author David Alton Clark cites that the company is trading at a discount at a forward P/E of 13.5x compared to other mega-cap stocks on the S&P 500. Moreover, we see that this higher level in free cash flow has been achieved even when the two companies still show highly similar rates of capital expenditure as a proportion of total expenses: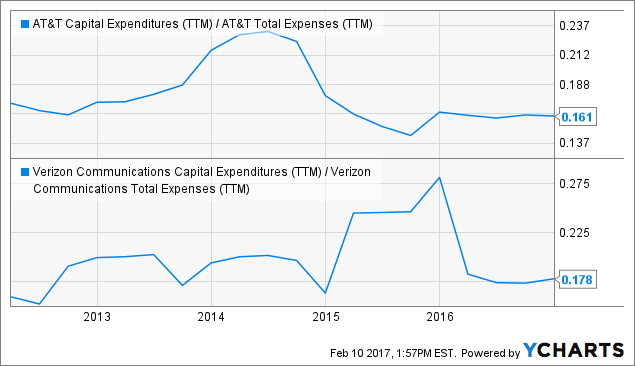 Moreover, AT&T has a much lower debt to equity ratio than Verizon: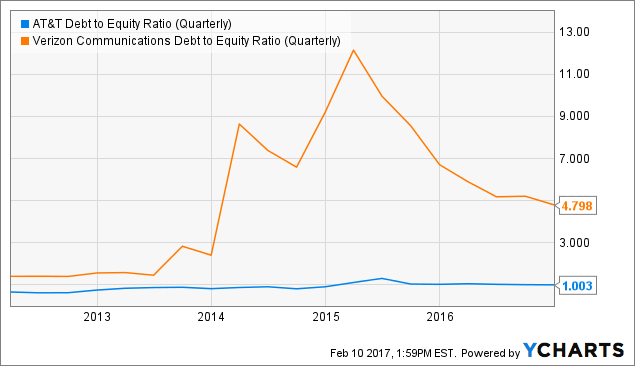 From a business standpoint, 4Q2016 operational results on the whole showed improvement on last year. For instance:
4Q EBITDA was up by 4.4% to $280 million for AT&T Mobility, with postpaid churn having fallen by 2 points to 1.16% even with a 2G shutdown.

The company's Business Solutions segment continues to make the shift to wireless and strategic services, with EBITDA rising by $6.3 billion from 4Q15 as strong wireless margins compensate for wireline pressure.

AdWorks revenue continues to grow at double digits within the company's Entertainment Group.

International revenues rose 3.2% in the fourth quarter, with continued subscriber growth in Mexico being a contributory factor.
In this regard, I see AT&T as still being a very good buy at this price given both an attractive valuation on a free cash flow basis, as well as strong performance across the company's business segments.
Disclosure: I/we have no positions in any stocks mentioned, and no plans to initiate any positions within the next 72 hours.
I wrote this article myself, and it expresses my own opinions. I am not receiving compensation for it (other than from Seeking Alpha). I have no business relationship with any company whose stock is mentioned in this article.
Additional disclosure: I/we have no positions in any stocks mentioned, but may initiate a long position in AT&T (T) over the next few months.