Many investors seek sector tilts as a way to outperform the broader market. The capitalization-weighted sector SPDR ETFs have more than $113B of assets under management. Seeking Alpha readers should be aware that Guggenheim offers a suite of equal-weighted industry funds that once again outperformed, on average, in 2016. This continued a trend of outperformance that has extended for more than a decade, the lifespan of the equal-weighted exchange-traded funds.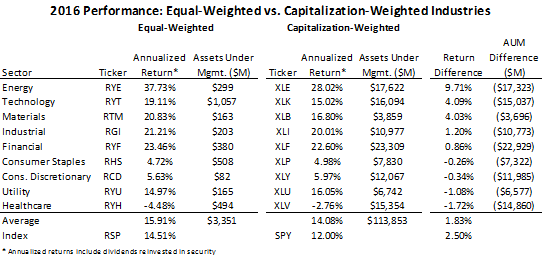 The three most popular capitalization-weighted factor tilts are Financials (NYSEARCA:XLF), Energy (NYSEARCA:XLE), and Technology (NYSEARCA:XLK). Collectively, these funds have $56B of AUM. Each of the equal-weighted funds, which collectively have just $1.7B of AUM, outperformed their much more popular capitalization-weighted brethren by an average of almost 5%.
Regional banks - Comerica (NYSE:CMA) +66%, Zions Bancorporation (NASDAQ:ZION) +59%, Regions Financial (NYSE:RF) +53%, KeyCorp (NYSE:KEY) +42%, Citizens Financial (NYSE:CFG) +39%, and Fifth Third Bancorp (NASDAQ:FITB) +38% - helped drive the equal-weighted financial fund higher as these strong performing smaller capitalization banks had higher weights in that index as opposed to the larger cap-weighted fund.
From the graph below, you can see that 2016 returns and market capitalization in the Energy patch were negatively correlated. While Exxon Mobil (NYSE:XOM) had a strong return of nearly 20%, that was still the 10th lowest return of the 36 Energy constituents. Smaller capitalization companies like ONEOK (NYSE:OKE) +149%, Spectra Energy (NYSE:SE) +80%, Chesapeake Energy (NYSE:CHK) +56%, Cimarex Energy (NYSE:XEC) + 53%, Southwestern Energy (NYSE:SWN) +52%, and Helmerich & Payne (NYSE:HP) + 52% generated very strong returns as Energy prices recovered.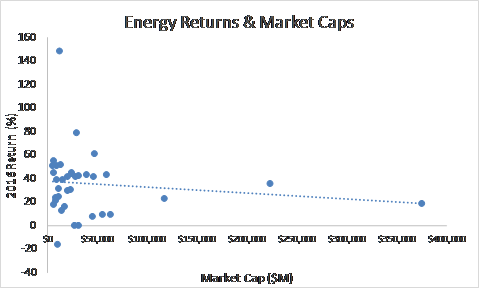 In Technology, it was a slightly different trend. A less than 2% return from Alphabet (NASDAQ:GOOGL) (GOOGL) and mid to high single-digit returns from Oracle (NYSE:ORCL) and Intel (NASDAQ:INTC) dragged down capitalization-weighted returns.
Equal-weighting is one of my 5 Ways to Beat the Market. An equal-weighted version of the S&P 500 (NYSEARCA:RSP) has outperformed the capitalization-weighted S&P 500 (NYSEARCA:SPY) over very long time intervals. The first table in this article demonstrated that RSP outperformed again in 2016.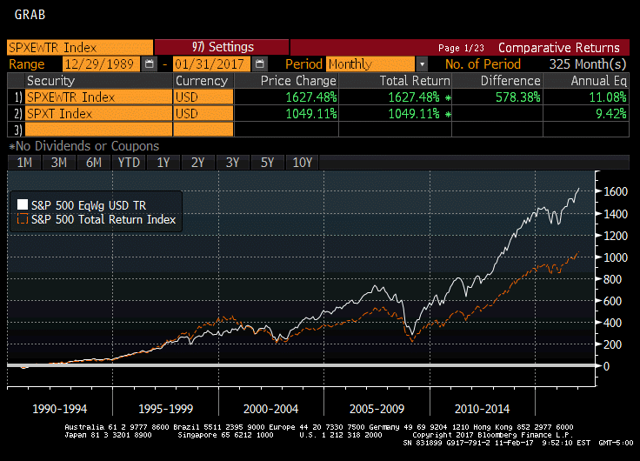 While this first graph shows a 27-year history of outperformance by the S&P 500 Equal Weight Index, I have examined equal-weighting versus capitalization-weighting over even longer time horizons. In "Very Long-Term Excess Returns From Equal-Weighting", I demonstrated that equal-weighting U.S. stocks has outperformed capitalization-weighting by 2.8% per annum for a period stretching over ninety years. While the logarithmic graph below might mask some of this outperformance to some readers, the higher average returns of equal-weighting actually produces 9-10x more money cumulatively over this long time horizon - a powerful statement on long-run performance.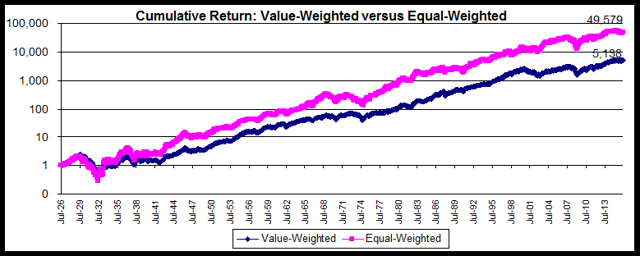 Summary
Equal-weighting produces structural alpha due to a combination of the size premia, or the tendency of smaller-capitalization stocks to offer higher returns, and the contrarian rebalancing inherent in the weighting scheme that buys stocks that have underperformed and sells stocks that have gone up in value. Equal-weighting captures the size and value premia, two of the factors in the Fama-French Three Factor Model that have been shown to better describe market returns by including the alpha-generative nature of these factors. Given the more than $100B invested in the cap-weighted sector funds, many Seeking Alpha readers are accessing these instruments to take sector bets. The less popular smaller equal-weighted funds may offer better returns.
Disclaimer: My articles may contain statements and projections that are forward-looking in nature, and therefore, inherently subject to numerous risks, uncertainties, and assumptions. While my articles focus on generating long-term risk-adjusted returns, investment decisions necessarily involve the risk of loss of principal. Individual investor circumstances vary significantly, and information gleaned from my articles should be applied to your own unique investment situation, objectives, risk tolerance, and investment horizon.
Disclosure: I am/we are long RSP, SPY.
I wrote this article myself, and it expresses my own opinions. I am not receiving compensation for it (other than from Seeking Alpha). I have no business relationship with any company whose stock is mentioned in this article.