On February 9th, English football club Manchester United (NYSE:MANU) reported F2Q17 earnings. Total revenues of £157.9 million represented a solid 18% YOY improvement over the same quarter last year, propelled by a 41% and 27% growth in broadcasting and matchday revenues, respectively. Adjusted EPS of 10.63 pence, however, fell 1.6% YOY on higher debt servicing costs.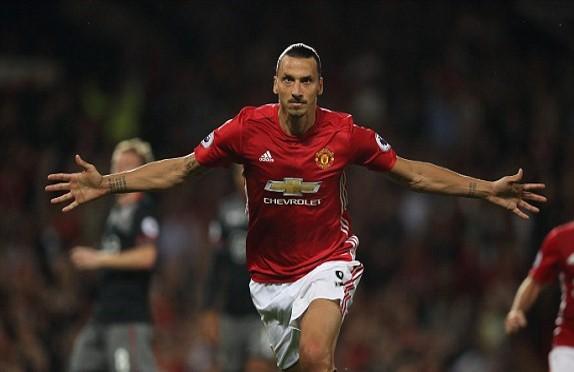 Credit: Daily Mail
On the surface, the results could be considered satisfactory at least. But Manchester United benefited from three extra home games in the quarter compared to F2Q16, which boosted top-line results and distorted comps. Renegotiated broadcasting terms, however, helped to drive this year's upside.
Below the revenue line, the company kept operating expenses within bounds, driving a solid YOY EBITDA growth of 23% in the quarter (adjusted for exceptional items).
Investing in MANU
To assess if an investment in MANU might make sense, I need to look at the stock from a short- and long-term perspectives.
For the short term (up to 6 months), Manchester United seems to have a few opportunities that, if capitalized, could send shares higher in the first half of 2017.
First, the team is currently out of the UEFA Champions League, after 19 appearances in the past 20 years. But access to next year's edition of the European competition could be clinched by the end of May 2017, if Man U. is able to close the small two-point gap that currently separates it from the fourth spot in the Premier League standings, occupied today by Arsenal. Participation in the Champions League tend to drive matchday and broadcasting revenues up, and should bode well for the stock.
Second, Manchester United has also progressed well in the FA Cup (currently playing the 5th round) and the EFL Cup (scheduled to play Southampton this month for the title). Although neither competition would guarantee Man U. a spot in the Champions League, winning the first two championships of the calendar year would work in the club's favor in the 2016/2017 season.
Looking further ahead, however, I have a few concerns. First, Manchester United continues to hold large amounts of debt on its balance sheet, some of which dollar-denominated. The weakness in the British pound, in fact, helped to drive a large, £7.2 million increase in net finance expenses over F2Q16. As of F2Q17, the company had about £410 million in net debt, representing 28.5% of total assets. For comparison, net debt accounted for 20% of total assets in F4Q16 and 25% in F2Q16.
Lastly, the stock continues to be very richly priced. Using management's guidance for FY17 adjusted EBITDA, MANU trades at a high forward EV/EBITDA multiple of 16.6x. The graph below displays historical trailing twelve-month P/E, currently at 60x.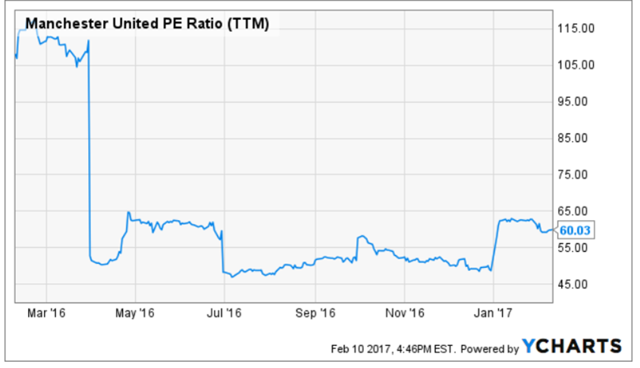 Source: YCharts
Without a rich dividend to compensate for the aggressive valuation (the yield barely exceeds 1%), I find it hard to justify a buy-and-hold strategy on MANU for the long term. The risk-loving investor, however, might be compelled to place a short-term bet on Manchester United's success on the playing field over the next few months.
Note from the author: follow me as I build a risk-diversified portfolio designed and back-tested to generate market-like returns with lower risk. I call it the Storm-Resistant Growth portfolio. The very early results have already exceeded my expectations. Take advantage of the 14-day free trial, and get immediate access to the content and the community.
Disclosure: I/we have no positions in any stocks mentioned, and no plans to initiate any positions within the next 72 hours.
I wrote this article myself, and it expresses my own opinions. I am not receiving compensation for it (other than from Seeking Alpha). I have no business relationship with any company whose stock is mentioned in this article.