Last Time Out
In our homage, Mary Tyler Moore?, we mused about the potential macroeconomic and demographic effect on equity and asset valuations viz. lower spending and income growth...
We would not dismiss the underlying headwinds to a big pickup in earnings at this stage in the expansion... weak productivity and rising wages are a few of the many headwinds to profitability that probably aren't going away. - Macronomics
Above sage advice for those investing in equities and hoping for favorable financials. Weak productivity is symptomatic of a much larger problem. As for the illusion of rising wages, meaningful wage increases have not occurred in decades. The proof in that pudding can be found in one chart where both personal income and spending growth are in a steady 36-YEAR downtrend. What would Mary Richards do?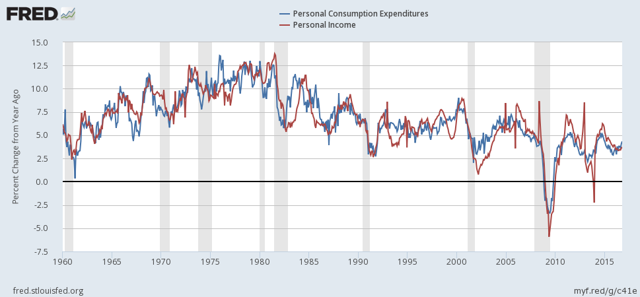 Above, a 36-year decline, coupled with a growing GINI coefficient, where the 2% get richer while the 98% get poorer, much like Brazil?
It is likely that the word "Brazil" comes from the Portuguese word for brazilwood. In Portuguese, brazilwood is called pau-brasil, with the word brasil commonly given the etymology "red like an ember".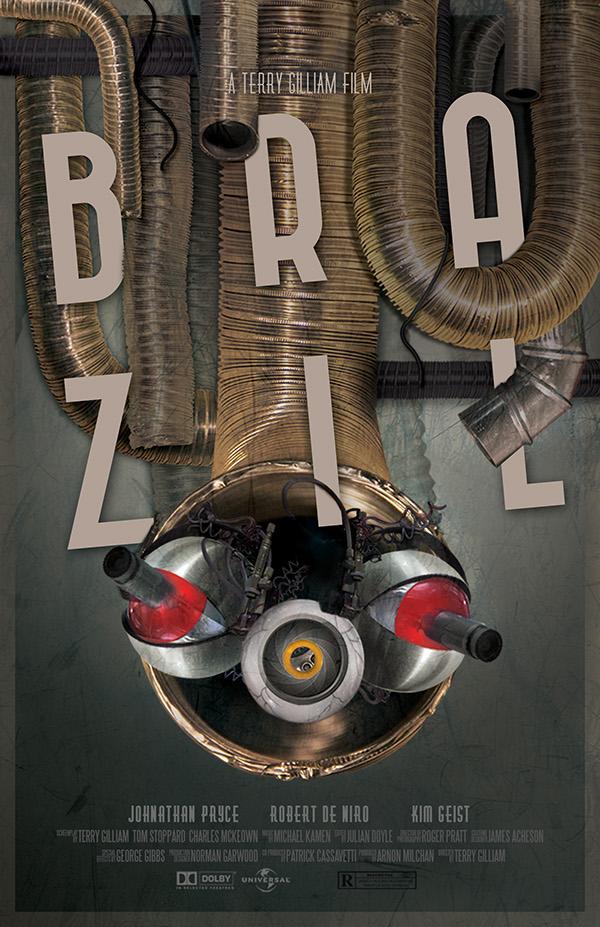 Brazil?
Terry Gilliam's (of Monty Python fame) wonderful mixture of science fiction, black comedy and fantasy created one of the most thought provoking, unique and visually stunning films of all time. In 1985, Gilliam's dystopian epic was hilarious, jaded, and wildly inventive, and decades later, it remains all those things. Unfortunately, Brazil's brilliant homage of Orwellian science fiction has proven far sighted and sadly predictive.
Oscar nominated for Best Writing, Screenplay Written Directly for the Screen; and Best Art Direction-Set Decoration; the film won Best Production Design and Best Special Visual Effects at BAFTA; and Best Picture, Director and Screenplay at the LA Film Critics Association Awards.
Taglines from the film: Have a laugh at the horror of things to come. Suspicion breeds confidence. Don't suspect a friend, report him. It's only a state of mind. We're all in it together. Be safe be suspicious.
It's about flights of fantasy. And the nightmare of reality. Terrorist bombings. And late night shopping. True Love. And creative plumbing. If you haven't seen it, you don't know what you're missing.
Cast: Jonathan Pryce, Robert De Niro, Kim Greist, Michael Palin, Katherine Helmond, Bob Hoskins, Ian Richardson, Peter Vaughan, Jim Broadbent, Barbara Hicks, Charles McKeown and Ian Holm.
Not wholly unrelated (and when is it?), tonight we muse about the potential macroeconomic and demographic consequences of political agendas and their modus operandi. Please try to exert some patience, as we ferret down this rabbit hole to find out where it leads, and what's at the bottom of it...
Executive Orders?
Monday, January 23rd, 2017, President Trump signed an executive order that will freeze federal hiring in every area of the government except for sectors involving the military, public safety and public health.
At the end of the day, the freeze is likely to impact a relatively small number of people - probably 10,000 to 20,000 individuals who will either not enter federal jobs they might otherwise have obtained, or who will be delayed in entering those jobs. - The Daily Signal
Friday, January 27th, 2017, President Trump signed into effect an executive order to block refugees from entering the U.S. for 120 days, and immigrants from seven predominantly Muslim nations for 90 days. Iran, Iraq, Syria, Sudan, Libya, Yemen and Somalia are the countries impacted.
Monday, January 30th, 2017, President Trump fired his acting Attorney General for refusing to enforce his executive order closing borders to refugees and people from predominantly Muslim countries.
This is how 2017's African American History Month kicked off. Might these unilateral proclamations have some fallout?
Silly-con Valley is up in arms over H1B visas being impinged by the recent Presidential ban, potentially impacting labor costs and competitiveness. Many long-term immigrants and permanent residents are currently rethinking whether to make home purchases, potentially impacting the real estate market.
Just the tip of the macroeconomic and demographic iceberg we are potentially headed for. Digging deeper down the hole...
Border Control?
Homeland Security oft detains "profiled" individuals. Natural born and naturalized US citizens, permanent residents and all foreigners are oft required to divulge their PIN codes and passwords for their electronic devices, phones, laptops or tablets.
CBP has for some time now had a practice of demanding from both Americans and foreigners social media information and access to digital devices. CBP accessed public posts by demanding social media handles, and potentially accessed private posts by demanding cell phone passcodes and perusing social media apps. Border agents also allegedly physically abused one man who refused to hand over his unlocked phone. - EFF
The devices are then "examined", which includes SIM cards, memory sticks, hard drive, and the data contained therein can be retained for informational purposes, after which the detainees are released. No cooperation, as in access codes, no release, as U.S. Customs and Border Protection agents have sought access to private data under a Fourth Amendment loophole. In addition...
White House policy director Stephen Miller noted on Saturday that Trump administration officials are discussing the possibility of asking foreign visitors to disclose all websites and social media sites they visit, and to share the contacts in their cell phones. If the foreign visitor declines to share such information, he or she could be denied entry. - CNN
The Fourth Amendment Loophole?
The "border search exception" to the Fourth Amendment's warrant requirement permits government agents to search travelers' luggage, vehicles or persons without a warrant, and almost always without any individualized suspicion of wrongdoing. Said search must be for a discrete public interest purpose, such as...
The narrow purposes of enforcing the immigration and customs laws, including ensuring that duties are paid on imported goods and that harmful people (e.g., terrorists) and harmful goods such as weapons, drugs, and infested agricultural products do not enter the country. - EFF
Detained and Denied?
Among detainees and those denied entry, Canadian photojournalist Ed Ou, and Wall Street Journal reporter Maria Abi-Habib.
When the officers returned the phones to him [Mr. Ou] several hours later, it was evident that their SIM cards had been temporarily removed because tamper tape covering the cards had been destroyed or altered. - EFF
Most recently, a US born citizen and passport holding scientist working for NASA JPL was apparently detained. A simple GOOGLE of his name Sidd Bikkannavar reveals a prominent engineer and figure in the scientific community. Sidd's phone contained high level clearance classified data, of which he advised CBP. A seizure, detainment and data extraction went forward, and now, NASA JPL legal are involved. Read below...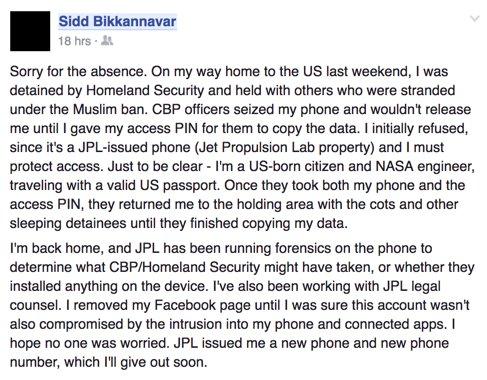 Orwellian Parallel?
Matters could be worse, viz. one of Sidd's colleagues was caught up in the Turkey purge...
Serkan Golge, a 36-year-old physicist and research scientist at the National Aeronautics and Space Administration (NASA) in the United States, has been detained in Turkey since August of last year, and charged with involvement with the Gülen movement and the U.S. Central Intelligence Agency (NYSE:CIA). - Committee of Concerned Scientists
Mind you, well before the Trump administration's January 27, 2017 "foreign terrorist" executive order, the border search "exception" and "requesting" of access codes has been going on since the Bush Jr. administration.
In any event, you just can't make stuff like this up, oh but wait... in 1985, a visionary by the name of Terry Gilliam pretty much did so. Thirty two years later, the dictatorship by less than consensual contract depicted in his masterpiece "Brazil" seems less like absurd Orwellian science fiction and unsettlingly closer to reality.
Speaking of which, as some profiled "Brazilians" could receive unexpected receipts for their electronic devices, home invasion by "burglars" may be the least of anyone's worries.
The New Kid in Town?
I have the right temperament. I have the right leadership. I've built an incredible company. I went to a great school. I came out - I built an incredible company. I wrote the number one selling business book of all time: 'Trump: The Art of the Deal.' - Donald Trump
Much like the oxygen in this rabbit hole, our patience is running thin. What exactly are we supposed to find down here anyway, oh Nattering One? We were trying to find the scent of a best selling business book, or a hint of self proclaimed business acumen. For a lack of, let's forget all the hyperbole, remember the Nattering One's #1 lex parsimoniae, follow the money.
Rich people are rich because they solve difficult problems. You must learn to thrive on problems. - Donald Trump
There is nothing quite like in your first day on the new job angering one of America's largest unions, while demoralizing and ostracizing 4 million of your employees, 2.6 million of which are executive branch.
I think Ronald Reagan was one of the great presidents, period, not just recently. I thought he had the demeanor. I thought he had the bearing. I thought he had the thought process. - Donald Trump
It's one thing to go after striking air traffic controllers effecting a systemic shutdown. Was somebody new in town, desirous of a smooth transition? Or attempting to achieve rapid implementation of critical tasks and legislation?
All of the work that the new administration wants to get accomplished will depend on the speed and productivity of the federal workforce. - former Office of Management and Budget official under George W. Bush - Robert Shea

These views were echoed by David Cox, the president of the American Federation of Government Employees, the largest federal employee union. - Salon
The first order of business is, make the job more difficult than necessary by creating animosity and additional problems right up front? Doesn't sound much like consensus building or an environment to thrive in.
There's talk on the street; it sounds so familiar. Great expectations, everybody's watching you. People you meet, they all seem to know you. Even your old friends treat you like you're something new. Johnny come lately, the new kid in town. Everybody loves you, so don't let them down. - New Kid In Town, The Eagles
The new kid in town might want to reconsider the "Bull in a China Shop" approach. Invaluable government experience in key rules and procedures, which career service workers might have offered the new administration have, much like Elvis, just left the building.
Building Walls?
"nobody builds walls better than me, believe me" - Donald Trump
The value of an American passport, green card or visa, which comes with an unparalleled economic stability, and the protection of humane laws under due process, has been slowly eroding. In those respects, a select few European, Oceania and Asian countries are giving U.S. a run for "the money".
Although the stars and stripes cache may be tattered around the edges and a bit soiled, it's still the cleanest "dirty" shirt in a global laundry basket, filled mostly with 2nd rate shirts and filthy 3rd world chones.
Slapped Silly?
Last week, a federal judge in Seattle issued the first nationwide stay on the Trump administration's slapdash immigration ban, and we expect more to come. This was not an ACLU or individual family suit, as the plaintiff was the Attorney General of the State of Washington, with the support of the state's Governor.
Why would a "lowly" federal judge from Seattle fearlessly slap the most powerful man in the Western world, red faced and silly in public? Take a guess what's in that Washington? Like the other one where Trump now resides, quite a bit of money, as in Microsoft, Google, Boeing and Amazon for starters.
Regarding violations of constitutional rights, religious discrimination and due process... on February 9th, 2017....
A 29 page ruling from a three-judge panel of the Ninth Circuit Court of Appeals concluded roundly that the government failed to make its case that a temporary freeze on the ban should be lifted, and called into question presidential power to limit immigration in the way Trump did.

The judges rebuffed the contention that the states of Washington and Minnesota had no right to sue in the matter -- and rejected the argument that courts have no authority to review an executive branch decision on immigration policy.

That notion "runs contrary to the fundamental structure of our constitutional democracy," according to the jurists, two of whom were appointed by Democratic presidents, one by a Republican. The court announced the decision in an unsigned opinion, making it impossible for Trump, who has tweeted criticisms of the judicial system in this case, to single out one of them. - Bloomberg
Remember the etymology of the word Brasil? "Red like an ember."..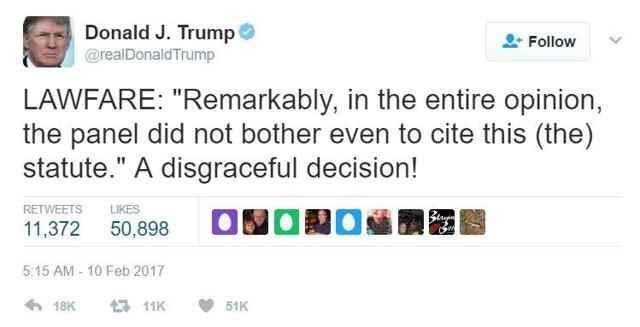 Undermining the institution of the judiciary. Price? One Twitter tirade.
Everywhere You Want To Be?
If one seeks to build a future of peace and prosperity, one opens doors and does not build walls, and like President Reagan, one helps to tear walls down.
As soon as the executive ban started disrupting lives and presented a threat to the bottom line, global corporations began protecting their interests by dedicating resources and cash into legal action and support for affected employees and operations.
What part of "for profit" did someone forget? What keeps those companies here is what that "least dirty shirt" gains them access to, a business environment and commerce hub with legal predictability and political stability, viz. a safe place to invest, develop and profit.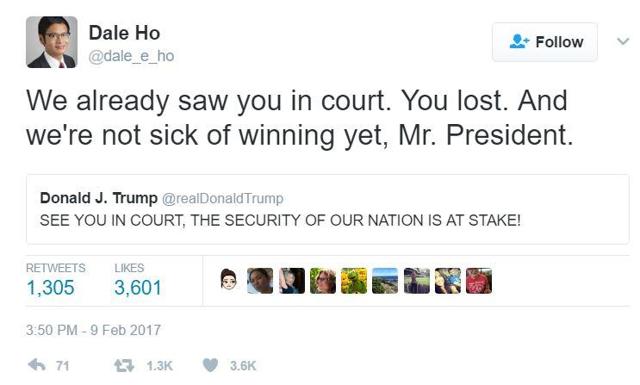 Anyone attempting to rock that ship, better be prepared for the worst. The infliction of any damage to said environment, including slipshod policy making, much like American Express at the Olympics or Super Bowl, just isn't accepted. VISA, it's everywhere you want to be, pun intended.
Those who believe that globally vested financial interests will let anything or anyone for any reason stand between them and the market advantages of our business platform and hub is naive, a fool or both. There are some things money can't buy. Along those lines...

Attacking the institution of the judiciary that has placed restraints upon an arbitrary executive branch's abuse of power, then falsely tying those judicial restraints to potential acts of terrorism against your country... Price? Two Twitter tirades.
The Color of Money?
"fix things, that's what I do." - Donald Trump
Although President Trump has been fortunate to inherit a Republican majority in the legislative branch, will he be able to leverage that?
Once elected, representatives that inhabit the legislative branch (Congress) are allowed to sit in and occupy voting seats. Not due so much to party affiliation or constituency, but mostly due to their sponsor's cold hard cash and lots of it.
$1.3 trillion spent in its pursuit, and $325 million to buy the seat in the oval office ($56 million by Trump himself) and $100 million+ (combined) to buy a senate seat attests not to conjecture, but to cold hard cash and facts.
When sponsors with vested financial interest who have bought and paid dearly for the privilege say jump and dance, the response is, how high? And which do you prefer, tango or waltz? Lento or allegro?
Voting along party lines, ethics, altruism or what is in the best interest of the people and country is subjective public theater at best. Bank on it, because as they say, the money talks, the BS walks and the color of money is non-denominational, pun intended.
The Wrath of Don?
If one aspire's to be the Captain of the Enterprise, and is going to attempt to "fix things", under duress with limited time, one has to first learn "why" things work on a "Starship".

Khan: FIRE!!! - Joachim: We must withdraw. Khan: NO!!! Joachim: We must, Enterprise will wait, she's not going anywhere... - Star Trek II, The Wrath of Khan
Even Khan Noonien Singh's son Joachim could tell his father was hellbent on revenge at all costs. Actions do speak louder than words, much like young Ensign Saavik, at this juncture, a dearth of experience in the new environment is apparent to many.
If the new administration continues down this path, in effect creating a pattern of embattlement, where little is achieved, those numbers may grow along with disenchantment. Again, much like Khan, the etymology of the word Brasil, "red like an ember"...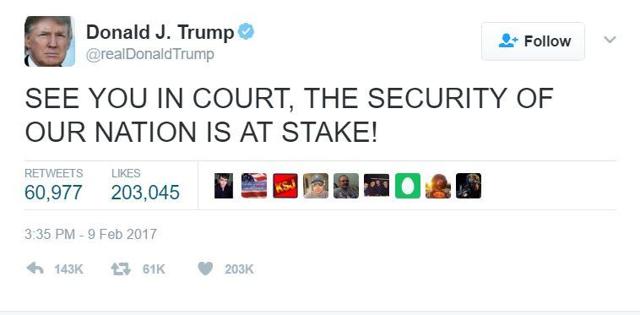 After undermining, attacking and falsely holding the judiciary to blame for potential future acts of terrorism... expecting that institution to win the day for your cause? Priceless.
Gridlock?
Trump should abandon his executive action and "come up with a real, bipartisan plan to keep us safe." - Senate Minority Leader Chuck Schumer
Hopefully, the new administration's current behavior is an aberration. TBD. If said behavior continues, there might be enough stays, legal action and systemic non-cooperation to "build a wall" around and keep certain actors "detained and denied" for the duration.
Said gridlock by design (welcome to the world of Obama and politically divisive obstruction) or otherwise, could make the potential "billions saved" by unilateral proclamations look like chump change compared to costing potential trillions in lost opportunity.
Speaking of which, much like our take on "The Hustler" and "The Color of Money's" protagonist Fast Eddie Felson walking into a crowded pool room...
Eddie: "Do you smell that?" Vinny: "Smoke?" Eddie: "No, money and daylight burnin."
Along those lines, global trade is dependent upon the flow of capital, inputs, labor, outputs, and information or intellectual capital. Building walls, trade wars, deregulation for financialism (encouraging bad behavior) and tax cuts (never equitable as they only benefit the wealthy) can only further the ongoing detainment of investment capital, arrest of transactional velocity, and the denial of the consequential economic contraction thereof.
In closing, one must keep in mind "for profit" and what that "least dirty shirt" gains access to. As any self proclaimed expert in business acumen should know, maintaining the attractiveness of the world's #1 business environment is critical to our national wealth, health, safety, welfare and future.
Due to potential irreversible downside, ill conceived attempts to meddle with our most valued competitive advantage, which is mission critical, might be ill advised in the extreme.
Tip of the hat to my compatriot Early Retiree with his pragmatic view in Could Trump Sink the Economy? for the lead on JPL Sidd. Right about now, this seems apropos...
Hope you folks enjoyed yourselves, catch you later on down the trail. Would like to thank you folks fer kindly droppin' in. You're all invited back again to this locality. To have a heapin' helpin' of Nattering hospitality. Naybob that is. Set a spell, take your shoes off. Y'all come back now, y'hear!
This is our 115th in a series of thematically related missives which will attempt to identify the macroeconomic forces with potential to adversely effect capital, commodity, equity, bond and asset markets.
I wish to dedicate this missive to one of my mentors, Salmo Trutta, who is a prolific commenter on SA. Without Salmo's tutelage, and insistence on not masticating and spoon-feeding the baby ducks, as in learning the hard way by doing the leg work and earning it, this missive would not have been possible. To you "Proximo"... "win the crowd and win your freedom" - Spaniard.
Disclaimer
Investing is an inherently risky activity, and investors must always be prepared to potentially lose some or all of an investment's value. Past performance is, of course, no guarantee of future results.
Before investing, investors should consider carefully the investment objectives, risks, charges and expenses of an investment vehicle. This and other important information is contained in the prospectus and summary prospectus, which can be obtained from the principal or a financial adviser. Prospective investors should read the prospectus carefully before investing.
Market Plays
As for how all of the above ties into the potential and partial list of market plays below... the market as a whole could be influenced, and this could tie into any list of investments or assets. Those listed below happen to influence the indices more than most.
There are many macroeconomic cross sector and market asset correlations involved that affect your investments. Economic conditions, the eurodollar, global dollar debt and monetary policy all influence the valuation of the above and market plays below, via King Dollar's value, credit spreads, swap spread pricing, market making, liquidity, monetary supply and velocity, just to name a few. For a complete missive series listing covering those subject and more, click here.
The potential global economic developments discussed in this missive could affect numerous capital and asset markets, sectors, indexes, commodities, forex, bonds, mutual funds, ETFs and stocks.
A List of Potential Market Plays (Long or Short?):
Apple Computer (NASDAQ:AAPL); Google (NASDAQ:GOOG) (NASDAQ:GOOGL); Facebook (NASDAQ:FB); Microsoft (NASDAQ:MSFT); Citigroup (NYSE:C); General Electric (NYSE:GE); Cisco (NASDAQ:CSCO); Bank of America (NYSE:BAC); Amazon (NASDAQ:AMZN); Tesla (NASDAQ:TSLA); SP 500 Trust ETF (NYSEARCA:SPY) ; Ford (NYSE:F); Starbucks (NASDAQ:SBUX); Intel (NASDAQ:INTC); AT&T (NYSE:T); IBM (NYSE:IBM); Exxon Mobil (NYSE:XOM)
Disclosure: I/we have no positions in any stocks mentioned, and no plans to initiate any positions within the next 72 hours.
I wrote this article myself, and it expresses my own opinions. I am not receiving compensation for it (other than from Seeking Alpha). I have no business relationship with any company whose stock is mentioned in this article.