Crude futures prices fell $0.83/b (1.3%) lower in the week ending February 7th (to correspond to the data below) to $51.98. Over the balance of the week, crude futures rebounded almost $2/b.
The peak in prices this cycle reached just before the OPEC and non-OPEC agreements went into effect has held. In the prior week, the CFTC had reported that speculative long positions had set a new record high.
"OPEC-14" production of 33.0 million barrels per day in January is still 500,000 b/d above their target of 32.5. And U.S. data has reflected increases in crude imports from OPEC, and U.S. oil inventories have risen sharply since OPEC started cutting production.
The Energy Department also reported that OECD stocks reached a new record high at the end of January. It remains to be seen how much OPEC will cut production on a net basis, given increases from some members, how that will affect exports, and how it will allocate any cuts in exports. This was the context in which traders were rebalancing short and long positions during the week.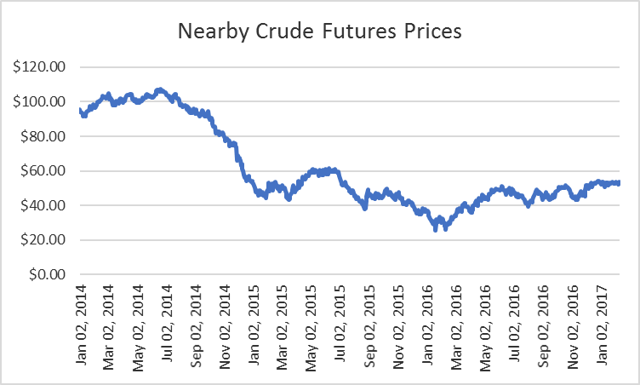 Commitments of Traders
Utilizing the Commodity Futures Trading Commission's (CFTC) Commitments of Traders (NYSE:COT) reports for crude oil, I was able to dissect how traders were re-positioning in the week ending January 31st.
The four groups I follow - Hedgers (Producer/Merchant/Processor/User) Longs and Shorts, and Speculators (Money Managers) Longs and Shorts - are defined below:
Hedgers: A "producer/merchant/processor/user" is an entity that predominantly engages in the production, processing, packing or handling of a physical commodity and uses the futures markets to manage or hedge risks associated with those activities.
Speculators: A "money manager," for the purpose of this report, is a registered commodity trading advisor (CTA), a registered commodity pool operator (CPO) or an unregistered fund identified by CFTC. These traders are engaged in managing and conducting organized futures trading on behalf of clients.
The latest data include data for both options and futures combined for the New York Mercantile Exchange (NYMEX). All comments below pertain to each group as a whole, on balance, noting there are exceptions among individuals.
Findings
Spec shorts sold 13 million to end with 60 million barrels. This is the largest short position since they covered shorts (bought) in early December following the OPEC meeting. I have noted that spec shorts were at the low end of their position sizes for this cycle, and this may be the start of a new round of short-selling. But the market has been in a wait-and-see mode, awaiting to assess how the cuts will affect exports and inventories. But if stocks continue to rise, the bottom could fall out of the market at any time.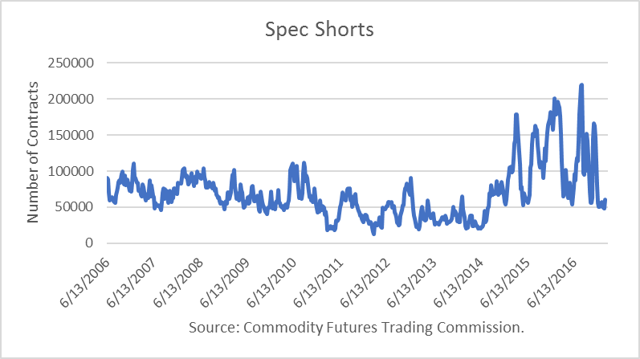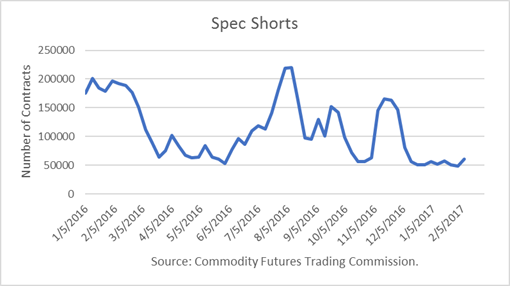 Long oil speculators sold 8 million barrels last week, reducing their position from the record high set the week before. Their position stands at 420 million barrels. One possibility is for a stampede to start from this crowded trade, sending prices sharply lower.
It seems the market needs more data from the cuts before making a major move in either direction. The fact is that OPEC cuts have been priced into the market. But OPEC may have a trick up its sleeve to make bigger cuts in exports to the largest consuming market in the world, the U.S., which provides the most transparent, timely data.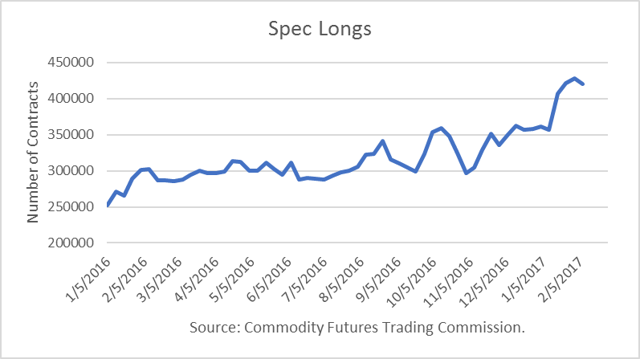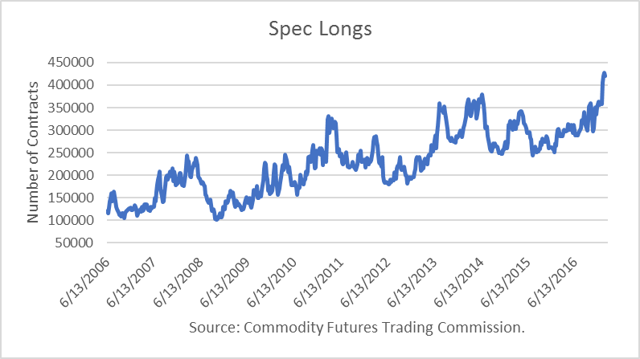 Short hedgers (oil producers) sold another 4 million barrels. Their hedge position rose to 707 million barrels, a new high since 2007. Their record high position is 789 million barrels, which I expect them to exceed to manage risk to increase production in 2017. Their current hedge size represents about 20% of U.S. crude production for one year, and so there is a lot more potential for hedge sales, which act as a wall to higher prices.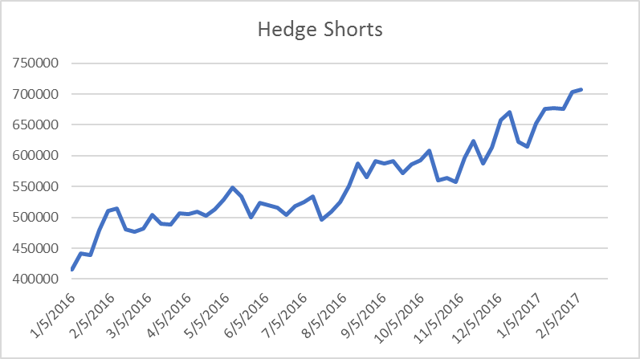 Hedge longs increased their length by 8 million barrels to end at 441 million barrels. Hedge long positions remain near their highs position since 2013. This group includes both end-users as well as refinery processors. There was a report that some airlines are increasing hedges. In addition, oil refiners may be increasing crude hedges to lock-in one leg of the crack spreads. Petroleum product exports are up 25% year-over-year.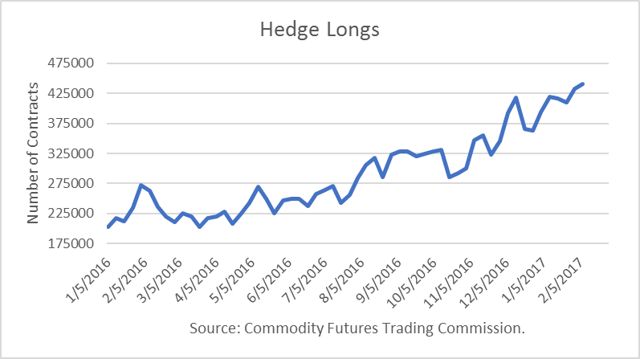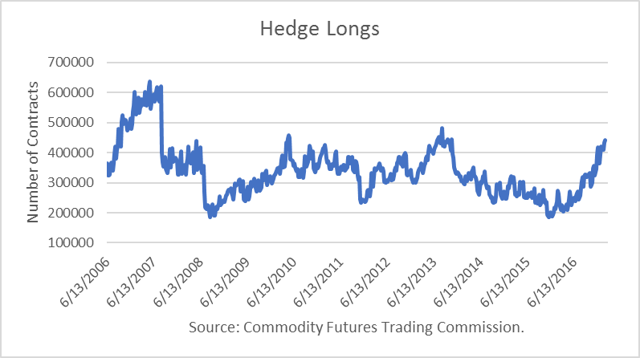 Netting the long and short positions of both these hedgers and speculators, there was a net sale of 16 million barrels. As a result, they held a net long position of 93 million barrels.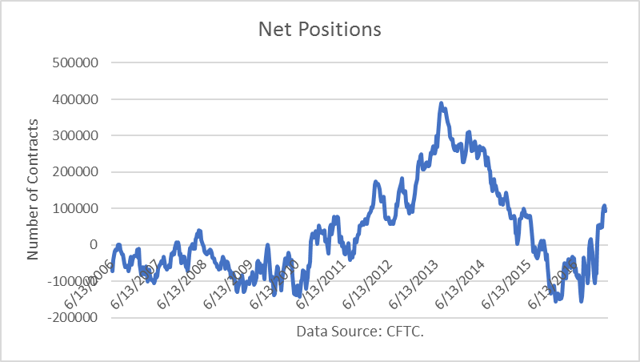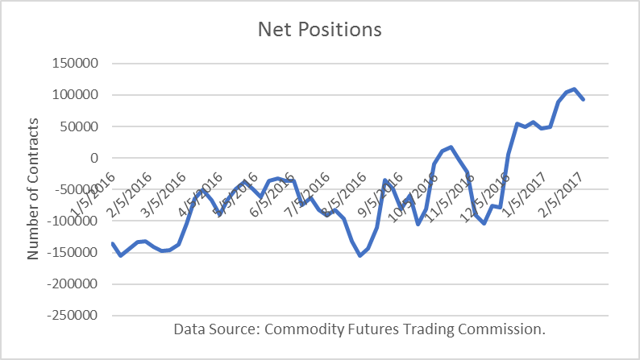 Conclusions
The market has been waiting for more evidence of the impact of OPEC's cuts on inventories. In the meantime, stocks have been rising, which may have begun to embolden the spec shorts and cause record-long speculators some cause for concern. My sense is that the market is going to break-out of the current range in the weeks ahead, as the inventory impacts become clearer.
On the one hand, short specs' confidence that hedge sellers will prevent a break higher may be rising, but long specs may have confidence that OPEC statements will keep prices from falling much, and OPEC may cut exports to the U.S. more sharply than expected.
Disclosure: I/we have no positions in any stocks mentioned, and no plans to initiate any positions within the next 72 hours.
I wrote this article myself, and it expresses my own opinions. I am not receiving compensation for it (other than from Seeking Alpha). I have no business relationship with any company whose stock is mentioned in this article.