Investment Thesis: Long Island Iced Tea (NASDAQ:LTEA) is positioned attractively in both price and quality, while benefiting from owning the highly lucrative Long Island Iced Tea trademark. The company has been rapidly expanding its distribution and we believe the company will increasingly seize on its large market opportunity, with a recent financing allowing more strategic investments.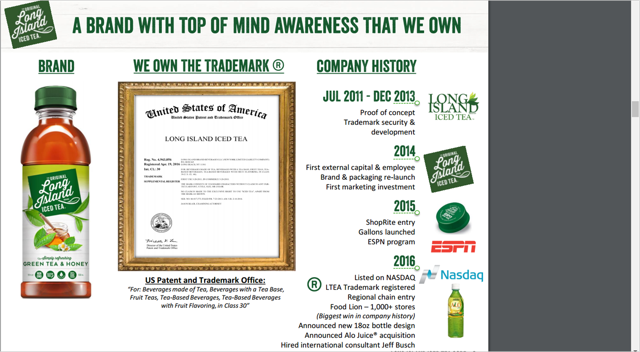 Source: Long Island Iced Tea Investor Presentation
Brief Business Description: Long Island Iced Tea was founded in 2011 and is based in Hicksville, New York. The company provides non-alcoholic ready-to-drink (NARTD) premium iced tea bottle beverages made with quality ingredients that are offered at an affordable price. The company filed with the SEC to raise $12 million in an initial public offering in April 2016. The company sells its beverages through retail outlets in the East Coast and Midwest of the U.S. and is expanding internationally. Phillip Thomas, who has over 20 years of beverage experience, is the CEO of Long Island Iced Tea
Company Has Been Rapidly Expanding Distribution: In late November, the company announced its partnership with Southeast Beverage and Milestone Beverage to expand its distribution in North Carolina and South Carolina. The partnership will help expand the company's footprint at Kroger (NYSE:KR), Wal-Mart (NYSE:WMT), 7-Eleven and Quick Trip. In addition, in early December, the company announced new distribution in Puerto Rico. We expect these deals to help Long Island Iced Tea continue to increase its brand awareness and, more importantly, drive top-line growth. The company also recently secured a major new account by signing Food Lion. Food Lion has over 1,000 stores across the Southeast and Mid-Atlantic and was the largest purchase order in the company's history. The company also signed a recent agreement to expand into Latin America with a new distribution agreement in Colombia. With a population of over 47 million, Colombia is the second largest country in South America. International expansion is a large opportunity for the business, with Asia representing a large portion of the $55 billion RTD (ready-to-drink) market. The ready-to-drink tea and coffee market is projected to reach $116 billion by 2024, with a large portion of this coming from international markets.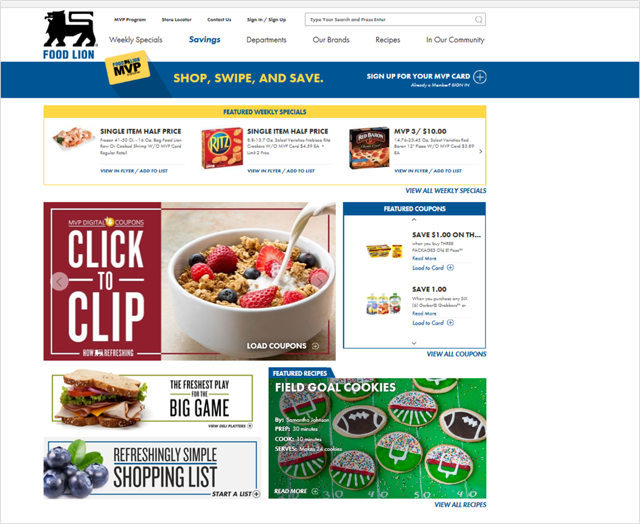 Source: Food Lion Website
Large Market Opportunity: Tea is the second most consumed beverage in the world behind water. According to Tea Association of the U.S.A. Inc., 158 million Americans are drinking tea on a given day. Over the last ten years, ready-to-drink tea has grown more than 15x and its market size in 2014 was around $5.56B, according to Tea Association of the U.S.A. Inc. While there is a lot of competition in this industry, we believe Long Island Iced Tea can take share from other small players. Furthermore, with consumer tastes shifting away from sugary/artificial drinks towards natural flavors and sugars, we think Long Island Iced Tea, over time, will be able to distinguish itself from the competition in the ready-to-drink tea industry. The chart below, which is from the Long Island Iced Tea's investor presentation, lays out the non-alcoholic beverage industry's size as well as all the drink types that fall within the industry.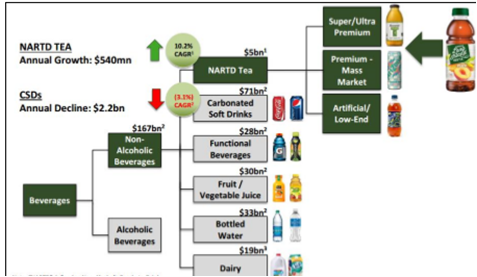 Source: Long Island Iced Tea Investor Presentation
Intellectual Property: The company owns the highly lucrative trademark for Long Island Iced Tea. The U.S. Patent & Trademark Office registered the company's mark in April 2016, which allows the company to sue infringers in federal court. This is a major win for the company which we believe is not fully appreciated in the stock price. The value of this trademark is alone likely worth millions and the company is beginning to explore entering the alcohol market leveraging the name Long Island Iced Tea. Everyone is familiar with Long Island Iced Teas as a drink and we believe the company is only beginning to figure out how to effectively monetize this substantial intellectual property asset.
Valuation: In order to value Long Island Iced Tea, we looked at comparable companies. Most of the small beverage companies in the industry have been acquired by larger firms in the industry, thereby making it difficult to make a fair comparable analysis based on competitors' market capitalizations that had forward looking estimates. Therefore, we decided to use five larger comparable companies that provide similar beverage in the NARTD industry. The exhibit below shows our analysis. Despite Long Island Iced Tea trading at a premium valuation, we feel it is attractive given its substantially higher top line growth to its peer set. This high growth is rare in the beverage industry as can be seen by LTEA's peers lower top-line growth.

Source: JGR Capital Analysis
The beverage industry is extremely competitive, with the top six brands holding roughly 64% of the NARTD market. Long Island Iced Tea will have to distinguish its product in taste and flavor, offer attractive promotions to customers and appealing packaging in order to gain market share. The company is currently selling in the East Coast and Midwest and is stepping into Canada and Puerto Rico. We expect the fruits of its labor will start to be reflected in the firm's 2017 and 2018 operating results due to the fast expansion of its distribution channel. In our opinion, Long Island Iced Tea appears to be a viable acquisition opportunity for a larger cash flow rich beverage company looking to enter the high-end ready-to-drink tea beverage market and the connections to leverage the Long Island Iced Tea trademark effectively. We believe shares could trade for eight times revenue given its hyper growth, which would indicate a share price of $5 per share, an over 15% upside from current levels.
Core Risk Factors: The main risk for investors is Long Island Iced Tea will continue to need capital in order to pursue its aggressive growth plans and there is no assurance the company may be able to do so at favorable terms. Additionally, the company heavily relies on third party co-packing facilities which are subject to interruptions and recalls.
Conclusion: For investors looking for high growth opportunities within the beverage sector, Long Island Iced Tea looks like an attractive opportunity. The company is experiencing strong top-line growth which is likely to continue with new distribution agreements in the pipeline. Long Island Iced Tea appears expensive from a traditional valuation perspective but appears cheap relative to the growth investors enjoy by purchasing shares.
Disclosure: I/we have no positions in any stocks mentioned, and no plans to initiate any positions within the next 72 hours.
I wrote this article myself, and it expresses my own opinions. I am not receiving compensation for it (other than from Seeking Alpha). I have no business relationship with any company whose stock is mentioned in this article.
Editor's Note: This article covers one or more stocks trading at less than $1 per share and/or with less than a $100 million market cap. Please be aware of the risks associated with these stocks.