While technology stocks always seem to be sought after as the best opportunity for investors to earn incredible returns, it is dividend paying stocks like Altria (NYSE:MO) that have provided the best returns in the last few decades. In fact, from 1970-2016, Altria gave investors a total return of 505,704%, which amounts to an annual return of 20.4% over those 46 years. In 2008, Altria (then known as Philip Morris) separated its domestic operations from its international business, Philip Morris International (NYSE:PM). Since then, Philip Morris International has rewarded its shareholders with an annual dividend growth rate of 10.7%. PM has several advantages as it enjoys strong international growth and less regulatory risk outside the continental United States. The company's management is committed to creating shareholder value through dividend growth. As the political movement against traditional cigarettes has grown, PM has expanded into the electronic cigarette market with its iQOS product line. With a generous dividend yield of 4.05% and good international growth prospects, I believe Philip Morris International has the potential to outperform the overall market going forward.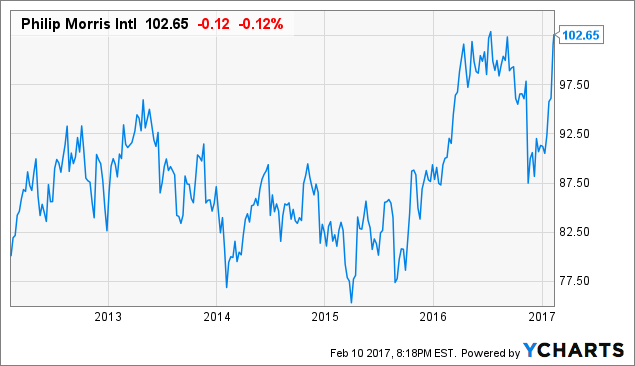 International Growth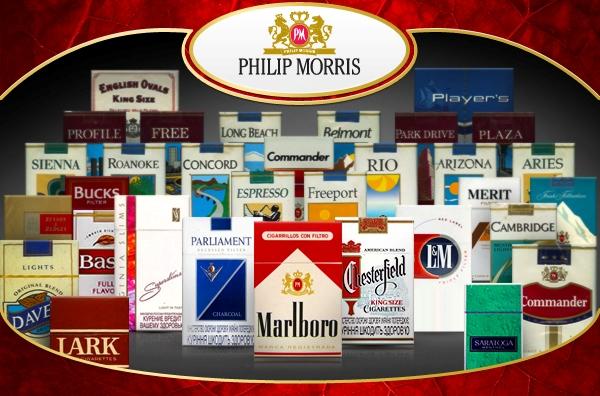 Source: Matzav.com
While the overall percentage of smokers has declined in recent years, the total number of smokers and cigarettes consumed worldwide has continued to increase with population growth, as seen with the chart below. PM maintains a substantial international market share of nearly 29%, excluding the United States and the People's Republic of China (with the China National Tobacco Corporation having a monopoly on the Chinese market). In fact, Philip Morris International sells 7 out of the top 15 most popular cigarette brands in the world. Its lead brand, Marlboro, which was first marketed as a cigarette for women in 1924, has been the most popular cigarette brand in the world since 1972. On February 2nd, the tobacco giant reported that its 4Q 2016 sales increased by 4.5% YoY, as the company performed well in the Asian and European markets. However, cigarette shipment volumes fell by 4.4%, partially driven by consumers' growing demand for electronic cigarettes. The company is quickly expanding into electronic cigarettes with its iQOS product line. Although the global smoking rate is declining due to health concerns and regulations, I anticipate the number of smokers and cigarettes sold will continue to increase, driven by population growth in developing nations.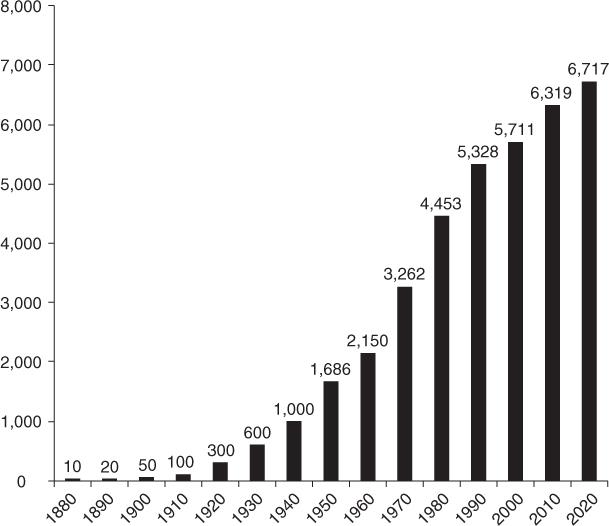 Global Cigarette Consumption (billions)
Source: prd-idrc.azureedge.net
iQOS Product Line Expansion
As smoking rates are declining across the world, Philip Morris has launched an electronic cigarette brand, iQOS, which the company proclaims to be a "reduced-risk product", or RRP. According to Philip Morris International, iQOS is much safer than traditional cigarettes because the tobacco is heated, not burned. In 2016, iQOS product sales grew from $55 million in the first quarter to $343 million in 4th quarter. The company first launched iQOS in Japan in November 2014 as the country has one of the highest smoking rates among developed nations. Since then, PM has launched iQOS products in 15 markets worldwide, to include Canada, Germany, Italy, Portugal, and the United Kingdom. The company plans to have iQOS products available for sale in 30 countries by the end of 2017. While iQOS sales accounted for just under 3% of total revenues in 2016, the "reduced-risk" cigarette market is crucial to driving Philip Morris' earnings going forward.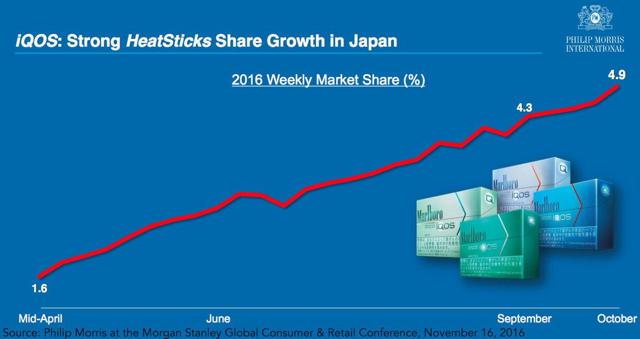 Source: Forbes.com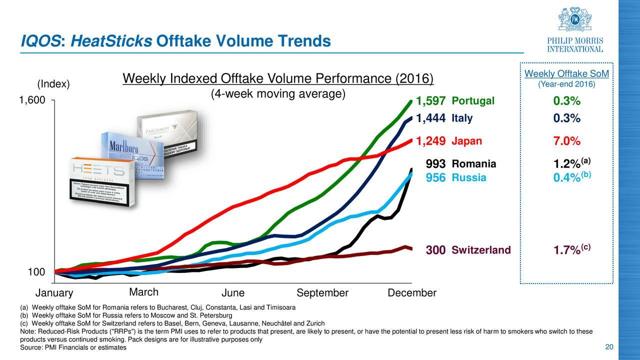 Source: Fourth Quarter Earnings Presentation. Page 20
Reduced Regulatory Risk Outside the United States
In 1998, Philip Morris USA and other cigarette manufacturers settled lawsuits with 46 states, five U.S. territories, and the District of Columbia as the states argued that cigarette companies misrepresented the dangers of smoking. Under the terms of the settlement, Philip Morris USA and the other companies agreed to pay $200 billion to the states over the next 25 years. Since then, Philip Morris, now known as Altria, has paid over $74 billion to the states for damages. The high regulatory risk in the United States was one of the reasons that Philip Morris separated its domestic operations from its international business, thus creating Altria and Philip Morris International, respectively. Although regulatory risk is lower outside the United States, the number of countries requiring health warnings on cigarette labels has increased substantially in recent years.
Dividend Analysis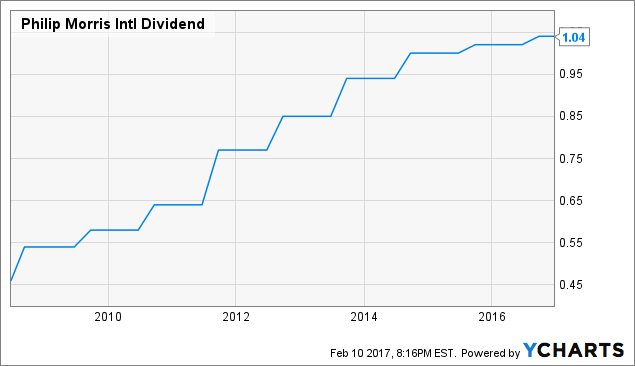 PM Dividend data by YCharts
Since Philip Morris International became an independent company in 2008, the company has increased its dividend by 126%. Currently, PM has an annual dividend of $4.16, which amounts to a generous yield of 4.05%. Over the past three years, PM has increased its dividend by 5.5% annually, and I expect the company to continue to raise its dividend going forward. While the company has a high dividend payout ratio of 92%, the dividend is quite safe as Philip Morris International generates more than enough operating cash flow to cover and grow the dividend. For the first 9 months of 2016, PM earned $5.9 billion in operating cash flow, and the company paid out $4.75 billion in dividends during that time period. To ensure future dividend growth, PM halted its stock buyback program in 2016. Personally, I am not a big believer in stock buybacks as companies tend to have poor timing.
Conclusion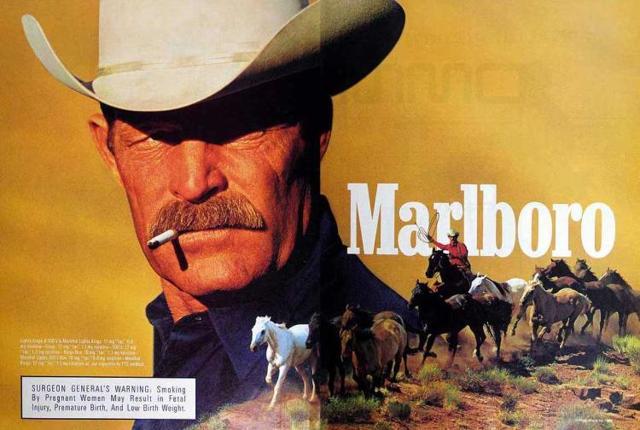 Source: nydailynews.com
Philip Morris International is a great long-term buy for investors as the company has strong international growth prospects and maintains incredible pricing power. Operating outside of the United States, PM is not exposed to the same regulatory risks as its American competitors. PM's iQOS product line is growing rapidly, and I think that electronic cigarette sales will continue to grow and comprise a larger share of the company's overall revenue going forward. With a yield of over 4% and the prospects of steady dividend increases in the years ahead, Philip Morris International is a good candidate for dividend growth investors.
Disclosure: I/we have no positions in any stocks mentioned, and no plans to initiate any positions within the next 72 hours.
I wrote this article myself, and it expresses my own opinions. I am not receiving compensation for it (other than from Seeking Alpha). I have no business relationship with any company whose stock is mentioned in this article.