Some 5 years ago, I became keenly interested in managing my own investment portfolio during my retirement, which was then about 2.5 years hence. Needing to create a skill set for doing so, and an investing plan to guide and control me, I began reading and learning, practicing and stumbling.
For reasons I don't remember, I came across Seeking Alpha. Voraciously reading articles by some very smart people, the plan and its guiding principles began to take shape: Value (Carnevale); quality (Wells and others); not owning too many stocks so I can stay fully and currently informed on each stock owned; dividend growth investing and CCC (Fish) to produce minimal-risk cash flow (coupled with social security) upon which to live without touching principal; not selling often (because the churn causes lower results and forces attention to be focused on quality at the buying stage (B&H)); not reaching for yield; deep-dive monthly reviews; staying fully up to speed on the macro environment (because it more than influences investing results - think business cycles, interest rate trends, corrections/bears and recessions); have a plan and stick with it; and much more.
For a detailed look at my retirement investing plan, see here.
The one question I still grappled with was "how to define quality" within the framework of the above principles. I settled on only buying the best of the CCC stocks, realizing that 700 dividend-raising stocks was a big enough universe of potential stocks from which to select, buy and own, especially if I was going to keep the maximum number of stocks owned to 30 or fewer. I believe CCC is, in and of itself, a quality filter. But, I still needed a way to determine which of the CCCs are best.
CCC stocks are dividend "Champions. Contenders and Challengers." They are companies that have raised, not just paid, their dividends for 25, 10 and 5 consecutive years, respectively. The list is maintained and published monthly by SA contributor David Fish. The latest version can be found here.
Being an engineer, the process to determine "best" had to be an objective calculation resulting in a finite score, and not be a seat-of-the-pants choice because I had read a Fortune magazine or SA article.
To that end, I began developing the Dugan Stock Scoring System (DSSS) 2.5 years ago, after retiring from a business executive career. See DSSS illustrated here.
A weakness of my chosen process (DSSS) is that the calculation must be based on a formula, and the formula would, by nature, reflect my biases and be based on analysts' forecasts. Since no process is perfect, I can live with those weaknesses, as long as I keep them front-of-mind and continuously acknowledge them.
I think it was in the spring of 2015 that I introduced DSSS to SA readers. I have been using the Dugan Stock Scoring System to guide my securities buying (and to a lesser degree, selling) for 2 years. While acknowledging the very short time frame within which it has been used, it has been producing better overall investing results than market averages.
In 2016, I ran 3 public challenges, using DSSS to pick three portfolios' stocks to beat the S&P 500 (NYSEARCA: SPY). All 3 challenges beat the S&P 500 handily, with the biggest challenge almost doubling the S&P 500's performance - up 36.6% to 18.5% for the S&P 500. See here for the report which details how overwhelmingly the DSSS-selected portfolios best SPY in 2016.
Which brings me to the 2017 challenge to beat SPY.
In an SA article here, I explained the 10 stocks which form the portfolio which is designed to beat SPY in 2017.
This second, very early, report below, demonstrates that once again the DSSS portfolio is beating the S&P 500. It is early days, and no conclusions can yet be drawn on the 2017 challenge. Suffice to say, though, starting off in a winning position is better than the alternative.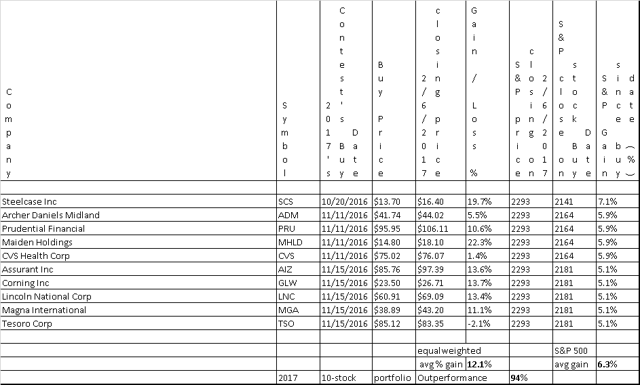 All of 2017's challenge portfolio stocks continue to post high Dugan Scores. So, if you are a buy and hold investor (like B&H), these stocks are good stocks to hold in your portfolio.
On the other hand, maybe there is a more astute path to take. I have read many articles in the last 4 months which address the market and conclude a bull or bear future.
My sense is that most individual investors consider themselves to employ a buy and hold strategy. Then a correction comes and at the 10 to 15% down level they start worrying and start selling in dribs and drabs. At +/-20% down they pick up the pace. Then at maybe 25 to 30% they dump everything, but plan to get back in at "the bottom." But, who knows when/where is the bottom.
I think most recoveries from corrections/bears have a few false starts, i.e. go back up 5 or 10% but then drop again another 10 to 20%. Individual investors then struggle to determine when to get back in. So, they usually got out too late and get back in too late.
I've said a number of times that right now I think the max upside is maybe 10% and the max downside is maybe 40%.
This is the third longest bull in history. History is a long, long time. Valuations are high, not astronomical ala 2000, but high.
Long and high, in my book, aren't good characteristics. I think there will be a correction/bear beginning in the next 6 months. I think the market is looking for a catalyst to scare the market into it. Could be Brexit, Greece, Syria, Russia or many other things. It will probably be caused by a mistake on the part of our president. That is not a political point, but an economic/market point. Think trade war, currency war, border war, hot war. I don't know.
What I do know is that Buffet has said something to the effect of: why risk what you need to merely try to get what you want? I think most people's portfolios are at or close to all time highs.
So, instead of following the path described above, why not sell at a high point - as in sell now? If the market drifts up, yes, you will have missed maybe 10% - maybe. Then again maybe by selling now you will miss a 30-40% downturn.
Just thinking out loud.
I hope you enjoyed this journey. Comments are encouraged. Successful investing.
Disclaimer: The opinions in this document are for informational and educational purposes only and should not be construed as a recommendation to buy or sell the stocks mentioned or to solicit transactions or clients. Past performance of the companies discussed may not continue and the companies may not achieve the earnings growth as predicted. The information in this document is believed to be accurate, but under no circumstances should a person act upon the information contained within. We do not recommend that anyone act upon any investment information without first consulting an investment advisor as to the suitability of such investments for his specific situation. (Borrowed from Chuck Carnevale.)
Disclosure: I am/we are long ALL STOCKS MENTIONED IN THE ARTICLE.
I wrote this article myself, and it expresses my own opinions. I am not receiving compensation for it (other than from Seeking Alpha). I have no business relationship with any company whose stock is mentioned in this article.