Elevator Pitch
Gordmans (NASDAQ:GMAN) is a decent discount retailer trading at fire sale prices. GMAN's equity is pricing in imminent bankruptcy, while GMAN's debt due in 2020 still trades above par at 102. The stock is down 97% since early 2012, trading at an EV/Sales multiple of 0.14x, well below Sears (NASDAQ:SHLD) at 0.25x.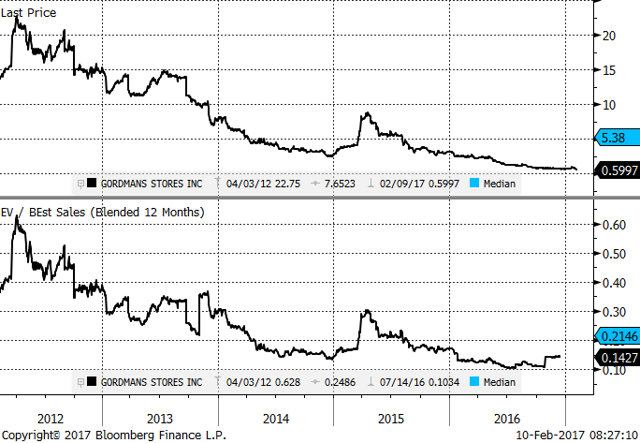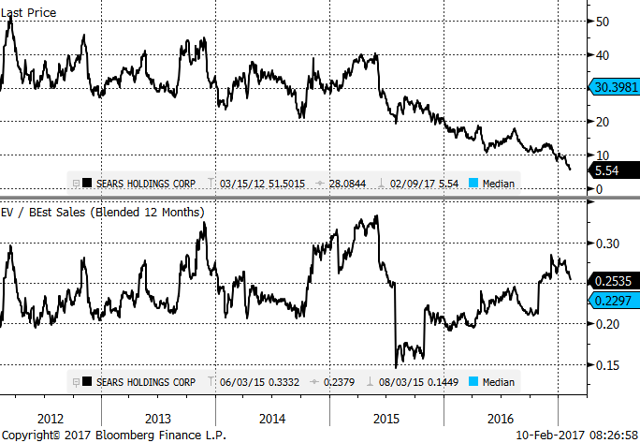 GMAN has good risk versus reward. With the stock down 97%, no significant upcoming debt maturities and sufficient lease expense coverage, GMAN has a nice margin of safety. On the upside, the stock should conservatively trade back to at least $2.5 (+3x) @ 0.2x EV/Sales when fundamentals look even slightly less bad than they have been. Fundamentals have a good shot at ticking up in coming quarters, getting the company close to breaking even.
Company Description
GMAN operates 106 everyday value-price "department stores" in 22 Upper Midwest states with an average unit volume "AUV" of $6 million, and an e-commerce website. The business has been around since 1915, headquartered in Omaha, Nebraska, 3.5 miles from the Berkshire Hathaway's HQ.
GMAN's target demographic is the working mom age 35-54 who shops for the family. The target audience is the middle class double income household making $70K. GMAN appeals to customers who are value sensitive and brand conscious. Over half of sales are for women's clothes and home décor, well aligned with what middle aged Midwest mothers want to buy most. Sales by category: Women's 30%; Home Décor 26%; Accessories & Fragrances 14%; Men's 14%; Children's 10%; and Shoes 6%.
Thesis & Catalyst For Gordmans Stores
GMAN did not escape the brick-and-mortar retail apocalypse. For the first 9 months of fiscal year 2017, net sales were down -5.7% and comparable sales were down -8.3%, traffic was really slow. In response to the slowdown, management spent money on a few initiatives which dragged down recent financials, 9M 2017 GAAP EBITDA was negative ($3.58 million) = OP -17.1M + D&A $13.52M. These initiatives are all executed, paid for and about to bear fruit for the next fiscal year and beyond.
9M 2017 P&L was impacted by $4+ million of one-time initiatives, including $2.2 million in professional fees for a strategic review and an estimated $2.2 million of clearance markdowns. Both of these initiatives are expected to yield benefits in the current fiscal year 2018 and beyond.
Corporate expenses increased $2.2 million, or 90 basis points, during the thirty-nine weeks ended October 29, 2016 as compared to the thirty-nine weeks ended October 31, 2015, primarily due to higher professional service fees related to our engagement of an outside party to assist in identifying expense savings (per 10-Q)
Per management guidance, recent cost cuts are expected to benefit FY18 EPS by $0.19 to $0.28 per share, about $5 million. Management also announced non-store layoffs at the Omaha headquarters in January 2017. Recent investments in distribution and procurement should also ramp up savings in FY18.
Completed a comprehensive expense review in spring 2016 with the assistance of a retail industry leading consulting firm... Expectation is for all initiatives to be implemented and generating savings by fiscal year-end… Fiscal 2017 benefit to earnings per share is estimated at $0.19 to $0.28 (per ICR presentation)
As noted above, margins have been weak. 2Q17 and 3Q17 gross margins fell -80 BPS, an estimated $2.2 million ($279 million in revenues * 80 BPS), driven by timely clearance markdowns to clear out old inventory. Going into the FY18, comparable store inventories are down 5%-8%. Management is proactively dropping inventory receipts to be more tactical with their merchandising, while driving up inventory turnover and mitigating future markdowns. Going forward, management plans to keep more dry powder to "chase" hotter trends real time and to also get better pricing on inventory during the season rather than before. Historically, management did a good job limiting promotions to shopping events like Back to School, Black Friday, and the Holiday Season.
Another huge drag on GMAN's stock is its recent capital expenditures. 9M 2017 capex of $23 million should drop off significantly to low single digits in FY18. FY17 capex was elevated by an integration of brand new POS systems across the stores, 6 new store openings and distribution center improvements. FY15 capex was similarly impacted by the launch of its e-commerce site and the opening of 6 new stores. Capex will drop off significantly in fiscal year 2018 with no store openings or major investments. Management put all calendar 2017 store openings on pause due to the tough macro environment.
The increase in net capital expenditures during the thirty-nine weeks ended October 29, 2016 is primarily related to the timing of new store capital expenditures and increased investment in technology including the new point of sales system (per 10-Q)
On the marketing front, GMAN has recently adapted with the digital times and is leveraging social media for advertising. The company is pushing its hashtag, #GordmansHaul, and has invested in social ads, paid search, banner ads, and online videos geo-targeted at store locations. The marketing team is running traditional TV broadcast campaign as an online video campaign, currently marketing its recent low price guarantee program. Management is also pursuing e-commerce Omni-channel initiatives, launched in August 2015. While still a small piece of the business, the website is expected to contribute 1.5%-1.7% of FY18E revenues per management estimates.
Valuation
Target price of $2.5 based on 0.2x Enterprise Value to current year sales. Current year sales estimate of $636 million is based on $6 million average unit volumes and 106 Stores.
Competitive Landscape
Off Price Retail vs. Department Store?
Management insists on classifying the business as a "value-priced department store", but it's more of an off-price retailer. The store décor and layout looks to me like a contemporary T.J. Maxx (NYSE:TJX) mated with Kohl's (NYSE:KSS) and DSW (NYSE:DSW). GMAN is more comparable to a Nordstrom Rack than it is a Nordstrom (NYSE:JWN). For capital market's sake, management should broadcast that they are an off-price retailer, which commands better valuation multiples and sounds a lot more defensive amidst a brick-and-mortar retail apocalypse. For reference, gross margins (per Bloomberg): GMAN 41%, KSS 36%, JWN 35%, TJX 29%, DSW 28%.
Red State Footprint
Consumer sentiment in GMAN's footprint should benefit from the recent presidential election. The GMAN store location map looks strikingly similar to a map of red states from the election. 75% of stores are located in states that voted for Trump, 80 out of its 106 stores.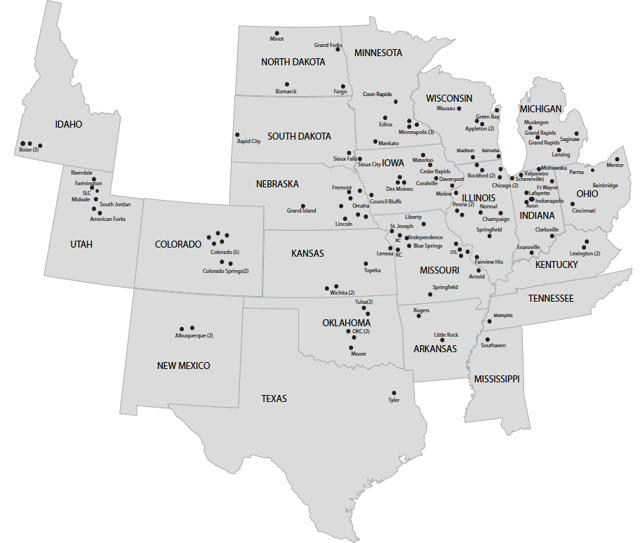 To better illustrate the target market for GMAN, its location closest to me in Avon Indiana sits between a Hobby Lobby and a Gander Mountain, sharing a parking lot with a Wal-Mart Super Center. The parking lot is usually filled with minivans, pickup trucks and my '07 Ford Mustang GT. GMAN guests on average travel more than 17 minutes. Per 10-K, as of January 30, 2016, 54% of stores are within one mile of Kohl's, 50% within one mile of J.C. Penney (NYSE:JCP) and 53% within 1 mile of Wal-Mart (NYSE:WMT).
High Customer Satisfaction
The Peter Lynch in me would not buy stock in a retailer where I wouldn't shop. I am a proud GMAN shopper and rewards member. The loyalty database has over 5.7 million guests who account for over 70% of sales, the sign up process at the counter is effortless. Rural and suburban guests love to peruse GMAN aisles just like online deal hunters peruse slickdeals.net. GMAN shoppers are drawn to the everyday low price model, where they don't need coupons and can still find their size and color.
Per BizRate, GMAN is rated 8.6 out of 10 across 2,116 independent reviews. In the past 3 months, 87% of reviews were positive, 4% neutral and 9% were negative. Per management surveys, 47% of customers visit monthly which represents 65% of sales. 86% of customer visits result in a purchase.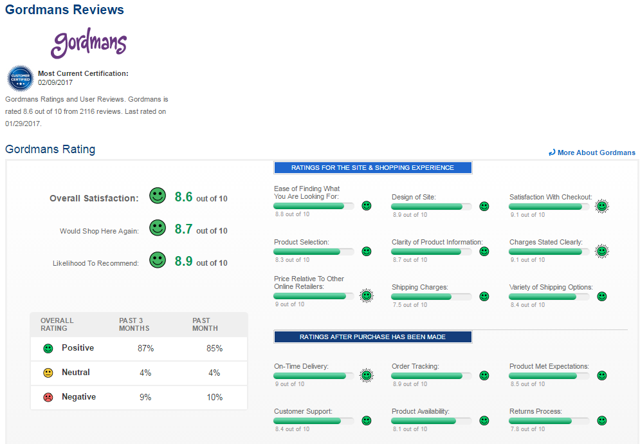 Variant View
Balance Sheet - Not yet a going concern
As of 3Q17, GMAN has net debt of $77 million including capital leases. The company has $80.4 million of debt that matures in 2020, and currently trades above par at 102. Assuming initiatives pay off and GMAN gets back to 4% EBITDA margins, GMAN would earn $25 million in EBITDA (FY18E Revenues $636M*4%), which would put leverage just north of 3X.
Gordmans Term Loan: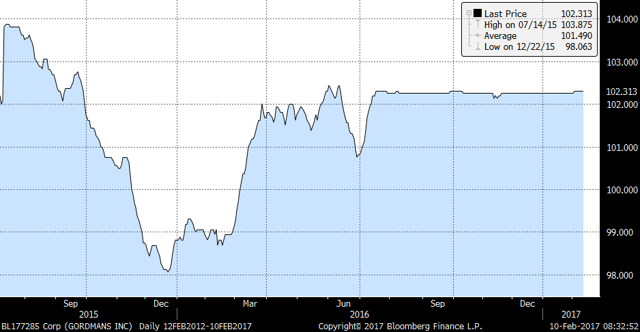 As of 3Q17, GMAN was in compliance with all debt covenants and it had no issues covering its leases. GMAN is not facing an imminent capital crunch, especially with capex about to drop off in a huge way. For the next few years, annual debt maturities for 2017-2020 are below $2 million. FY18 minimum lease payments are $57.7 million and total minimum lease payments through 2020 are $202.9 million. Seasonality should be a near-term tailwind to GMAN's liquidity, 32% of sales happen in the holiday quarter.
Debt Maturities (per 3Q17 10Q):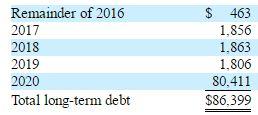 Minimum Lease Payments (per 3Q17 10-Q):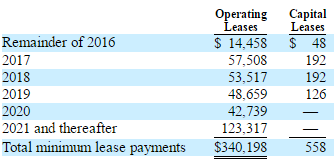 Retail Risk & >50% PE Holder
As implied by the stock chart, GMAN has its fair share of fundamental risks. Brick-and-mortar retail is ugly. GMAN has debt, leases, and declining traffic. On top of these risks, GMAN has a >50% private equity holder, Sun Capital, which might decide one morning to punt its shares. Sun Capital acquired GMAN in September 2008, and slapped it into its portfolio which also included The Limited, Shopko, Boston Market, Friendly's, Hickory Farms, and Fazoli's. Sun Capital took GMAN public in August 2010, at $11 per share. If the retail environment wasn't so sketchy, Sun Capital or a larger retail operator would have taken the company private by now.
Supporting Documents
Disclosure: I am/we are long GMAN.
I wrote this article myself, and it expresses my own opinions. I am not receiving compensation for it. I have no business relationship with any company whose stock is mentioned in this article.
Editor's Note: This article covers one or more stocks trading at less than $1 per share and/or with less than a $100 million market cap. Please be aware of the risks associated with these stocks.