According to OPEC oil ministers, global OECD inventories are dropping and going to fall about 300 million barrels soon. But three separate groups, including OPEC's own statistical branch, disagree.
The International Energy Agency (NASDAQ:IEA) reported that OECD stocks dropped in December but were still 286 million barrels above the five-year average level. It also projected that "by the end of 1H17 they will remain significantly above average levels."
The Energy Information Administration (EIA) reported that OECD stocks rose by 9 million barrels to a new record high of 3.110 billion in January. Furthermore, it forecasts stocks will end December 2018 at 3.107 billion, with seasonal swings in between. Based on my calculations using EIA's data, the only reason (besides seasonality) OECD stocks will approach their five-year average is because the five-year average will rise due to high stocks.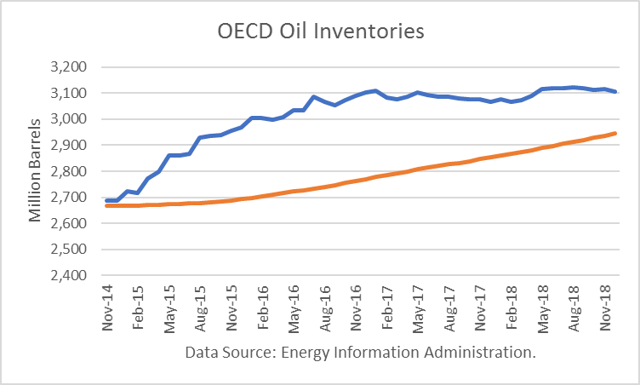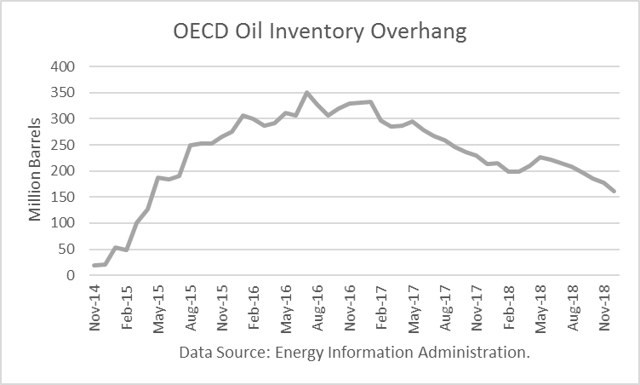 In the OPEC monthly report released last month, OPEC's own supply-demand balance implies a stock build of about 90 million barrels over the first half of 2017, assuming OPEC sticks to its ceiling of 31.8 million (excluding Indonesia). The EIA data released for January showed OPEC producing about 500,000 b/d above its ceiling.
| | | | | | |
| --- | --- | --- | --- | --- | --- |
| | Demand | Non-OPEC | Call on OPEC | Ceiling | Stock Change |
| 1Q17 | 94.6 | 63.5 | 31.1 | 31.8 | 63 |
| 2Q17 | 94.6 | 63.1 | 31.5 | 31.8 | 27 |
| Total | | | | | 90 |
Despite all of the data to the contrary, Qatar's Energy Minister Mohammed al-Sada, who last year served as OPEC president, said a drop in inventories had started, even though the EIA reported global stocks increased in January. Last month, Saudi Arabia's Energy and Industry Minister Khalid Al-Falih said an extension of the agreement probably wouldn't be necessary, given high levels of compliance and expectations of strong demand. Neither minister quoted sources for their remarks, nor any data to back them up.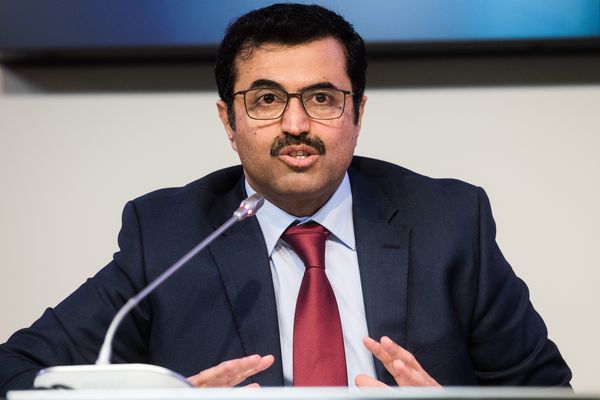 Mohammed Al-Sada. Photographer: Akos Stiller/Bloomberg
The oil market would be re-balanced when global inventories (currently at record highs) approached their five-year average level, Al Sada said. The third quarter of this year would be a "good estimate" for when this is likely to happen, he said, without providing any explanation.
Some OPEC members have increased production. Libya and Nigeria increased production in January by 50,000 and 210,000 barrels a day, respectively, Platts reported. Iran raised output by 30,000 barrels a day. While far from certain, these OPEC countries may be able to raise their production substantially over the course of this year. The OPEC agreement does not include any "effective mechanism" for other OPEC producers to cut back as these countries increase their production.
Meanwhile, in the U.S., the Dakota Access oil pipeline was approved, and Energy Transfer Partners (ETP) was granted formal permission to proceed and construction has begun."The estimate is 60 days to complete the drill and another 23 days to fill the line to Patoka," a spokesperson for ETP stated. When completed, the pipeline will effectively reduce the breakeven for about 500,000 b/d of Bakken crude production by about $5/b. I expect that will stimulate production in that basin.
OPEC Secretary General Barkindo suggested in December that the U.S. join OPEC in future cuts, otherwise the cuts are "incomplete." That absurd idea drew a written response from a U.S. senator in a letter to then-President-elect Trump. No fan of OPEC, President Trump had a policy goal published on the White House website to free the U.S. from dependence on oil from the OPEC cartel.
Continental Resources (NYSE:CLR) has stated that about 70% of its drilling budget there will be devoted to completing DUCs, which have a much lower breakeven than completing new wells. CLR has estimated that it can earn a 100% ROR on completing 'Drilled but Uncompleted' wells (DUCs) with WTI at $50/b.
Conclusions
The OPEC ministers are making predictions with no data to back them up. It may work in the short-run to keep prices up, but it may not work longer-term, as June approaches and OECD stocks remain substantially higher than the average. Stocks may even rise further above the record-high set in January.
Disclosure: I/we have no positions in any stocks mentioned, and no plans to initiate any positions within the next 72 hours.
I wrote this article myself, and it expresses my own opinions. I am not receiving compensation for it (other than from Seeking Alpha). I have no business relationship with any company whose stock is mentioned in this article.