The New York Times published its view:
The unanimous verdict: Thus far, the Trump administration is a textbook case of how not to run a complex organization like the executive branch.
And they found a few Ph.Ds to back up their statement:
"This is so basic, it's covered in the introduction to the M.B.A. program that all our students take," said Lindred Greer, an assistant professor of organizational behavior at the Stanford Graduate School of Business. By all outward indications, Mr. Trump "desperately needs to take the course," she said.

Jeffrey Pfeffer, professor of organizational behavior at Stanford and the author of "Power: Why Some People Have It and Others Don't," said Mr. Trump's executive actions as president "are so far from any responsible management approach" that they all but defy analysis.

..... Some Trump defenders have said that the president thrives on chaos, and it has proved to be an effective management approach for him in the past. But every expert I consulted said there is no empirical data or research that supports the notion that chaos is a productive management tool.

"I'm not aware of anyone who advocates that," Mr. Polzer [professor of human resource management at Harvard Business School] said. "I don't really know what's going on in the White House, so I don't feel comfortable commenting on that specifically. But I can say in general that in organizational settings, less chaos is a good thing."
I am no fan of egotistical behavior that has historically been exhibited by Donald Trump. My first negative opinion was in 1988 resulting from the 1988 negotiation with Merv Griffin. Negotiation 101 - never imply your negotiation adversary got the short end of the stick. It is like burning a bridge you may need in the future. Unfortunately, egotists need to elevate themselves even to their own detriment.
President Trump is hard to love - but the wild biased reporting masquerading as news is harder to ignore. As an example, I can find no evidence that any of the Ph.Ds in the NY Times article ever worked in the real world, or had any involvement in turning around sinking ships. Further, their opinions are wrong.
I have been called in to save 3 sinking ships [large organization structure] - and "chaos" is exactly the technique used each time. And it is not just me, I have watched others execute chaos successfully. It is hard to change any culture in an organization (even those in a failure mode where employees know that the ship is sinking) - the organization itself resists change. There is an investment by members in an organization in the existing path.
In sinking ships, the replacement management team is brought in for a "Hail Mary" play. Normal and textbook management techniques to turn the ship have already been played. The "Hail Mary" team likely does not have deep understanding of the company, its products, its personnel, or its problems. The chaos playbook requires throwing wrenches here and there - and then sitting back watching the organization deal with the resulting chaos. In short order, the "Hail Mary" team can evaluate the systems and the people.
And the chaos created is not random, it is targeted to areas where it is assumed are the weak points.
This is not to say that some of the chaos in this first weeks of the Trump administration was created by misjudgments - but without knowing the complete game plan, it is impossible to judge.
And as a former negotiator, I also consider that chaos is also a tool used in negotiations. If you want to renegotiate, or want to set a new course, one shakes the tree.
Let us warp back to why some voted for President Trump - it was because it was felt the country was on the wrong course. Trump was the only candidate of change. Those who voted for him want change (and the corollary is that those who voted for Hillary Clinton do NOT want change). Chaos would have been my chosen tool if I was tasked to change the US systems.
I personally believe those who take to the streets to demonstrate against President Trump's actions are aiding his strategy. It adds to the view of chaos both domestically and internationally - which is necessary to change course or renegotiate existing agreements.
My position is the USA is on the wrong economic course. It was not just the previous administration - but the seeds of destruction have been planted for decades. Economically, pundits try to make a big deal of the economic differences between the Republicans and Democrats, but they are little different. The economic path has strangled the median family since 2000.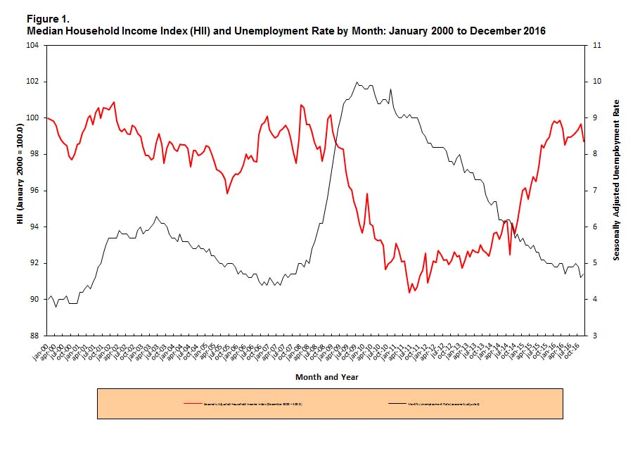 Source: Sentier Research
There are several reasons why the median family is going nowhere. Part of the reason is demographics: The replacements for the retiring boomers are getting less income or the boomer's job is not being replaced. Another is a shift towards minimum wage jobs aided by increasing automation. Every USA government in the last 30 years has ignored the trends, or decided to treat the symptoms (such as increasing minimum wage).
Large organizations will not try to change until convinced beyond reasonable doubt that destruction is looming. By then it is too late for the organization as significant damage has already been done. I am not sure President Trump is the best person to run the "Hail Mary" chaos play - but chaos is the correct play.
My usual weekly wrap is in my instablog.
Disclosure: I/we have no positions in any stocks mentioned, and no plans to initiate any positions within the next 72 hours.
I wrote this article myself, and it expresses my own opinions. I am not receiving compensation for it. I have no business relationship with any company whose stock is mentioned in this article.