As I continue publishing a small sample of weekly breakout stock picks into 2017 based on algorithms from my Ph.D. dissertation, I will also include updates on the results of each 5 week interval of breakout forecast articles. The 5 week summary data starts today with my original breakout forecast article (Week 2) and addresses daily and weekly results through and including the most recent week (Week 6).
The algorithms I constructed discriminate across seven classifications of the momentum cycle, but for purposes of investor interest I concentrate on the two most potentially profitable momentum segments: positive acceleration and negative acceleration. In addition, a sample of high dividend yield stocks with strong upward momentum is included to assist more dividend-focused investors. The daily performance results for each week will be documented in the comment section of each article. These selections include both high positive momentum breakouts as well as negative momentum stocks, based on the strongest documented characteristics of short-term momentum price behavior. It is most meaningful to my study if statistically significant differences between positive and negative selections emerge, as well as significant differences in returns over and above the S&P500 benchmark for both positive and negative selections.
The small sample sizes produced for these articles are not intended as a substitute for a robust scientific study that continues in parallel. Neither would an investor be expected to hold an equally weighted position of all the selected stocks for full week intervals strictly from Monday to Friday as this study maintains. Weighting your investments toward strong momentum moves and exiting strong reversals during the week would exceed the fixed results presented here. Nevertheless some significant outcomes may emerge as the testing continues.
Summary Report of first 5 weeks
In the 5 weeks to date these market neutral portfolio selections have outperformed the S&P 500 in 50% of daily opportunities (12 of 24) trading days, in 60% of weekly opportunities (3 of 5), in 100% of monthly (5 week / 25 day interval) periods (1 of 1) for a total cumulative percentage of 5.20% for the portfolio and 1.85% for the S&P 500 from Jan 9th (2271.25) until Feb 10th (2313.25).
Positive acceleration stocks have returned 20% - 30% within weekly periods and in several cases achieved double digit returns daily. Negative acceleration stocks have achieved greater than 10% in a week as well, but have not generated the same absolute returns as the positive momentum stocks to date. High dividend yield stock selections have also produced greater than 10% returns on a weekly basis, but their net returns more closely follow the S&P 500. For a detailed breakdown of each daily and weekly portfolio return please see the comment section in the Weekly Breakout Forecast articles for week 2, week 3, week 4, week 5, and week 6. Last week's detailed returns were as follows:

The Research Continues
Let me offer one additional note related to technical trading from my selection methodology. Researchers Chiang, Ke, Liao and Wang (2012) examined 95 modern studies of technical trading and found that 56 studies had positive results, 20 studies were negative, and the remaining 19 studies had mixed results (p. 956). They also found that all eight of their actively traded technical portfolios outperformed the passive trading portfolios in the short term. Other studies referenced in my research support the profitability of technical trading methods as well. Likewise, I have found statistically significant differences in performance that warrant consideration of certain technical variables above basic passive investment strategies.
The purpose of my weekly articles will be to continue to document out of sample testing as analyzed from January 2016 in my publication, and to share potentially beneficial opportunities with other investors. I have not decided on the duration of this weekly public sampling, but hope you will find it economically beneficial and trust you will do your own due diligence as well. Please keep in mind that some of the most positive/negative momentum stocks that emerge from these algorithms often include very small capitalized stocks and relatively small trading volumes. The selection criteria has a strong bias toward high volatility please trade accordingly.
Benchmark indexes at close of Feb 10: Dow 20,269.37 // NASDAQ 5734.13 // S&P500 2316.10
Top selections for Week 7 are as follows:
Positive Acceleration Momentum Stocks
These stocks have strong characteristics of positive momentum into acceleration for short-term gains. The typical momentum duration horizon from this analysis is one to three weeks. Based on past analysis it is not uncommon for stocks to sustain the momentum criteria for longer periods. The sampling process returned many momentum stocks from previous weeks. Based on feedback I have tried to include some large cap stocks and optionable stocks in the selection for this week. Good carry-overs of continued momentum from prior week(s) and several new stocks include ASYS, CYTX, CZZ, GGB, LLNW, RLJE, TGB, THLD:
Negative Acceleration Momentum Stocks
These stocks have strong characteristics of momentum decline into acceleration for shorting opportunities. The typical momentum duration horizon from this analysis is one to three weeks. Based on past analysis it is not uncommon for stocks to sustain the momentum criteria for longer periods. The 4 stocks for this week are BGC, MTSC, NKSH, PRK: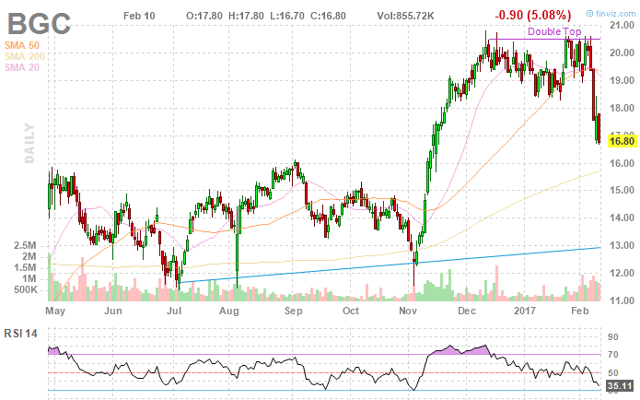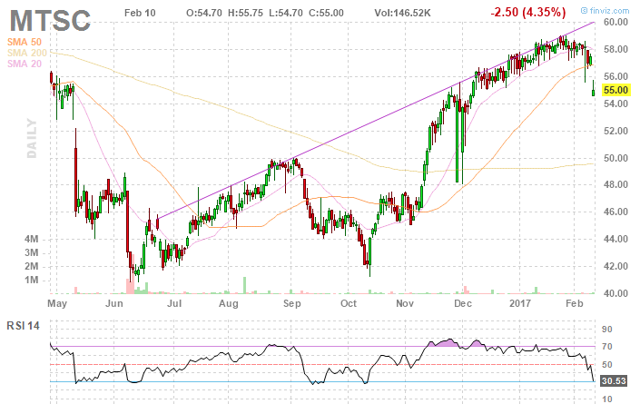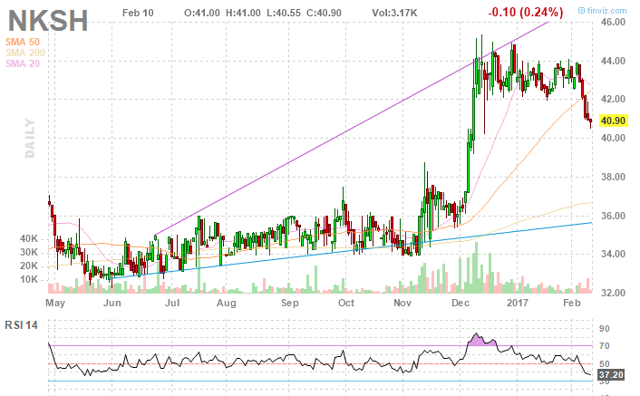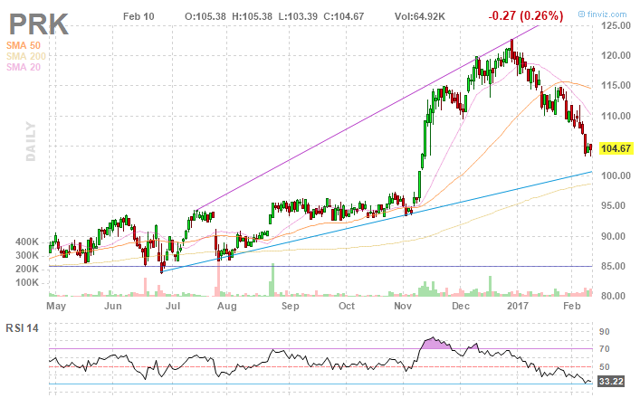 Positive High Dividend Momentum Stocks
These stocks have dividend yields greater than 5% as well as strong price momentum in the short term. The typical momentum duration horizon from this analysis is one to three weeks. Based on past analysis it is not uncommon for stocks to sustain the momentum criteria for longer periods. This may be especially true for dividend stocks that tend to have less volatility than pure growth stocks. Good carry-overs from prior week(s) and new stocks include ANF, SDLP, TOO, XIN: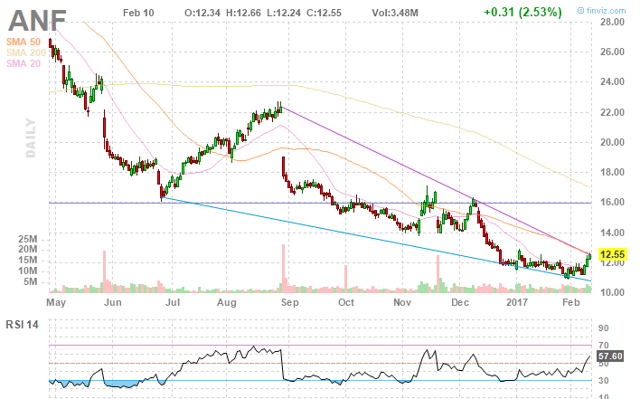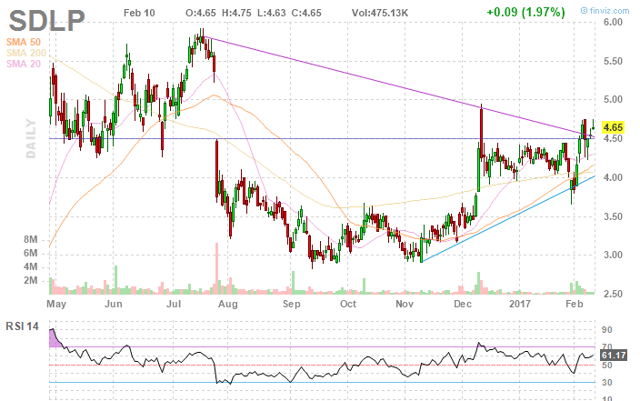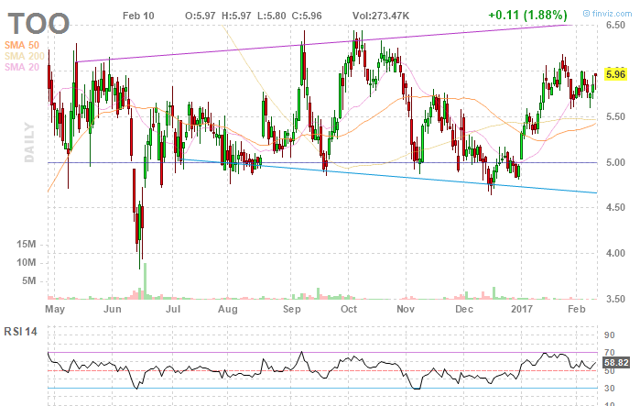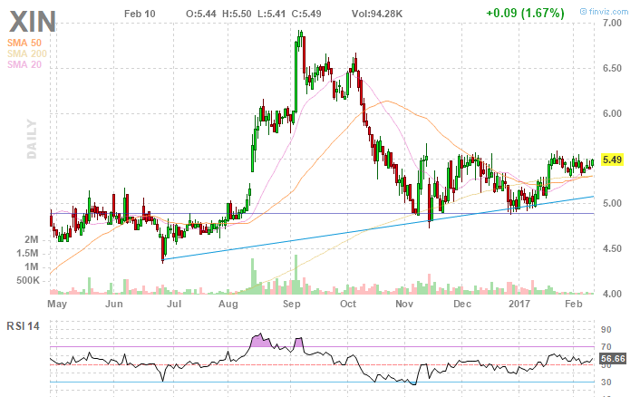 This approach outperformed in 2016 and I am hopeful it will continue to be a reliable indicator of momentum conditions across the momentum cycle throughout 2017. Your comments on this ongoing study are appreciated. Results are updated daily, weekly, and monthly (25 trading days).
My personal preference is to invest in long positions and not to identify companies for shorting. However, in the interest of documenting both positive/negative momentum breakouts using my algorithms, a small sample of negative accelerators is included. Keep in mind stocks from prior weeks are still showing strong momentum but may have been excluded for the short list this week to try to introduce new selections. As always I hope you capture the most beneficial of these breakout candidates and have a profitable week!
Disclosure: I am/we are long THLD.
I wrote this article myself, and it expresses my own opinions. I am not receiving compensation for it (other than from Seeking Alpha). I have no business relationship with any company whose stock is mentioned in this article.
Additional disclosure: I may initiate additional positions within the next 72 hours
Editor's Note: This article covers one or more microcap stocks. Please be aware of the risks associated with these stocks.