Last month, I wrote an article about gold (SPDR Gold Shares GLD) where I discussed that gold is a great hedge against Trump. I bought Yamana Gold AUY shortly after publishing my article. I chose to buy a single miner instead of the entire VanEck Vectors Gold Miners ETF GDX to gain some alpha. Both the GDX ETF and Yamana Gold added 8.4% since then.
Anyhow, in this article, I want to elaborate on a few things I mentioned in previous articles and tell you why I am selling my gold miners. I am mentioning it now, and will mention it again: I am selling my long exposure, I am not shorting any shares.
The first graph I am about to show you is the biggest reasons why I am not shorting any miners. It is also the biggest bull case if it turns out to be sustainable. So, what are you looking at below? The graph contains the ISM prices index. This index is the most important leading indicator for the consumer price index. This index is currently at the highest point since 2011.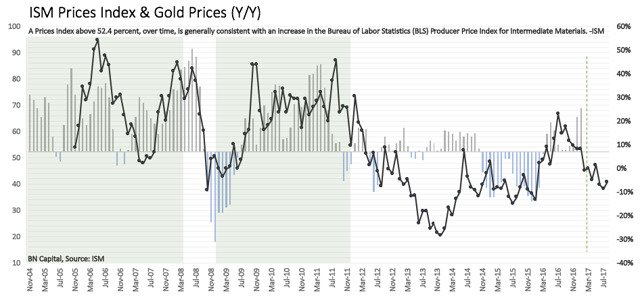 You can see that the correlation between the ISM prices index and the year-on-year performance of gold is quite high. Mostly before the commodity peak in 2011. Note that I used the current gold price to see how high the year-on-year returns of the coming months would be if the gold price wouldn't change at all. I do this to see how much is currently priced in. It turns out that an extended inflation rally could justify that gold rallies back to its 2016 peak. This would mean that the GLD ETF could go back above 130.
This is supported by one of my favorite indicators - at least until now. I am looking at treasury inflation protected bonds (iShares Tip Bond ETF TIP). These bonds combine two very important factors that drive gold: bond rates and inflation.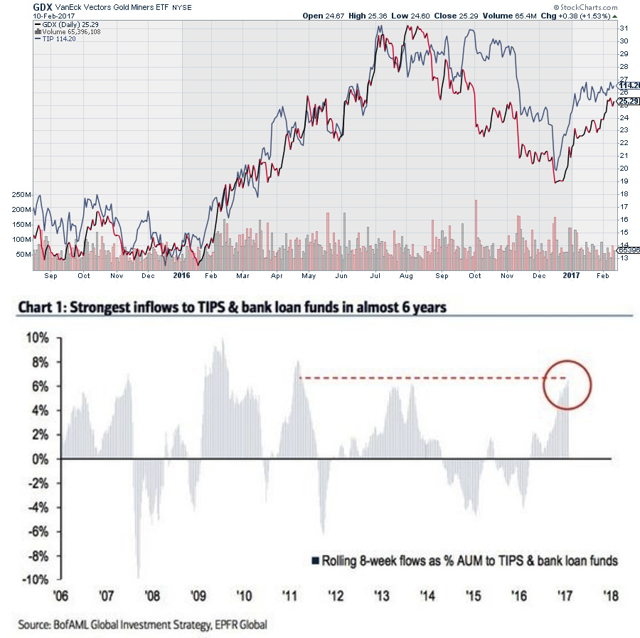 The negative thing is that investors have rushed into these inflation protected bonds. Inflows are back at the 2011 peak. On the other side, we see that investors are massively shorting the 10-year government bond future.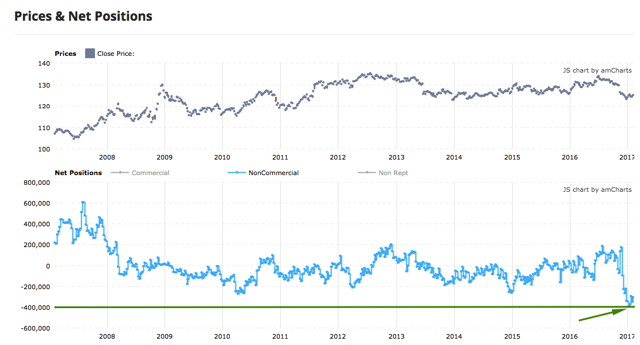 Source: Tradingster
Now, let's look at the USD. Both the USD and stocks have had a great week. This is very common due to the Trump reflation trade. Lower taxes, protectionism and less regulation. This is tremendously bullish for the USD and stocks.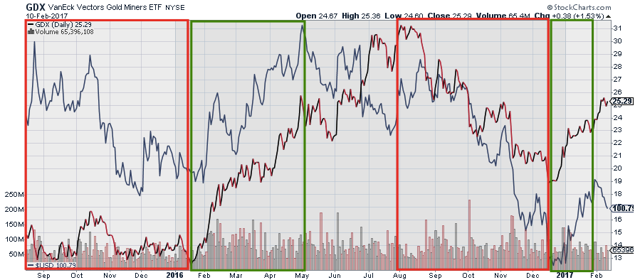 A strong USD is generally speaking bad for cyclical commodities and gold. The graph below gives you the big picture and some statistics.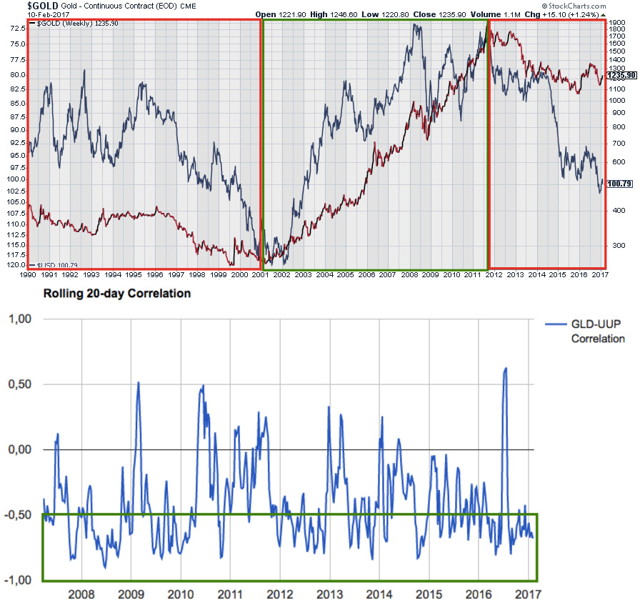 Source: Portfolio Visualizer
The long term correlation, based on a 20-day measurement is almost always below -0.50. This means that there is a negative correlation. It also means that there are many occasions when gold and the USD go up or down simultaneously. However, the fact that the correlation is negative most of the time is visible in the first graph. Gold is simply not able to have a sustainable long term rally without the help of a weaker USD.
This brings me back to the fact that gold is the first place to be if this whole Trump trade doesn't work out.
Conclusion
The environment for gold is currently mixed. The reflation trade is getting crowded. Money is piling into inflation protected bonds and out of 'regular' government bonds. We also see that the USD is gaining strength again. I personally don't like the odds of a long gold miners trade at this point. I am going to sell my Yamana Gold position as soon as possible.
On the other side, I am going to add a trade that is closely related to the things discussed in this article. I am buying government bonds and the USD. If you are interested, feel free to read my article about this trade.
Article: Contrarian Trade: Long Bonds And U.S. Dollar
I cannot stress enough that this article has the purpose of highlighting a few important fundamental changes. Gold could go up even more if people start distrusting Trump's policies. This would crash the USD and push gold way up. I am only selling because I have places with better odds to allocate the money. If things change to the better, I will write about it again and eventually buy miners again. For now, I'm out.
Many thanks for reading my article. Please leave a comment below if you have questions, remarks or a completely different opinion. You can also send me a direct message at any time.
Disclosure: I am/we are long AUY.
I wrote this article myself, and it expresses my own opinions. I am not receiving compensation for it (other than from Seeking Alpha). I have no business relationship with any company whose stock is mentioned in this article.