A closer look at the uranium mining industry over the last 20 years reveals a classic debt-fueled commodity cycle which peaked in 1Q2011 and, I believe, bottomed in 4Q2016. As demand increased globally and uranium spot prices rose to over $70/lb by early 2011, gargantuan long-term CAPEX projects were commissioned to increase production. However, after total nuclear energy consumption peaked at ~626 million metric tons of oil equivalent ("mTOE") in 2010, the market entered a deep recession following the March 2011 Fukushima disaster. Beginning in 2011, global nuclear energy consumption, the largest driver of uranium demand, fell 10% (predominantly due to Japan shutting down virtually all reactors in the country), resulting in spot prices falling to under $20/lb by 4Q2016.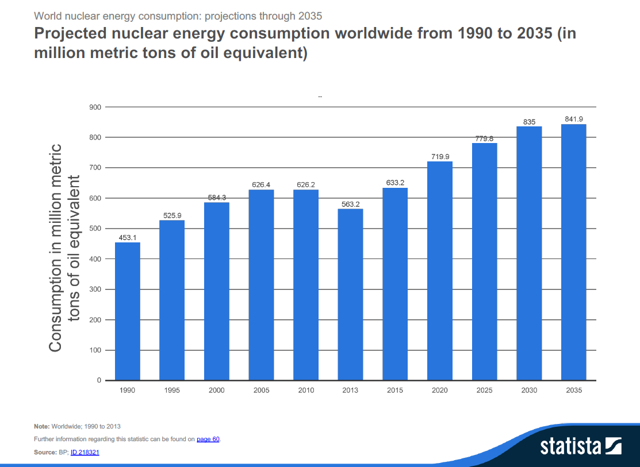 Source: Statista
Given the long-term importance of nuclear energy to the global energy landscape, I believe that the uranium market is set to rebound over the next 3-5 years. As we have seen in the oil industry since 2014, the companies that are first to emerge from the ugliest of downturns are those with hyper-core, low-cost assets. With that experience top of mind, I believe the best long-term investment opportunity in the uranium industry is Cameco Corporation (NYSE:CCJ).
Given its best-in-class portfolio of low-cost assets and dominant market share, CCJ is built for the long-haul. Although the global uranium market will likely remain oversupplied for the next 2-3 years, a continuation of the supply discipline that has bolstered prices recently; the reactivation of Japanese reactors; and further stockpile draws driven by new demand should all provide pricing support going forward. As the industry emerges from its cyclical bottom over the next 24 months, I believe shares in CCJ will rebound to $18-19/share, ~70% above the current price.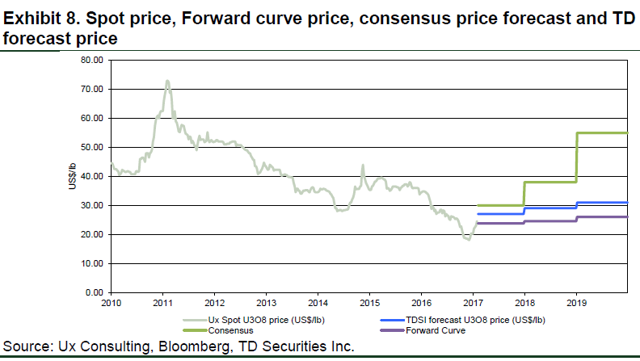 Source: TD Securities
Demand for Clean Electric Power
The world is in desperate need of fuels that can provide energy to the surging populations without the costly environmental costs inherent in legacy sources, such as coal. Along with natural gas, it is becoming increasingly apparent that nuclear power will be a critical piece of the global energy mix for the next 20-30 years with countries such as China and India constructing massive new nuclear power plants to meet demand for reliable, clean energy from their populations.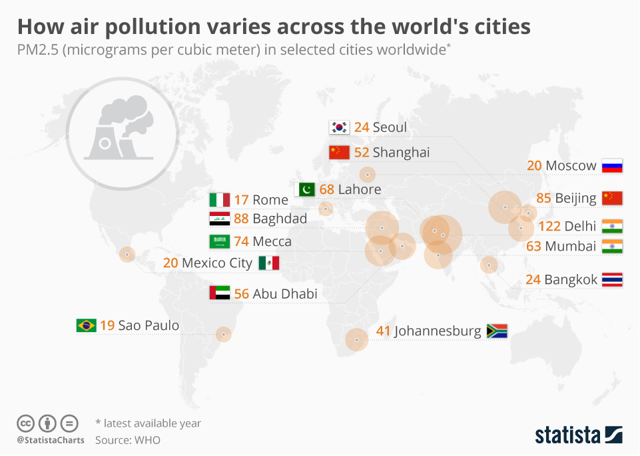 Source: Statista
Based on research by the Economist Intelligence Unit, as of January 2017, China alone had 21 nuclear reactors under construction. The country, which plans to triple its nuclear consumption by 2021, is expected to import ~60% of the required uranium during that period.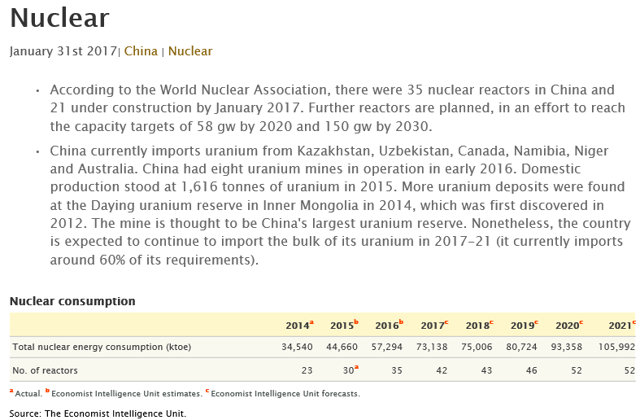 Source: Economist Intelligence Unit
In total, according to data gathered by Statista, as of May 2016, China, Russia and India planned to build a total of 42, 25 and 24 reactors, respectively.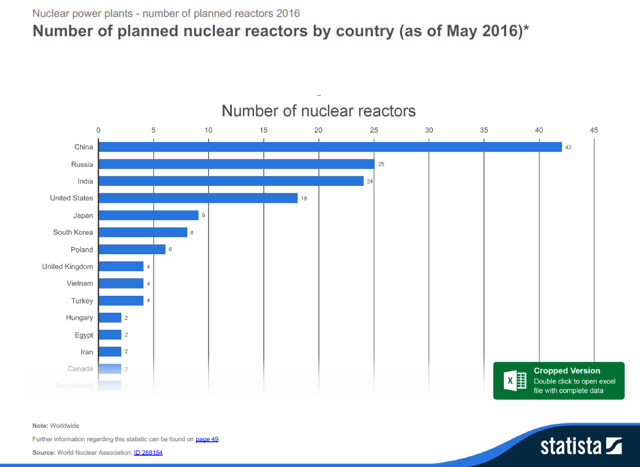 Source: Statista
In addition to new reactors coming online across the world over the next few years, Japanese reactors are expected to be slowly reactivated. As noted earlier, the ~10% drop in demand experienced in 2011 was almost exclusively due to the Fukushima-related collapse in Japanese nuclear energy consumption. To be clear, a 10% one-year decline in consumption of an energy-related commodity is MASSIVE. For reference, the largest annual drop in global oil consumption since 1980 was 3.23%. Long story short, I see Fukushima as the black swan of all black swans for the uranium market (hopefully) and the resulting price decline as an opportunity.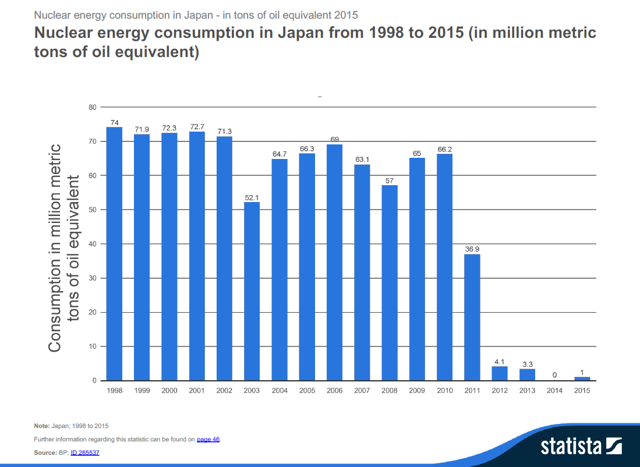 Source: Statista
While the slow but steady reactivation of Japanese nuclear power plants is expected to boost uranium demand moderately, the real demand is going to come from large nations with emerging middle classes, most notably China. Globally, Statista expects nuclear energy consumption to reach 719 mTOE by 2020, approximately 15% above 2010 levels.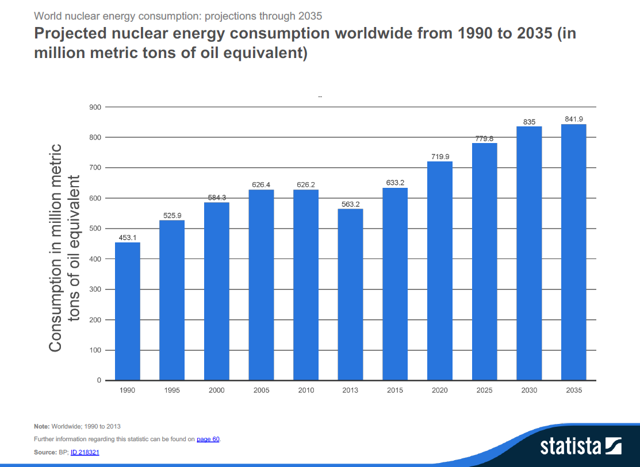 Source: Statista
The Economist Intelligence Unit released a more bullish outlook in December 2016, which is reflected in the table below. They expect total nuclear energy consumption to reach 787 mTOE by 2020, 25% higher than 2010 figures.

As seen in the EIA chart below, it is expected that nuclear electricity generation will increase ~78% to 4.50 trillion killowatthours by 2040, representing an average annual growth rate of 3.25%. As the growing red section of the graph shows, China is in the driver's seat.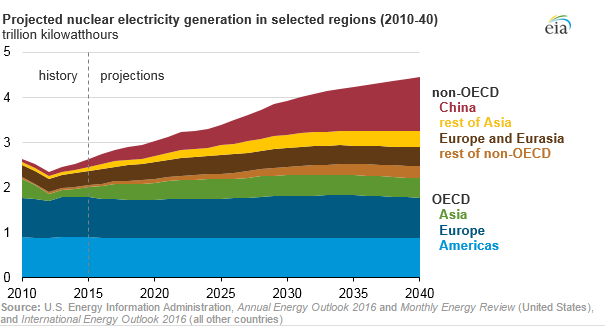 Source: EIA
So what does all this mean? Well, as I see it, the uranium market is poised to emerge from a crippling multi-year downturn caused by a once-in-a-lifetime (hopefully) disaster. According to a variety of reliable sources, nuclear energy consumption, and in turn uranium demand, is expected to increase consistently for decades to come. Given that fact set, I believe investing in the company with the largest, lowest-cost reserve base of the commodity used to generate nuclear energy, uranium, is a wise decision. Hence my interest in CCJ.
Cameco Asset Base
CCJ is the second largest uranium producer in the world, providing roughly 18% of the world's annual supply. The company has proven and probable reserves totaling 415 million pounds and land holdings of over 1.5 million hectares (~3.7 million acres) across the world. In addition to upstream assets, Cameco also is a leading provider of nuclear fuel processing services, which is analogous to the refining operations of integrated oil and gas companies.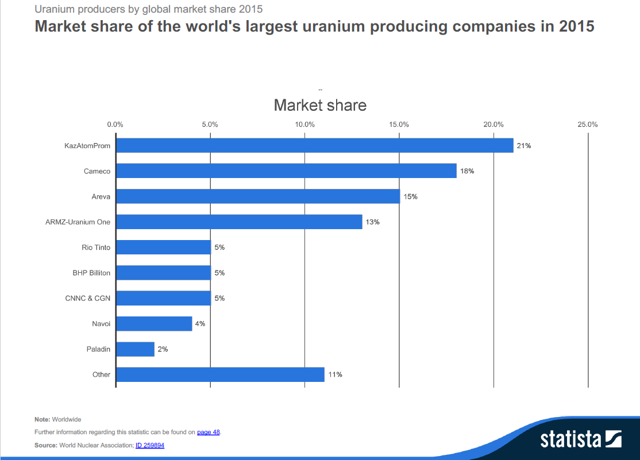 Source: Statista
As far as asset-level production, CCJ owns and operates the top 2 mines in the world based on production, and 3 of the top 10.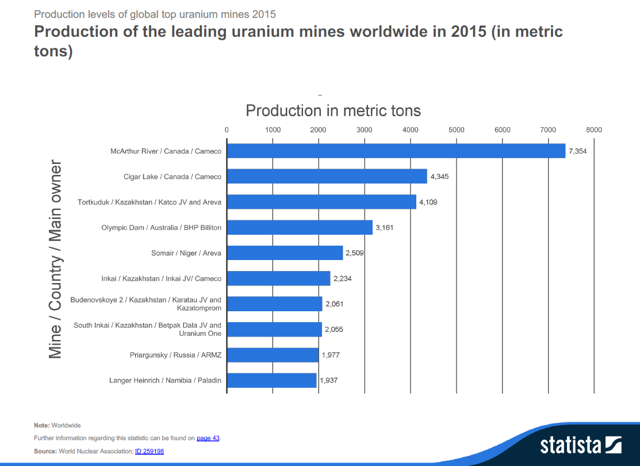 Source: Statista
According to CCJ's 2016 Annual Report, the company produced 27 million pounds of uranium (13,500 tons), slightly above their 2016 plan of 25.8 million pounds. On the 4Q2016 conference call, management noted that higher than expected production at the low-cost Cigar Lake mine drove the outperformance.

Source: 2016 Annual Company Report
During 2017, the company plans to reduce production to ~25M lbs, while remaining focused on their three core, low-cost assets McArthur River, Cigar Lake and Inkai. I believe this represents exactly the type of approach industry leaders such as Cameco need to take for the uranium market to rebalance.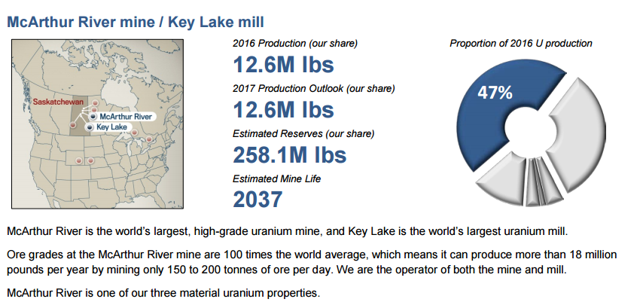 Source: 2016 Company Annual Report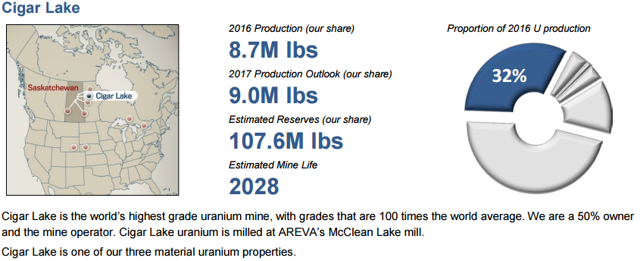 Source: 2016 Company Annual Report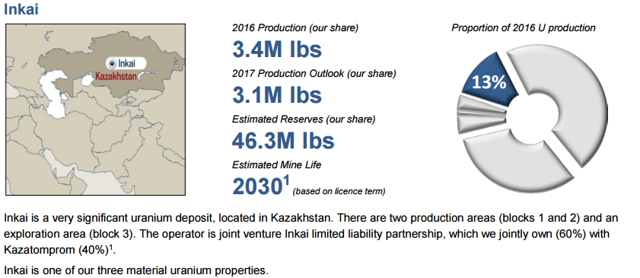 Source: 2016 Company Annual Report
In addition to the 2017 production cuts forecasted by Cameco, almost all of which is expected to come from their least economic mines, the country of Kazakhstan, which produces ~40% of all uranium, recently announced it would cut output by 10%. Given that Kazakhstan produces 40% of the global uranium supply according to Economist Intelligence Unit, it makes Saudi Arabia's hand in the global oil market look weak. For reference, Saudi Arabia produces ~10% of global supply. With such a dominant market position and the country's proximity to the fastest growing market (China), the Kazakhs have the luxury of being able to significantly move prices by taking a measured approach to production cuts while not having to worry as much about others taking significant market share.
In summary, it appears that the global uranium market, in which Cameco is the second largest corporate producer, has begun to rebalance itself and is positioned to continue doing so in the coming years. As opposed to the oil market, which is incredibly fragmented and includes hundreds of low-cost, quick-to-market producers (shale cowboys), the uranium market is dominated by a few producers, requires substantially more CAPEX and has a longer production timeline. Additionally, recent production cuts announced by Cameco and more importantly Kazakhstan are encouraging to say the least. If supply discipline persists and global demand unfolds as expected, the industry and the price of uranium will be positioned for a healthy rebound. With it's top tier asset base and global scale, CCJ will be a prime beneficiary.
Cameco Equity
After surging ~50% since November in response to increased uranium spot prices, CCJ recently dropped nearly 20% after it became public that a major customer, Tokyo Electric Power Company (TEPCO), was terminating its supply contract and claiming force majeure due to government regulation.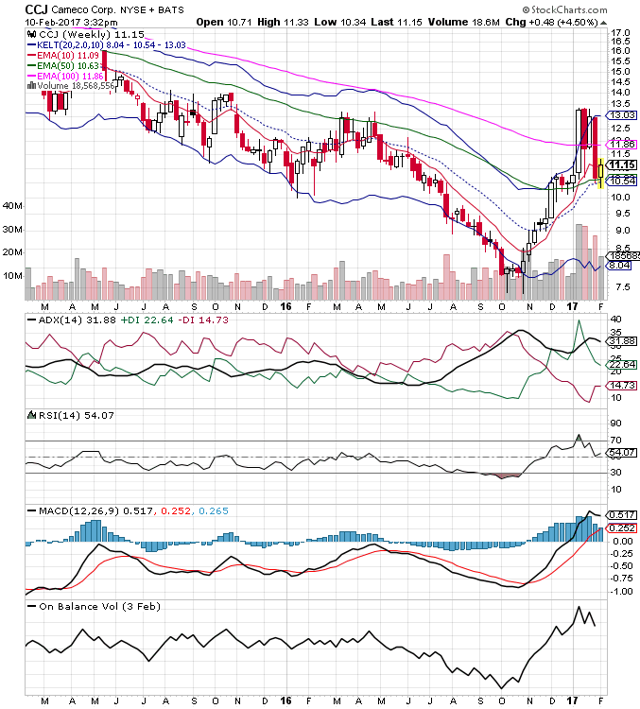 Source: Stockcharts.com
Although this contract represented ~3% of sales volume, it represented ~6% of total sales in dollar terms due to above market pricing. While a major customer terminating a contract is never good, I believe the drop in share price is overblown and represents a good buying opportunity for long-term investors.
First, it is important to note that this is not the first time a customer has terminated a contract claiming government regulation-related force majeure. In 2014 a similar case unfolded and CCJ was able to successfully defend its contract claims in court. Although this process took approximately 2.5 years, they were eventually successful.
Second, the TEPCO claim of force majeure due to government regulation seems especially vulnerable given that there are still a few reactors active in Japan and reactivations are expected to pick up during 2017-2018.
Although I believe CCJ will eventually be able to receive compensation from TEPCO in arbitration, even if they don't, I still believe the company is a good long-term investment given their dominant market position and the nuclear energy consumption growth expected for the foreseeable future.
Valuation
Despite its recent run, CCJ is still attractive from a historic valuation perspective. It is trading well below its 5-year average P/ TTM Sales ratio of 3.13x and its 10-year average P/ TTM Sales multiple, which is closer to 6.00x.
Now that the uranium market has begun to emerge from the depths of Fukushima-induced depression, I believe investors will begin to appreciate CCJ as the global leader it is over the next 18-24 months, recognize its earnings growth potential underpinned by strong expected uranium demand and reward the stock with a P/ TTM Sales ratio of 4.00x.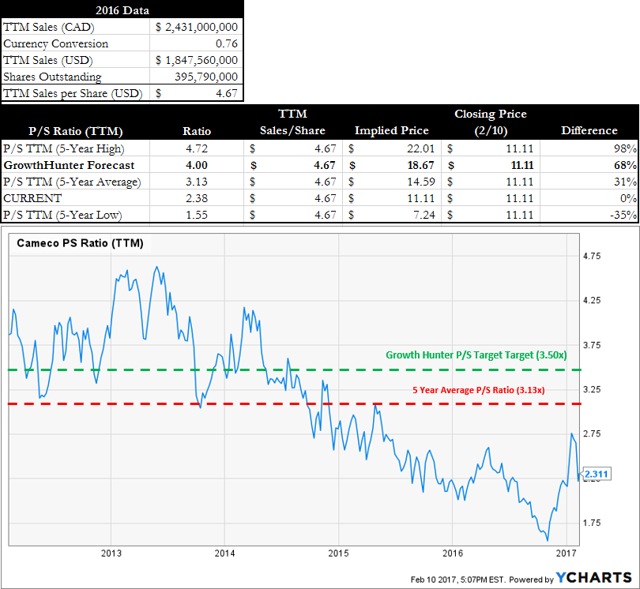 Source: Stockcharts.com and Internal Model
Based on a 4.00x multiple of 2016 revenue ($1.847B USD), CCJ should trade at $18.67/share, representing 68% upside from its closing price as of February 10th, 2017. Although revenue may be lower during 2017 due to decreased production, I believe many of the macro headwinds that have surrounded the company will subside during the year, allowing for multiple expansion and price support as investors realize the multi-year growth runway in front of CCJ. Additionally, the majority of production is expected from CCJ's most economic assets which should boost gross margins and provide additional support until revenue rebounds.
Downside Risks
Although I believe CCJ is undervalued given the expected growth of nuclear energy consumption, similar to all commodity companies, it is exposed to any deterioration in the global uranium market. Specifically, should major producers (Kazakhstan) diverge from the prudent production guidance they have recently announced, CCJ's share price could suffer.
Additionally, if reactor construction and/or reactivation should come in below expectations during 2017 and beyond, it could mute the rebound in uranium prices.
Finally, there continues to exist the headline risk that additional customers will cancel contracts, claiming force majeure, to take advantage of lower spot prices. Although I believe CCJ will eventually succeed in the TEPCO case, and likely would in others, termination headlines and their impact on short-term earnings could create headwinds for the company.
Summary
The black swan of all black swans for the uranium market, the Fukushima disaster, threw the industry into a multi-year tailspin beginning in 2011. Finally, after 6 years, I believe uranium prices have bottomed.
In combination with the multi-year lows seen in uranium pricing during 4Q2016, the expected growth of demand, driven by nuclear power plant construction in China and other nations makes investing in CCJ attractive.
Similar to all commodity companies, there are cyclical risks, but I believe the company's market leading portfolio of assets and historically low valuation provide an attractive risk/reward profile.
Disclosure: I/we have no positions in any stocks mentioned, but may initiate a long position in CCJ over the next 72 hours.
I wrote this article myself, and it expresses my own opinions. I am not receiving compensation for it (other than from Seeking Alpha). I have no business relationship with any company whose stock is mentioned in this article.