Abbott Laboratories (NYSE: ABT) is a diversified giant among the healthcare industry. With a shining dividend track record, and consistent earnings growth going back decades, investors have profited from extended holding periods. Even though the structure of the company is now different from prior to 2013, the company has set itself up for future growth. This article will examine how it has done so, and why shares are a "fair deal" worth holding for the future.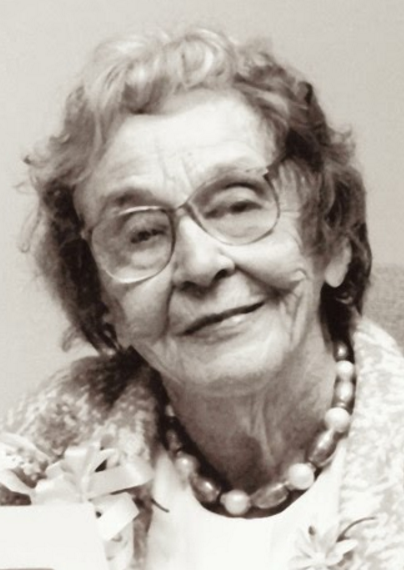 There is a famous story about Grace Groner, a secretary of 43 years for Abbott Laboratories. She bought three shares in 1935 for a total of $180 (a little over $3K in today's dollars). She never sold a share, and kept reinvesting dividends. At the time of her passing in 2010, those three shares had grown via splits, dividend reinvestment, and appreciation to over 100K shares, worth more than $7 million. It is one of the greatest real life examples of wealth compounding. While it is fair to call this "an extreme case", Abbott Labs has continued to generate returns for investors throughout the decades. An investor who grabbed $10,000 worth of Abbott stock in 1995 would have generated a "ho-hum" annual return of over 10% annually by simply reinvesting dividends, and holding.
The engine that drives consistent performance like that is two-fold. First, Abbott Labs has been able to consistently grow earnings over time. This directly correlates to the second leg of wealth generation, which is consistently increasing dividends. The below chart captures earnings per share, and dividends per share paid over time up until just before sister company AbbVie (NYSE: ABBV) was spun off in 2013.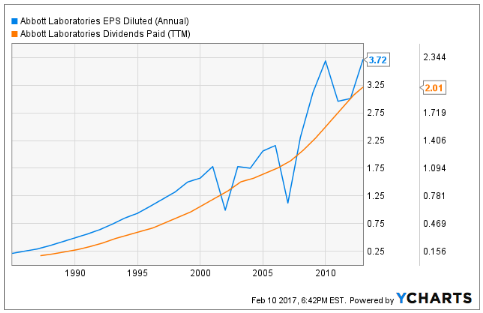 In fact, Abbott Labs has raised its dividend payout for 45 consecutive years. This is important to know because Abbott's dividend paid per share of ABT was technically reduced when AbbVie was spun off, so Abbott Labs will not show up on standard screens for companies with consecutive dividend increase streaks (i.e. Dividend Champions).
With Abbott Labs spinning off its pharmaceutical pipeline as AbbVie, leaving only the "generics" brand pharma division, the make up of Abbott Labs changed. The remaining entity consists of four branches - medical devices, established pharmaceuticals (generic brand), diagnostics, and nutrition. However, the "new look" Abbott Labs has wasted no time bolstering itself for future earnings growth. Abbott recently closed its enormous $23B deal for St. Jude Medical on January 4th. This deal is an enormous boost to Abbott's medical device business, resulting in a portfolio with strong positions throughout the cardiovascular device market. This market is a high growth area of healthcare, and is continually expanding.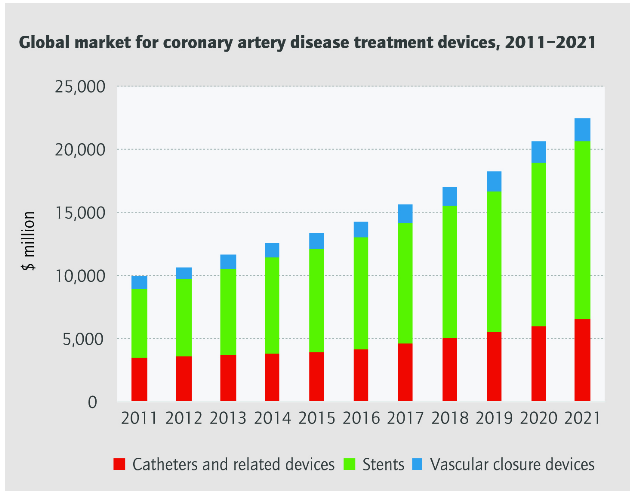 source: Smithers Apex
Abbott Labs has also moved to boost its diagnostics business with the pending acquisition of diagnostics firm Alere (NYSE: ALR) worth (at the moment) $5.8B. However, the deal has since been mired in controversy with Abbott Labs currently trying to back out of the deal. A summary of these events surrounding the deal can be found here. While European regulators recently approved the deal, there is certainly more to come and anything beyond this would be speculation at this point.
Even without factoring in any potential effects of the Alere acquisition, Abbott continues to hum along on a growth curve of high single digit - low double digit EPS growth. Management has given an EPS growth forecast of 11% for 2017 with estimated earnings falling between $2.40 - $2.50 per share, and consensus analyst estimates point to this growth rate holding for the next five years. Abbott's dividend of $1.06 per share is less than half of its 2016 earnings per share of $2.20 resulting in a low pay out ratio, leaving room for future increases - even if earnings growth hits a snag. Some investors may have raised an eyebrow this year when Abbott's dividend increase was a meager 1.9%, however this was prudent by management to keep its finances in check as it digests St. Jude, and potentially Alere. Abbott Labs took out $15B in debt to fund the St. Jude acquisition. I believe that Abbott will get its dividend back to a growth rate in the 9-10% in the near future to match its earnings growth. Look at recent history. In 2013, the year of the AbbVie spinoff, Abbott Labs paid a quarterly dividend of $0.14 per share. In just over four years, that dividend has almost doubled at $0.265 - and will likely complete its lap of the 2013 dividend by reaching $0.28 with this year's increase.
Mr. Buffett once said:
"It's far better to buy a wonderful company at a fair price than a fair company at a wonderful price."
I certainly classify Abbott Labs as a wonderful company given its historical record of consistent wealth generation, and future prospects in the lucrative healthcare market. However, even a quality company such as Abbott Labs can disappoint if purchased at too high a valuation (talk to anyone who bought Coca-Cola stock in the late 90s). Fortunately, shares of Abbott Labs look like a "fair deal" at today's prices. While not on the clearance rack (what is in today's market?), someone looking to buy and hold will do just fine in the long run paying 19X TTM earnings. Abbott is trading at 17X 2017 earnings, which for a company that is expected to grow earnings (and likely the dividend) at a 9-11% clip through the early 2020s, looks like a bargain next to some other blue chip names out there in a market that is at all time highs.
Some investors may be frustrated that the stock price has sat in the low $40s since summer of 2015. It is important to remember that stock prices are not linear. There are often times when prices are stagnant while the earnings continue to grow. Then seemingly out of left field, the share price will "play catch up", and appreciate rapidly in a short amount of time. Something similar happened to shares of Johnson & Johnson (NYSE: JNJ) in the mid 2000s. Shares traded in the low $60s, for a few years while earnings continued to grow. Had investors abandoned ship, they would have missed the eventual surge of capital appreciation resulting from shares racing past $100 five years later. With such a long period of "stagnation", you wouldn't think it but Johnson & Johnson has compounded annually at a rate of 11.5% (with dividends reinvested), while the market trailed behind at 8.5% over the past two decades. Not bad for what investors at one time probably called "dead money".
This brings us back to Abbott Labs. A lesson can be taken from Grace Groner, even though she probably found the success she had unintentionally. Investors that latch onto high quality companies with growing earnings and increasing dividends, and hold for long periods of time typically end up doing quite well. Abbott Labs is a highly diversified healthcare conglomerate that after spinning off AbbVie, has boosted its medical device business to continue its long tradition of inflation topping earnings and dividend growth. Why make it complicated?
If you liked this article, please find my profile icon at the top of this page, and hit the "Follow" button. I enjoy engaging with those who comment, and am always looking for feedback that allows me to improve on the content I provide. As always, thanks for reading.
Disclosure: I am/we are long ABT, JNJ.
I wrote this article myself, and it expresses my own opinions. I am not receiving compensation for it (other than from Seeking Alpha). I have no business relationship with any company whose stock is mentioned in this article.