Welcome to the third edition of 'Elroy's Elliott Wave Weekly'. Last week I looked at some of the shorter term scenarios in gold (NYSEARCA:GLD), the Dollar (NYSEARCA:UUP) and equities (NYSEARCA:SPY), as well as introducing some Elliott Wave concepts (these will be in italics in all articles). This week I will update the counts in the main markets, and look at why playing probabilities (and accepting you may be wrong) is more rewarding than looking for perfection.
When Elliott Wave Goes Wrong
As I have said a few times, the counts I provide will not always be 100% correct. If I could accurately predict every move, in every timeframe, in every market, I wouldn't be sitting here writing this on Saturday afternoon. The charts and counts in my articles should give readers an edge and directional bias, but please don't expect perfection.
It was only a matter of time before I got a count wrong, but as I will try and explain, it doesn't necessarily mean the trade will go wrong too.
Two weeks ago I showed the medium term chart of the Dollar and concluded 'we should expect a final high just above 105'. Last week I followed this up with a shorter term chart and suggested $98.80 was the perfect place to buy.
Remember, though, we cannot expect perfection. If there is the potential for a 600 pip move higher, and price gets within 50 pips (0.5%) of the perfect place to buy, then it's best to accept you may be slightly wrong and buy at least a partial position. You can always add if the perfect spot is hit, or if strength is shown.
One thing is imperative: do not get short in the hole looking for 'one more low'. This is the curse of Elliotticians the world over and something I had to learn the hard way. Many markets have reversed right under my nose while I was waiting for the perfect short term count. Even worse, I often shorted the first bounce because I was so certain of the additional low.
Nowadays I keep the higher timeframe context in mind, and accept I'm better off not trying to catch the exact low or high.
Equities
The S&P500 broke to a new high last week in a strong impulsive move. When I see the break-out occurring on the strongest part of the wave (usually wave 3), I am fairly sure it's genuine and will continue: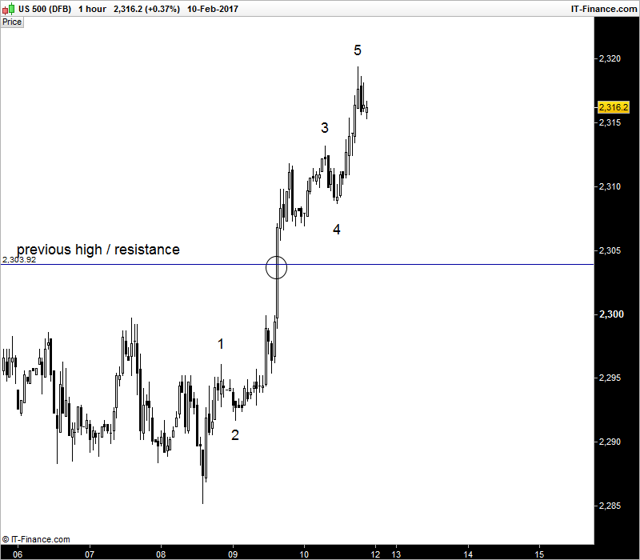 This is a nearly perfect looking wave. In the very short term I'd expect a small pullback early in the week as the 5 wave move up is unwound. What happens after that is dictated by the higher timeframes: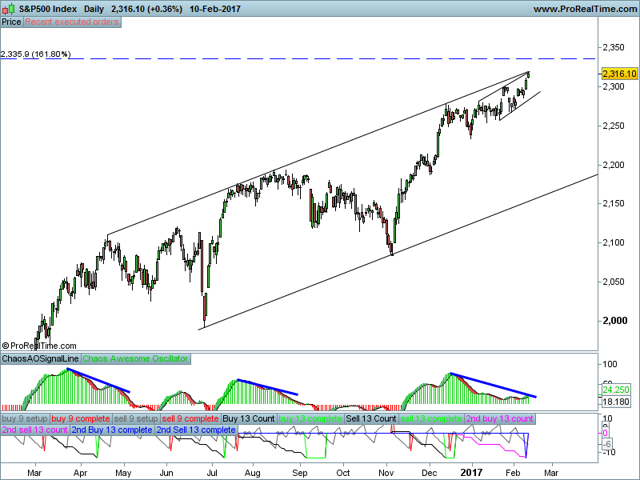 Unfortunately, such clarity is not quite as evident in the medium term chart. What is clear is the wave from the November lows is in its final stages. There is momentum divergence (middle pane of the chart), a Demark sequential exhaustion signal (lower pane) and resistance in 2 channels.
Saying all that, I'm not going to try and call a top. A possible path is a small pullback early in the week and a rally to 2335 (this is the 161.8% extension of the 2015 decline). The point is there is more risk than reward here for new longs. Once the November stage of the rally corrects, there will be much better opportunities.
The Russell 2000 ETF (NYSEARCA:IWM) also broke out of the flag, and initiated the trade to $143 I spoke about last week.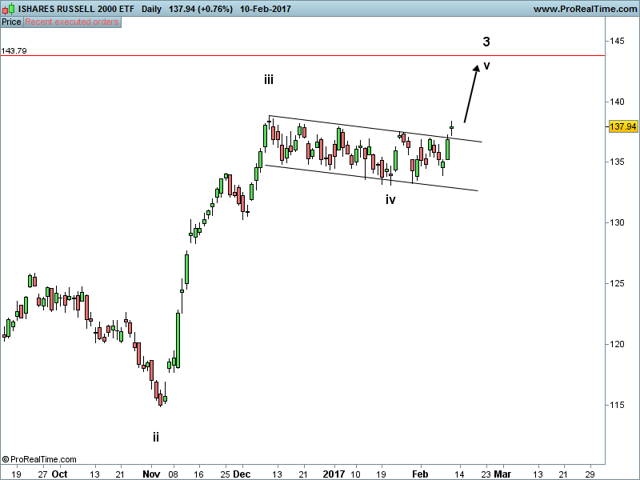 I shouldn't really second guess such a bullish looking pattern, but it looks a tad obvious and a little too easy. Also consider you are buying 20% higher than the November lows and just under the all time high. I prefer to buy low, but that's just my style. If this trade is to work, price shouldn't get to $136 again so at least the risk v reward on the trade is good.
One reader requested a Nasdaq (NASDAQ:QQQ) chart last week, so here it is: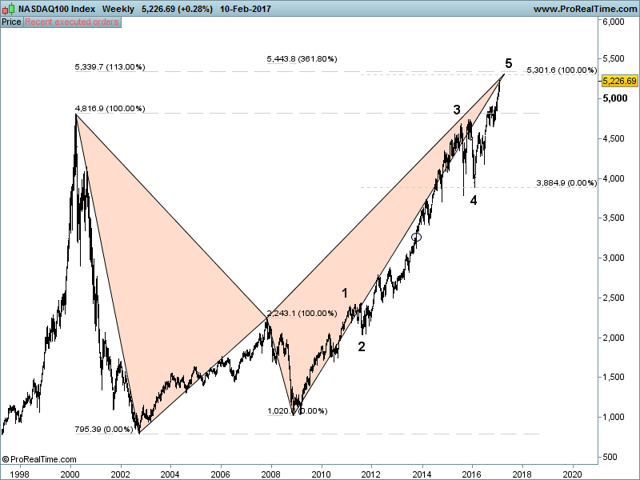 The harmonic pattern targets 5340-5443. My personal method targets 5523 (the small circle on the chart acts as a clue to how I came to this figure).
Anyway, the target is higher, but much like the S&P500 and other indices, the bull market is in wave 5 and its final stages.
My only decent trade last week was in the German Dax (NYSEARCA:EWG). I commented in my January article I would buy 11450, and last week's low came at 11463, bouncing as high as 11718. However, I suspect Dax will trade sideways for many weeks and I am treating this trade as short term.
Gold
Gold is another good example of why trading is all a balance of probabilities and risk versus reward. The pattern shown in last week's update was valid up to $1245 (you can see the figure $1244.9 on last week's chart). This is the 161.8% extension of the last pullback and a normal target for an irregular wave 'b'.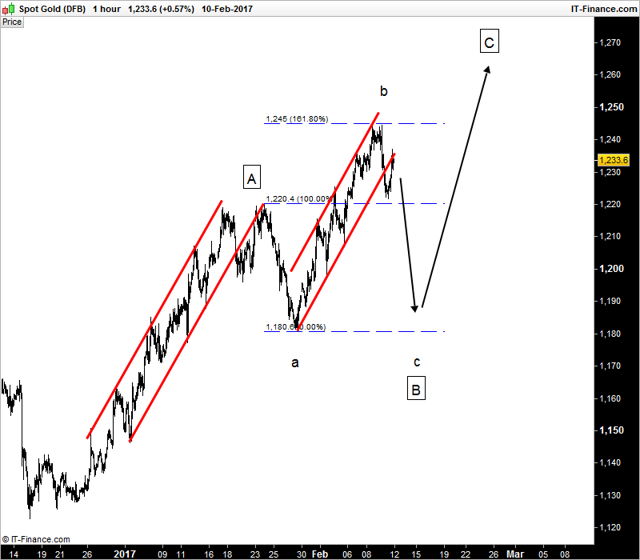 $1245 caught the high nicely. I'm still not 100% convinced the pullback shown above will materialize, but I closed the extra longs I took out at $1200 and still plan to re-buy nearer $1180. I am not short. One thing I am pretty sure of is the cycle from the December lows is not over, so my directional bias remains long and I still have a core position.
This view is given extra weight by the gold miners ETF (NYSEARCA:GDX), which is still tracking the map I provided on February 2nd. Here is an update: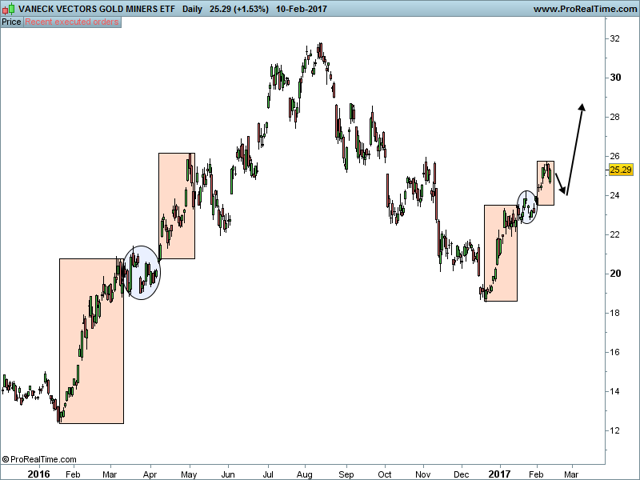 This fits with the view in gold. There may be a pullback, but it is a buying opportunity.
Oil (NYSEARCA:USO)
Oil is stuck in a triangle. Triangles are a continuation pattern, but more importantly they are the penultimate pattern in a sequence.
(click to enlarge)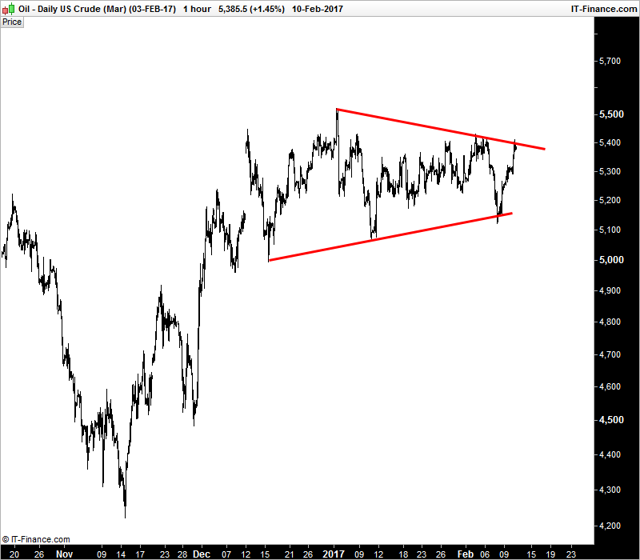 Simply put, if oil does break out, it won't go far. A retrace of the whole rally above is due, and this should give an opportunity to buy in the high $40s.
Natural Gas (NYSEARCA:UNG)
Last week's chart called for a bounce and a move back down: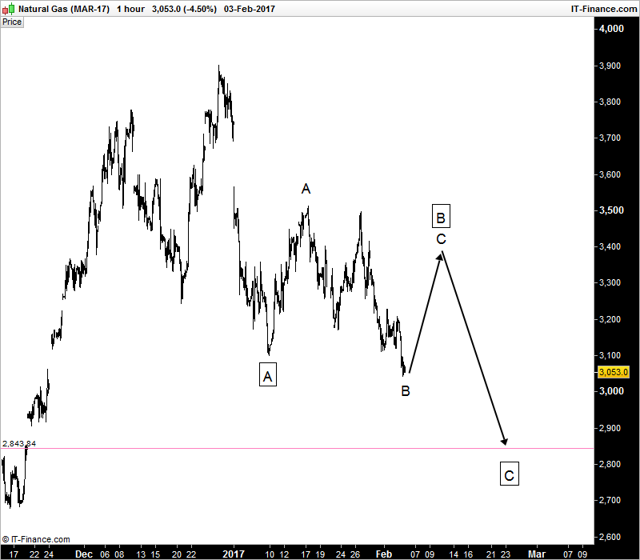 This was exactly what happened, but again, the chart above was far from being perfect.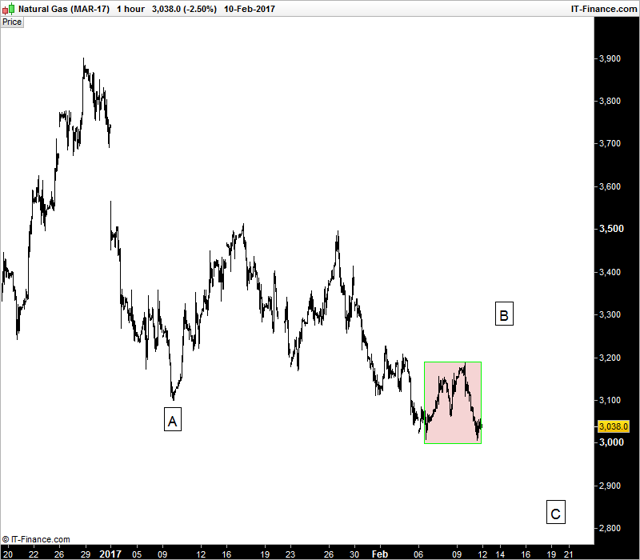 The bounce was much smaller than expected, but still the view provided an edge. If you expected a bearish bounce to a lower high and another low, the 5.9% rally last week may have been a good place to sell.
I don't have much more to add without more information on weather and price moves in relation to the news. If price gets high enough ($3.3ish), it is a sell for new lows, if price gets low enough ($2.8ish), it will be a good long term buy.
Other Markets
Bonds (NYSEARCA:TLT) went up as expected last week. I still think they will eventually make a new low to around $115, but depending on your timeframe and sizing, anywhere under $120 seems a decent buy for a medium term hold to $130 again.
A count on copper (NYSEARCA:JJC) was requested last week, so here it is: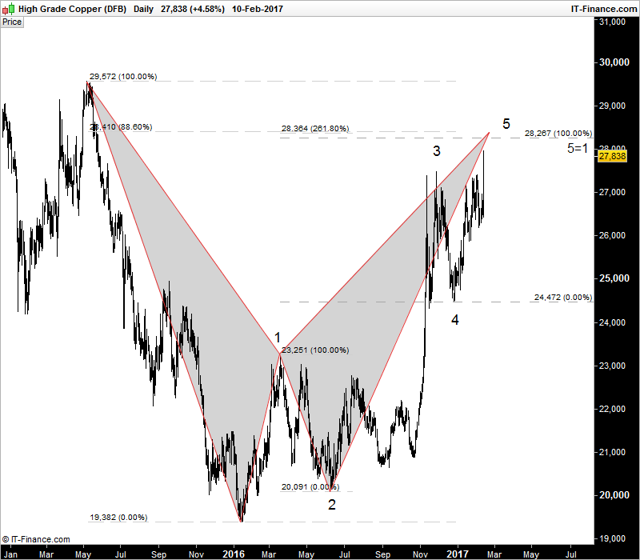 It's an interesting chart. The 5 wave move up from the 2016 low means the low is in, but it also means there will soon be a large retrace (which will be a great buying opportunity). The harmonic pattern targets $2.83, and this is where waves 5 and 1 are equal in size. Expect a medium term top in this area.
Longer term, this chart from my November 4th article shows the bear market ended just where wave C and A were equal: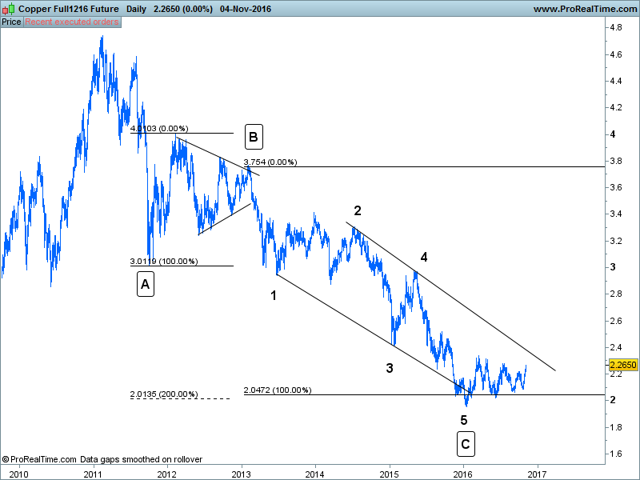 Copper is now correcting this whole 5 year decline so price should get well above $3 in the longer term. I'll update if there is a good opportunity to buy the next pullback.
Conclusions
The main theme in this week's article was how to use Elliott Wave (and other technical analysis) to put probabilities in your favor. Trying to trade every single wave will almost certainly lead to frustration and missing a lot of higher timeframe swings. Always consider the bigger picture.
With this in mind, even though the cycles in equities and oil from the November lows are in the late stages, it may not be wise to try and call a top and short. If and when they pull back, there will be a very good opportunity to get long again.
The same thought process translates to gold and GDX in the shorter term. A move higher is expected, so rather than try and pick a top of what is likely only a pullback, it is better to stay long and prepare to buy more.
Good luck next week. Follow for updates.
Disclosure: I am/we are long GLD.
I wrote this article myself, and it expresses my own opinions. I am not receiving compensation for it (other than from Seeking Alpha). I have no business relationship with any company whose stock is mentioned in this article.
Additional disclosure: I am long USO, and the Dax.