The yen has been on quite a roller coaster over the past year. Since the beginning of 2016, the yen started strengthening very significantly against the greenback as Abenomics began to run out of steam.
We then saw the dollar strengthen significantly against the yen to a value of 118 before reverting back to 113.22 at the time of writing: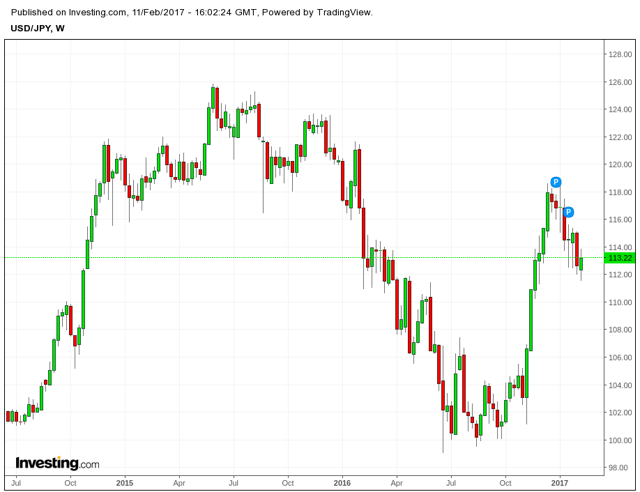 The US dollar itself has been on a downward trend, with lower than expected retail sales data placing pressure on the currency.
As for the yen, the dynamics of Japan's economy have changed somewhat in the past couple of years. Initially, my argument was that with low domestic growth in Japan, a weaker yen was the primary mechanism for stimulating exports - which helped to explain the inverse relationship between the yen and the Nikkei 225.
However, economic growth itself in Japan has been on the rebound. For instance, we see that Japan has recently gone back up into positive inflation territory, while consumer spending has been rising and the unemployment rate has been falling: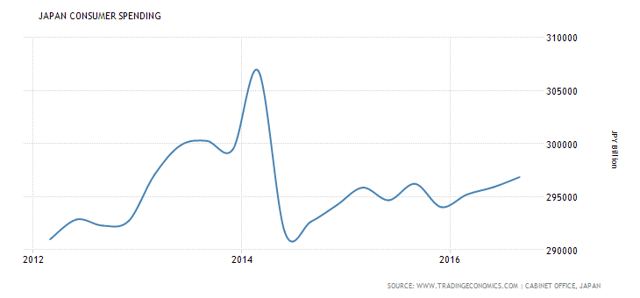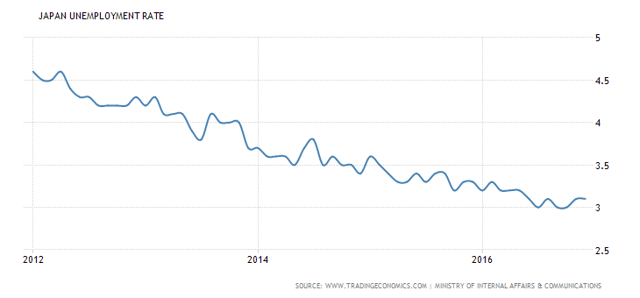 The reason this is significant is it serves as a potential signal that future yen strength is more likely to come from economic growth factors rather than an over-reliance on quantitative easing to boost exports - which of course has a knock-on effect of weakening the currency.
Moreover, with the meeting between President Trump and Prime Minister Abe having taken place - the prior comments from the Trump administration that the euro is significantly undervalued resulted in the greenback dropping significantly, and it is possible that we are seeing a similar pattern emerge with the yen. On a long-term basis, such comments are not entirely inaccurate, because even though the yen has been strengthening against the dollar, it is a far cry from the levels we saw the yen trading at against the greenback in 2012: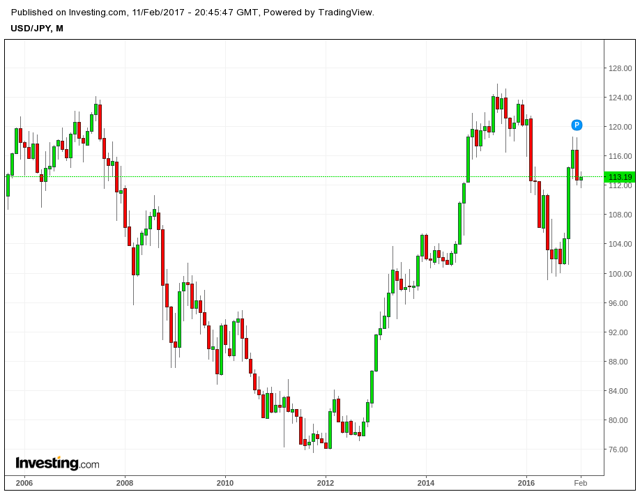 To conclude, even with the yen having strengthened in recent weeks, I deem it possible that we could still see further upside in the currency from here.
Disclosure: I/we have no positions in any stocks mentioned, and no plans to initiate any positions within the next 72 hours.
I wrote this article myself, and it expresses my own opinions. I am not receiving compensation for it (other than from Seeking Alpha). I have no business relationship with any company whose stock is mentioned in this article.