Last year, the Kiwi dollar had a pretty good run against other major currencies, having appreciated quite significantly against the greenback before the growth momentum slowed down.
As it stands, the NZD is trading at 0.7199 at the time of writing. This puts the currency near the highs of 0.74 that was reached late in 2016. On a technical basis, this would suggest that the NZD is hitting highs and running out of upside for the time being.
However, this comes with one caveat. In a recent article where I wrote about the AUD, I argued that the Aussie dollar could still see some upside. The primary reason for this argument was that as investors seek to diversify from the political uncertainty that is currently clouding the United States and Europe, the AUD has served as an unusual safe haven in this regard. While a higher cash rate cannot protect against rising interest rates in the United States, lower than expected jobs growth in the United States has placed downward pressure on the USD as a result.
So, could a similar story be in store for the NZD? It is possible. For one thing, it is notable that while the NZD is reaching one-year highs, it is a far cry from the levels that the NZD had been trading against the greenback before 2015: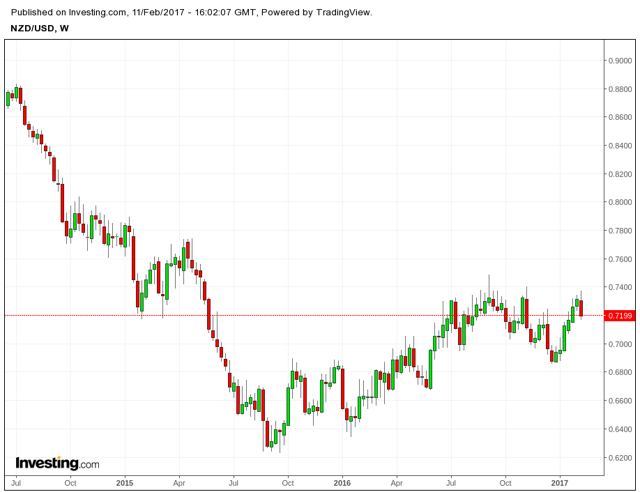 Moreover, on a weekly basis we see that the AUD/NZD pair has traded in more of a zig-zag pattern rather than one outpacing the other in long-term growth.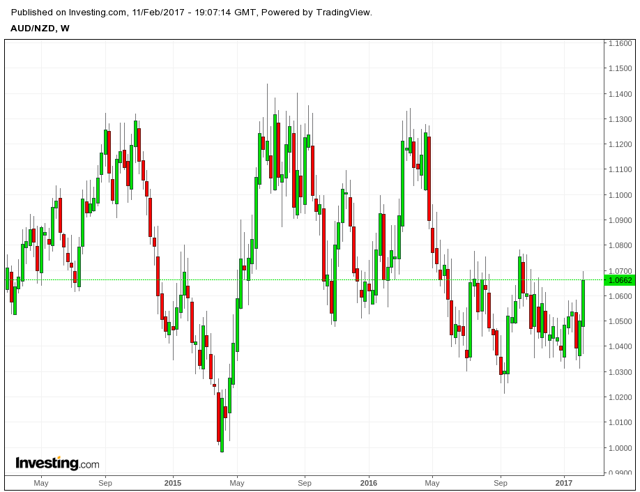 Therefore, the NZD could still have upside from here on this basis.
Additionally, current economic indicators in New Zealand relative to the United States indicates that a relatively higher pace of growth is set to continue in New Zealand, and this could well push the currency higher.
For instance, we see that on a relative basis, New Zealand recorded a higher consumer confidence level of under 115 for 2016 relative to a level of 95 for the United States, while retail sales for New Zealand have outpaced the United States at a growth of 0.9% relative to 0.6%:
Consumer Confidence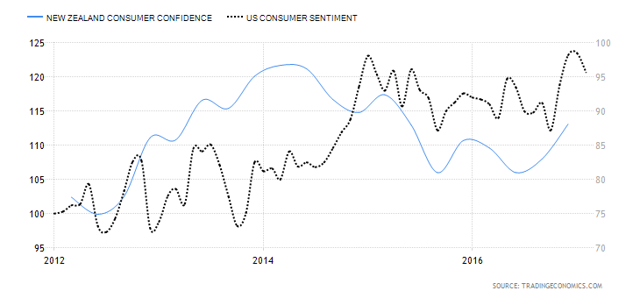 Retail Sales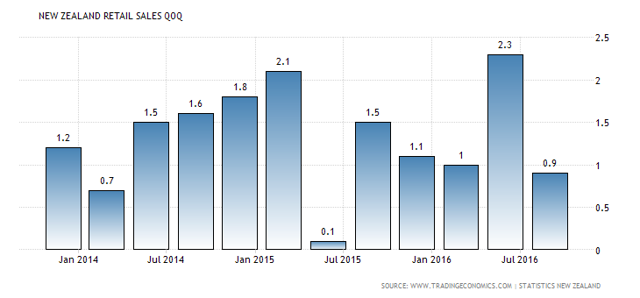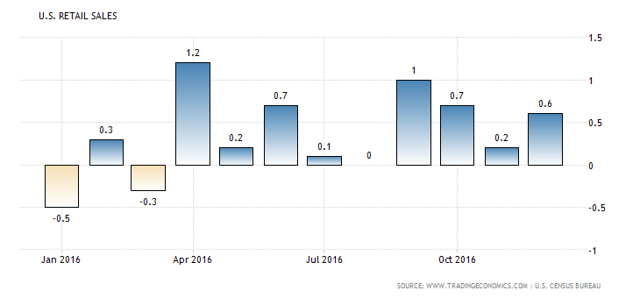 In this regard, the kiwi dollar could still be set for an upsurge against the greenback in spite of already hitting highs on a technical basis.
Disclosure: I/we have no positions in any stocks mentioned, and no plans to initiate any positions within the next 72 hours.
I wrote this article myself, and it expresses my own opinions. I am not receiving compensation for it (other than from Seeking Alpha). I have no business relationship with any company whose stock is mentioned in this article.