This is the second installment of a 4-part series examining the 5 Tiger Cub Economies, and the fundamental factors used to determine the best country ETF to invest in. Part 1 covered demographics and the middle income trap. Part 2 explores the effect of higher energy prices, financial market disruptions, ongoing slowdown in China and US protectionism.
Recap
Tiger Cub Economies
The term "Tiger Cub Economies" refers to the low-to-middle-income Southeast Asia economies of Indonesia, Malaysia, the Philippines, Thailand and Vietnam. Many economists believe that these developing economies are young versions of the Four Asian Tigers: Hong Kong, Singapore, South Korea, and Taiwan.
Country ETFs
The securities listed below are high liquidity country ETFs that are associated with the Tiger Cub Economies. The ETFs will be examined in Part 4 of this series.
iShares MSCI Indonesia ETF (NYSEARCA:EIDO) iShares MSCI Malaysia ETF (NYSEARCA:EWM) iShares MSCI Philippines ETF (NYSEARCA:EPHE) iShares MSCI Thailand Capped ETF (NYSEARCA:THD) VanEck Vectors Vietnam ETF (NYSEARCA:VNM)
Investment Selection Methodology
The choice of best ETF will focus on country fundamentals, not the holdings within the ETF. Since there are many factors to consider and many of them are contradictory, a simple ranking system approach will be employed. Each country will be assigned a unique rank for each factor. The assigned rank will be between 1 and 5 for a given factor, with 5 being the best score, 1 being the worst.
Rising Price of Oil
Analysts are calling for the price of oil to rise moderately this year from the current $55/bbl based on growing world demand and OPEC cutbacks. Counterbalancing the OPEC cutbacks will be production increases in the United States, Canada and Brazil. If OPEC compliance to the 6-month phase-in of cutbacks is adhered to, the difference between global demand and supply suggests a stock draw of 0.6 mb/d. But keep in mind that the oil stock drawdown is starting from a great height.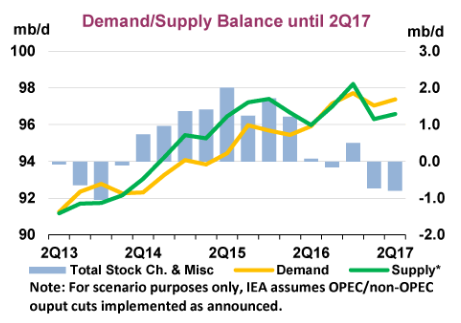 (Source: iea.org)
In the United States, crude inventories climbed by 13.8 million barrels in domestic crude-oil supplies for the week ended Feb. 3. Analysts polled by S&P Global Platts had forecast a much lower surplus of 2.5 million barrels. The surprise surge was apparently due to imports, not lower demand. The average shipping time from the Persian Gulf to U.S. Gulf Coast is 47 days and had not responded to increased U.S. production. The U.S. oversupply should slow by mid-March.
Also, rising tension between Iran and the United States could result in new oil sanctions against Iran. But the U.S. has stated the sanctions wouldn't impact the Joint Comprehensive Plan of Action deal. But lets keep in mind that U.S. oil producers are suffering with current oil prices. Politics could play a big part in reinstating oil sanctions against Iran.
The energy sector is entering the bullish part of the year from February through April as suggested by the seasonal chart shown below.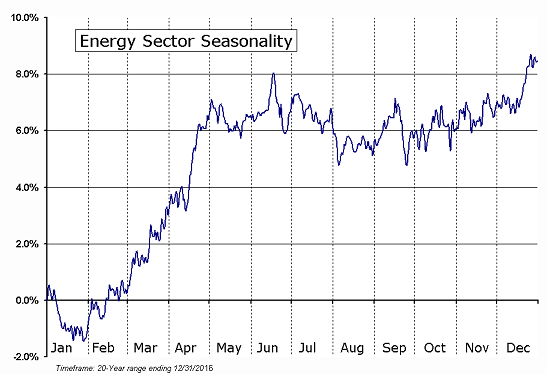 (Source: equityclock.com)
As a result of analyst predictions and seasonal patterns, my country rankings are based on rising energy costs, oil in particular. The charts below summarize the energy imports as a percentage of energy use, and fuel exports as a percentage of merchandise exports.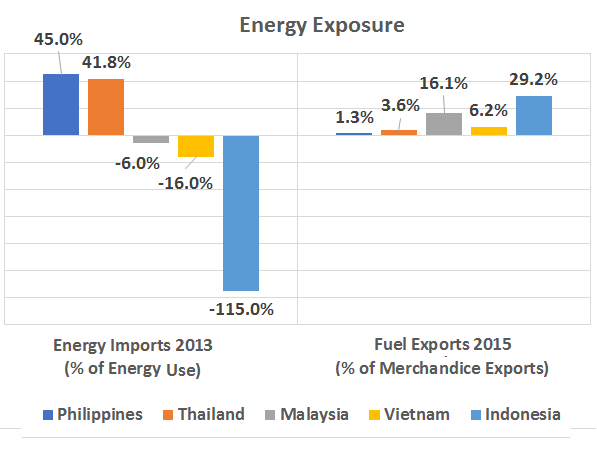 Assuming that the price of oil rises as expected, energy importers will suffer while energy exporters will benefit. From this perspective, Indonesia will benefit the most and the Philippines will benefit the least. I have ranked the countries as shown in the table below.
Rising Price of Oil

Country

Rank

Indonesia

5

Malaysia

4

Vietnam

3

Thailand

2

Philippines

1
Keep in mind that the assumption of higher oil prices has some risks. These include:
President Trump's energy policies could flood the market
Shale oil producers are becoming more efficient and producing more
Higher level of investment in exploration and development in the U.S.
OPEC has a history of failing to hold to agreed upon production limits
Growth in Chinese economy may slow faster than expected
Near-record oil stocks in the United States
Exposure to China and the United States
Most experts believe that growth in China is slowing as the country shifts to a services economy. This will impact countries that export to China. In the case of the Tiger Cub economies, the Philippines will be impacted the most, with exports to China being 24% of total exports.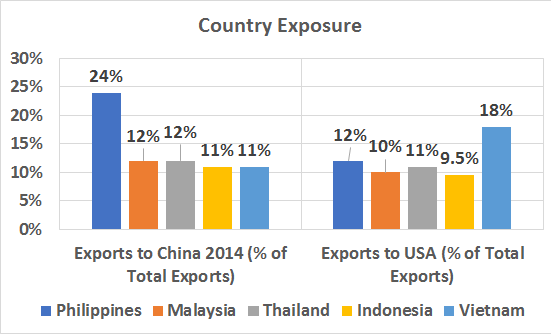 Given President Trump's anti-globalization rhetoric and protectionist policies, there is a possibility that the Tiger Cub economies will suffer. The unsigned TPP free trade agreement has already been canceled. While some of these Southeast Asia countries have a good relationship with the United States, the tide is shifting as money from the U.S. is drying up and China has been filling the void with infrastructure spending. The biggest loser due to U.S. protectionism could be Vietnam, with 18% of its exports going to the United States.
I have ranked the countries below based on exposure to both China and the United States combined.
Exposure to China and the USA

Country

Rank

Indonesia

5

Malaysia

4

Thailand

3

Vietnam

2

Philippines

1
Financial Market Disruptions
Financial market disruptions, aggressive U.S. federal funds rate hikes, growth disappointment in major economies or loss of confidence in a local economy could stress the Tiger Cub economies to varying degrees. Such stress may result in decreased foreign investment, capital outflows, low demand for government bonds and drop in the local currency exchange rate.
I have chosen three factor that will be used to evaluate susceptibility to financial market disruption. The first factor is external debt as a percentage of Gross National Income (GNI). The second factor is the historical maximum yearly outflow of Foreign Direct Investment (FDI) over the last 10 years. The third factor is a measure of currency volatility, calculated by the range of currency exchange price by the 52-week low.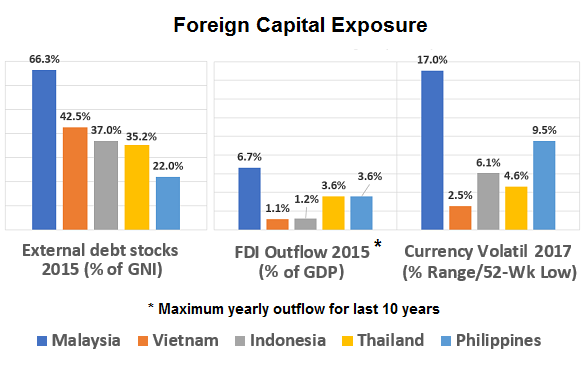 Malaysia leads the pack for all three factors, but not in a good way. The country has a high level of external debt and has experienced recent capital outflows, as investors expect interest rates to rise due to US monetary policy. The ringgit has lost more than 16% in 9 months. I have ranked the countries based on a composite of the three factors as shown in the table below.
Financial Market Disruptions

Country

Rank

Vietnam

5

Thailand

4

Indonesia

3

Philippines

2

Malaysia

1
Part 2 Wrap-up
In Part 2of this series, the 5 Tiger Cub Economies were ranked for exposure to the rising price of oil, slowing growth in China, American protectionism and financial market disruptions. In the next installment, the economies will be examined for ranked on fiscal policy, monetary policy and manufacturing. A summary of the factor rankings from Part 1 and 2 is provided below.
| | | | | | |
| --- | --- | --- | --- | --- | --- |
| Factor | Indonesia | Malaysia | Philippines | Thailand | Vietnam |
| (1) Demographics | 2 | 4 | 1 | 3 | 5 |
| (2) Middle Income Trap | 3 | 2 | 4 | 1 | 5 |
| (3) Rising Price of Oil | 5 | 4 | 1 | 2 | 3 |
| (4) Exposure to China and the USA | 5 | 4 | 1 | 3 | 2 |
| (5) Financial Market Disruptions | 3 | 1 | 2 | 4 | 5 |
| Average Rank | 3.6 | 3 | 1.8 | 2.6 | 4 |
Disclosure: I/we have no positions in any stocks mentioned, and no plans to initiate any positions within the next 72 hours.
I wrote this article myself, and it expresses my own opinions. I am not receiving compensation for it (other than from Seeking Alpha). I have no business relationship with any company whose stock is mentioned in this article.