Analyst: Manroop Gill
Company Profile
Nautilus Inc. (NYSE: NLS) is a consumer fitness products company that is headquartered in Vancouver, Washington. Its key activities consist of designing, developing, sourcing and marketing high-quality cardio and strength fitness products for consumers. Nautilus receives 88% of its revenue from the United States, 10% from Canada and the remaining 2% from international markets.
A Shift Towards Cardio Equipment
Nautilus, Inc. is a leader in the consumer strength equipment industry. However, the market for cardio products and accessories has been expanding and represents a bigger market compared to consumer strength products. In 2014 and 2015, sales of cardio equipment accounted for 81% of Nautilus, Inc.'s revenue. Cardio equipment sales increased by an average of 34% while sales of strength products declined by -3% over the past two years. Due to the larger market for cardio equipment and more consumer fitness awareness, Nautilus's cardio segment will continue to achieve moderate sales numbers even with the stagnant industry outlook.
Acquisition of Octane Fitness
On December 31, 2015, Nautilus, Inc. acquired all outstanding shares of OF Holdings, Inc. the parent of Octane Fitness for $115 million. The company funded this acquisition through a $80 million loan and by cash on hand. The acquisition of Octane Fitness will allow Nautilus, Inc. to gain more market share, diversify Nautilus, Inc.'s brand portfolio, take advantage of economies of scale and increase revenues.
Valuation & Recommendation
NLS currently trades at USD$17.35. Based on our 50% weighted DCF analysis and 50% weighted CCA we believe the share price should be USD$22.53. We recommend a buy on this stock.
Business Overview/Fundamentals
History
Nautilus, Inc. was founded in 1986 and was later incorporated in the State of Washington in 1993. Bowflex acquired Nautilus, Inc. and specialized in designing, developing, and marketing cardio and strength fitness equipment. In 1997, the company changed its name to Direct Fitness and acquired Schwinn and Stairmaster through 1999-2002, before changing its name to Nautilus, Inc. The company offered its IPO in May 1999. Under new management in 2011, Nautilus, Inc. discontinued selling exercise equipment to commercial gyms and instead shifted its focus towards home-use equipment. In 2004, Nautilus, Inc. was sued by BioSig Instruments for allegedly infringing its heart-rate monitor's design into some of their cardio products. This is an ongoing lawsuit that has been through many court proceedings with the District Court and has even reached the Federal Court. The case will hold further proceedings in the District Court.

Source: Nautilus's LinkedIn
Fundamentals
Nautilus Inc. markets their products through two distinct distribution channels, direct and retail. The direct segment offers products directly to consumers through television advertising, catalogs and the Internet. The latter segment, offers products through a network of independent companies to reach consumers in both the home use as well as commercial use markets. The company generates most of its revenue through the direct segment, which is composed of mainly cardio equipment. The company has diversified their portfolio of fitness equipment into multiple product lines, which are sold through five different subsidiaries.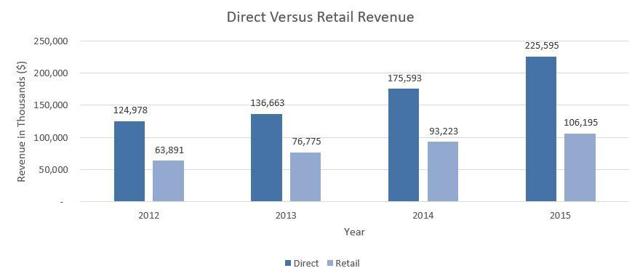 Source: Company filings
Nautilus®

Is the company's corporate umbrella brand and is also used to differentiate certain specialized cardio equipment, treadmills, ellipticals and bike products.
Bowflex®

Represents a highly-regarded line of fitness equipment comprised of both cardio and strength products. Bowflex's Max Trainer and TreadClimber are two of the brand's most popular products and account for a large portion of the company's direct business. The increased sales of these two products has shifted the company's' advertising emphasis towards marketing more cardio equipment rather than strength.
Octane Fitness®

Octane Fitness was acquired on December 31, 2015 for $115.0 million. The acquisition of Octane is expected to strengthen and diversify the company's brand portfolio and broaden distribution. Octane's business is anticipated to be highly complementary to the existing business from both product and channel perspectives and is expected to create numerous revenue synergies. The brand is a leader in zero-impact training with a line of fitness equipment focused on retail specialty and commercial channels.
Schwinn®

Is known for its popular line of exercise bikes, including the upright bikes, recumbent and the Airdyne. Schwinn also offers treadmills and ellipticals.
Universal®

Universal is one of the oldest and most recognized names in the fitness industry. It currently offers a line of kettlebell weights and weight benches along with a recently launched cardio line.
Macro Environment
Industry Overview
According to IBISWorld, the Gym and Exercise Equipment Manufacturing industry generates $1.8 billion in revenue and has been declining at a rate of 0.2% over the past five years. The annual growth outlook for the next five years is expected to be -0.4% in the United States. The key factor to the industry's declining revenue is the import penetration of lower-cost products, which causes revenues to decrease for domestic manufacturing companies. Nautilus, Inc. is affected by this competition from lower-cost producers but not as significantly as companies that produce purely in the US. However, the Gym and Exercise Equipment Manufacturing industry will actually experience an increase in demand in the United States, where 88% of the company's revenue is generated. This is due to an increase in more health-conscious consumers, rising disposable income and baby boomers who will have more leisure time as they approach retirement.
| | | |
| --- | --- | --- |
| Industry Revenue Outlook | | |
| Year | Revenue ($Millions) | Growth % |
| 2017 | 1,804.2 | -1.9 |
| 2018 | 1,803.3 | -0.1 |
| 2019 | 1,802.4 | -0.1 |
| 2020 | 1,801.3 | -0.1 |
| 2021 | 1,798.7 | -0.2 |
Health-Conscious Consumers
The percentage of Americans that are obese is growing considerably. According to the US Centers for Disease Control and Prevention, more than 33% of adults and 17% of youth are obese in the United States. This has not only led to consumers being more health-conscious but has also become a significant issue for politicians as they attempt to control effects such as rising health care costs that result from obesity. At the start of 2010, Michelle Obama launched Let's Move, a public health campaign aiming to reduce childhood obesity. The program focuses on providing healthier foods in school, improving access to healthy and affordable foods, empowering parents with information about healthy lifestyles and increasing physical activity amongst children. As politicians are more focused on preventive practices for obesity, exercise equipment will potentially experience an increased demand.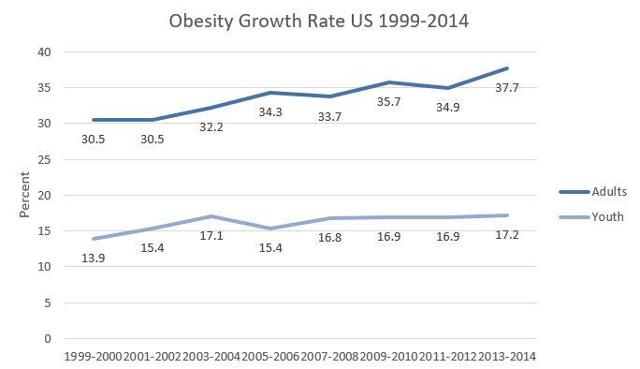 Source: US Centers for Disease Control and Prevention
Baby Boomers
As retirement is soon approaching the baby boomers, a rise in leisure time is also presented. Baby boomers will turn to sports, recreational activity and light exercise to stay fit and prolong their life expectancy.
Seasonality
There are fluctuations in total sales volume during the year due to the nature of the products offered by the company. Sales are generally strongest in the first and fourth quarters, followed by the third quarter, and are usually weakest in the second quarter. The justification for this pattern is that consumers tend to be involved in more outdoor activities during the 2 nd and 3 rd quarters, therefore utilizing less indoor fitness equipment. However, the sales of fitness products may vary throughout the year because of changes in seasonal and geographic demand for particular types of fitness products.
Competition
Nautilus, Inc. operates in a highly competitive market with limited barriers to entry. This can result in a decrease in market share, if new companies emerge and offer lower prices or more innovative products. The key competitive factors that affect the companies in this business are quality, brand recognition, innovation and pricing. Nautilus, Inc. is able to compete and distinguish themselves in the market by utilizing their well-known brand names and their focus on product innovation.
The company experiences cost savings from its suppliers as all its products are made in Asia where manufacturing costs are low. Many factories in Asia are able to manufacture Nautilus, Inc.'s products which gives the company an advantage since there is little supplier power. On the flip side, Nautilus Inc. has some power to raise prices of their products due to their direct business segment and brand recognition.
The company's main competitors are: Callaway Golf Company, Johnson Outdoors, Inc. and Escalade, Inc. However, the company also competes with computer-based physical activity products, such as Nintendo Wii and Microsoft Xbox Kinect, and weight management companies such as Weight Watchers International, Inc. These companies offer alternative solutions for a fit and healthy lifestyle therefore are considered as competition to Nautilus, Inc.
Disposable Income
Consumption of superior goods by consumers depends on their disposable income. If disposable income increases, the demand for superior goods increases more than proportionally and vice versa for if it decreases. The US economy has had mostly consistent growth with its disposable income and has been rising at an average annual rate of 2.5%. Per capita disposable income is expected to grow at 2% over the next five years to 2022. This is consistent with historical growth rates except from 2013 in which per capita disposable income declined partly due to tax regulations regarding the Affordable Care Act and the payroll tax hike.

Source: fred.stlouisfed.org
Exchange Rate
Since all of Nautilus, Inc.'s products are manufactured in China and Taiwan, fluctuations in the exchange rate are important to the company as it affects production costs. Over the past couple of years, the exchange rate for CNY/USD and TWD/USD has been declining and becoming more in favor of the US dollar. This represents a more profitable future for the company as they will be able to reduce their cost of production while keeping prices consistent.

Source: Bloomberg
Catalysts
Further Brand Expansion
One of the ways Nautilus, Inc. looks to expand its business is through acquisition of other companies. Nautilus, Inc. focuses on acquiring businesses which are complementary to their existing business from both the product and channel perspective. Successful acquisitions will result in creating synergies of cost reduction, improvement in products and ultimately increased revenues. However, the anticipated benefits of new acquisitions could have an adverse impact on the business if the expected benefits are not met. For future acquisitions to be successful, it depends on Nautilus, Inc.'s ability to realize the predicted synergies, channels, product diversification and growth opportunities from integrating that business.
Consumer Preference
The company's future success depends heavily on its ability to effectively develop, market and sell new products that respond to new and evolving consumer preferences. As of now, Nautilus, Inc. generates most of its revenue from its cardio products, especially from the TreadClimber and Max Trainer. This has forced the company to shift their focus towards developing products similar to these as they are in high demand amongst consumers. However, as consumer preferences change over time the company will need to shift its focus in-line with consumer wants in order to stay profitable.
Management Team
Carl, Johnson - Chairman of the Board
Carl Johnson joined the Board of Directors in July 2010. He serves as the Chairman for the Board and is also a member of the Compensation Committee. Mr. Johnson's previous role as an Executive Vice President for Big Heart Pet Brands gave him line and operating responsibility for the company's widely distributed brands, marketing and creative services and consumer insight. Mr. Johnston has an B.A. degree in Government and Economics from the University of Wesleyan and has obtained his M.B.A. degree from the University of Chicago. Mr. Johnson is compensated $83,000 in cash and $51,016 in stock awards for a sum of $134,016. He is also granted 30,000 shares of option awards. This year Mr. Johnson owns 50,454 shares compared to 45,057 from last year.
Bruce, Cazenave - Chief Executive Officer
Bruce Cazenave has been the Chief Executive Officer and a part of the Board of Directors since May 2011. From 2010 until May 2011, he served as a Managing Director of Inflection Point Consulting, where he consulted with and served as an executive advisor to private equity firms in the United States and Europe. From 2006-2009 he worked for Central Garden & Pet Company, a distributor of lawn, garden and pet supplies, serving as President of its Garden Décor Group. Mr. Cazenave has an undergraduate degree from the University of John Hopkins and a Master's degree from the University of George Washington. Mr. Cazenave has a base salary of $430,000 and is paid $430,001 in stock awards. Mr. Cazenave also received $569,750 as an annual cash bonus award for achieving his predetermined performance goals. Mr. Cazenave owns 509,009 shares in Nautilus, Inc.
William, McMahon - Chief Operating Officer
William McMahon has been the Chief Operating Officer since August 2011. He is responsible for the oversight of the Retail and Direct businesses, as well as overall operations and product development. Mr. McMahon joined Nautilus in October 2005, and has had several leadership roles, including Senior Vice President and Vice President and General Manager of the Direct business. Mr. McMahon has previously spent 10 years with the US Navy nuclear submarine force, where he oversaw reactor plant operations. He is a graduate of the U.S. Naval Nuclear Engineering program. Mr. McMahon's salary is $280,000 and is paid $223,999 in stock awards. He was given an annual cash bonus of $246,337 for achieving his predetermined performance goals. Mr. McMahon currently owns 148,192 shares in the company.
The company has separated the roles of the Chairman of the Board and the Chief Executive Officer as it believes the positions have distinct differences. The Chairman of the Board, Mr. Johnson, oversees the business broadly, leads the meetings of the Board, and provides guidance to management. Mr. Cazenave serves on the board, but as the CEO, who oversees day-to-day operations of the business. Nautilus Inc. believes that separation of these roles is important to achieve a balance of oversight that is favorable to them and their shareholders.
The changes made in management and to the Board in 2010 and 2011 have proved to be a significantly valuable to shareholders. With the addition of Mr. Johnston and Mr. Cazenave to their respective roles, the company has seen its shares rise over 9x.
Shareholder Base, Liquidity, Market Depth
Shareholder Summary
Nautilus, Inc. has 31,005,367 shares outstanding. Majority of the shares outstanding are held by institutional investors (87.22%). The top 5 institutional shareholders are Blackrock (10.54%), Vanguard Group, Inc. (4.66%), Dimensional Fund Advisors (4.40%), Fidelity Management and Research (4.16%) and Copper Rock Capital Partners LLC (3.44%).
Liquidity
Nautilus, Inc.'s average three-month trading volume is 500,000, which is healthy considering its market capitalization of $540 million. The short interest ratio on the stock accounts for 10.7% of free float, indicating that few investors are skeptical about the stock price rising.
Valuation
Comparable Company Analysis
Most of the companies chosen for our comparable company analysis were similar and in relevant industries that could have potential competition for Nautilus, Inc. However, identical companies to Nautilus, Inc. were private so we were unable to use those for our CCA. The comparable valuation was conducted with a set of four companies:
1. Weight Watchers, Inc.
Weight Watchers International, Inc. is a leading, global-branded consumer company and the provider of weight management services. The company aids millions of people around the world to lose weight through sensible and sustainable food plans, activity, behavior modification and group support.
2. Escalade, Inc.
Escalade, Inc. manufactures and distributes sporting goods through their subsidiary Escalade Sports. Escalade Sports manufactures, imports, and distributes widely recognized sporting goods brands in basketball, archery, indoor and outdoor game recreation and fitness products. Distribution occurs through major sporting goods retailers, specialty dealers, key online retailers and via department stores. Escalade is a leader in table tennis tables, residential in-ground basketball goals and in archery bows.
3. Johnson Outdoors, Inc.
Johnson Outdoors, Inc. participates in the manufacturing and marketing of seasonal, outdoor recreational products.
4. Callaway Golf Company
The Callaway Golf Company is a leading manufacturer and distributor of high-quality golf equipment and accessories. The company sells its products in over 100 companies through retailers, directly online and through its pre-owned and trade in services.
Nautilus, Inc.'s EV/EBITDA is 9.2x which means it is slightly undervalued when compared to the average of 11.6x. The company's P/E ratio is 16.4x, which is also lower than the average of 23.7x. Using the EV/EBITDA multiple, we are given a target share price of $21.93. Additionally, using the P/E multiple we are given an implied share price of $25.12. We have decided to weigh both of these 25% in order to get an aggregate sum of 50% for the comparable company analysis. By doing so we receive a share price of $23.52.
Discounted Cash Flow Analysis
WACC Calculation
We calculated the weighted average cost of capital (WACC) for the discounted cash flow analysis. We used a 10.7% weight of debt and 89.3% weight of equity to determine the WACC calculation. We took into consideration the effective tax rate of 32%, which aligns with previous years and used an equity beta of 1.73 which we obtained from Bloomberg. We also took into consideration the expected market return of 5% and included the risk-free rate of 1.94%. After using these figures in our calculation, we received a WACC of 9.69% and a share price of $21.54. We have included a sensitivity analysis in the appendix, to consider any changes in Nautilus, Inc.'s WACC.
Assumptions
We believe that for the most part, everything will remain relatively persistent over the next five years. The acquisition of Octane Fitness will boost revenue growth for 2017, but after that the revenues will begin to decline at a steady pace as the company will be in a mature stage.
Cost of goods sold will continue to annually decrease at a rate of 1% which is consistent with previous years. The acquisition of their new business, Octane Fitness and future acquisitions aid Nautilus, Inc. in achieving economies of scale.
We assumed a future tax rate of 32%, as it was similar to their 2014 and 2015 effective tax rate. For 2013 the tax rate varied considerably but that was due to an income tax benefit which was related to a $38.9 million credit. We believe that this is a fair assumption as it has been similar to previous years and management has not hinted that it will change within the near future.
We predicted that Research and Development will continue to grow at a consistent rate as the company matures. This is anticipated by taking into consideration the company's emphasis towards product innovation and improvement.
For our revenue projections, we assume a growth of 11% for 2017. This is due to increased revenues generated from the acquisition of their new business, Octane Fitness. After 2017, revenues are expected to decline annually by 2-3% until they reach a growth rate similar to the US GDP growth rate of 2.2%.
Weighted Target Price
After conducting the Comparable Company Analysis and Discounted Cash Flow analysis we received an implied share price of $22.53. We applied a 50% weight on the Discounted Cash Flow price target, 25% weight on the CCA's implied share price of the EV/EBITDA calculation and 25% on the CCA's implied share price of the P/E calculation.
Recommendation
We have placed a buy rating on Nautilus, Inc. with a target share price of $22.53 based on a 50-50% weighted valuation on the CCA and DCF analysis. Nautilus, Inc. has continued to use its capital expenditures wisely and has diversified themselves within the market through strong brand names. We believe that macro-environment factors such as more health-conscious consumers, rising disposable income and the increasing trend for cardio equipment, will lead Nautilus, Inc. to experience steady growth if it continues to operate as it has historically.
Risk Factors
Decline in Sales of TreadClimber/Max Trainer
Decline in the sales of the TreadClimber® and/or Max Trainer® products would negatively affect future revenues if there isn't a corresponding increase in the sales of other products. Introduction by competitors of similar products at lower price-points could also result in decreased demand for these products. A significant decline in sales of these products would have a material adverse effect on Nautilus, Inc.'s financial position and cash flows as they represent a substantial portion of the direct segment.
Changes in Media Consumption Habits
New television technologies and services such as video-on-demand and internet streaming services are changing the traditional television viewing patterns. In its place, consumer attention is increasingly spread across a variety of games, apps and the Internet. If Nautilus, Inc. is unable to successfully adopt media strategies to combat the changing television viewing and media consumption habits, the effectiveness and efficiency of their media advertising could be negatively affected.
Long Lead Times
Products are produced by third-party manufacturers all of which are located in Asia, primarily China and Taiwan. Lead times for inventory purchases from the Asian suppliers, from order placement to receipt of goods, generally range from approximately two to three months. The length of the lead times requires manufacturing orders to be placed in advance, which are based on management forecasts of future demand for products. Due to the length of the lead times, sales may be negatively impacted if there is not enough inventory on hand to meet customer demand for products or inversely, liquidity and cash flows may be negatively affected if the quantity of products ordered exceeds customer demands.
Competition
Nautilus is centered in a highly competitive market with limited barriers to entry. Thus, introduction of new products by competitors at lower prices or with more innovation could result in a significant decline in revenues and have a material adverse effect on cash flows.
Foreign Exchange Rate
Since the company's products are manufactured outside of the United States, currency exchange rate fluctuations could result in higher costs for the products, or could disrupt the business of independent manufacturers that produce Nautilus, Inc.'s products. Since a portion of the company's revenue is derived from Canada and Europe, currency rate fluctuations could make products more expensive for these foreign consumers and cause a decline in sales. Currency exchange rate fluctuations could result in higher costs, reduced margins or decreased international sales.
Appendix 1: Pro Forma Income Statement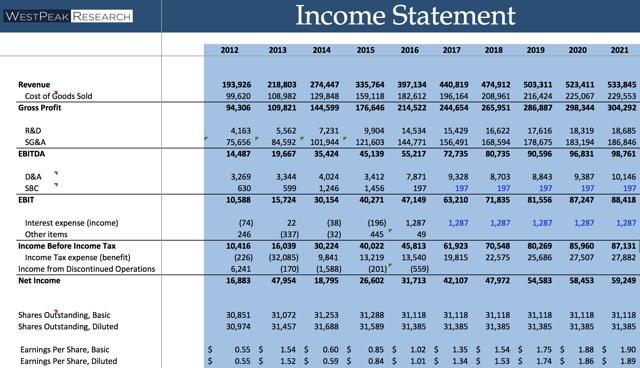 Appendix 2: Pro Forma Cash Flow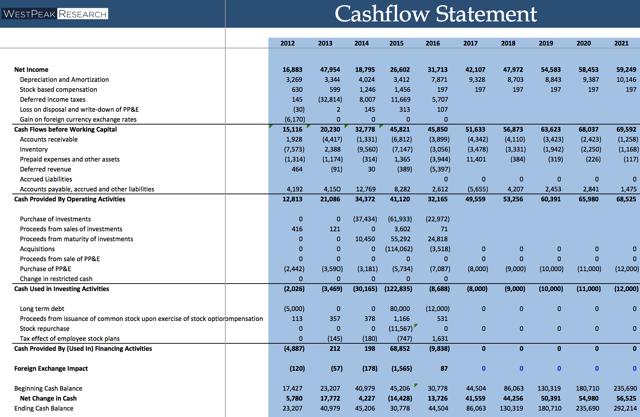 Appendix 3: Pro Forma Balance Sheet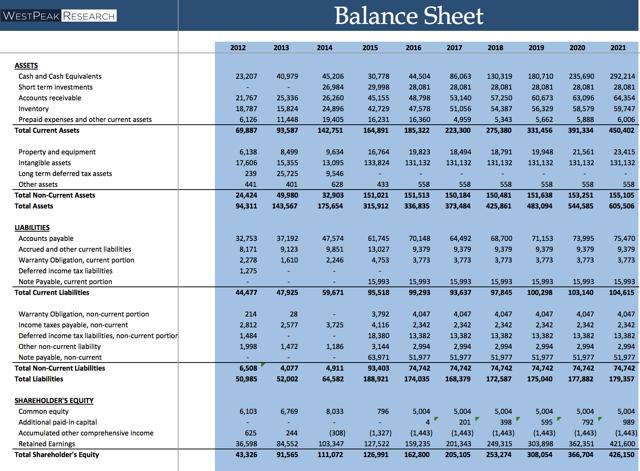 Appendix 4: Revenue Analysis

Appendix 5: Discounted Cash Flow Analysis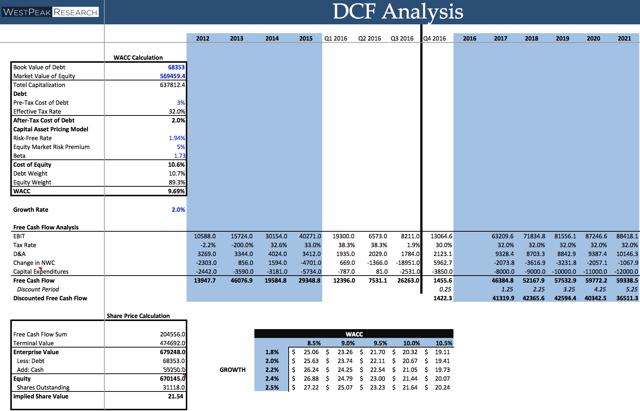 Appendix 6: Comparable Company Analysis

Appendix 7: Valuation Summary

Disclosure: I/we have no positions in any stocks mentioned, and no plans to initiate any positions within the next 72 hours.
I wrote this article myself, and it expresses my own opinions. I am not receiving compensation for it (other than from Seeking Alpha). I have no business relationship with any company whose stock is mentioned in this article.