Natural gas (NYSEARCA:UNG) prices finished the week lower by 1%.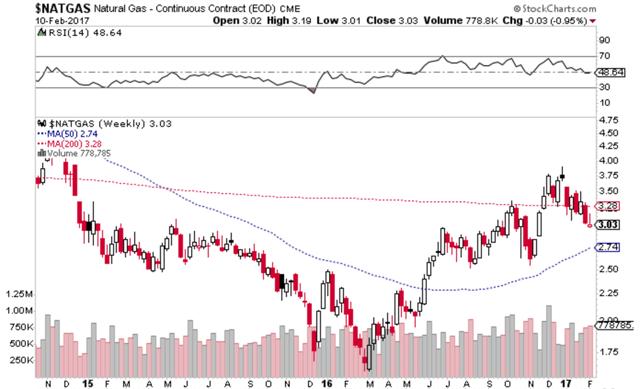 Natural gas prices started the week testing the $3/MMBtu level. It held on Monday despite the bearish weather revisions over last weekend. Prices soon recovered close to $3.20/MMBtu before taking an absolute pounding on Friday on the back of much warmer 6-10 day forecasts.
Natural gas prices trended all week higher, but started trending lower following Thursday's natural gas report. This week's EIA storage report of -152 Bcf was a bit lower than the consensus average of -153 Bcf and 1 Bcf higher than our forecast of -151 Bcf. Price action however went from being up slightly to finishing the day lower.
In our Friday NGD, we reported that the bearish weather revisions to 2/24 week hammered our storage draw estimates. As a result of the latest bearish weather revisions for Feb, end of storage (EOS) April is expected to be above the five-year average.
There have been meaningful updates of late that have forced us to revisit our bullish natural gas thesis.
First, weather temperatures are currently projected to be bearish for February and the next 11-15 days are set to show lower GWHDD than the previous forecast.
Second, EOS April revisions resulted in higher storage than the five-year average by around 50 Bcf.
Third, pipeline takeaway capacity projects were approved faster than we expected resulting in higher takeaway gas capacity.
Lastly, Canadian natural gas storage is above the five-year average which will push Canadian gas net imports into the US higher over the coming months.
The latest developments all shifted bearish, and the most meaningful one is the pipeline takeaway capacity update. Our original premise for calling $4+ gas for more than 8-12 months was based on the thesis that takeaway capacity constraints in the Marcellus and Utica will push prices to a point where shale plays OUTSIDE of the Marcellus and Utica will be needed to meet higher demand.
We calculated that a combination of servicing cost inflation as a result of higher oil (NYSEARCA:USO) prices and lack of servicing crew will push the breakeven level of natural gas producers. The result was that the breakeven outside of the Marcellus and Utica grew to around $3.50 to $4/MMBtu. With pipeline takeaway capacity now adequately covering Marcellus and Utica growth to come, the likelihood of $4/MMBtu gas for over 8-12 months has greatly reduced. However, our long-term outlook for an average of $3.50/MMBtu still stands unless the facts change otherwise.
We have long favored buying natural gas E&Ps as a way to ride the higher price curve, and our view has not changed. We have not sold our positions, and have recently added a few to the portfolio. While our longer-term view has been revised lower, we see prices recovering to $3.50/MMBtu over the coming months. The structural imbalance is not projected to correct until at least 2018, and the supportive tailwind continues.
If you find our natural gas reports helpful, we think you will find our premium updates to be more valuable. You can sign up here . (After February, we will be increasing the monthly price from $75/month to $125/month and $800/year to $1,250/year due to the new changes we've made.)
Disclosure: I/we have no positions in any stocks mentioned, and no plans to initiate any positions within the next 72 hours.
I wrote this article myself, and it expresses my own opinions. I am not receiving compensation for it (other than from Seeking Alpha). I have no business relationship with any company whose stock is mentioned in this article.