In early 2017, substantial headway was made by north American midstream players in the approval of some major transmission projects. This will greatly improve the exporting capabilities of Albertan producers.
The two most significant pipelines approves by Trudeau and the Liberals, are Kinder Morgan's (NYSE:KMI) Trans Mountain line, and Enbridge's (NYSE:ENB) Line 3. To the south, President Donald Trump has signed an executive order to expedite the approval and development of TransCanada's (NYSE:TRP) Keystone XL project. These approvals will increase access to American refineries and ports on the Canadian west coast.
Kinder Morgan's Trans Mountain Line
On February 10, 2017, the National Energy Board of Canada gave official approval to the Trans Mountain line's plan and profile. While this means that there are still regulatory hoops to be jumped through this initial approval goes a long way in determining the success of this project. This line will run along the already existing Trans Mountain pipeline between Edmonton and the Westridge Marine Terminal in Burnaby, BC (1,147km). In completing this project the total capacity of the Trans Mountain lines will grow by ~590,000 barrels per day, from 300,000 to 890,000.
(Source, National Energy Board of Canada)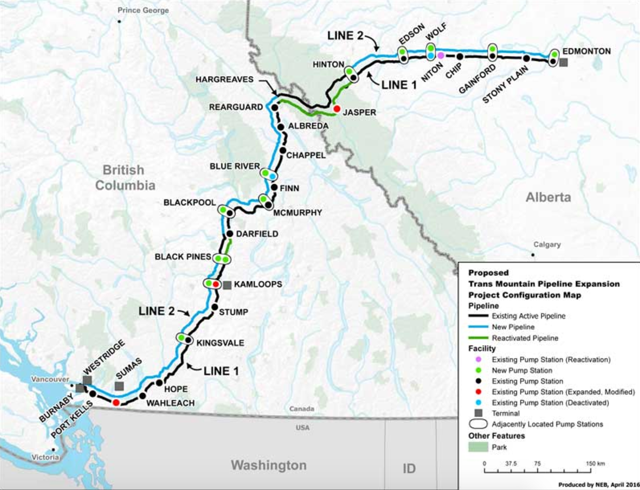 Enbridge's Line 3
The approval for the replacement of the current Line 3 pipeline (originally installed in the 1960's) will allow Enbridge to restore the line to its original operating capacities. Once replaced, Line 3's average annual capacity will reach 760,000 barrels of crude per day. The replacement line will still serve the same markets in Minnesota, and later Wisconsin (Enbridge).
(Source, National Energy Board)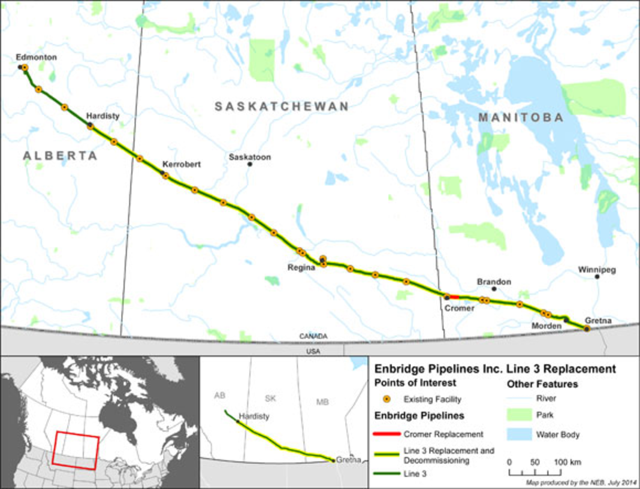 TransCanada's Keystone XL
In mid 2008 TransCanada (for more analysis on TRP) and ConocoPhillips (NYSE:COP) announced their application for a major extension to their existing Keystone pipeline system, Keystone XL. The proposed expansion was meant to compliment the already existing Phase 1 of the system, transporting crude products from Hardisty, Alberta, to Steele City, Nebraska.
While the National Energy Board in Canada approved the project, and the State Department released statements regarding the limited environmental impact the pipeline would have, this issue quickly became political. This ended with it being denied by the Obama administration in 2012. Since this untimely demise, however, Keystone XL has found new hope with the Trump administration. Trump has already signed an executive order to revive the project, an action applauded by Canadian PM Justin Trudeau.
(Source, TransCanada KXL)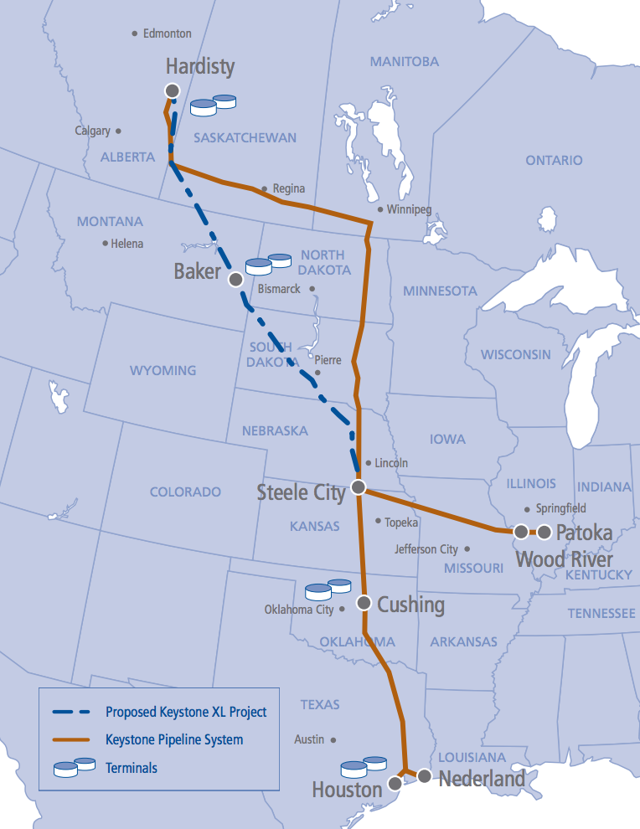 What Does This Mean For Canadian Upstream Operations?
Western Canada Select (WCS) is the heavy crude blend exported from Alberta, and it typically trades at a ~$12 - $20 discount to West Texas Intermediate (WTI). This is because WCS is much heavier (it has higher bitumen levels from conventional Canadian sources), and is much further away from coastal ports and refinery markets. With the new pipeline approvals this is going to change. As global markets become more accessible for Canadian oil, the spread between WCS and WTI will tighten significantly. This will be to a compounding benefit to Canadian E&Ps like Husky Energy (OTCPK:HUSKF) and Suncor (NYSE:SU) in this higher oil price environment (on the back of OPEC's cuts in Vienna).
With this newfound profitability you will see upstream players beginning to lay out more and more capital. Over the next year and a half we will see investment from these firms increase significantly. However, this investment will move more towards uncoventional tight oil assets as producers look for faster returns in a time of global economic uncertainty.
What Does This Mean for Investors?
In this environment, the best way to capitalize on these capital expenditure trends is to take long positions in the companies that help these producers develop their reserves. Namely, companies like Canadian Energy Services (OTCPK:CESDF) who are hired to develop wells for producers. Canadian Energy Services, is very well positioned to grow over the next 18 months as the most prominent well services contractor in Canada.
More in-depth analysis on Canadian Energy Services is in the works and coming shortly.
Disclosure: I am/we are long TRP, CESDF. I wrote this article myself, and it expresses my own opinions. I am not receiving compensation for it (other than from Seeking Alpha). I have no business relationship with any company whose stock is mentioned in this article.
Additional disclosure: Please do not take any advice given in this article at face value. Perform your own extensive research before making any investments.
Editor's Note: This article discusses one or more securities that do not trade on a major U.S. exchange. Please be aware of the risks associated with these stocks.