Introduction
It has certainly been a tough year for many retailers and apparel companies. After the stock market whipped these companies around, many, like Kohl's (NYSE:KSS), are now what can be considered "high yielders".
At almost a 5% yield, Kohl's now yields more then some REITS and MLPS for crying out loud.
The question for an potential investor is if this yield is a red flag or a green buying signal.
Let's look at long term results and then short term.
Long Term Results
Kohl's had a good liftoff after the Great Recession as its sales did not miss a beat during 2008 or 2009.
The company was slowly expanding its store pace and driving same stores sales growth.
And then by 2011 net income & EPS had peaked at 1.1b. Revenue appears to have peaked in 2012 and plateaued since.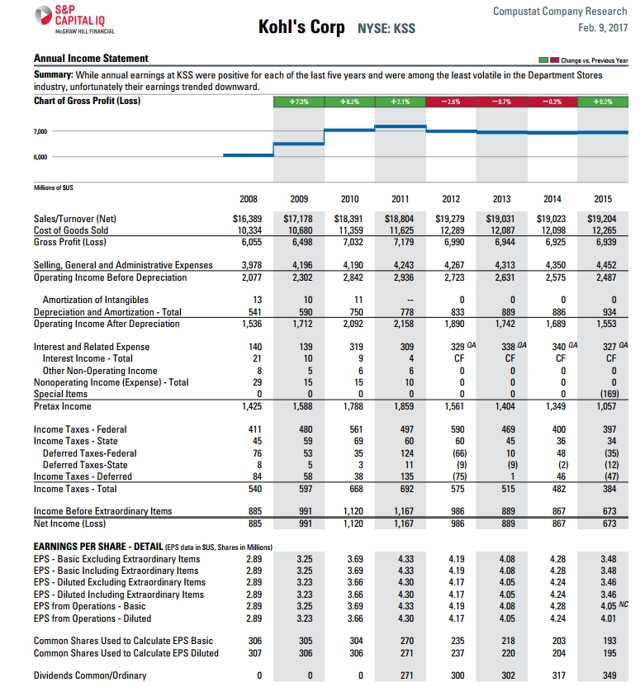 Early 2016 saw 18 Kohl's stores close as Q4 results were disappointing and profit dropped by 20%.
Recent Results
In early January Kohl's announced same store sales for November and December 2.1 percent. Total sales were down 2.7 percent.
Earnings guidance fell 20 cents.
Other retailers have followed suit with virtually all department stores announcing awful sales. J.C. Penney (NYSE:JCP) is rumoured to be closing 30 stores, and Macy's (NYSE:M) and Sears (NASDAQ:SHLD) are closing hundreds.
I have not yet seen an announcement from Kohl's about store closures this year but I think a few are inevitable and may come closer to their earnings announcement.
The problem I see for most department stores now is a lack of a plan. Macy's and Nordstrom (NYSE:JWN) constantly blame the weather and it appears like most are still struggling to compete both online and in the discount format.
Kohl's only has 3 of their Off/Aisle TJ Maxx (NYSE:TJX)-like stores and has pared back their ambitions to open more.
So what is the plan? Do they just continue trying to do well every holiday season, hoping that people come into the store and their selection is what people want?
Sure, all department stores are now giving lip service to omni-channel sales and pick-up in-store but all their e-commerce efforts are essentially irrelevant as a percentage of total sales the same way the Apple (NASDAQ:AAPL) watch doesn't matter for Apple.
I think the most logical end game for many of these department stores is that in the next few years private equity will buy them out of the bargain bin and try and extract as much value they can from the ones that have valuable real estate. This appears to be a possibility for Macy's already.
Buybacks and dividends
Kohl's currently pays $2.00 per share, or $350 million per year in dividends. The company's current market cap is $7.2b.
2016 full year eps is going to be between 2.92 and 2.97. Kohl's dividend is safe, but the company now has a 67% payout ratio.
A couple more years of falling sales and increased costs could see this number rise above 80% and then a dividend cut becomes a real possibility.
Kohl's spent 1 billion on buybacks in 2015 and 677 million in 2014. This chart should tell you whether they got those shares at a good price or not.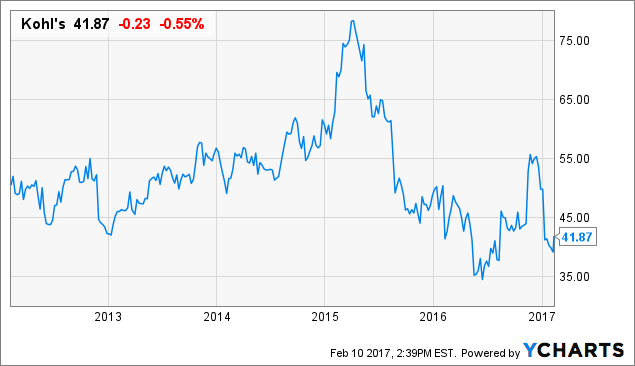 Liquidity and Survivability
The title of this article is a bit rhetorical because Kohl's can certainly make it to 2020. They are not yet experiencing the death spiral that Sears is but they do not also have as valuable real estate, brands, and other assets they might spin off to stay afloat.
They do own 82% of their real estate though and lease the rest. The question is: what to put in a vacant Kohl's?
Where I live they put a local board of elections in one. Maybe Aldi would fit?
Debt wise the company has done a good job of rolling over their debt as it comes due. They only have one maturity left before 2020 and that is in 2017. This will likely be paid off with a new long term bond offering.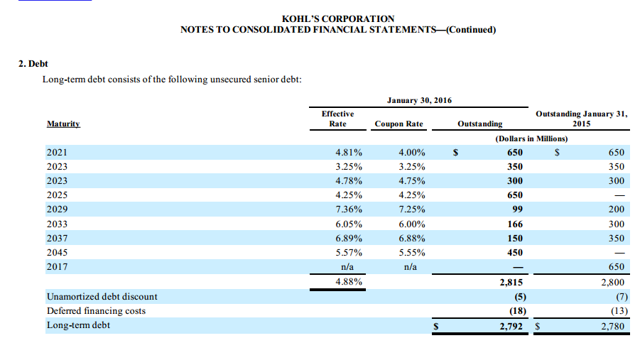 The liquidity event for Kohl's would not be failure to repay these bonds or the interest on them, but would more likely come from a violation or near violation of a debt covenant linked to their credit facility.
A few more poor holiday seasons and more debt added to buy back stock, pay the dividend, and meet the numbers could bring them closer to that point but we are not there yet.
Conclusion & Retail Weighting
At this point, I am underweight the retail sector after a horrible year. There is reason to believe that the sector will bounce back in 2017 with the election over and some positive economic news.
A border tax and a trade war started by the president, on the other hand, could send the sector into another tailspin.
At present my retail exposure includes some of the big box retailers like Wal-Mart(NYSE:WMT) and one or two apparel companies that appear high quality. One such company is Carter's (NYSE:CRI), child clothing expert. I recently the covered the company and was thoroughly impressed.
As for Kohl's, I see no real reason to pull the trigger here. Sure, the dividend is well covered and sales have been weak but not horrific, but I struggle to see any real path for growth or have a clear picture of the next five years for many of these retailers.
Does the company get back on track opening its Off/Aisle stores after a rough year or abandon that altogether and just try tread water?
So while the stock certainly is dirt cheap, at this point my conclusion is that it is cheap for good reason.
Disclosure: I am/we are long WMT, CRI.
I wrote this article myself, and it expresses my own opinions. I am not receiving compensation for it (other than from Seeking Alpha). I have no business relationship with any company whose stock is mentioned in this article.