Introduction
On the surface, Trinity Industries (NYSE:TRN) seems like it has been utterly destroyed by a multitude of events ranging from a 30% decline in its revenues, to a $600 million lawsuit against the company.
I believe that the lawsuit is without merit and Trinity should have no problem winning the case. Moreover, President Trump's infrastructure plans would send revenues soaring due to the pickup in railcar demand, construction products, energy equipment and inland barges, segments that Trinity operates in. This in turn, would make Trinity the ultimate Trump Stock.
Moreover, if Trinity wins its lawsuit it will have a significant cash position of which can be utilized to create substantial shareholder value.
Recent Negative Events
Trinity Industries operates in 5 main segments: rail group, railcar leasing and manufacturing, its inland barge group, energy equipment group and its construction products group.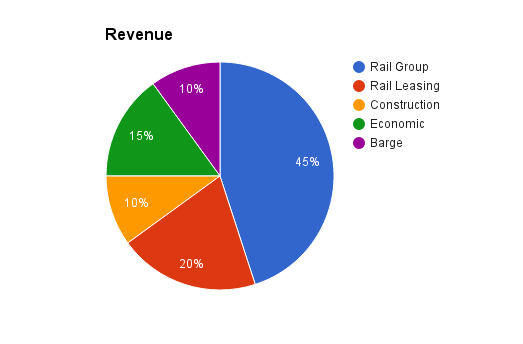 (Source: Corporate Presentation)
These are all segments highly affected by the macroeconomic environment, meaning that the poor commodity environment, coupled by the previous government's poor infrastructure spending, caused a major correction in Trinity share price over the last couple of years. Moreover, revenues have fell close to 30% in the last year.
Due to the fall of revenues in the last year, the capital intensive nature of the business obliterated earnings, falling close to 60% on a year over year basis. Ultimately, this lead to a price to earnings multiple expanding and the share price precipitating downwards.
On another note, a significant overhang on the stock has been a lawsuit involving Trinity which may cost them a significant $600 million.
Financials
If we look at the latest quarterly earnings, it is evident that business is not good for Trinity. Revenues and net income were 1.1 billion and 84 million respectively, compared to 1.5 billion and 204 million during the same quarter last year. It is clear that as revenues fell, the capital intensive nature of the business required for continued spending and therefore, net income decreased dramatically.
Another worry and overhang on the stock is the current debt the company has accumulated over the years. According to my calculations, Trinity's net debt to EBITDA on a forward basis is 4.5x. This multiple sounds relatively manageable, however, there would be significant expansion of this multiple if Trinity is judged guilty and is forced to pay the $600 million lawsuit.
Potential Catalysts
Although Trinity has seen recent turmoil, I believe that significant opportunities lie ahead for Trinity to drive growth.
Firstly, President Trump has continuously repeated his focus on infrastructure spending. More specifically, Trump has outlined that he plans on devoting an immense, $1 trillion.
If plans go accordingly, Trinity will be a huge beneficiary. Goods will have to be transported across the country, resulting in a probable increase in its rail car and rail group segments. Moreover, its construction, energy and barge groups will evidently benefit too if the new government follows up on its promises.
Another catalyst regarding President Trump's expected actions is reduced taxes for companies such as Trinity. As it is a predominantly domestic business, Trinity pays some of the highest taxes in the world, an outstanding 38%. If taxes are ultimately cut, Trinity will potentially have immense bottom line growth and with improving future EPS.
Lastly, if Trinity ultimately wins its appeal in the ongoing lawsuit, there will be significant potential for the company to deliver shareholder returns. More specifically, the company will then be able to buy back shares, reduce debt or even make accretive acquisitions.
Valuation
One extremely appealing factor regarding Trinity is its depressed valuation. Although shareholders have seen a 70% appreciation in its share price from its low of February 2016, Trinity remains significantly undervalued.
On trailing twelve months basis, Trinity trades for around 9x earnings, as compared to 20x earnings for the Dow Jones Industrial Average.
If one sees a high probability for Trinity to win its appeal, I believe that an EV/EBITDA valuation is much more accurate as it includes cash in its calculation. When looking at this statistic, Trinity shares trade at a puny 5.6x EV/EBITDA.
To Sum It Up
If all goes as planned and the new Trump administration goes forward with the infrastructure spending plans, Trinity has the potential to grow substantially. All of its segments will witness major demand as it is a leader in all segments it operates in, mainly due to the high quality of its products.
On another note, another catalyst for the stock would be if Trinity won its appeal of the 600-million-dollar lawsuit. This would help create significant shareholder value.
Lastly, Trinity offers a margin of safety. If nothing goes as planned and infrastructure spending as not as substantial as promised, and the company loses its appeal, the deeply depressed valuation would still be attractive.
Disclosure: I am/we are long TRN.
I wrote this article myself, and it expresses my own opinions. I am not receiving compensation for it (other than from Seeking Alpha). I have no business relationship with any company whose stock is mentioned in this article.