VTTI Energy Partners LP (NYSE:VTTI) is an MLP, established in 2014, that is active in energy storage. It owns, operates, develops and acquires refined petroleum product and crude oil terminals, and related energy infrastructure. VTTI's MLP was listed on the NYSE on August 1, 2014, and IPOed at $21 per share.

The stock gives investors the opportunity to invest in a growing company with an attractive dividend yield of more than 7%.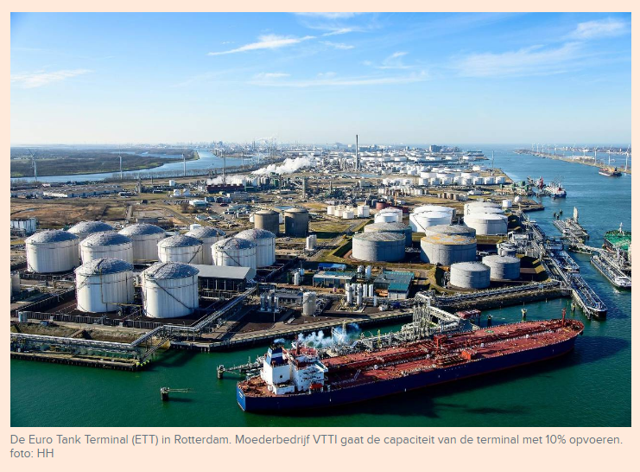 Background
VTTI has existed since 2006 and was the Terminal and Infrastructure asset group within the Vitol Group. The Vitol Group is an energy and commodities company that is one of the largest independent energy traders in the world.
VTTI Energy Partners owns 396 tanks, spread across six terminals on five continents with a total storage capacity of 35.5 million barrels/5.6 million m3.

In October last year Vitol sold a 50 percent stake in VTTI for $1.15 billion to Buckeye Partners (NYSE:BPL). Buckeye is one of the largest independent liquid petroleum products pipeline operators in the U.S.
Through this transaction, Vitol and Buckeye will each have access to the other's infrastructural footprints creating a worldwide energy storage powerhouse. VTTI's mission is to serve the energy industry by linking oil and gas flows safely, efficiently and profitably.
In the coming years, VTTI's main ambition is to belong to the top three terminal and infrastructure companies. Steps have already been taken to grow their business.
Investing In Growth
On January 25, 2017, they announced an acquisition of a 230,000 m³ facility in Panama. The result of the deal is that VTTI will get a stake of 75% in PetroAmerica Terminal, S.A. ("PATSA"). PetroAmerica Terminal.
PATSA's strategically located terminal on the Pacific side of the country, close to the Panama Canal, will enhance VTTI's multiple potential growth opportunities.
VTTI's transaction with Energia Naturalis Holding, comprising 70% of the newly built Adriatic Tank Terminal (ATT) in the Port of Ploce, Croatia, which has 50,000 m³ of clean petroleum product storage is going to be expanded and the second stage of development is under way. Capacity expansion will include a further 200,000 m³ of liquid product capacity, as well as up to 60,000 m³ of LPG capacity.
The company is also investing in its existing terminals ETT in Rotterdam and ATPC in Antwerp respectively. In Rotterdam, it is expanding the flexible product storage capacity with 174,000 m³, and in Antwerp, it is further strengthening its LPG terminal.
The Growth Story Secured
VTTI has a huge wish list of investments. According to CEO Rob Nijst, the company is targeting acquisitions and expansions in Latin America, Asia, and Africa. In Europe, the Balkans are interesting because there are a lot of legacy terminals and they need to be renewed. Every year he expects to invest an average of $200 million.
VTTI will invest more in the storage of LPG. In Africa, there are great possibilities for the use of LPG. This also applies to the Caribbean region, where power plants turn increasingly to the use of gas to generate electricity.
With a strong partner like Buckeye the future is secured.
Dividend History
On January 31, 2017, VTTI declared a fourth quarter cash distribution of $0.3360 per unit, representing a 2.4% increase from the third quarter 2016.
As you can see in the graphics below the dividend has increased considerably. Unfortunately, the stock price lags behind.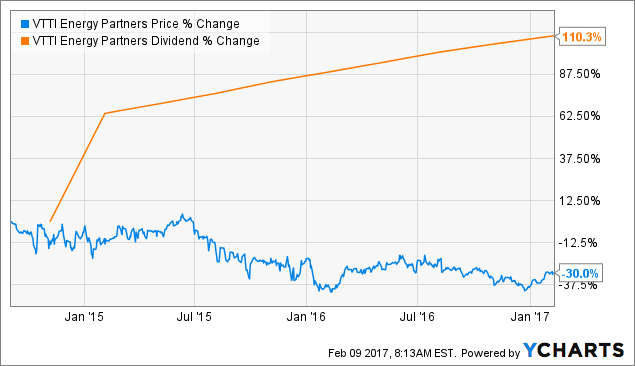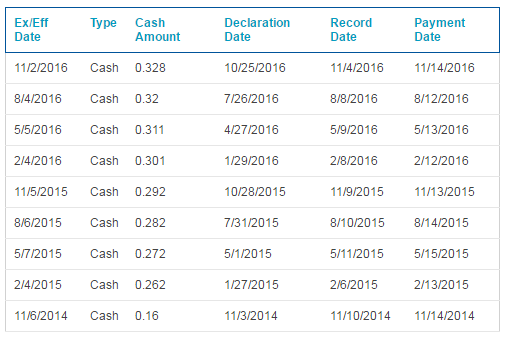 Price Targets
From the seven analysts that follow the company: four have a Buy rating, one an Outperform and two a Hold rating. The average price target is $23.10. An upside potential of 25% from the current stock price of $18.55.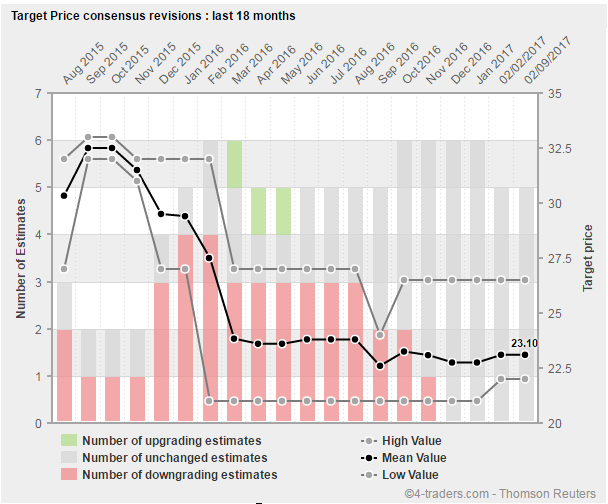 Final Note
Boosting capacity and meeting stringent environmental standards are priorities for storage operators the coming years. VTTI's state-of-the-art terminals and ongoing storage development projects could support dividend growth the coming years.
In my opinion, the stock is a great addition to an income-orientated portfolio.
Disclosure: I am/we are long VTTI.
I wrote this article myself, and it expresses my own opinions. I am not receiving compensation for it (other than from Seeking Alpha). I have no business relationship with any company whose stock is mentioned in this article.