It's no secret that 2016 has been a tough year for energy companies, although probably not as tough as it needed to be. Back in 2014, most voices agreed that the precipitous drop in crude oil couldn't last all that long because the decline rate would overwhelm crippled worldwide crude oil investment.
That didn't happen. Instead, supply from the shale and major projects ended up being much more resilient than what a lot of people thought. As a result, prices stayed low and a lot of energy companies got caught with their pants down, so to speak.
These days I'm hearing not just 'lower for longer' from energy companies, but also 'lower forever.' I'm not sure if I agree with that admittedly hyperbolic sentiment, but it does indeed seem that crude oil seems to have found its balance between $50 and $60 per barrel; a balance far lower than what most people had originally bargained for.
For this reason, over the last few months I have applied a 'litmus test' for energy companies. The litmus test is this: 'Can the company even out its cash flow in 2017.' I strongly believe that, after several years of a lower price paradigm, energy companies need to balance their cash flow, or at least come close to doing so, in order to be sustainable in the long-term future.
In the case of Chevron (NYSE:CVX), 2016 was particularly tough. Cash flow fell significantly short of capital expenditures and dividends. This article shows how and why Chevron fell short in cash flow last year, and what we might expect next year. This article also compares Chevron with its peers in this regard.
A tough year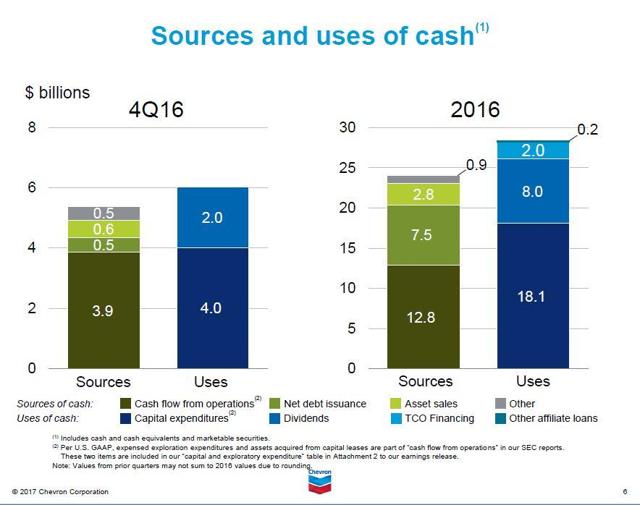 Courtesy of Chevron Investor Relations. Exploration expenditure not counted as capex because it is factored into operating cash flow.
As you can see here, the full year 2016 was really not good from a cash flow perspective. That isn't a big surprise. What I find even more interesting is that the in the fourth quarter Chevron continued to fall short of capex and dividends. Conversely, a number of other big oil companies struggled in 2016 as well, but most at least tread water in the fourth quarter. Chevron, on the other hand, still fell short by another $2.1 billion in the last quarter of the year, and that had to be made up by asset sales, cash and additional debt.
The full year was even worse, but perhaps less relevant. Chevron's cash flow fell short of capex and dividends by a whopping $13.3 billion, but when asset sales are included that number is drawn down to $10.5 billion. Remember, this includes the first quarter of 2016, when oil bounced around in the $30s and $40s. Regardless of what management might say about a 'long-term view,' I think, had Chevron known that in 2017 crude oil prices would still be hovering in the $50s, they would have been more aggressive in cutting capex and delaying projects back in late 2014. Ten billion dollars is a lot of money.
Where the puck is going
Chevron expects to spend $19.8 billion on capital projects, including exploration, down a bit from $22.4 billion. For purposes of comparing apples to apples, let's assume an identical exploration budget of $4 billion, which would bring GAAP capex down to $16 billion, rounded to the nearest billion. Add in another $8 billion in dividends and Chevron will need to generate $24 billion in operating cash flow to break even in 2017.
If the fourth quarter can be extrapolated to full-year 2017, and I'm not sure that it can, then Chevron would generate only $16 billion in OCF. Since 2014, operational expenditure declined some $5 billion, and I do believe that trend will continue in 2017, particularly as long-term deepwater rig contracts come off contract and get renewed. Many of Chevron's existing deepwater contracts were still signed during times when offshore dayrates were quite expensive. I believe there is some further cost savings for Chevron to have.
Secondly, some key projects will be either finished in 2017 or have been finished in late 2016 and will contribute to cash flow: Gorgon train two is now producing on full blast. Gorgon III and Wheatstone LNG projects will both see first gas this year. We also should, hopefully, see a restart of production in the partitioned zone between Kuwait and Saudi Arabia. This will all lead to production growth of between 4% and 9% year-on-year.
How much will that all lead to? It's hard to say. If prices stay where they are, I suspect that Chevron can generate $2-$4 billion more in operating cash flow. Let's say that the final number is $3 billion higher than last year, or $16 billion. (Incidentally, that would equal fourth quarter OCF, annualized.) Even still, Chevron is going to fall short by quite a bit if these numbers are even in the ballpark. This is, however, just an estimate. Higher crude prices by the order of $5 or $10 may well close the gap entirely. Right now, I would recommend caution on Chevron. There's just too much spending on big projects that are difficult to stop.
Closing the gap
How will Chevron close the cash flow gap, whatever it may be, in 2017? Well, the company had a $5-$10 billion asset divestiture plan, of which $2.8 billion was already divested in 2016. That leaves $2.2-$7.2 billion of assets by which to sell in 2017. I suspect that Chevron will use this to plug the majority of the funding gap in 2017. In general, the assets up for sale are no longer a strategic fit within Chevron and are unable to compete for Chevron's slimming capital budget.
Chevron's debt was downgraded by Moody's ten months ago, in April of 2016. As of today, Chevron's debt is not on watch and the Moody's outlook is stable, so the credit agencies don't seem too concerned. I would say, as long as there's no danger to a downgrade, Chevron should be able to maintain its 3.82%-yielding dividend, and will plug its cash flow gap without a cut. However, that will come at the cost of asset divestitures done when crude oil prices are still very low.
I've mentioned this before and I guess I'll mention it again in this article: In this price paradigm, I much prefer oil companies that are acquiring, not ones that are shedding assets. That means striking Chevron off my list of buys for the time being, and it doesn't seem like Chevron will be getting on that list anytime soon. I continue to believe that other peers of Chevron are better buys at this time; specifically Exxon Mobil (NYSE:XOM) and BP, Inc (NYSE:BP), of which I am long both.
If you're interested in Chevron or any of the big, integrated oil companies, feel free to follow me here on Seeking Alpha. I will continue to follow Chevron, as well as its biggest peers, and will provide update articles when doing so is both material and relevant.
Disclosure: I/we have no positions in any stocks mentioned, and no plans to initiate any positions within the next 72 hours.
I wrote this article myself, and it expresses my own opinions. I am not receiving compensation for it (other than from Seeking Alpha). I have no business relationship with any company whose stock is mentioned in this article.