Dubbed a railroad turnaround specialist, former Canadian Pacific (NYSE:CP) CEO Hunter Harrison is looking to move on to bigger (better?) things. Harrison is now looking to help 'turnaround' railroad company CSX (NYSE:CSX), which has a market cap that's double that of CP. But the margins at CSX are some of the worst in the industry.
However, there's a bigger issue. CSX shares have been on a tear of late. In truth, it's grossly outperformed Hunter Harrison's previous target Canadian Pacific of late. Shares of CSX are up 116% over the last five years, with CP up just 98%.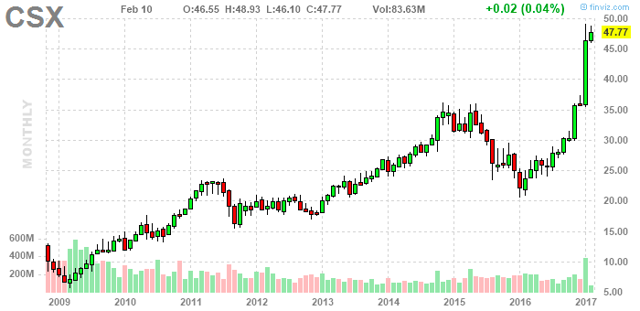 Still, does Harrison think he can do more for CSX? Harrison's experience lies with Canadian rails, i.e. CP and Canadian National (NYSE:CNI), but CSX is a bit different - operating short hauls and focused on coal. Even in the best case, where Harrison gets CSX margins in-line with what he accomplished at CP, Morgan Stanley pegs upside to $60 a share.
Activist backing?
Harrison also has the backing of an activist investor - again. Harrison was backed by Bill Ackman's Pershing Square Capital when he was installed as CP CEO. Now it's ex-Pershing Square partner Paul Hilal's Mantle Ridge that's backing Harrison for CSX CEO.
CSX recently extended the director nomination deadline for its board, hoping to come to terms with the activist. The new deadline is Feb. 24. So, the likely scenario is that CSX gives in to Mantle Ridge with board seats and by adding Harrison as CEO.
The underrated thesis is that Harrison is working on getting CP and CSX to merge. Harrison is making a big bet, giving up nearly $100 million in equity grants to get released from a non-compete at CSX. But Mantle Ridge is betting on operational improvements, and not a merger. There is an opportunity to streamline costs and operations - i.e. improve the equipment use and scheduling to improve the operating ratio at CSX. CSX is running an operating ratio somewhere around 70% - Harrison improved the operating ratio while at CP from 81% to 56%. The problem is, CSX operates a different model from those of both CP and CNI. Harrison has the momentum to get the CSX CEO job, with certain CSX shareholders already voicing support.
In the end, shares are have seen a huge run, making Harrison's potential job that much more difficult. Even the potential CSX merger - with the likes of CP - will be met with a lot of uncertainty. Then there's the potential for a CP and Norfolk Southern (NYSE:NSC) merger, which would put more competitive pressures CSX. For now, it pays to remain on the sidelines,
Disclosure: I/we have no positions in any stocks mentioned, and no plans to initiate any positions within the next 72 hours.
I wrote this article myself, and it expresses my own opinions. I am not receiving compensation for it (other than from Seeking Alpha). I have no business relationship with any company whose stock is mentioned in this article.