Gold has been up marginally (~3%) since my previous article in which I reversed my bearish stance on the yellow metal. Contrasting the second half of 2016 when my views were extremely strong on the sell side, my "BUY" call in 1Q17 continues to be a weak one. In this piece, I explore the impact on gold demand from some of the events that have occurred since I wrote my last article.
Indian Budget
Just to recap on why India and China are important, both countries combined are responsible for 55-65% of gold demand (tonnage) every year. A lot of that demand is created in the jewelry industry where demand is quite elastic to prices. And as gold is denominated in USD, a strengthening dollar has moderated the effects of the fall in spot prices in these countries. Jewelry demand in 2016 was the lowest in 7 years due to weak economic conditions in China and higher import duties and impact of the demonetization policy in India.
The Indian government placed its budget before the parliament on the 1st of February and from the point of view gold investors it was a disappointing one. While policies that make it tough to hoard gold were expected, the government's no-show on reversing import duties did little to assuage the jewelry industry which has been hit by sagging customer demand. Additionally, more than 100 tons worth of gold (Source: World Gold Council) gets smuggled into India every year which results in loss of revenue for the government. If not to revive the industry, it was expected the government might lower duties as a measure to prevent tax evaders from smuggling gold within India. Since it did not happen, I expect gold demand from India to remain weak in the quarter.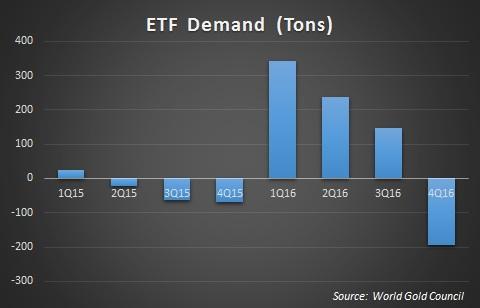 Investment demand in the US
In 2016, global demand for gold backed ETF turned out to be the second best year on record, a lot of it due to the US. And yet, ETF demand is rarely sticky. 2009, which was the best year on record for gold backed ETFs was followed by ~50% decline in demand in 2010. And with the jewelry industry staring at stagnation, there would be a clear bear case on Gold if ETF demand were to fall substantially as well. Therefore, my "BUY" call is still based on increased perception of geopolitical risk stemming from, you guessed it, the policies of President Trump.
My take
If the initial weeks are anything to go by, Donald Trump's style can be described as impetuous, exactly the kind of behavior required to keep the optimism intact on gold. Trump's presidency started with him questioning the one-China policy and then accepting it just weeks after, without anything tangible to show for the drama created in the beginning. Some of his key decisions such as pulling out of the TPP and much of his rhetoric revolve around protectionism. It goes without saying that there will be uncertainty on trade, security, but I don't expect anything dramatic which is the basis behind the weak "BUY" call. As far as the downside risks are concerned, an 8% - 10% decline would activate factors that drive jewelry demand in the Asian part of the world. Therefore, there's a case for recovery if such a decline occurs.
Disclosure: I/we have no positions in any stocks mentioned, and no plans to initiate any positions within the next 72 hours.
I wrote this article myself, and it expresses my own opinions. I am not receiving compensation for it (other than from Seeking Alpha). I have no business relationship with any company whose stock is mentioned in this article.