Johnson's USD 30 billion acquisition of Actelion has kick-started the pharma M&A activity in a year that is likely to be eventful. The key ingredients supporting M&A activity are there or thereabouts:
Cheap Debt Financing: While the Federal Reserve is expected to hike rates three (3) times in 2017, rates still remain well below historical levels. Hence, the expected rate hikes are unlikely to significantly impact M&A activity. This is especially true for pharma companies with low debt/EBITDA ratios that are looking at M&A as a means to "buy" growth and stave off growing competition. In Europe and Japan, the "low for longer" thesis is also still intact.
Favourable Changes to the US tax regime: While the details are still sketchy, we can safely assume that the US tax regime will change favorably for the large multinational pharma companies incorporated in the US. This may take the form of repatriating offshore earnings for use in the US at a reduced rate, lowering the US corporate tax rates, or both. Either case, this is a favourable tailwind that will incentivise M&A activity.
Drug Pricing Pressures: The continued consolidation of customers - drug wholesalers and retailers - along with the public outcry on the rising cost on healthcare has put pricing pressure on the whole drug industry. The four large consortiums in the US currently represent 90% of the buying and selling in the US. As these payors merge their buying power, they have looked to renegotiate prices downward and add more drugs to their non-covered formularies. This is especially true when there are multiple suppliers and little perceived differentiation amongst products. The drugs that got hit the most were commoditised generics where price erosion has been dramatic. Even innovator companies with branded drugs, however, are only one tweet away from being named and shamed, risking reputational damage if not careful on their price hikes. Serial price gougers such as Valeant (VRX) and Turing have got a lot of stick (and rightly so), but these are not the only names "getting away with murder." Every drug will now be subject to public scrutiny, including those that treat rare/orphan diseases.
Buying their way into growth: The likely deal hunters
While pharma companies are constantly in the lookout for good M&A deals, not all of them will have the capacity or willingness/appetite for transformative deals. I would therefore trim down the candidate set to the ones that have low leverage and slow/negative organic growth. This anemic growth can be a result of weak pipelines, competitive pressures and patent cliffs. Below are my prime candidates for "buying" their way into growth.
Gilead Science (GILD):
Over the last several months, Gilead Science has caused excruciating pain to their loyal shareholders. Although I am not one of them, I suspect they are reaching the emotional state of capitulation. Their hepatitis C franchise is shrinking fast, with the trends set to continue in 2017 and beyond. Ironically, this is down to their lifesaving drugs that have already cured the most severe patients. To quote Peter Lynch (see p97 on One Up on Wall Street), "a great patients' drug is one that cures the affliction once and for all, but a great investors' drug is one that the patient has to keep buying." Gilead's drugs have therefore been great for patients but "boom and bust" for their investors. For 2017, the company sees a sales reduction of global hepatitis C sales of 35%-50% due to increased competition and declining prescriptions. While Gilead's HIV franchise is still growing strong, their key pipeline products such as Selonsertib have long development timelines and cannot immediately contribute to the bottom line.
Despite their excellent track record of capital allocation, the company has so far been frugal with their cash pile and has suffered from "thumbsucking," allowing the price of many potential acquisition targets such as Incyte (NASDAQ:INCY) to go through the roof. In the meantime, they committed a lot of cash to buybacks at much higher prices to what the stock is trading today. Given these mishaps, the management is therefore under tremendous pressure to re-discover the magic elixir of growth through another transformative deal like it did with Triangle and Pharmasset (that yielded Sovaldi). With a cash pile of USD 32bn and low leverage (expected 2017 debt/EBITDA is expected to be less than 2), they certainly have the dry powder for a big deal (most likely in oncology). Some SA readers may disagree, but their willingness is also there as their failed attempt to buy Medivation (NASDAQ:MDVN) has shown. Repeating the magic of the Pharmasset deal would nevertheless be a tough, almost impossible benchmark to beat.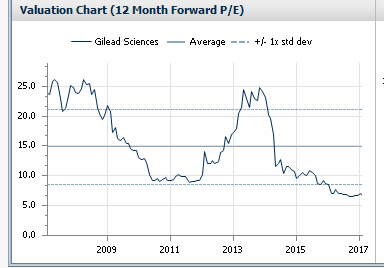 Source: FactSet
Merck (MRK):
Over the last months, Merck enjoyed a lot of success in the hot category of immune-oncology with their blockbuster cancer drug Keytruda. While Keytruda gives Merck a head start, the war is yet to be won with Bristol (NYSE:BMY) and Roche (OTCQX:RHHBY) playing catch up. Understandably, the success of Keytruda has become the key focus and provides some insulation, yet not everything is rosy. Merck's diabetes products (Januvia/Janumet franchise) representing 15% of revenues will face increased competition. Remicade sales will continue falling because of competitive pressures from biosimilars in Europe. Meanwhile, the management has also guided for a significant decline in U.S sales of Cubicin (a treatment for flesh-eating bacteria) when Zetia (a blockbuster cholesterol drug) is already facing generic competition from Endo (NASDAQ:ENDP). To make matters worse, Vytorin will also face US generic competition in late April.
Due to patent expirations and competitive pressures, Merck will therefore struggle to grow and is likely to pursue an acquisitive strategy. With much of their rich cash pile held offshore, any favourable change to the US Tax Regime will enhance Merck's financial flexibility and make acquisitions an even more attractive option. The low leverage also enhances the company's capacity to go on the hunt. While Merck is fundamentally looking for bolt-on opportunities, they have stressed that will not be constrained by size or by phase for the right assets that will augment their pipeline. It would therefore not surprise me if they went "whale hunting" this year.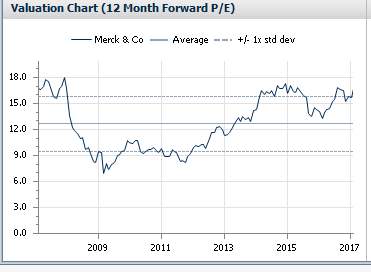 Source: FactSet
Amgen (AMGN)
Amgen is often portrayed as a very cheap stock, leaving many SA readers puzzled by the recent poor performance. Stock markets, however, are forward looking and value stocks based on their growth prospects and future earnings. For several years, Amgen faced limited competition, but this is about to change. The threat comes from the introduction of biosimilars, a relatively untested enemy with the potential to cause a lot of pain. The first wounds will be inflicted to Neulasta (a core drug that increases the count of white blood cells) representing approximately 20% of Amgen's revenues. The FDA has accepted aBLAs for Neulasta biosimilars from Apotex, Sandoz and Coherus (NASDAQ:CHRS) and while none of them has so far been approved, Amgen's management is expecting the product to face biosimilar competition in the fourth quarter of 2017.
A good indicator for the magnitude of the erosion that lies ahead is the growth trajectory of Neupogen, which has faced biosimilar competition in the U.S. from Sandoz's Zarxio since September 2015. Year on year, unit and net sales worldwide were down 25% and 34%, respectively, and U.S. net sales were down 43%. These declines are expected to continue in 2017. In late 2017, Amgen is also likely to face US biosimilar competition for Epogen, an important product representing approximately 6% of total sales. A generic version for Sensipar (representing another 6% of sales) is also expected to be launched in 2018 once the drug goes off patent. Last but certainly not least, increased scrutiny on pricing along with increased competition will take their toll on how much Amgen can increase the price of Enbrel whose sales are already flat despite price hikes. For those not familiar with the name, Enbrel is a rheumatoid arthritis and psoriasis drug which is responsible for 25% of Amgen's total revenue.
To cut a long story short, Amgen faces a number of headwinds that put their ambitious double-digit earnings per share growth trajectory at a risk. With their internal pipeline not able to produce any clear-cut big winners and few of their own biosimilar developments at late phases, a good acquisition would make horse sense. Amgen has nearly $40b readily available to put at work with most of the cash held by their offshore subsidiaries. Should the new US administration allow the repatriation of these offshore earnings for use in the US, Amgen will be a key beneficiary as this would allow them to use the repatriated cash for large acquisitions.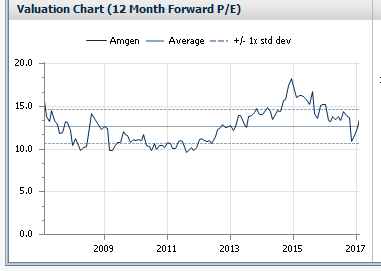 Source: FactSet
Pfizer (PFE):
Pfizer is a textbook case of a company in need for acquisitions to re-accelerate growth. After failing to land AstraZeneca (NYSE:AZN) and Allergan (NYSE:AGN), the company has stepped up the game with the recent acquisitions of Anacor (NASDAQ:ANAC) and Medivation. More deals are likely to follow in 2017, as the company has now reached a decision to remain a single entity and not spilt the business. Their heavy reliance on their Essential Health unit with older and off-patent medicines will be a huge drag on growth. To rekindle growth, their pipeline will therefore have to be re-filled, not just from their existing developments, but also successful dealmaking. Their large cash holdings and low leverage also provide them with ample capacity to pursue transformational deals. This is especially true if the tax reform allows them to put their offshore cash to work (as opposed to taking on incremental debt).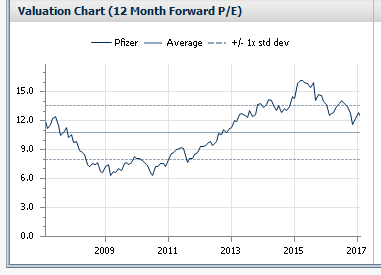 Source: FactSet
Thanks for reading. In a forthcoming article, I will attempt to identify who is likely to make an attractive quarry.
Disclosure: I/we have no positions in any stocks mentioned, and no plans to initiate any positions within the next 72 hours. I wrote this article myself, and it expresses my own opinions. I am not receiving compensation for it (other than from Seeking Alpha). I have no business relationship with any company whose stock is mentioned in this article.