Things are starting to pan out for Apple (NASDAQ:AAPL) in China, which reasserts my bullish argument for a better-than-expected second half, which we will confirm on the next quarterly earnings announcement. I anticipate Apple to topple expectations on revenue/earnings given above-seasonal sell-in for 2H'17, which will result in better-than-expected channel burn over the month of March.
I make this case upon reviewing promising survey data from Bank of America Merrill Lynch (BofAML) which indicates Apple has some runway to gain share in mainland China despite weakness in Hong Kong.
The Hong Kong issue has more to do with retail price discrepancy, and so, many in mainland China opt to purchase iPhones whenever they're on vacation in Japan, as opposed to Hong Kong. Currently, Japan has the lowest weighted average retail price for Apple products in Asia.
Since much of the population in China is along the west-eastern corridor, the impact from Japanese sales from traversing Chinese travelers shouldn't be underestimated. Hence, the weakness in Hong Kong gets offset with purchases in the Japanese segment, which is growing at a faster pace than North America (there's a reason for this). So, between the two major Asian economies (China and Japan), the iPhone narrative remains positive on balance for the remaining duration of the year.
How is Apple situated in China?
Given the weak environment in currencies, and some of that abating over the next couple quarters, I believe Chinese mix-shift will help offset the usual quarterly deceleration from a seasonally strong Q1'17.
This implies better-than-expected q/q smartphone shipments, with gross margin likely to report at the very high end of Apple's management outlook range, which is embedded into my Q2'17 sales/earnings model.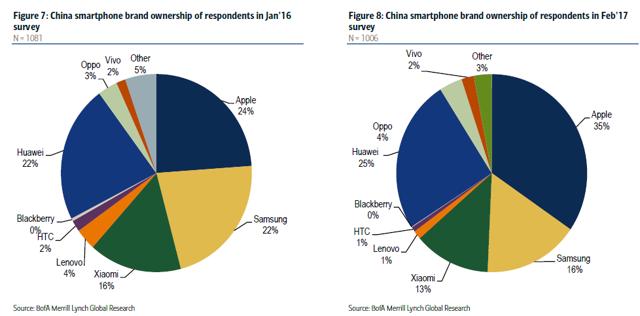 (Source: Bank of America Merrill Lynch)
BofAML analyst Wamsi Mohan mentions that Apple iPhone brand ownership share had improved y/y by around 11 percentage points in the months of January-February. The analyst goes on to mention that purchase intentions are supportive of market share gains, though it's not clear where exactly smartphone shipments will be reported between Japan and mainland China.
Here's the direct highlight from his survey report:
Additionally, when asked what type of phone respondents plan to purchase next, 46% said iPhone whereas 39% had intended to purchase Apple next in our January 2016 survey. Interestingly, our January 2016 survey indicated that iPhone would gain 15 points of share of our sample set. Since that survey, Apple iPhone has gained 9 points of respondents' share.
On net, this implies that Apple's smartphone usage share could accelerate to 46%, but what seems more probable is a 6.6 percentage point usage share gain in the forward 12-month span, of which perhaps 3.3 percentage points will be reflected in the next three fiscal quarters, giving me optimism on the Chinese narrative.
Though, Apple's shipment share is much smaller than competing vendors in the region. The installed base ages more gracefully, so Apple's shipment share tends to be more modest in comparison to that of competing handset makers. When running off figures of 563.1 million smartphone users in mainland China at the end of 2016, AAPL's smartphone base sat at 125 million in 2015 and 197 million in 2016 (strictly China), and could expand to approximately 41.6% of the entire Chinese smartphone installed base in CY'17 (based on BofAML's data).
This implies the smartphone base expanded by 72 million between 2015 and 2016. However, due to sampling errors and the skew towards more affluent households in the survey, we would have to readjust the figures to match data with reported actuals.
Furthermore, Apple sells units to Chinese consumers indirectly via its Japanese channel, and furthermore, a decent chunk of the Chinese installed base is composed of used iPhone buyers. This creates significant divergence in reported actuals from the survey data.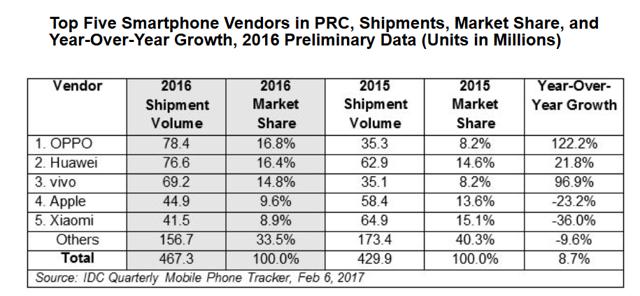 (Source: IDC Quarterly Mobile Phone Tracker)
When looking at some extra data, Apple's shipments from mainland China amounted to 44.9 million units over 2016. The company reported that Chinese shipment figures were split at approximately 50% new users versus 50% refresh, per Apple's Q1'17 earnings conference call, which implies significant upside in installed base additions over the next three quarters.
However, this year is very different in terms of purchase intent and unit mix in the retail sales channel, which gives me incremental optimism on the Chinese reporting segment. Chinese smartphone shipments are on track for 110 million unit shipments in Q2'17, based on Nomura/IDC figures.
Of course, Apple was under-penetrated in FY'Q1'17, as the company shipped 14.9 million Chinese iPhone units in Q1'17, which compares to 17.1 million Chinese units in Q1'16. The interest among Chinese consumers hasn't dissipated, but rather, Apple is holding back on iPhone 7 Plus replenishment, which will likely reach supply/demand balance in the Q2'17 quarter.
Given what I understand, I expect the company's Chinese market share to reach 16.5% in FY'Q2'17, which compares to 8.6% in Q2'16. Given survey data and channel replenishment, I'm modeling 8 percentage points of market share improvement from the prior year.
This translates to 18.15 million iPhone units in Q2'17 versus 8.6 million in Q2'16. The y/y unit contribution of 10 million from the Chinese mainland will contribute significantly to Apple beating its implied estimate of 53 million iPhone shipments for the next quarter.
I believe Luca Maestri embedded something like 12.72 million units from China in his outlook. When operating off 18.15 million units from mainland China, I anticipate 5.4-5.5 million units to swing above outlook. This means iPhone shipments of 58.3-58.4 million units. Perhaps 1 million unit deceleration happens somewhere else in the world, or it's a matter of channel timing.
If Chinese market share matches that in the Q2'15 quarter, then shipment share would be closer to 14.5%, amounting to 15.95 million units. This would imply iPhone unit shipments of 56.23 million. When averaging both of my prior estimates, I arrive at 57.4 million units or so, which is why I'm reasserting my stance on unit shipments of 57.6 million for the quarter.
Chinese smartphone shipments will likely swing quarterly results, and furthermore, I believe investors are downplaying the Chinese narrative and overemphasizing other areas of the company.
Final thoughts
Expectations on iPhone unit shipments are muted for the duration of FY'17, which is good for investors. Though survey data doesn't give us an exact read into what's likely to happen, the data helps to reinforce my earlier prediction going into the next quarter. I still anticipate Apple to report revenue above consensus expectations at $55.9 billion and EPS of $2.18, which will be driven by Chinese shipment contribution.
Though foreign currencies could diminish upside to estimates, recent trends in currencies are still supportive of revenue/earnings upside. Expect sharp divergence in Chinese shipment trends between FY'16 and FY'17.
I continue to reiterate my high-conviction buy on Apple.
About Cho's Technology Research
Cho's Technology Research is SA's premier technology research package that gives investors and traders an additional edge when investing into tech companies. It's a trade publication, research service and an idea generator. It includes short-term trade ideas that yield 5%+, long-term small cap investment ideas that yield 25% This services comes at a low annual subscription cost of $20/month. The promotional price period will end soon! Subscribers get a free two-week trial upon checkout and can cancel at any point in time. For more information, click here.
Disclosure: I/we have no positions in any stocks mentioned, and no plans to initiate any positions within the next 72 hours.
I wrote this article myself, and it expresses my own opinions. I am not receiving compensation for it (other than from Seeking Alpha). I have no business relationship with any company whose stock is mentioned in this article.