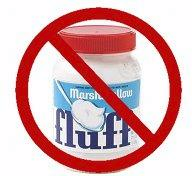 As the title says, this is the no fluff shipping preferred (kinda) weekly. Why kinda? Well, because I didn't do one last week, so saying weekly would be somewhat of an error. I am, however, intending to do this weekly as I do with my mortgage REIT preferred note (most recent here). As anyone involved in the shipping sector (preferred, common, bonds or loans) knows, it has been stormy seas. I kicked off this series with my recent note on shipping preferred stocks, and now follow it for myself and intend to publish the information here. Information helps, and this is my (admittedly small) contribution. So sit back, peruse the data and see if you want to ride the wave. I have found some value here, and maybe you will too.
All data has been compiled by the author from sources believed to be reliable. I am long Costamare (NYSE:CMRE) Series C and Teekay Offshore (NYSE:TOO) Series A and B.
The universe:

The universe yields 9.53%, with a stripped price of $21.12, up from the 9.27%/$21.69 on January 29, 2017. Performance is obviously not going in the direction we would like it to. Seaspan (NYSE:SSW) has been one of the worst affected, along with Safe Bulkers (NYSE:SB).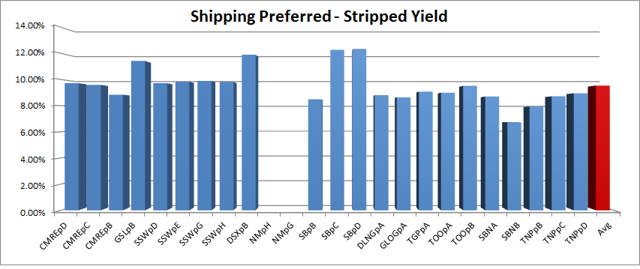 I do not have a yield entered for Navios Maritime (NYSE:NM), as dividends have been discontinued.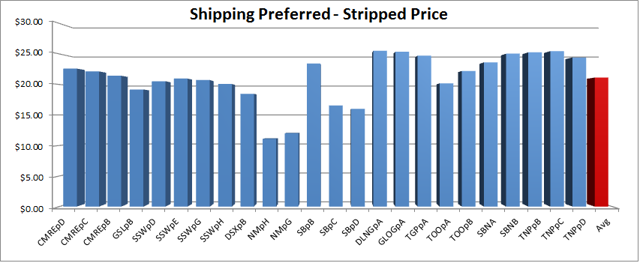 The preferred slice of the shipping capital structure has a higher yield than the equity slice, which means there isn't a cost of stability, but rather a yield "pick-up" for entering the preferred sector. In shipping, to be fair, the greatest upside can be in the equity slice, but the "when" has been elusive, and income investors don't usually enjoy waiting for the check.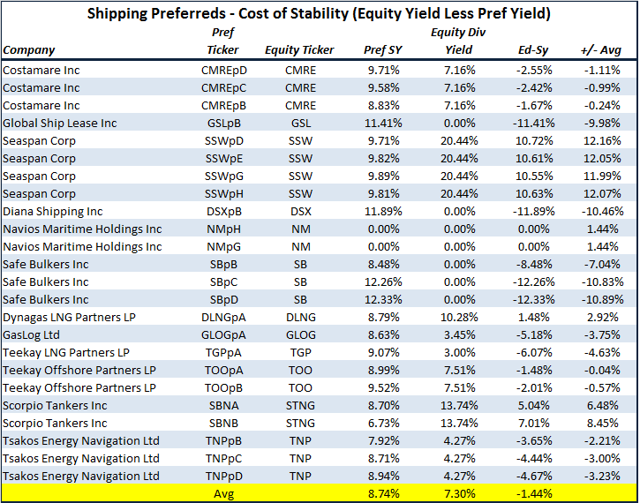 Graphically: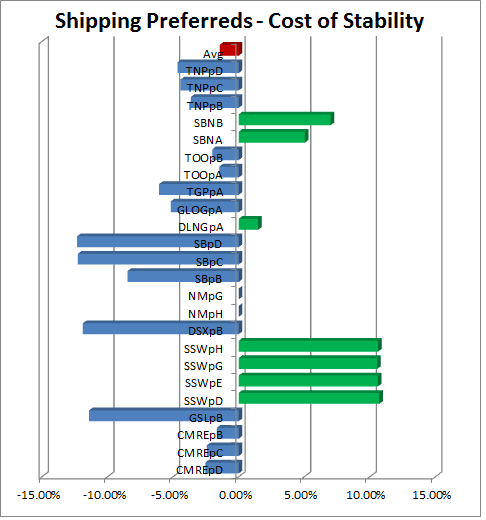 While the Seaspan equity yield is tempting, it is possible it will be cut. This has somewhat skewed the numbers, but I believe it will "right itself" when the equity dividend is adjusted.
The risk premium, or spread to risk-free, has increased due to the risk-free rate being lower by 9 bps and the wider sector yields as earlier mentioned.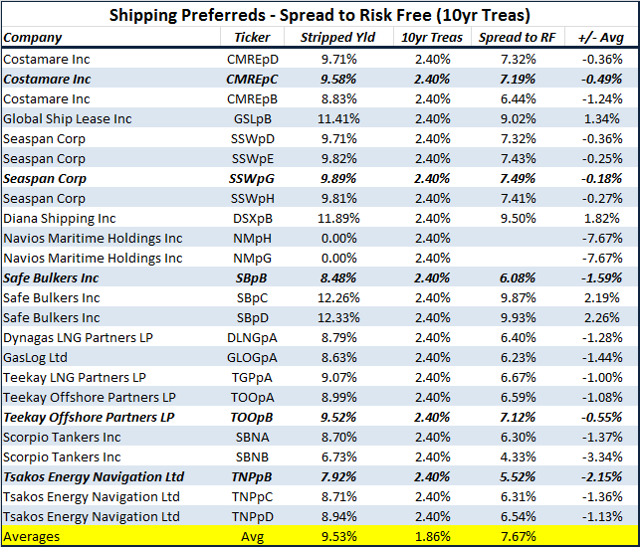 Graphically:
Preferreds have been weaker than equities over the last week as Seaspan has gotten hammered.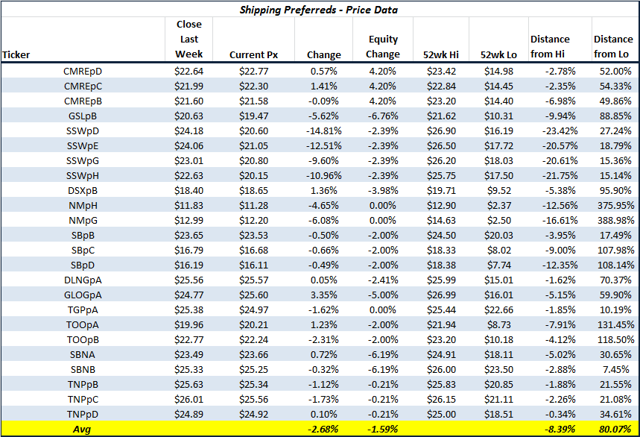 And, of course, graphically: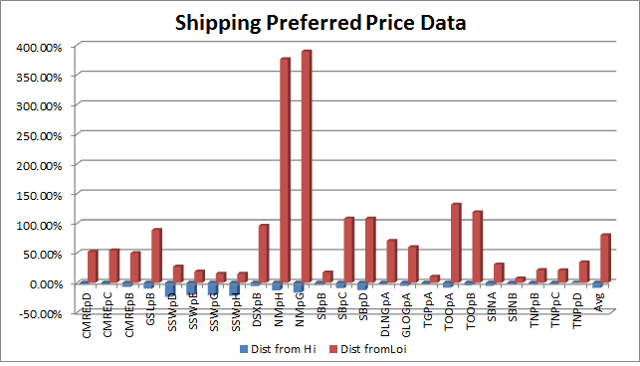 The biggest casualty has been Seaspan, so I will have to begin taking a look at the name.
Hopefully, this has helped provide some color on the shipping preferred market. If there is anything that should be added, let me know and I will try to accommodate the request.
Disclosure: I am/we are long CMRE, TOO.
I wrote this article myself, and it expresses my own opinions. I am not receiving compensation for it (other than from Seeking Alpha). I have no business relationship with any company whose stock is mentioned in this article.