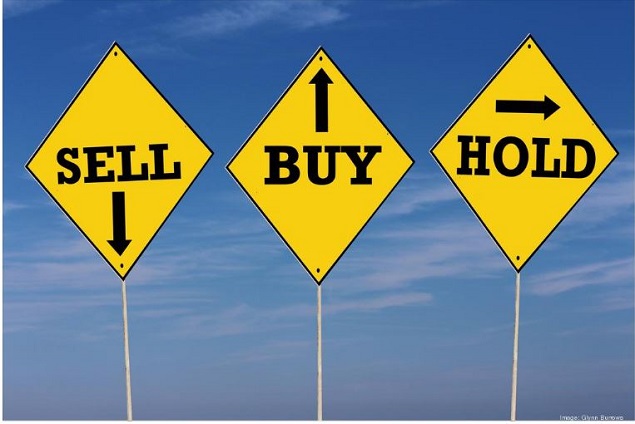 Source: bizjournals.com
STORE Capital (NYSE: STOR) is a $3.8 billion net lease REIT with a diversified portfolio of tenants.
The freestanding single-tenant net lease business model is both elegant and simple to understand. In addition to paying monthly rent, creditworthy tenants on long-term leases pay for: taxes, utilities, insurance, and almost all building maintenance expenses.
This makes it relatively easy to scale this model, compared with multi-tenant office, retail or apartments. There is less local staff required to handle leasing, tenant improvements and usually much lower maintenance capex.
The long-term nature of the contracts makes these REITs appear to be "bond-like." This means that rising interest rate environments can create headwinds for price appreciation compared with lodging or self-storage REITs which can raise or lower prices charged for occupancy on a daily or monthly basis.
However, unlike the vast majority of bonds, most triple net leases contain either contractual rent bumps or increases bases upon consumer price or similar indices.
Tale Of The Tape - A Rough Six Months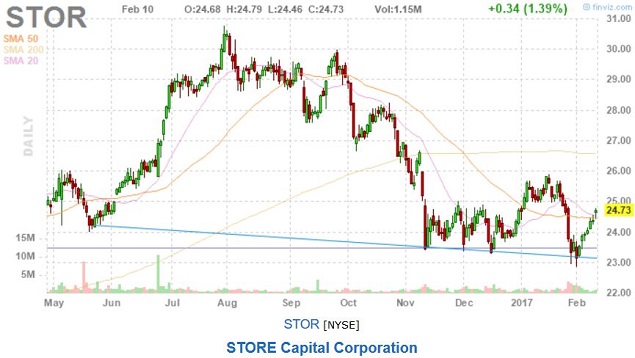 During the past 52 weeks, STORE Capital shares have traded in a range of $22.90-$30.76 per share, with an analyst consensus target price of $28.64 per share.
However, recently STORE has underperformed net lease peers including investor favorite Realty Income (NYSE: O), National Retail Properties (NYSE: NNN), W.P. Carey (NYSE: WPC) and smaller-cap Agree Realty (NYSE: ADC).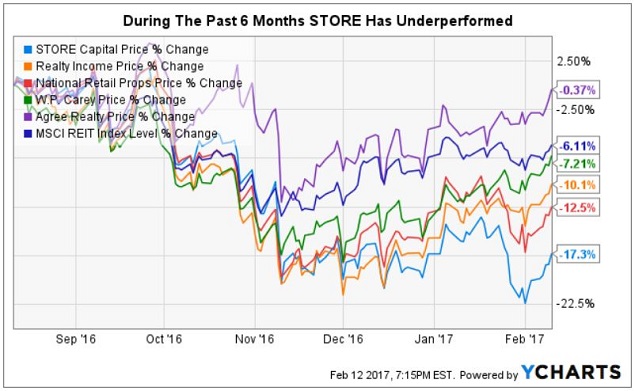 Notably, STORE has a unique underwriting model as well as a different approach to debt compared with its peer group.
On Friday, February 10, Ladenburg Thalmann analyst Dan Donlan published a research note boosting STOR to Buy from a Neutral rating, with a $28 price objective. Donlan closely follows the smaller net lease REITs, and in my view, does an impartial and particularly thorough job of analysis.
A Likely Headwind
So, why the underperformance?
In a nutshell, investors may have concerns regarding the declining fortunes of privately held outdoor retailer St. Cloud, Minnesota based Gander Mountain, STORE's No. 1 tenant measured by annual base rent. Reuters reported on February 10 that this struggling hunting and fishing retailer "…is preparing to file for bankruptcy as early as this month."
The article suggests that an ambitious store expansion strategy could be largely to blame. This retail segment has been in turmoil with Sports Authority and Sports Chalet already down the tubes and Bass Pro Shops attempting to consolidate rival Cabela's Inc. (NYSE:CAB) for $5.5 billion, subject to antitrust approval.
Ironically, this impending Gander Mountain bankruptcy could present an opportunity for STORE CEO Chris Volk and his team to showcase how their proprietary "STORE Score" credit underwriting performs - which is a potential silver lining.
On the other side of the coin, the large size of these retail "boxes" could become an issue due to fewer retail anchors expanding their bricks and mortar footprint, and expenses associated with sub-dividing these large stores for smaller tenants.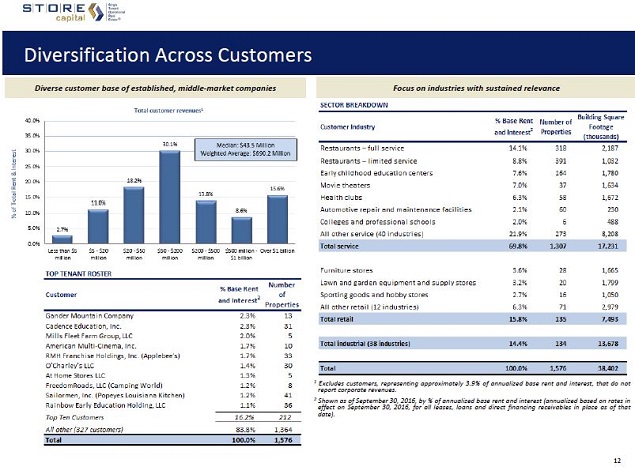 Source: STORE Capital - Nov. 2016 presentation (all slides)
The good news is that Gander Mountain only accounts for 2.3% of STORE rents. Most STORE tenants (including its large fleet of restaurants) are part of service industries which tend to be e-commerce resistant.
Top 10 tenants only account for 16.2% of base rent compared with 327 other STORE customers accounting for the balance, as of Sept. 30, 2016.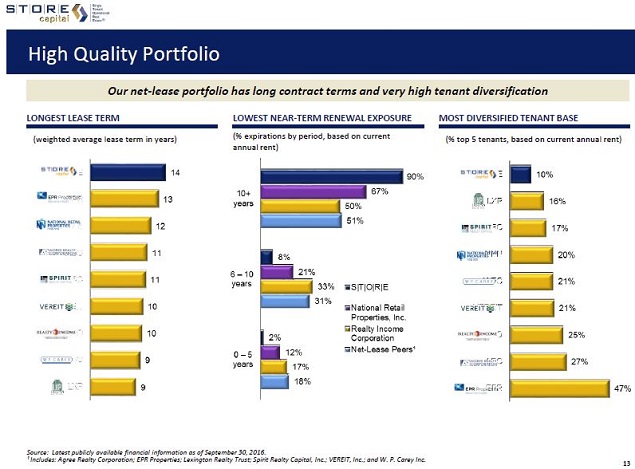 The STORE portfolio stacks up well on most leasing metrics compared with its peers, as shown in the slide above and below.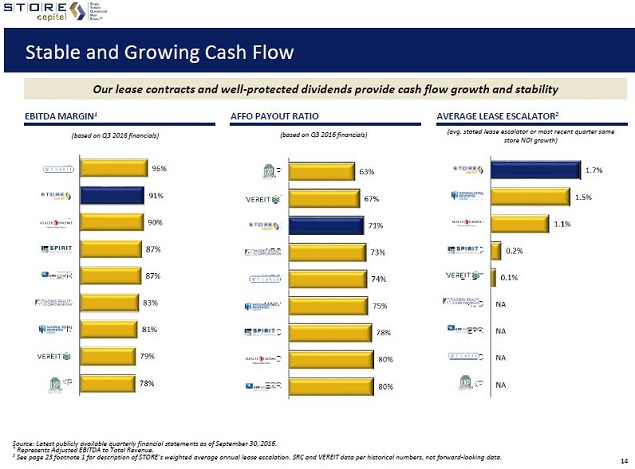 Given the long-term leases, a 71% AFFO payout ratio is quite conservative. It certainly allows for flexibility to increase the dividend distributions going forward, even if there are some issues that need to be worked through regarding an individual tenant.
The 1.7% average lease escalator is also a huge advantage for this net lease REIT with its ~14-year weighted-average lease term. This is a major reason why STORE can grow AFFO per share at a faster clip than its peer group and a crucial metric for REIT investor to consider in a rising interest rate environment.
STORE Capital - Overview
Since I have not written about STORE recently, I am including this detailed section for readers who are unfamiliar with the unique aspects of this net lease REIT. If you are already a shareholder, or are familiar with STORE Capital, feel free to skip down to the valuation section and investor takeaway.
STORE happens to be an acronym for Single Tenant Operational Real Estate. It is also a descriptive play on words to emphasize that this net lease REIT is looking to finance real estate that generates cash flow at the store level.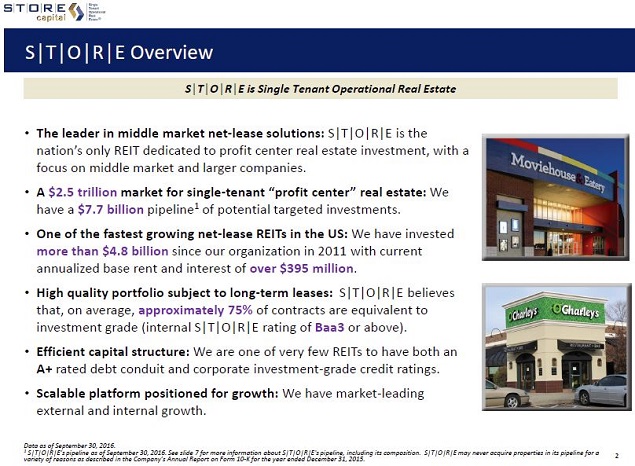 This focus excludes owning R&D facilities, call centers, corporate headquarters and other non-income producing real estate assets.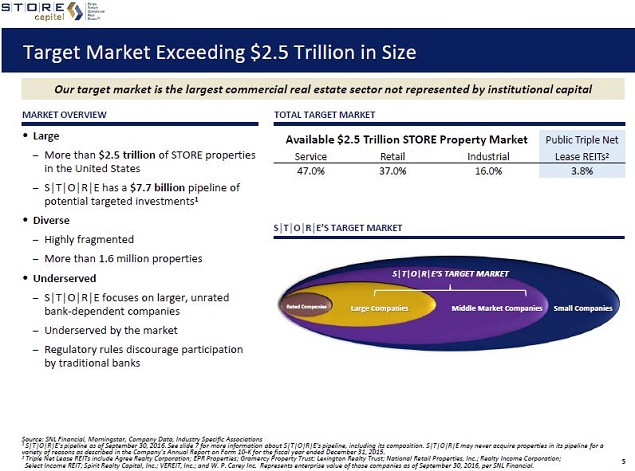 Sale leaseback financing of stores can be an attractive method for these types of companies to raise capital compared with terms and conditions imposed by regional banks. However, the proposed roll-back of regulations for banks and other financial institutions could reduce the attractiveness for some tenants going forward.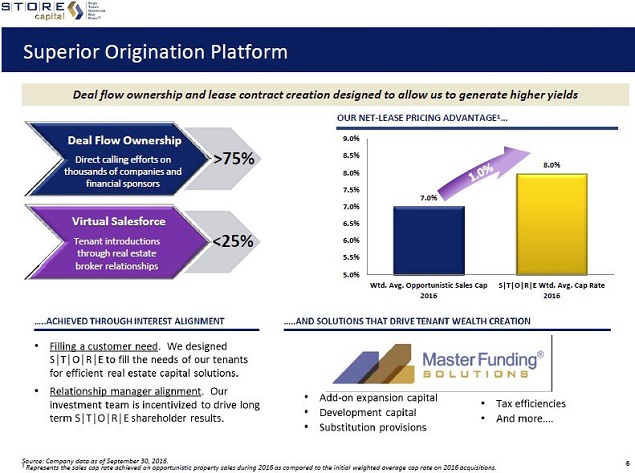 STORE management believes they can underwrite sale leasebacks at higher initial returns than most peers. Last year, the average property cap rate was a lofty 8 percent.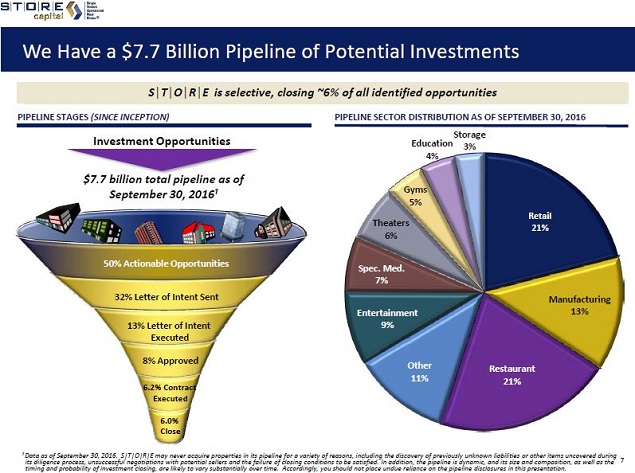 The huge deal funnel allows STORE to selectively add to its portfolio on an annual basis without having to compromise underwriting standards.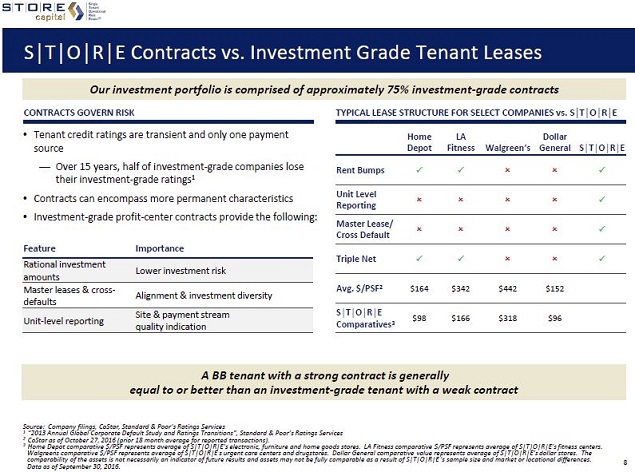 STORE management believes that they can generate higher risk-adjusted returns despite the small percentage of tenants which actually have investment grade credit ratings.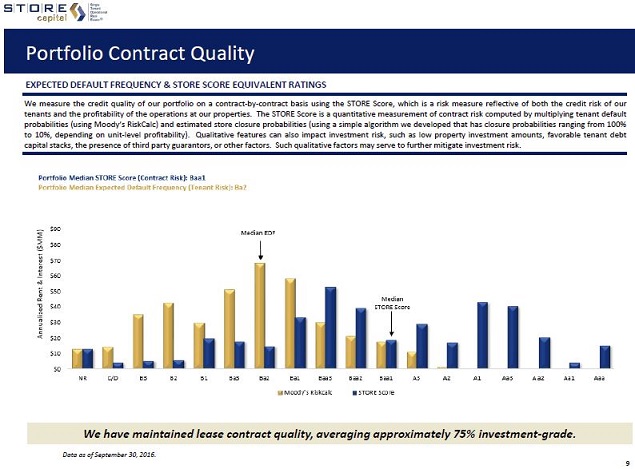 The ability to negotiate strong lease contracts, often with Master Leases and cross-default provisions, strengthens the landlord's position. STORE looks to property level profitability as another method to reduce risk.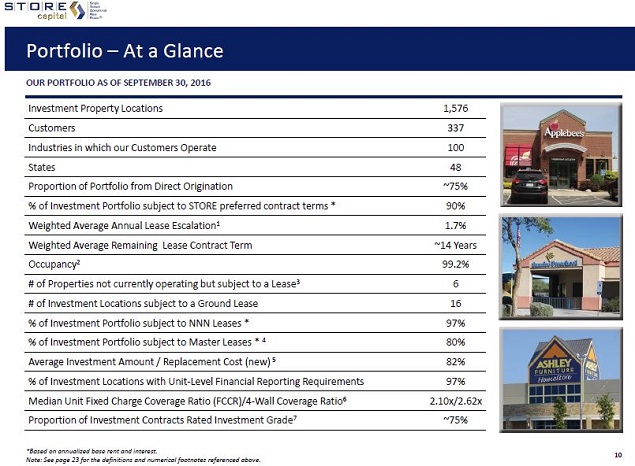 In a situation like Gander Mountain, if STORE owns properties which are generating significant cash flow, they are less likely to be leases which are discharged in a Chapter 11 bankruptcy reorganization. In the case of Gander Mountain, STORE owns 13 sites out of ~160 locations nationwide. These should be higher-quality locations which are easier to lease-up in the event the landlord gets the property back.
Balance Sheet and Cost of Capital
STORE utilizes diverse strategies to fund its acquisitions including Master Funding asset backed loan conduits, CMBS, insurance companies, banks and its BBB- investment grade rated unsecured debt.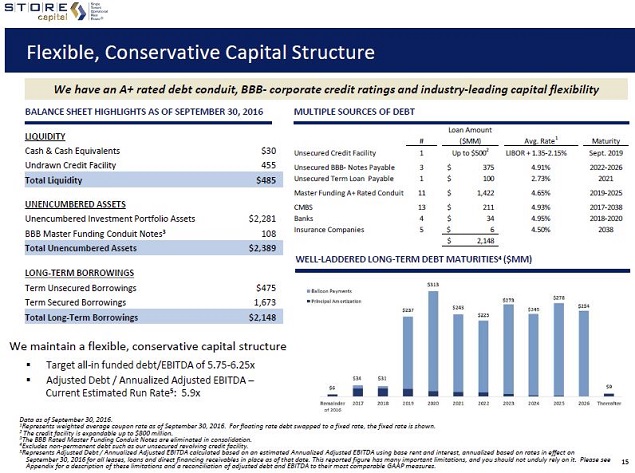 STORE operated at higher leverage than many peers, but only targets 65%-75% AFFO payout ratio, which effectively acts like a cash cushion. If things go well, these low-cost funds can be reinvested, on the other hand, free cash flow can be used to repay debt and cover the dividend.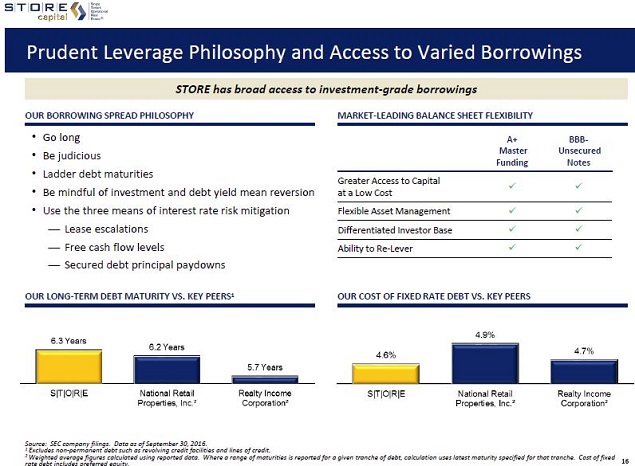 Compared to its two largest peers, Realty Income and National Retail, much smaller STORE has a similar cost of capital. On the other side of the coin, STORE is generating a wider spread with its 8% average new contract yield in 2016.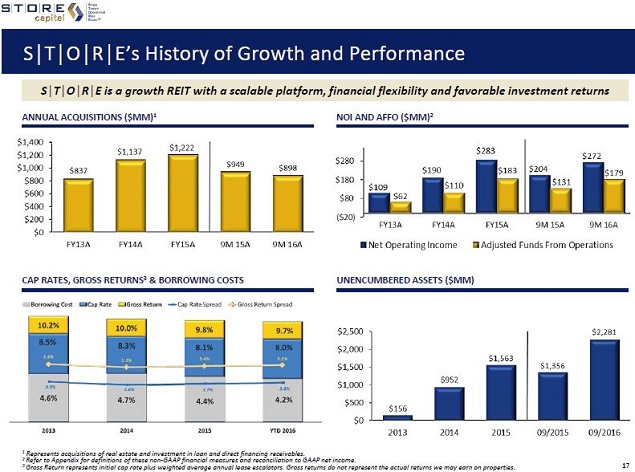 FAST Graph - Valuation Analysis
It's time to use the F.A.S.T. Graphs tool to check under the hood. The black line is price. It is a visual comparison relative to the blue line, which is "normal" P/FFO for the selected number of years. The red line corresponds to the dividend yield on the far right of the chart.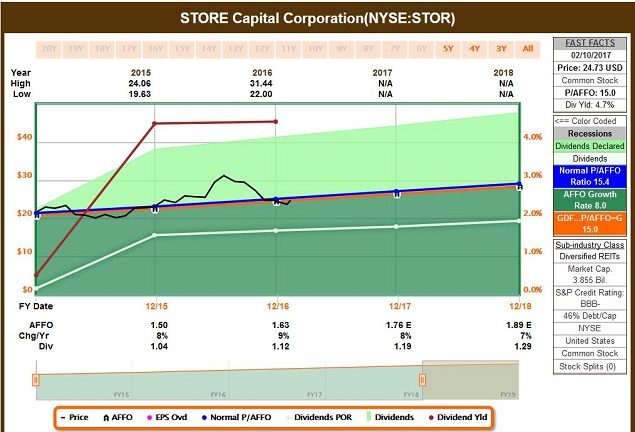 Investor Takeaway
During the past six months, STORE has gone from being one of the leading net lease REITs to performing more like a sector "dog."
Is there anything fundamentally wrong with STORE Capital? I don't believe so. In fact, I think that CEO Chris Volk and his team run a tight ship with a conservative approach, especially when it comes to paying out cash available for distribution.
The large number of lease contracts with contractual rent increases helps to mitigate the risk from a single tenant. If Gander Mountain were to go belly up and file Chapter 7, the impact could be in the range of $0.04 per share. This would not impact the ability for STORE to continue to pay and raise dividends going forward.
STORE Capital is scheduled to report 4Q'16 results before the bell on February 23 and host a conference call at 12 pm EST that same day. I believe STORE shares are fairly valued here at 15x AFFO per share, and 4.7% yield on cost. A 12-month $28 price objective implies a 13.3% return, and a total return of 18% including quarterly distributions.
If you are already comfortable with the unique STORE Score and A+ rated Master Funding conduit aspects, I think opening a partial position prior to upcoming earnings could be a way to hedge your bet. I plan to circle back and update STORE after Q4 earnings and conference call, if you are more comfortable in waiting to see how the Gander Mountain story plays out first.
I am contemplating whether to launch a Seeking Alpha Marketplace Premium subscription service. I would appreciate any feedback from readers who may be interested. Feel free to share them in the comment thread below, or send me an Inbox message.
I relentlessly hunt for diamonds in the rough and rising stars, in addition to closely following data centers, covering REIT blue-chips and breaking news. Please consider following me as a Seeking Alpha author if you would like to be notified when my future articles are published.
Disclosure: I/we have no positions in any stocks mentioned, but may initiate a long position in STOR, ADC, WPC over the next 72 hours.
I wrote this article myself, and it expresses my own opinions. I am not receiving compensation for it (other than from Seeking Alpha). I have no business relationship with any company whose stock is mentioned in this article.