Union Pacific (NYSE:UNP) announced a quality Q4 2016 earnings report to close out what was a very challenging year. The stock price's performance in 2016 was not reflective of those challenges, with the exception of Q4. Operating cash flow edged up 2% YOY, while capital expenditure fell 19%, to compensate, in part, for lower coal volumes; fortunately, as a result, free cash flow edged up higher considerably. Moving forward, we should continue to see Union Pacific return a substantial amount of value to shareholders all the while face easier comps on upcoming earnings reports because of the difficult 2016 operating environment.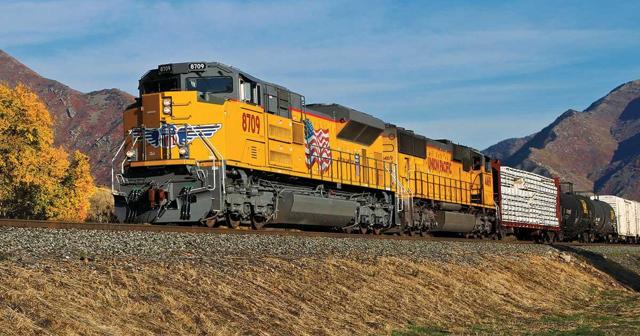 Source: Union Pacific
Agricultural Products See Volume Push
Watching the volume trends for Union Pacific is always interesting because it tells us a lot about how the fundamental factors facing the various commodities that the company transports are faring. Agricultural products saw +8% volume growth in the fourth quarter, and 7% revenue growth. The large increase was due to a surge in grain volumes, which currently account for almost half of the total segment's volume. UNP has credited the increases to soft meal demand and import beer strength, however the outlook for grain prices is uncertain at the moment, so having the expectation that grain volumes will surge 22% YOY again is overly optimistic. Investors should expect continued strength, but not of that gravity.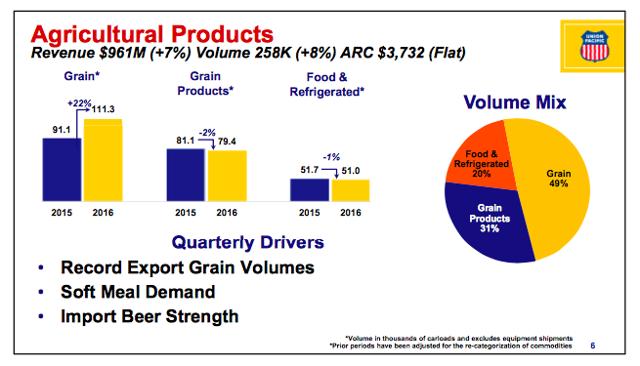 Source: Investor Presentation
As for other segments, we continued to see weakness in coal volumes, as that industry is on a continued decline. I have voiced my concerns about these volumes in the past and the need for UNP to retain ample diversification and lower the earnings impact of coal volumes, but fortunately for this company, the expectations for coal volumes are incredibly low since everyone expects to see them fall further. Unfortunately, it doesn't help that this winter so far, like Q1 2016, has been very moderate in terms of temperature and the need for heating, so revenue drivers for coal are very muted at this time.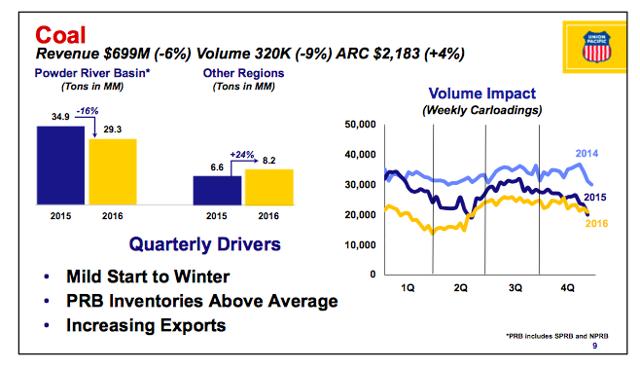 Source: Investor Presentation
There was a moderate amount of weakness seen in the automotive segment, with volumes down 3% and revenues down 6%. However, let's keep in mind that 2015 was an exceptional year for automakers and that their shipped products, whether auto parts or finished vehicles, really didn't have a chance to live up to last year's record figures. Thus, I am not concerned about these volumes declining, at this time.
The company's chemicals segment put up quite an interesting end to the year, with revenues flat YOY. Key revenue drivers to watch in this segment are commodities as a basket, but more specifically the price path of crude oil over the near-term. Now, pure crude oil transport is not a large portion of this segment, comprising just 2% of the segment's total volume, but it was down 71% YOY, which is a number than we cannot overlook, even relatively speaking. Plastics and industrial chemicals, which account for 54% of the segment's volume are directly affected by lower commodity prices, even though plastics saw an 11% increase in volume.
Positive Trend For UNP
There's a significant amount of value available for shareholders and I want to make that as clear as possible. On top of a 10% increase to the dividend back in Q4 2016, when coupled with the current authorized repurchase program, 2016 cash returns to shareholders were 188% of net income - a remarkable feat for a company that underwent significant challenges due to poor operating fundamentals across several segments. That kind of commitment to shareholders cannot go unnoticed and as such, the potential for UNP to continue to trend up is higher.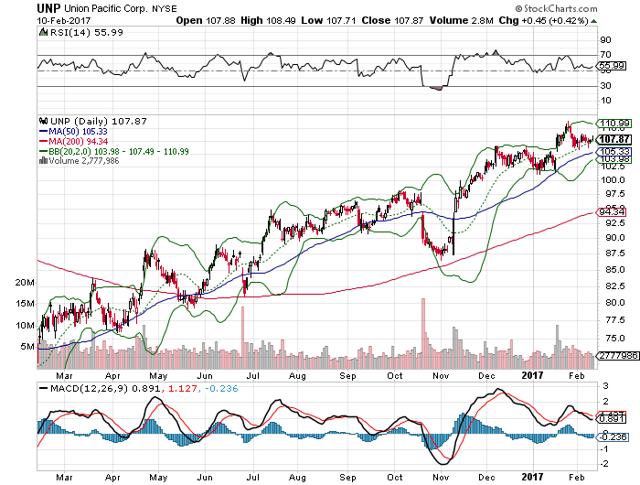 Source: StockCharts
UNP in the last twelve months has really been on a straight uptrend, with the only real pocket of volatility being experienced during the earnings season for Q3 2016. The stock has edged above the $105 level, but isn't overbought on any momentum indicators. I'd expect the stock to run past the $110 level by the end of Q1, if not sooner.
Conclusion
The 2017 outlook is a much stronger outlook than what was presented just twelve months ago. Coal has easy expectations to beat, which should lead to outperformance when 2017 earnings reports are released. Crude oil prices have a largely positive trajectory and every $1 per barrel change helps this company. The fate of grain volumes this year is largely unknown, as the agricultural industry is still in a state of flux and we are waiting for clear trends in crop prices to develop. I expect UNP to continue to provide shareholders with more than adequate returns on top of the already quality dividend.
Disclosure: I/we have no positions in any stocks mentioned, but may initiate a long position in UNP over the next 72 hours.
I wrote this article myself, and it expresses my own opinions. I am not receiving compensation for it (other than from Seeking Alpha). I have no business relationship with any company whose stock is mentioned in this article.