When I last covered Zynga Inc. (NASDAQ:ZNGA) last month, I called the stock a value trap. Despite the belief that Dawn of Titans (DoT) would be a hit, the share price is not pricing in that possibility. The game will require many quarters and more marketing from Zynga before it adds meaningfully to revenue. For now, Zynga's $500 million investment in NaturalMotion will weigh negatively on the stock. In a few quarters' time, though, revenue will start growing again.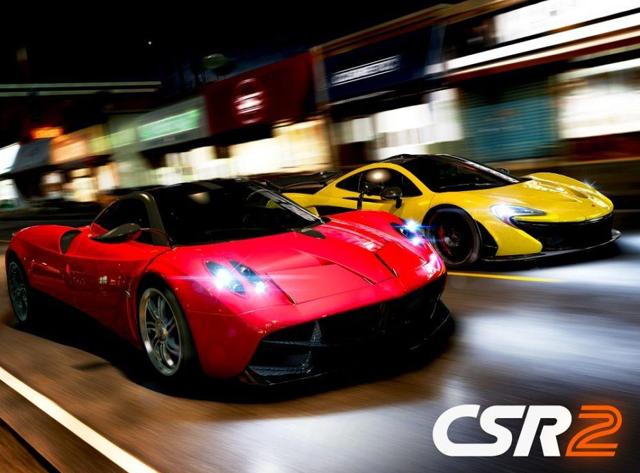 CSR2 and DoT
Zynga released CSR2 in the summer of 2016. In the quarter, it formed a partnership with Porsche - a move that is paying off. CSR2 is the top-grossing racing game in 37 countries.
Since December, the company released a few app updates that improved the visuals and usability of DoT. To strengthen its stickiness with users, the weekly campaigns bring more rewards and prizes. Expect the immersive game encouraging game players to spend on in-app upgrades.
Shedding losing channels
Zynga's web games and legacy mobile titles continue to be a drag on results. Though revenue grew 10.7 percent to $201.53 million, the company still lost $0.04 per share. Bookings in 2016 grew 8 percent, which was Zynga's strongest year since 2011. Mobile now accounts for 80% of total bookings. Encouragingly, cash flow was a positive $60 million. The company had $852 million in cash.
With one-third of the stock representing cash, when will Zynga cease to bear the "value trap" label for investors?
Building on strengths
The company is shifting its focus towards live services as its top priority. Momentum for its Poker game picked up in the second half of last year, helped by new features and events.
The game maker spent 2016 releasing new titles, notably CSR2 and DoT. Seeking Alpha readers correctly pointed out DoT lacked any momentum on launch. This weakens the likelihood that revenue from the game will accelerate. Still, the game needs more advertising support from Zynga. The company has plenty of cash to invest in the game.
Zynga still losing money
The company's GAAP net loss of $35.4 million is below its own guidance, due to extra costs. Zynga cut its stock-based compensation expense and should return to profitability as it keeps a lid on costs.
Another loss in Q1
Zynga's outlook of a $16 million GAAP earnings per share loss for the first quarter should limit any bounce in the stock in the current quarter. It is adding 10 new titles to the live services portfolio, but to limit costs, the company may want to sell or wind down the unsuccessful titles.
Related stocks
Electronic Arts (NASDAQ:EA) and Activision (NASDAQ:ATVI) trade at nearly double the multiples of Zynga on a price / sales basis. Mobile game maker Glu Mobile (NASDAQ:GLUU) is even cheaper, but with good reason: the company reported another loss in the quarter. Home Design has not yet added meaningfully to results. Glu's revenue fell 24.1% Y/Y.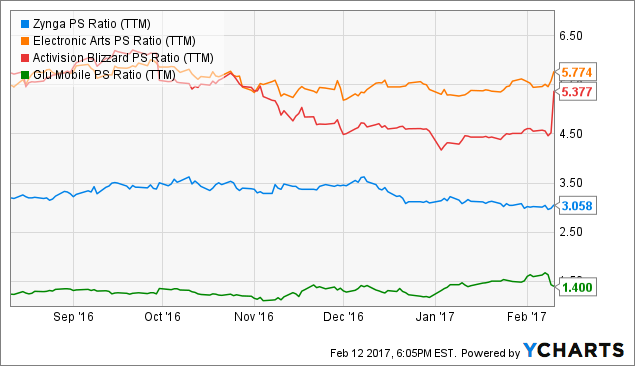 ZNGA PS Ratio (TTM) data by YCharts
Takeaway on Zynga
Until Zynga achieves active user count growth on DoT throughout 2017, consider the stock a value trap. Positive GAAP earnings are possible in the next two or three quarters ahead. As revenue from games in the live services segment grows, the share price will rebound. The stock could trade north of $3 as the price / sales ratio expands. For comparative purposes, Electronic Arts and Activision both trade at a P/S of 5.55x and 5.91x, respectively, compared to 3.05x for Zynga.
Please [+] Follow me for continued coverage on value stock ideas. Click on my name next to my avatar at the top of the article.
Disclosure: I/we have no positions in any stocks mentioned, and no plans to initiate any positions within the next 72 hours.
I wrote this article myself, and it expresses my own opinions. I am not receiving compensation for it (other than from Seeking Alpha). I have no business relationship with any company whose stock is mentioned in this article.