About three months ago, I wrote an article about The Mosaic Company (NYSE:MOS), wherein I stated one of the primary catalysts for the stock was the beginning of an inflationary cycle for soft commodities. In this article, we're going to look in to see the progress of the food inflationary call, and dive a little deeper into alternative ways to invest in this agriculture-related theme. Themes can be a powerful force for producing outperformance in investing, while still being able to maintain the risk reduction benefits derived from diversification. Therefore, I've been looking to maximize as many avenues for taking advantage of this theme, while maintaining as much of my normal risk/reward analysis on an individual investment level as possible.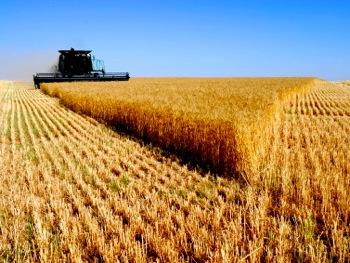 FAO Food Price Index
It's understandable why most equity investors domestically focus on cereals when it comes to soft commodity inflation. The majority of investment options are driven by the top three crops: corn, soybean, wheat, and arguably one could simplify it down to just following the price of corn as a tell. Of course, the world is more complicated than that, and I've promoted the view of using The Food And Agriculture Administration of The United Nations price index, a.k.a. The FAO Food Price Index, as the best tracking method for determining when a food inflationary cycle has started. If one were watching just cereal prices, then you wouldn't know that a new double-digit rate of increase in food pricing has already begun.

Source: FAO
The above chart contains the overall price index on the far left, and the sub-indexes that comprise it to the right. The correlation figures at the bottom are calculated from the rates of change starting in January of 1991. I define an inflationary period as one in which the overall index is increasing in price year over year at a double-digit rate. In the past, these periods have lasted between one and two years in length before topping out. Technically, the index reached that point in the fall.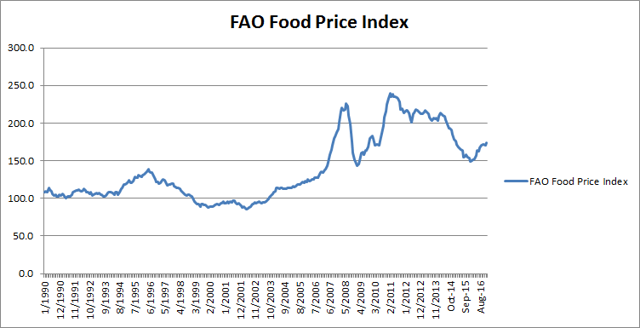 Source: FAO
Cereals, however, had not yet begun to germinate. Every cycle is slightly different when it comes to the progress of the sub-indexes, but generally the oils have led. Sometimes, like this time, the cereals have taken around 6 months before showing signs of life. This period appears to be following that playbook, as January produced a 3.4% sequential increase for cereals, while oils are already producing 33.9% increase in its year-over-year calculation.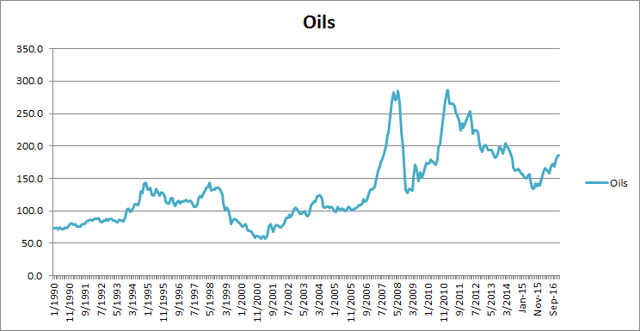 Source: FAO
Essentially, the data we've received since November regarding the FAO Price Index and its sub-indexes, still looks constructive for the thesis, and I believe we have more technical reasons to view cereals as following oils' lead.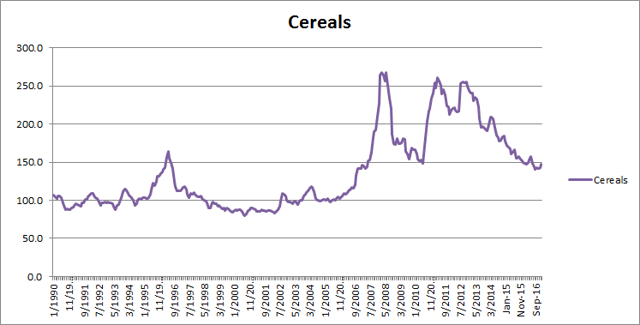 Source: FAO
Point & Figure Technical Analysis
I am definitely a bottoms-up fundamental analyst when it comes to investment style, but I do incorporate a technical element into my process. I find it particularly useful around timing and sizing of risk positions that I can't use a historical valuation range as a framework for assessing risk/reward values. In this case, the technical analysis is confirming what we're seeing in the rates of change for the FAO Food Price Index.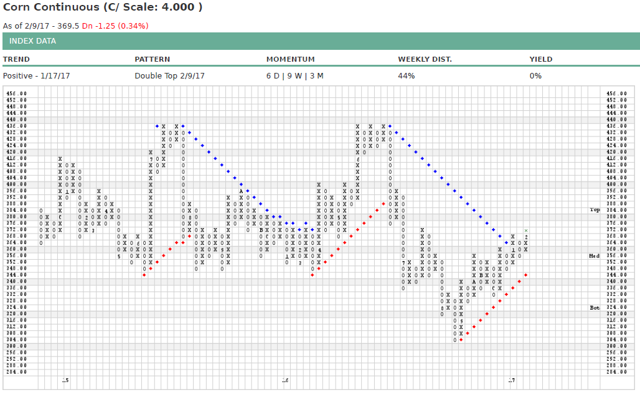 Source: Dorsey-Wright & Associates
Above is the Point & Figure chart for the continuous futures contract on corn. In January, it broke through that blue bear trend line starting a new bull trend line in red as future support. It also made three consecutive Buy signals in the process.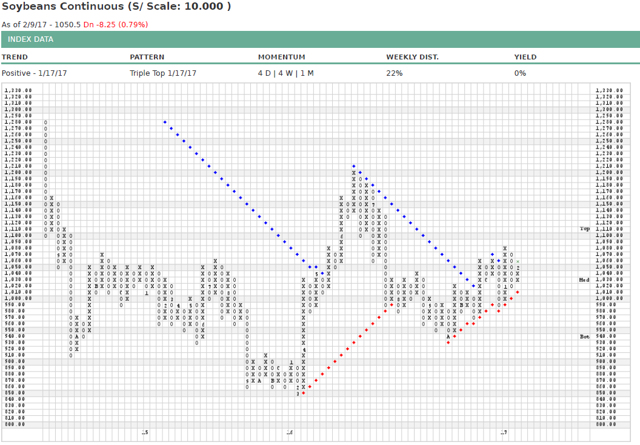 Source: Dorsey-Wright & Associates
Soybeans broke through its bear trend line back in the fall, but have had some chop since then, breaking both its bull support, and again its bear resistance lines. Currently, it's back in a bull trend having quickly nullified its bear breakdown, and looks constructive for further price appreciation.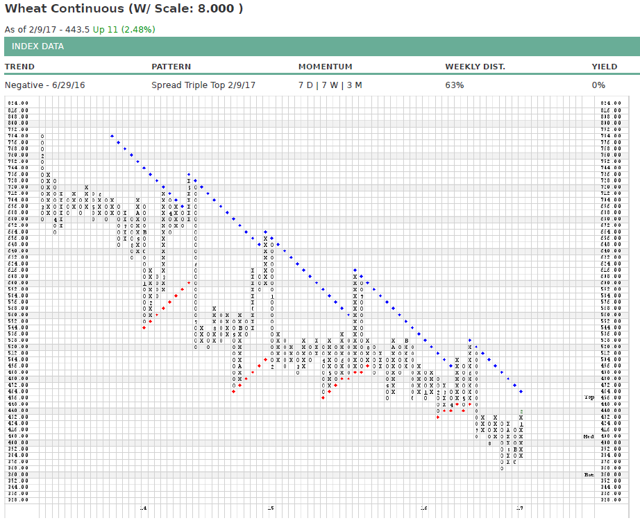 Source: Dorsey-Wright & Associates
While perhaps viewed as the least important of the three primary row crops in North American agriculture, wheat posses a very interesting setup relative to the other two. Wheat has been getting hammered in recent times trading back down to prices last seen over a decade ago. More recently, however, that 440 price it touched cleared above a top it hadn't been able to break through since last summer. It's still technically in a bear trend, and over the last few years, you can see that it's done this before only to fail and fall lower. The only difference this time is that we have real inflationary signals coming from the overall food complex as well. Wheat finally might be able to put on a sustained move northwards.
Overall, we're seeing technical signs of life from the cereals here in North America, which is confirming the uptick we're seeing in January from the cereals sub-index in the FAO Food Price Index. Considering most of the agriculture-related stocks domestically are tied to the price of cereals, and or more specifically corn, we should take a look to see what rows we can sow for future investment returns.
Soft Commodity Inflation Theme Related Stocks
This is not meant to be an exhaustive list, and the data is gathered from multiple sites. Hence, caveat emptor! I use this as a launching pad for ideas, not the basis for investment. The valuation ranges I give I've determined by looking at the history of how each stock has traded. The reader may decide to use different end points and/or different metrics. Thus, do your own digging. Having issued this disclaimer, let's take a look at the list, and make a few comments about the groups and each stock if applicable.

Sources: finance.yahoo.com, www.finviz.com, sec.gov, Morningstar
I try to use non-earnings based metrics for cyclical companies as much as possible. Thus, most of the valuation metrics I used for materials and industrials companies are price to book value, and in cases where there isn't as discernible a range, price to sales ratios. The few times I use a price to earnings metric, they are associated with companies that are more stable and consistent in earnings flows over time: consumer staples. I've sorted each sub-group by the column to the far right labeled 'Risk/Reward'. This metric is calculated by simply dividing the percentage from Target, by the percentage from Support. Thus, a stock perfectly in between the two points would show a figure of 1.00. The higher the figure, the more attractive, as the reward outweighs the risk. Conversely, if it's negative, then it suggests the stock is already trading through its normal valuation range by that metric.
A quick review of the Risk/Reward column shows the conundrum investors today have pretty much across the board in domestic equities. Despite the fact that arguably this theme is just getting started, the stocks themselves are trading at extremely rich valuations, already discounting the future improvement. Preferably, I'd like to get as much exposure as possible from as many different groups, that still fits within my normal value bent investment philosophy. I've had to stretch a little here.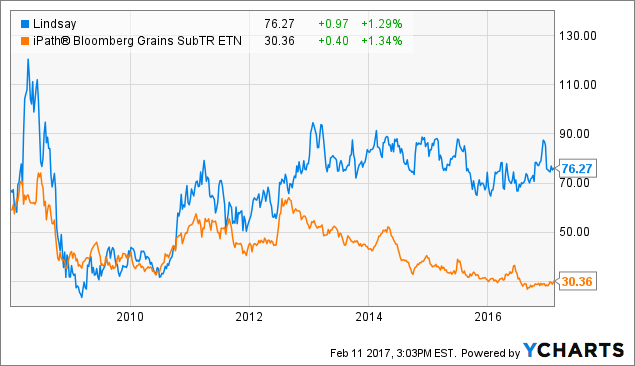 The Water Management group is such an example of a stretch. The thesis is simple: improving farmer economics leads to higher sales of irrigation equipment. Theoretically, there's still room for ample expansion in international markets for further irrigation of fields. Lindsay Corporation (NYSE:LNN), and Valmont Industries, Inc. (NYSE:VMI) are the primary providers in this industry, but the former provides by far the highest concentration in exposure to the farm irrigation market. However, LNN has historically traded at an expensive premium valuation, considering its cyclical returns. Subsequently, it also has perpetually had a very large short interest in the stock. If I didn't believe in the trajectory of cereal prices, then I'd never be invested in LNN. Considering the valuation though, I've taken half of my normal sized position in this name.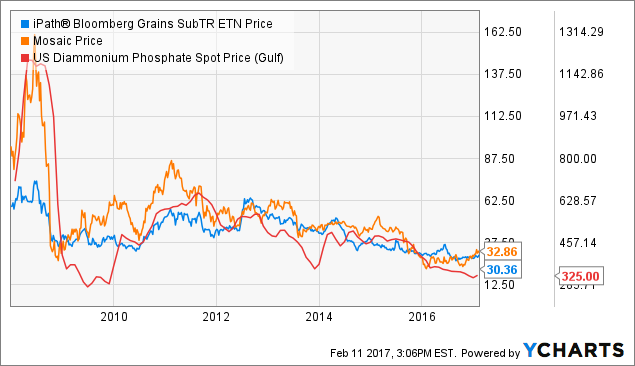 The Fertilizer group continues to look the most promising from a long-term investment perspective. I presented the case for why I chose to go with MOS in the last article, but I also have some exposure in CF Industries Holdings (NYSE:CF) through a family member's portfolio. Between the two names, I have all three of the major fertilizer types covered to some degree. Note that Potash Corporation (NYSE:POT) and Agrium Inc. (NYSE:AGU) are expected to merge later this year. Sociedad Química y Minera de Chile S.A. (NYSE:SQM) has had its own issues in regards to the Chilean government, but also provides an investment play in Lithium mining. LSB Industries Inc. (NYSE:LXU) is the one stock that I did not place in accordance with its technical risk/reward calculation. This small-cap play on domestic nitrogen production has had a difficult go of it recently. They expanded too soon, and the projects cost much more than first planned. The result is a highly levered company with uncertain prospects in terms of its survivability. However, if you come to the conclusion that domestic nitrogen prices are going to rip higher, then this might be your best play. I'm not that confident, so I've stuck with MOS and CF for now.
The Tractor & Farm Equipment group is the most frustrating one for me. I'd like to have exposure here, but I have a number of issues with the names. First, their valuations are either at or over their normal ranges. They're the one group as a whole that looks to have discounted the theme completely before hand. Second, I'm not a fan of the companies that provide self-financing of their equipment. Essentially, those companies are banks with a manufacturing division, yet the market still treats them as the opposite. It reminds me of the late '90s when General Electric Company (NYSE:GE) kept acquiring financial companies, but maintained their industrial multiple. Therefore, I'm most interested in AGCO Corporation (NYSE:AGCO) on a pullback of any kind. They arguably have the weakest tractor exposure of the three, and the weakest position in North America, but they're the only one that avoids the financial risk of essentially running a bank on their balance sheet. No position right now, but this is the one I'm targeting.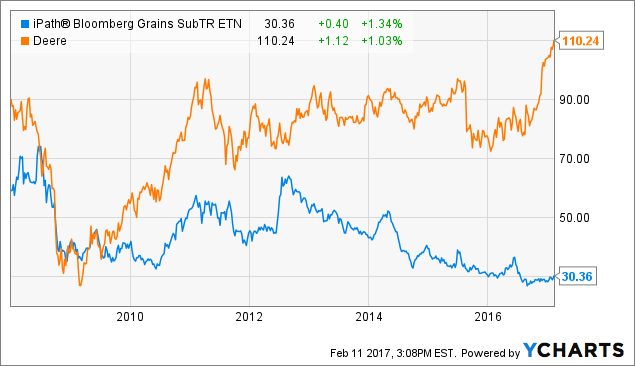 The Farm Equipment Distributors group is a bit misleading. Titan Machinery Inc. (NASDAQ:TITN) is really the only primary Farm Distributor here, as Finning International (OTCPK:FINGF) is a Canadian Caterpillar Inc. (NYSE:CAT) dealership. I just added the latter in as a frame of reference for a machinery dealership. TITN is a CNH Industrial (NYSE:CNHI) branded dealership, and they've been struggling. They're losing money, and are expected to continue to do so. I haven't looked hard enough at this one to make a call on a turnaround.
The Grain Processor group deserves a comment as to why I don't have any exposure in it. Risk/reward wise, it looks like there are some viable options to invest in. The issue is that, in general, the processors actually benefit from lower feed prices, as their ability to expand crushing margins improves on the way down in commodity price, but struggles when prices increase quickly. Note the chart of Archer Daniels Midland Company (NYSE:ADM) overlaid with farm prices of corn since 2005. There's somewhat of an inverse correlation. Thus, I've chosen to stay out of this group until after this theme hopefully plays out like I anticipate.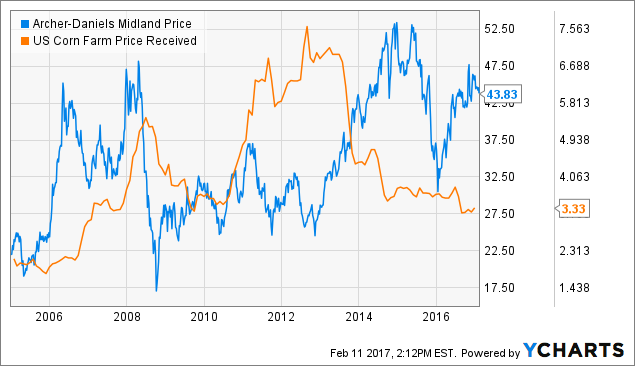 The fact that so many of these stocks are trading pricey, has forced me into the alternative Other group I've assembled. The first name is Farmland Partners, Inc. (NYSE:FPI), which just completed the merger with American Farmland Company (NYSEMKT:AFCO), creating the largest public REIT in the farmland industry. I purchased AFCO after the merger announcement and played the arbitrage, but have kept FPI after it closed. This is a new space, and one critique I often see from investors is the limited yield it provides. My comment is that I believe you have to look at FPI like it is an asset REIT, not an income REIT. What I mean by that is the stock should be invested in on the basis of how the enterprise value per acre of farmland appreciates or depreciates. More seasoned examples of this kind of REIT are the Timber REITs like Potlatch Corporation (NASDAQ:PCH). This group typically trades with yields in the 3.5% range, and follow the perceived value of their underlying Timber Acreage. Since I believe cereal prices are going higher, I expect both farm incomes and farmland values to follow suit in the future.
Lastly, I've also invested in The Kroger Co. (NYSE:KR), with the expectation that food inflation globally will start to reverse KR's deflationary headwinds. Producer Price Index data suggests those headwinds bottomed last October for KR, and thereby I expect future conference calls to highlight easing pressures on KR's identical store sales data throughout the course of this year. The stock is more in the middle of its valuation range, so I decided to take a half of my normal-sized position here as well.
Summary
To conclude, the thesis appears to be continuing to play out. The oils sub-index is leading the global inflation path, and cereals are now showing signs of following through. Past inflationary cycles have lasted between 1-2 years, and technical analysis is confirming expectations of a trend change for the Cereals FAO Price Sub-Index. Thanks to the overall rich valuation levels of the market, many stocks that should be primary targets to benefit from this theme appear to have already discounted the move before it has happened, but fertilizer stocks, in particular, still look to provide the best risk/reward as a group.
Considering my desire to find as many investment vehicles as possible on this theme, but accepting that many targets do not fit my determination of acceptable risk/reward set-ups, I also decided to take a position in the iPath Bloomberg Grains Index ETN (NYSEARCA:JJG). This ETN uses the front-month futures contracts for corn, soybeans and wheat. Investing in a note that invests in futures contracts is not my preference, but considering the valuation issues in the stocks I'd rather be in, I consider it a viable alternative for investment in the theme.
This wasn't an exhaustive list of investment options, so please feel free to contribute any ideas of yours and add to the discussion below in the comments sections. Good luck to everyone out there.
Disclosure: I am/we are long MOS, CF, FPI, KR, LNN, JJG.
I wrote this article myself, and it expresses my own opinions. I am not receiving compensation for it (other than from Seeking Alpha). I have no business relationship with any company whose stock is mentioned in this article.