AT&T (NYSE: T) is a longtime favorite of income investors, with a high yield dividend that increases every year at a rate that slightly outpaces inflation. In recent times, AT&T has responded to a dying technology in hard line telecommunications, and a competitive wireless landscape, by heavily investing into content and its delivery by acquiring DirecTV, and agreeing to acquire Time Warner (NYSE: TWX). These two blockbuster deals combined with AT&T's existing infrastructure require that investors consider AT&T in a different light. If the Time Warner deal goes through, AT&T will receive an injection of high growth assets that will unlock a new level of upside in shares, and boost the growth of its dividend.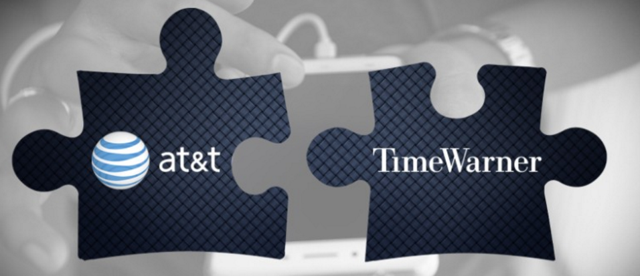 The "old" AT&T as an investment
AT&T has long been a strict income play. Its high dividend relative to its share price totaling $1.96 per year, yields approximately 4.75% at current share prices. A well known dividend champion with 33 consecutive years of dividend raises, AT&T has barely outpaced the rate of inflation with a 10 year dividend growth rate of 3.7%. The nature of the telecom business requires massive CAPEX as infrastructure spending is constant, that results in high amounts of balance sheet liabilities, yet generous cash flows. The result is the dividend consuming more than 90% of earnings per share with high cash streams being just enough to keep debt under control, while paying a slowly rising dividend. Telecommunications are an essential service of modern society, with a wide moat, and thus can be viewed similar to a utility like investment.
This isn't necessarily a bad thing. A $10,000 investment in 1995 would have more than quadrupled between then and present day assuming dividends were reinvested, for an annual rate of return of 7.21%. This predictable and safe, yet inflation topping rate of return is what makes it such a hit with retirees.
In recent years a couple of factors have arisen that have created headwinds for AT&T, to what has "worked" for a long stretch of time. First, the rise of cellular communications has essentially obsoleted the "land line".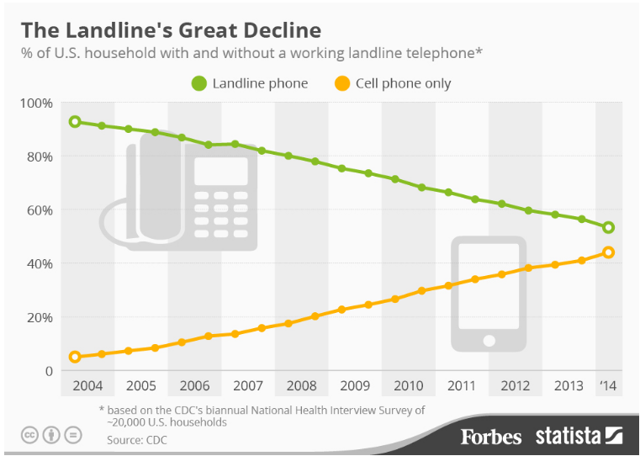 Secondly, thanks to the maturation of wireless infrastructure technology, the wireless business has become extremely competitive on price, and performance. With the two major long standing players being AT&T and arch rival Verizon (NYSE: VZ), competitors T-Mobile (NYSE: TMUS) and Sprint (NYE: SS) have chipped away at the big two. According to a recent study, T-Mobile has even surpassed AT&T.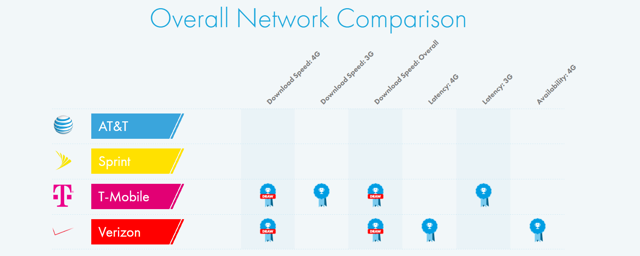 source: OpenSignal (study linked above)
Competition has infiltrated AT&T's moat. This is great for the customer, but not a good thing for investors. Fortunately, AT&T is a cash cow that generates $39B in cash flows from operations. This type of cash gives management the ability to explore new ways to remain competitive, and act on opportunity.
DirecTV "phase 1"?
Management has recognized that society is gravitating towards a consumer model that consumes increasing amounts of content through mobile devices, fueled by the increased mobility of content via technological advances in connectivity. AT&T acquired DirecTV for $67.1B (including debt) in a deal that closed in July of 2015.
AT&T integrated DirecTV with its wireless business by launching streamable TV service "DirecTV Now". This service is a 100+ channel package that starts at $35, and can be streamed to mobile devices without counting against data consumption for AT&T wireless customers - a nifty incentive to bundle services. The service is still in its infancy, but has thus far added more than 200,000 subscribers. AT&T is also growing advertising revenues at double digit growth through "Adworks", which totaled $1.5B in 2016. At the same time, AT&T saw margin pressures because the costs of content are outpacing the growth of rates that customers are paying. With the acquisition of Time Warner, margins are expected to expand - not contract.
Time Warner brings welcome integration, and growth
The potential Time Warner brings is a huge breath of life for the telecom giant. The benefits of this are two fold. The first is earnings growth that is vastly more active than that of AT&T's existing infrastructure. The second is vertical integration that ties into the other segments of AT&T's consumer approach.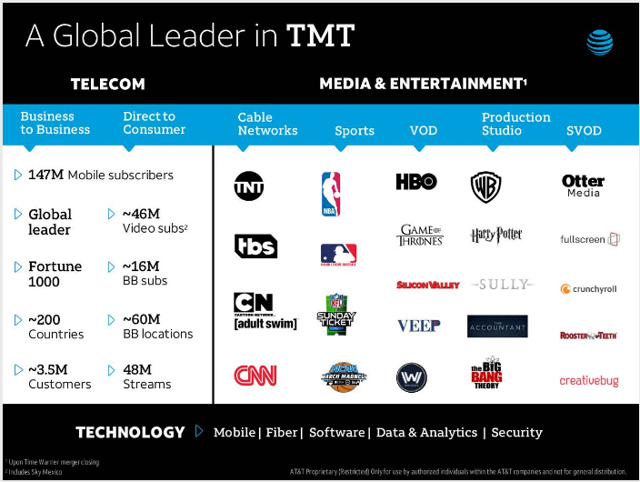 Time Warner recently wrapped up its fiscal year with Q4 earnings, reported on February 8th. With 2016 earnings of $4.94 per share, earnings grew 8% over 2015. Over the past 5 years, Time Warner has grown earnings at a CAGR of 13.51% per annum. Analysts predict that Time Warner will grow earnings at a CAGR of just under 12% per annum over the next 5. This double digit earnings growth is a welcome spark to the mid single digit AT&T has been producing.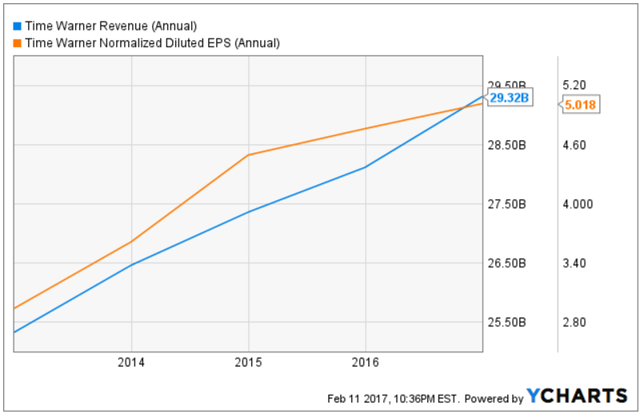 What is fueling this growth? Time Warner continues to benefit from premium positions within the content spectrum. Cable networks TBS, TNT, and Adult Swim/Cartoon Network all hold top 5 prime time positions among viewers aged 18-49. CNN is a flagship new station that continues to perform strong (even though it could be argued that President Trump's disdain for "fake news" could be having an effect). Meanwhile, TNT and TBS continue to hold strong positions among the sports audience with coverage of the MLB, NBA, and NCAA Men's Basketball Tournament. HBO offers strong contributions with shows that strongly influence subscription rates such as Game Of Thrones, and Westworld. Lastly, the Warner Bros. entertainment studio also holds a strong portfolio including the Harry Potter franchise, The Big Bang Theory, The Voice, and a handful of movies that totaled $5B at the box office in 2016. Time Warner's steadily rising $29B revenue stream and projected double digit earnings growth will give life to AT&T's earnings growth. I believe AT&T's earnings growth rate will rise to the 8-10% range from the current mid single digit growth curve due to the integration of Time Warner.
How will this be achieved? AT&T's acquisition of Time Warner will complete the construction of a consumer focused entertainment ecosystem that is down right impressive. AT&T will possess content, a means of delivery (DirecTV), and data transport infrastructure (both fiber internet, and wireless) that will act similar to blood vessels delivering content to the customer in the form of TV, "on demand" content, and streaming to mobile devices. This vertical integration will also expand margins by keeping costs in house, while giving AT&T the cost control to offer price aggressive programs such as the DirecTV Now program, and incentvizing mobile customers with bundle perks such as unlimited data.
Where does the deal currently stand?
Of course, the deal is not yet done. Although the acquisition worth about $84.5B is not a horizontal play (Time Warner and AT&T are not competitors, and not the same type of company), questions have been raised over what the "new look" AT&T would do to the competitive landscape.
Despite Donald Trump vowing to block the deal while on the campaign trail in the fall, AT&T CEO Randall Stephenson gave an optimistic update in an interview with CNBC:
"The filing has been made with the Department of Justice. The review is ongoing right now. There will not be a filing with the FCC. We're going to assume no licenses from Time Warner," Stephenson told CNBC. "It will be a one-track review. The Department of Justice will review it and that's going at pace. We still think we'll be closed by end of year."
The "new" AT&T as an investment
Once the deal closes, AT&T will perform quite differently than the telecom giant of old. With a unique, and extensive control of consumer media, and means to deliver it, AT&T will have a newly found "moat". I predict earnings growth rising to the 8-10% range, which will produce a bump in dividend growth. With the DirecTV and Time Warner deals being worth a total exceeding $150B, AT&T will surely take some time to right the balance sheet. However, a long term investment could see a sustained dividend growth in the 6-7% range, up from the current growth rate of 3.7% (that has slown down in recent years to just over 2%). The "old" AT&T has generated annual returns of 7% going back two decades. I believe the "new" AT&T with its already generous dividend, and expected boost in earnings/dividend growth could deliver per annum returns of 9-10% under most realistic scenarios. While optimistic about the performance of this "new" AT&T, the heavy balance sheet and probable inefficiencies of trying to put together such a large conglomerate should temper expectations some. Even still, a 3% boost in returns over a long holding period completely changes the way investors should look at AT&T moving forward.
Wrap Up
AT&T has treated income investors and retirees well for a number of years. However, AT&T has recognized deficiencies in its business model, and addressed them in a way that completely changes the game for investors moving forward. Its newly formed content and delivery ecosystem is similar to owning the factory that builds cars, the roads they drive on, and the toll booths they pass back and forth through. Assuming the Time Warner deal closes, the newly found potential of AT&T has this investor looking forward to adding shares to his portfolio.
If you liked this article, please find my profile icon at the top of this page, and hit the "Follow" button. I enjoy engaging with those who comment, and am always looking for feedback that allows me to improve on the content I provide. As always, thanks for reading.
Disclosure: I/we have no positions in any stocks mentioned, and no plans to initiate any positions within the next 72 hours.
I wrote this article myself, and it expresses my own opinions. I am not receiving compensation for it (other than from Seeking Alpha). I have no business relationship with any company whose stock is mentioned in this article.