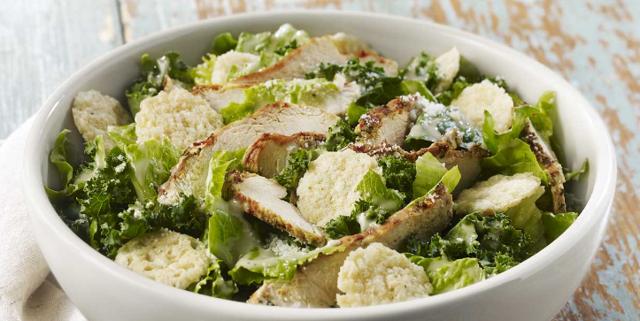 Panera Bread (NASDAQ:PNRA) has been going through a digital transformation in the past couple of years and the results have been astounding. I was bullish on PNRA in the past few quarters and I was fortunate enough to have gotten it right. But what about now? After a stellar Q4 report and strong guidance for 2017, PNRA is at a new all-time high. Is it still worth buying here? At more than 30 times earnings, I'll admit PNRA is starting to look rather expensive.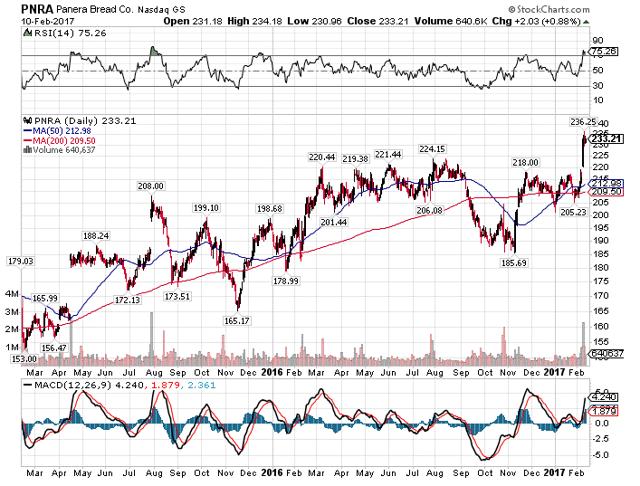 PNRA's terrific performance in Q4 began with another very nice comp number, with it coming in at +3%. The gain was due largely to pricing increases - contributing 180bps of the 300bps - and a very small gain from mix. Entrees were up 100bps and while that's fine, I worry about PNRA's ability to continue to grow this rapidly in the future if volume doesn't pick up. The company's new Omni-View look at comps counts the number of entrees served instead of transaction count - a result of the structural shift towards more digital orders that tend to be larger in size - but even by that measure, volume growth has been tough to come by. The traditional transaction count was actually negative in Q4 but of course, the difference is explainable. Still, that volume growth is relatively weak right now is indisputable; one wonders if there is any way to boost it going forward.
Unit margins were up fractionally in Q4 as food and paper costs were driven lower by leverage from higher comp sales. This is the virtuous cycle restaurants can find themselves in - higher sales beget higher margins - and PNRA has executed nicely on it for some time now. The gain of 10bps in unit margins isn't particularly high, however, and it wasn't enough to offset the increase in SG&A costs, which were driven by higher incentive compensation. We've seen this over and over again with companies that find sudden success and are forced to pay employees based upon incentive targets that proved too low. That's is a very good problem to have but it is a problem nonetheless, and it cost PNRA its operating margins in Q4. This year should be better on that front as incentive targets will have reset to more appropriate levels but still, one would have reasonably expected higher margins to accompany another gain in comp sales. That just wasn't the case, however, in Q4.
Guidance for margins in 2017 was for flat to +50bps. That's quite a sizable range and leaves a lot to the imagination but the good news is that management doesn't see any downside risk to margins at all. However, once again, perhaps the gain in margins is a bit disappointing considering comps are supposed to be up better than 3% again. Management has set the bar very high when it comes to comps this year and has left a lot of room for disappointment should things not go as planned. And to be honest, I would have expected better than flat to +50bps on margins with yet another year of high comp growth.
In addition, the investments PNRA has been making in its digital capacity in particular are slowing down. That was part of the bull case from 2016 and now that we're here, margin growth is doubly disappointing. Where is the coiled spring from reaping the benefits of its new capabilities? Why is margin growth remaining relatively low? It's not that PNRA isn't performing; it's just that I would have thought its leverage would be higher by now.
The problem is that the stock is pricing in a huge amount of growth and given guidance for 2017, I'm not entirely sure it can meet those expectations. PNRA is at 30.4 times this year's earnings, better than double its expected rate of EPS growth this year. And that's the problem; PNRA isn't growing its store count rapidly or anything of the sort. The only path to long term growth is continued gains in comps and margins. I think those things will happen, but producing enough growth to work into a 30 forward valuation is a very tall task indeed given a lack of store growth.
The buyback is strong and should reduce the float by another 6% or so this year, meaning that the business has to do the 8%. Revenue is supposed to be up 7%, so margin growth of just 1% is built into 2017 projections right now. That's certainly doable but it sort of highlights my point; margin growth thus far has been a bit light considering what PNRA has done with comps and I'm afraid it will remain that way. Thus, I'm cautious because I just don't know that PNRA can reasonably be expected to grow into its current stock price.
For that reason, despite all of the success the company has had and will have in the future, the stock is just too expensive. I'm ringing the register here because I don't think PNRA can grow enough to get into a 30 forward valuation and thus, either some long term consolidation is needed and/or the price needs to come down. Neither are ideal situations for shareholders so I'm taking the money and looking elsewhere until this overvaluation has worked itself out one way or another. PNRA is a great company with a bright future but for now, that bright future - and possibly more - is already priced in.
Disclosure: I/we have no positions in any stocks mentioned, and no plans to initiate any positions within the next 72 hours.
I wrote this article myself, and it expresses my own opinions. I am not receiving compensation for it (other than from Seeking Alpha). I have no business relationship with any company whose stock is mentioned in this article.