This past Wednesday, February 8th, Benzinga reported that SumZero, generally known as a site for publishing short thesis research reports by member of the hedge fund or buy side community, published a rare bullish report. Incidentally, the report was about GNC Holdings Inc. As my readers may recall, on February 2nd, I published A Discussion With A Hedge Fund Analyst Short GNC. As luck would have it, my investing mentor, currently an equity portfolio manager for a NYC mutual fund family, since 2012, helped get me in touch with this bullish buy side analyst.
This past Friday, we spoke for about twenty five minutes. Before I discuss our conversation and his research, I will share a few high level details about his investing background, as he didn't want to reveal his last name or current firm. His first name is Daniel, and he currently is an investment analyst for a firm that manages nearly $700 million in assets. Previously, he worked on Wall Street for a Tier 1 sell side shop (think JP Morgan, Goldman Sachs, Morgan Stanley, or Citigroup), then was an analyst for three years for a long/short NYC hedge fund (with AUM north of $1 billion), and obtained his CFA designation.
Enclosed below, I will review highlights from our detailed phone conversation.
Why consensus estimates are so negative.
Daniel points towards channel proliferation from the often cited threats of Amazon and BodyBuilding.com, discount wholesalers (Costco and Sams Club), supermarkets, and drug stores. He points out 9 out of 10 Wall Street analyst are negative on the stock. Moreover, he is well aware of the disappointing comps, which have been negative nine out of the past ten quarters. Finally, he cites headwinds surrounding government bodies investigating the efficacy of supplements and CEO turnover.
Valuation
During our call, Daniel led with the compelling valuation and discussed GNC's (NYSE:GNC) current valuation relative to where it has historically traded since its 2011 IPO. Per Daniel's research, GNC has historically traded at a median 15.7X P/E ratio. Current consensus estimates for FY17 are calling for GNC to earn $2.04, so as of Friday's $8.52 closing stock price, GNC is trading at 4.2X. Given GNC's approximately $1.5 billion in debt, GNC's current enterprise value/ EBITDA (trailing twelve months) ratio is 5.3X, which is much lower than its historical median EV/EBITDA of 10.7X. Not surprisingly, this is the lowest EV/EBITDA valuation GNC has fetched since going public. Its projected FY17 EV/EBITDA valuation is currently 6.3X. GNC's TTM free cash flow is $255 million, which gives it a 12% free cash flow yield compared to its $2.1 billion enterprise value. Finally, to wrap up the valuation section, he points out GNC's dividend ($0.80 annual dividend) yield of 9.4% is only $55 million, or 4.6X coverage to its TTM free cash flow.
Why GNC isn't a Value Trap
Daniel argues the fact that 50% of GNC's products are proprietary is precisely why GNC isn't a value trap. Daniel argues this vertical integration and product exclusivity insulates the company from the fierce internet competition. He points towards GNC's consistently strong return on equity, which is double its direct competitor Vitamin Shoppe Inc (NYSE:VSI). Moreover, this vertical integration enables GNC to monitor quality control, manage inventories, and innovation, while simultaneously cutting out the middle man, hence GNC's higher margins.
Daniel also argues that U.S. Dietary Supplement sales, as an industry, have grown at a CAGR of 5.5% since 2000 and have a total addressable market of $37 billion. GNC has approximately 8% of this fragmented market. Within the subset of U.S. Sport Nutrition & Performance, a $5 billion market, GNC has an approximate share of 25%. I unequivocally agree as this isn't an industry in secular decline, like newspapers or coal, or that is being displaced by technology, like the bears favorite and misapplied comparison BlockBuster.
Upside vs. Downside
Downside: Per Daniel's modeling, assuming negative same store sales (SSS) for the next two years, EBIT margins contracting to 9.6%, and the suspension of all share buybacks, he arrived at FY17 EPS of $1.53, which is in this bearish scenario is 25% below consensus. If this bearish scenario materialized then Daniel argues GNC trades down to $6.
Upside: If GNC can achieve modest SSS stabilization, and stabilization of current margins then GNC should easily earn $2.25 EPS in FY17. If this scenario occurs then GNC's stock should trade closer to its historical valuation metrics, as 4.2X earnings is way too low compared to its historical mean of 15.7X. At 10X, we are looking at $22.50 stock.
Daniel discussed other bullish and bearish elements, but I can only focus on our conversation, as his report can be found on SumZero. If I were to sum up our conservation, here is Daniel's most salient point; after spending three years working for an NYC long/short hedge fund (AUM north of $1 billion) and from this experience, he would never consider shorting GNC at its current depressed valuation. After all, he said, there is so much fear baked in and GNC's stock is down 85% from its all time highs.
Stock Interest Data
In other news and unrelated to Daniel's report, the January 31, 2017 short interest data was released after the bell on February 9th. Lo and behold, short interest leapt by 4.3 million shares to 15.47 million shares as of January 31, 2017. During the month of January 2017, GNC's short interest increased by 6.3 million shares. As I argued in my January 31, 2017 piece: I Have Seen This Goldman Sachs Movie Before , Goldman's aggressive January 18th downgrade and $8 price target gave the shorts the aerial fire power to pile on and push GNC lower given the unique fever pitched fear in this name. Also, most retail investors may not fully realize that 6 million in net selling by shorts creates a lot more downward pressure in its stock than they might imagine. And that reminds me, Daniel, who lives in a major metropolitan city, but not New York, did some channel checks around the times cited by Goldman's analyst (December 31st and during the first week of January), and he discussed an experience 180 degrees different than Goldman's version. In his city, he witnessed stores with one price clear marked, signed revealing the New GNC, the stores that looked organized, and employees with tablets. We both agreed that Goldman most likely cherry picked a few stores and then made sweeping assumptions. This is a bit silly for a company with 9,900 global locations.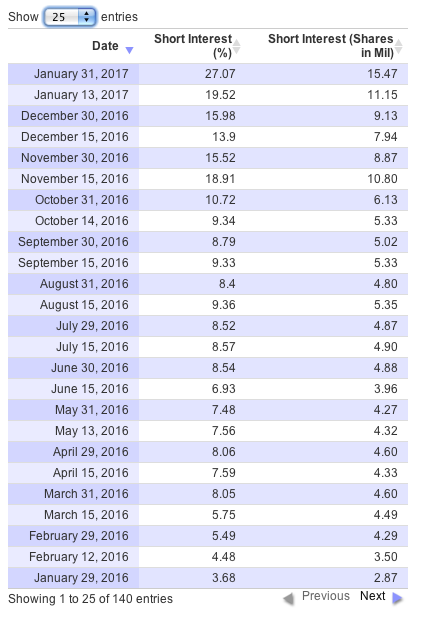 Source: Guru Focus
Takeaway
I hope SA readers can benefit from my recent conversation with Daniel. By the way, we now have elements of the GNC bear and bull case, here on SA. This might help readers make more informed decisions as SumZero is widely read in the hedge fund communities and therefore its report can influence GNC's short term stock price movements. With GNC scheduled to report earnings before the opening bell on Thursday, February 16th, expect heightened volatility. If earnings are better than feared, given the sizing hedge fund short position, look for shares to "rocket" to the upside. That said, if management disappoints and offers some negative surprises then we will see how much is already priced into GNC's current valuation. Grab your popcorn and drinks, it will be interesting.
Disclosure: I am/we are long GNC.
I wrote this article myself, and it expresses my own opinions. I am not receiving compensation for it (other than from Seeking Alpha). I have no business relationship with any company whose stock is mentioned in this article.