The time is approaching when Britain will trigger Article 50 and begin the formal process of leaving the European Union.
My initial take on the GBP was not to trade until this process had been triggered - as it was likely that significant uncertainty would weigh on the currency up till that time. The GBP has failed to appreciate significantly in 2017 despite U.S. dollar weakness: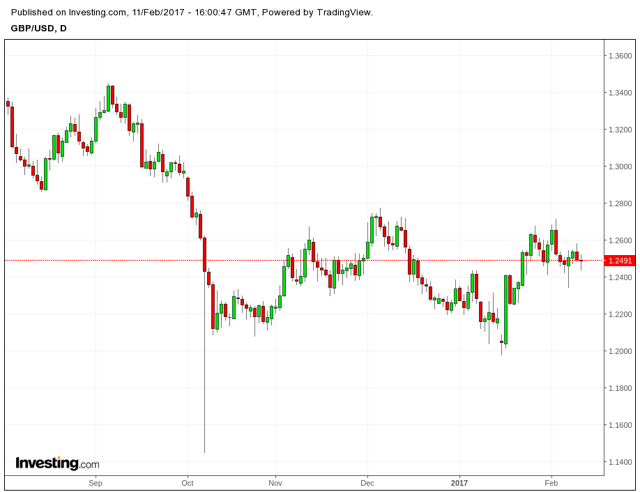 In hindsight, maybe the opposite will hold true. I say this because the negotiations - in and of themselves - will be filled with uncertainty. If the EU-Canada trade deal is anything to go by, then the Brexit negotiations stand to be quite a disorganized and uncoordinated process.
In the case of the trade deal with Canada, we saw that most European member states were ready to ratify the trade deal, but it initially could not go ahead due to a blocking by the Belgian region of Wallonia. We saw how this had an impact on the loonie, with the currency falling significantly upon the trade deal having initially broken down.
Moreover (and while there are extraneous factors in play as well), we see that the loonie pretty much zig-zagged against the euro before climbing after November: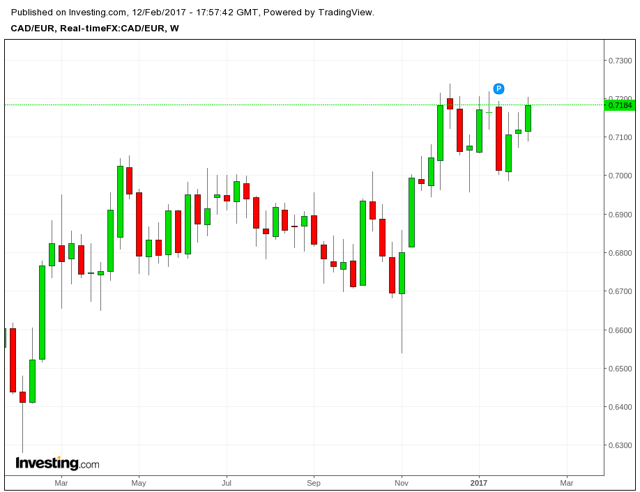 Disagreements of the nature of the trade deal between Britain and the EU will almost certainly be a dime a dozen during the negotiation process. Too many vested interests are at stake - back when Britain was considering retaining access to the single market, Norway had come out stating that the country would consider blocking British membership of EFTA. EU Commissioner Jean-Claude Juncker has also stated that breakdowns in negotiations will likely be an inevitable outcome during the same.
In this regard, what is the GBP expected to do from here? Even if Britain ends up getting a favourable deal from the EU negotiations, uncertainty will surround the particulars of such, and this is likely to push the pound downwards during the negotiations.
Therefore, I take a bearish view on the currency at this point in time and it is my view that the currency is likely to trail downwards during the negotiations.
Disclosure: I/we have no positions in any stocks mentioned, and no plans to initiate any positions within the next 72 hours.
I wrote this article myself, and it expresses my own opinions. I am not receiving compensation for it (other than from Seeking Alpha). I have no business relationship with any company whose stock is mentioned in this article.