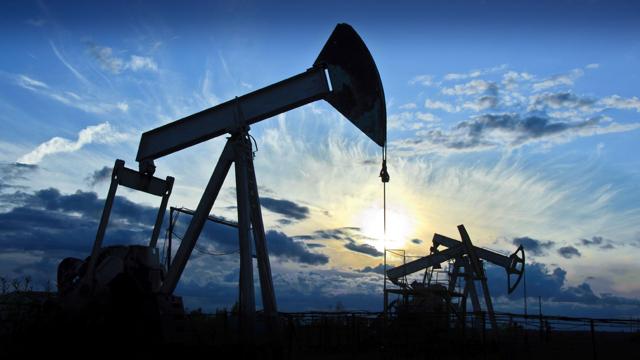 Courtesy Labraporter.
Investment thesis:
Oil prices went through extreme volatility in 2016, as the chart below shows clearly. Saudi Arabia and a few other major producers were playing chess on a violent giant roller coaster, whereas, the World was watching with mixed feelings. Due to over-production, Oil supply glut reached an unprecedented level, which is likely to stay in 2017 as I am going to demonstrate.
Early February 2016, the oil prices totally disintegrated and reached briefly below $30 a barrel, to finally recover above $50 a barrel after OPEC and non OPEC Countries decided to cut production by nearly 1.758 MBOPD.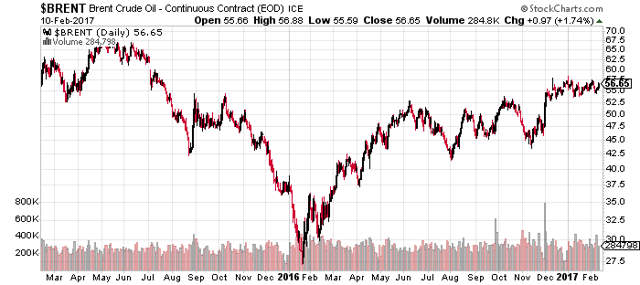 Since November 2016, oil prices traded in a narrow range between around $53 to $57 per barrel, stubbornly denying the important crossing of the $60 per barrel threshold, which is considered an important breakeven level at the heart of the oil industry potential recovery.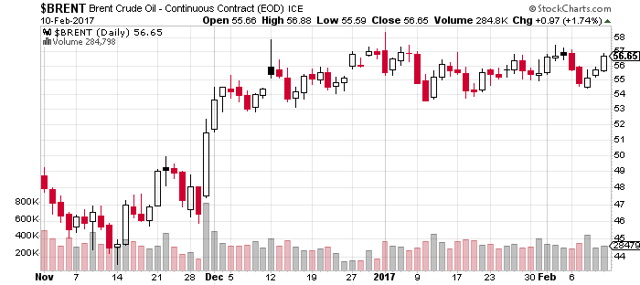 The issue of a paramount importance -- which is still lingering as I speak -- is that oil prices may have stalled within this unsettling range, in part because the investing community is not yet convinced about the real effects of this production cut and its long term sustainability. As a reminder, OPEC agreed to a cut that will run only until June 2017.
OPEC compliance has been quite uneven across the past couple decades. As a reminder, Russia did not respect its side of agreements with OPEC in 2001 and 2008, whereas, United Arab Emirates and Kuwait have traditionally been true to their promises. However, a committee has been put in place and will be in charge of monitoring the proposed cut.
The committee in charge of monitoring the implementation of the proposed OPEC and non-OPEC production cut is to be co-chaired by representatives of Kuwait and Russia, and will also have representatives from Algeria, Venezuela and Oman. The estimate for Iraq includes volumes from semi-autonomous Iraqi Kurdistan.
January OPEC compliance rate is now at 90%. A positive.
On February 6, 2017, according to S&P Global Platts in London, OPEC January crude oil output was 32.16 million BO/d, down 690,000 BO/d from December 2016.
OPEC production (in million b/d)
| | | | |
| --- | --- | --- | --- |
| Member | January | Change | December |
| Algeria | 1.05 | -0.05 | 1.10 |
| Angola | 1.63 | -0.03 | 1.66 |
| Ecuador | 0.52 | -0.01 | 0.53 |
| Gabon | 0.20 | -0.01 | 0.21 |
| Iran | 3.72 | 0.03 | 3.69 |
| Iraq | 4.48 | -0.15 | 4.63 |
| Kuwait | 2.70 | -0.13 | 2.83 |
| Libya | 0.67 | 0.05 | 0.62 |
| Nigeria | 1.65 | 0.21 | 1.44 |
| Qatar | 0.62 | -0.02 | 0.64 |
| Saudi Arabia | 9.98 | -0.44 | 10.42 |
| UAE | 2.93 | -0.10 | 3.03 |
| Venezuela | 2.01 | -0.04 | 2.05 |
| Total | 32.16 | -0.69 | 32.85 |
The agreement exempts Libya and Nigeria, while allowing Iran a small increase in production.
Indonesia suspended its membership on November 30, 2016, but its output is being counted by OPEC under the production ceiling.
Non-OPEC producers led by Russia also agreed to cut output by 558,000 b/d in the first half of 2017, with Russia set to cut 300,000 b/d.
Courtesy: Platts.com
Note: S&P Global Platts is one of the official sources used as a reference in OPEC's monthly oil market reports.
This numbers have been confirmed by the International Energy Agency [IEA] in its recent Oil Market Report on February 10, 2017.
OPEC crude production fell by 1 mb/d to 32.06 mb/d in January, leading to record initial compliance of 90% with the output agreement. Some producers, including Saudi Arabia, cut supply by more than required. Lower production was partly offset by higher flows from Libya and Nigeria, which are exempt from cuts.
However, OffshoreEnergyToday indicated that Seaborne oil export data are not yet completed and are subject to revision.
The January numbers took me a little by surprise and are encouraging, because the deal called initially for oil production to average 32.5 MBOPD -- over a six-month period -- running from January 2017 to June 2017.
It demonstrates without a shred of a doubt that OPEC members are adamant on abiding by the cut agreement and are acting in good faith, for the time being.
Russia's commitment at the time of the agreement was a production cut of 300 KBOPD which represents 53.8% of the committed non OPEC Countries that agreed to join OPEC cuts. The Country indicated that the cut would be phased-out by steps and early data shows production output down 100 KBOPD so far, which is also encouraging.
One positive sign comes from Saudi Arabia -- the main architect of this broad agreement -- who was required to average 10.06 MBOPD over the compliance period. Initial numbers from S&P Global Platts indicate 9.98 MBOPD.
However, it should not come as a big surprise to us because Saudi Arabia is one of the few Countries who control their own production unlike Iraq, for example, who still have a lot to cut and production is controlled by oil majors or marginal semi-autonomous government.
Furthermore, The EIA oil market report indicated yesterday that 4Q'2016 World oil demand was 96.95 MBOPD, another positive factor.
Supported by strong 4Q16 numbers, the estimate for global oil demand growth for 2016 was revised up for the third consecutive month to 1.6 mb/d. Although still forecast to decelerate in 2017 to 1.4 mb/d, recent improvements in industrial activity are providing support.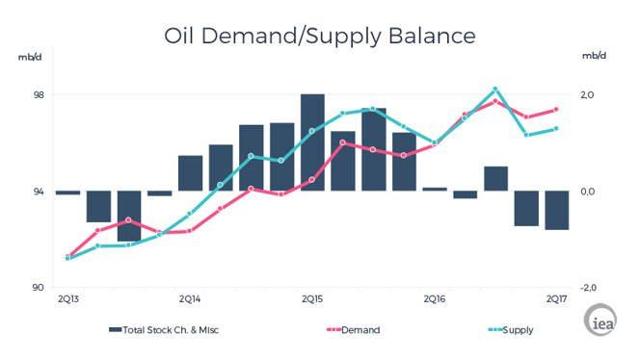 Now, let's celebrate and claim victory, right. Not so fast, I would say. What can derail this bullish argument?
I - The US Shale effect.
1 - Crude oil inventories in the USA jumped by a 6.5 million barrels end of January, rising to 494.8 million barrels.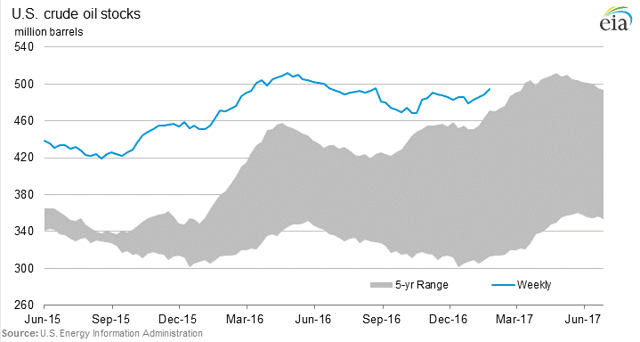 2 - The US Shale recovery is underway, led by the Permian basin in Texas principally, which experienced an investment of $28 billion in 2016 alone, and a strong increase in drilling rigs which is likely to continue unless oil prices go down. On November 18, 2016, the biggest oil discovery came from this basin.
The Midland Basin of the Wolfcamp Shale area in the Permian Basin is now estimated to have 20 billion barrels of oil and 1.6 billion barrels of natural gas, according to a new assessment by the USGS.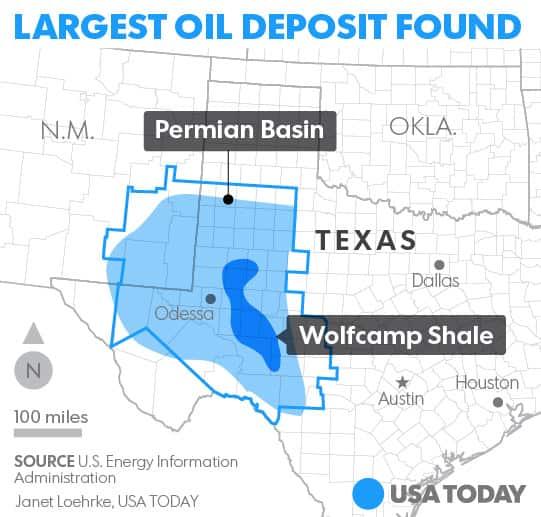 Yes, that's right, the US shale came back to life, revived by oil prices around $55 per barrel, and if oil prices reach the $60 per barrel, the Permian will be followed by other places such as the Bakken and Eagle ford for example.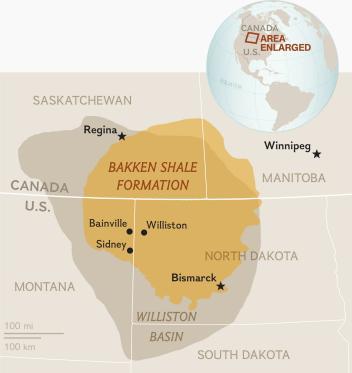 II - Despite a good start the long-term compliance is still fragile and uncertain.
1 - Libya, Nigeria and Iraq for example are the wild cards in this game.
Iraq can't count on self-governed Kurds in the country's north or international oil companies to help it cut crude production as promised at an OPEC meeting last week. That may leave the country with no option but to slash state-controlled supplies to comply with its quota. Under the deal the Organization of Petroleum Exporting Countries reached last Wednesday, Iraq must reduce crude output by 210,000 barrels a day from October levels. Uniquely among OPEC members, it shares production with a semi-autonomous region that accounts for about 12 percent of its total output. International companies including BP Plc and Royal Dutch Shell Plc pump most of the rest.
2 - Russia is the most manipulative, in my opinion. According to Reuters.
Russia plans to use its November oil production, which was its highest in almost 30 years, as its baseline when it cuts output under this week's deal with OPEC, Deputy Energy Minister Kirill Molodtsov said on Friday. […]

Its daily oil production rose to an average of 11.21 million bpd in November, Russia's highest since the Soviet era, energy ministry data showed on Friday. That was 500,000 bpd higher than in August, the month before Russia and OPEC reached a preliminary agreement in Algiers to cap production.
Yes, that's right, Russia increased production in November to 11.21 MBOPD, 500 KBOPD higher than in August and now the Country is committing to cut production by 300 KBOPD, which is a net increase of 200 KBOPD.
III - The shrinking oil market "contango" in 2017 may play an important role in balancing faster supply and demand.
The oil futures curve has started to flatten, which is to say that instead of near-term contracts trading at a steep discount to futures further out - a structure known as a market "contango" - oil for immediately delivery is starting to move closer to parity with contracts six months or a year out. The shrinking contango will be a central determinant in how quickly the oil market moves closer to a balance in supply and demand. Indeed, this could be a key objective for OPEC - flattening out the futures curve in order to induce a faster drawdown in the enormous volume of oil sitting in storage.
The author indicate that it is a sign that the commodities markets believe that the OPEC cut deal will be successfully implemented and will be a central determinant in reducing the oil storage glut.
A contango that narrows and ultimately flips into backwardation makes storing oil a money-losing proposition since one would have to pay for storage costs and then ultimately sell oil at a lower price later on. If backwardation holds, inventories could start to get unloaded much quicker than they otherwise would have, which of course, will lead to higher oil prices.
IV - Double-edged sword flag. The Hedge funds record bullish position.
On February 6, 2017, according to Reuters:
Hedge funds have accumulated a record bullish position in crude futures and options, betting on further price rises, but the lopsided nature of the positioning has become a key source of risk in the oil markets.

... Fund managers added an extra 41 million barrels to their net long position in the seven days to Jan. 31
The large bullish concentration of hedge funds long position is viewed as an important source of price uncertainty in 2017.
Fund managers apparently believe output reductions by the Organization of the Petroleum Exporting Countries and other exporters will succeed in draining excess global inventories and pushing prices higher.

... Managers are also discounting the threat from renewed drilling in the United States and a likely increase in output from shale producers, at least in the near term.

... With so many fund managers now positioned in the same [LONG] direction, the risk of a rush for the exits, a disorderly liquidation of positions and a correction in prices has risen significantly
Conclusion:
2017 promises to be an interesting and a challenging year again for oil prices. I am, by nature, a skeptic. Usually, if something sounds too good to be honest, I tend to not believe it. Forces that are equal in size but opposite in direction are at play here and the future outcome means almost certainly a fragile status quo.
Newton's Third Law, leads me to believe oil prices will eventually balance around $55-$60 a barrel at least until June 2017.
Stock traders make often important decisions based on psychological factors, including emotions, and may place unrestrained weight on certain information at the expense of other pertinent ones, just because they do not fit somehow.
There is plenty of emotion in the barrel of oil, may be more than the world really needs to function properly.
Oil volatility will definitely be lower in 2017 compared to 2016, in my opinion. OPEC and non OPEC countries are off to a good start and compliance is very encouraging for now. However, we are still dealing with plenty of uncertainties and divergent interests that are colliding constantly. The game is still on...
Important note: Do not forget to follow me on the oil industry. Thank you for your support.
Disclosure: I/we have no positions in any stocks mentioned, and no plans to initiate any positions within the next 72 hours.
I wrote this article myself, and it expresses my own opinions. I am not receiving compensation for it (other than from Seeking Alpha). I have no business relationship with any company whose stock is mentioned in this article.