In September, I posted an article comparing Goldman Sachs (NYSE:GS) with JPMorgan Chase (NYSE:JPM) in which I thought GS was moderately overpriced and would experience some turbulence in the coming months. The stock did sell off in the following weeks, but has rallied tremendously since the beginning of October, up over 50% in just over 4 months. This article will take a quick look at its 2016 results to determine if this rally is justified and whether or not the valuation makes any sense.
GS ended 2016 with non-interest revenues of $28.0 billion, down 8.9% from 2015. This represents the first time since 2011 that non-interest revenues were less than $30 billion. Revenues were lower primarily due to an 11% decline in investment banking and an 8% decline in investment management fees. Lower volume in M&A and decreased client activities amid a difficult market environment for most of the year led to lower investment banking fees; and the difficult market environment proved to be challenging within the investment management business as incentive fees lagged the previous year. Market sentiment seems to have shifted over the past several months, so the expectation is that both investment banking and investment management should see higher volumes, at least in the first part of 2017.
While some competitors managed to increase net interest income in 2016, GS saw a continued decline, with NII decreasing almost 16%. In fact, NII of $2.6 billion in 2016 is the lowest since the financial crisis in 2008, and it represents a decrease of 65% from its peak of $7.4 billion in 2009. Granted, the declining interest rate environment has had a lot to do with this. However, Morgan Stanley (NYSE:MS) posted a nearly 20% increase in NII in 2016, which was the fourth straight year of increases, and JPM, while basically flat over the past few years, did manage to increase NII about 6% in 2016. Nevertheless, net revenues at GS declined 9.5% in 2016 to $30.6 billion, the lowest total since 2011, and well below the peak revenues of $45.2 billion in 2009. So, overall, not exactly a positive picture on the top line.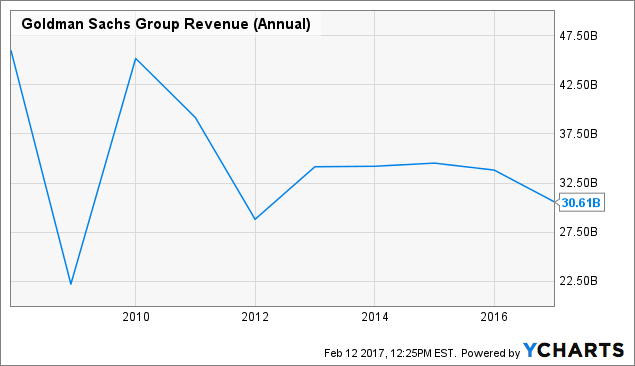 GS Revenue (Annual) data by YCharts
Despite these lackluster top-line results, GS has been able to manage its expenses quite well during this challenging environment. Operating expenses decreased 19% in 2016, led by lower litigation and legal expenses. The highly watched compensation expense, which is key to financial firms, decreased nearly $1 billion to its lowest level since 2008, representing 38% of net revenues, about average over the past few years. The efficiency ratio, a measure of a firm's expenses to net revenues, declined from 0.74 in 2015 to 0.66 in 2016, which is about average for GS.
In the face of declining revenues and strict expense controls, GS reported net income from continuing operations of $7.4 billion in 2016, an increase of 22% over $6.1 billion in 2015. Net income margin of 24.2% was much improved from the 18.0% reported in 2015 and is the highest since 2009. The five-year net income CAGR is a very strong 10.7%. Furthermore, in 2016, diluted EPS increased 34% from 2015 levels and now sport a 29.3% CAGR over the past five years. Obviously, part of the EPS growth is due to the 172 million reduction in common stock over the past several years.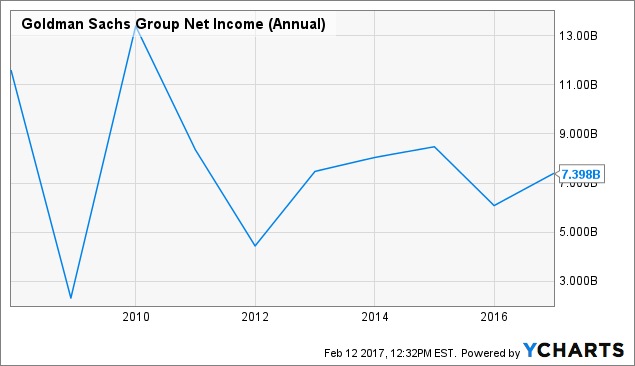 GS Net Income (Annual) data by YCharts
From a balance sheet perspective, GS is in much better shape today than it was a decade ago. The balance sheet is actually about 6% smaller today than it was at the end of 2012. Total liabilities were approximately 90% of total assets at the end of 2016, compared with over 92% at the end of 2011. Shareholders' equity has increased from a low of 7.6% of total assets at the end of 2011 to about 10% of total assets at the end of 2016. GS and other major banks are still highly leveraged, just less so than the days leading into the financial crisis. Debt to equity has nearly been reduced by half, from 2.3 in 2009 to approximately 1.0 in 2016. Return on common equity was approximately 9.4% in 2016, compared to 7.5% in 2015, but much lower than the double-digits in the earlier part of the decade.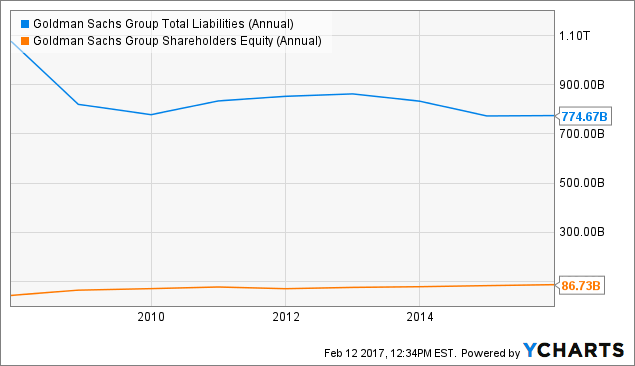 GS Total Liabilities (Annual) data by YCharts
Overall, the company presents a mixed financial picture over the past several years. Top-line growth has been a challenge, expense control has been tight and income has increased along with EPS. Stock repurchases have provided a nice tailwind for earnings, yet the balance sheet remains adequately capitalized.
I think the stock price performance presents a different picture of what is actually happening at the company. Since the 2016 low in June of $140, the stock is up over 73%, compared to the S&P 500 which is up less than 20%. Book value is up about 3% during this time. The stock is currently trading at a P/B ratio of 1.32, which is about 32% higher than its average P/B. In addition, the stock is trading at a P/E ratio of 19.1x LTM, about 47% higher than its average P/E. By these simple measures, the stock is about 30-50% overvalued. By comparison, MS is trading at a P/B and P/E of about 1.2 and 14.6.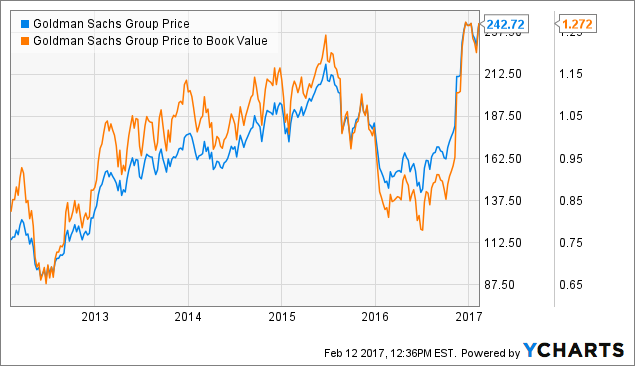 Furthermore, book value only increased 6.7% for all of 2016. Clearly, the stock gains have far outpaced the gains in book value. For the stock to trade at its average P/B ratio, book value would have to increase about 27%, or about $20 billion on an equity base of $75 billion. Even if the company repurchased the remaining shares on its current repurchase plan and generated modest income growth over 2016, I still only calculate a 7% increase in book value. Using the P/E ratio, EPS would have to increase to almost $24 just to trade at the average P/E of 13x LTM earnings. This would require net income to increase about 30% over 2016. Current year EPS estimates are about $19.
The most that net income has increased in a single year in recent history was a 68% increase in 2012, on the heels of a terrible 2011. 2016 was a decent year; not great, but not terrible either. 2017 will have to be a blow-out year, with increasing top line, improved net interest income and further expense controls to get to earnings that justify the current stock price. I have a hard time seeing all that happening. In other words, the stock is currently priced to perfection.
I do feel fairly confident, though, barring a major market meltdown, that GS will produce 2017 EPS of about $18.00-18.25, which is a nice 12% year-over-year increase, but not quite as optimistic as the average analyst. The optimism from a new Republican Congress and a bold Trump Administration could very well continue to push multiples even higher in the short term. However, lack of action in Washington or a President who could potentially overstep his Constitutional authority could very easily push investor optimism aside, and stocks could easily reverse the "Trump Bump." As a long-term value investor, I would like to see this stock pull back to at least its book value of about $182 before I take a look. That represents a modest 20% decline from its current levels. This level would provide investors with a higher probability of achieving decent long-term returns, rather than the 1.2% pittance that investors have earned over the past ten years on this stock.
Disclosure: I/we have no positions in any stocks mentioned, and no plans to initiate any positions within the next 72 hours.
I wrote this article myself, and it expresses my own opinions. I am not receiving compensation for it (other than from Seeking Alpha). I have no business relationship with any company whose stock is mentioned in this article.