It's been an exciting start to the year for precious metals investors as both gold (NYSEARCA:GLD) and silver (NYSEARCA:SLV) have seen a massive comeback. Both commodities have risen over 10% from their December lows, with silver decisively leading the way. Despite this resurgence, a couple silver stocks still have aggressive short positioning. First Majestic Silver (NYSE:AG) has a short position on it of 8.5%, while Asino Silver Mines (NYSEMKT:ASM) has short interest of nearly 5%. While this is nowhere near the short positions on some gold stocks, I find it quite unwarranted given the recent breakout in silver. Not only has the commodity broken out, but the Silver Juniors Index (NYSEARCA:SILJ) is now well above its 200-day moving average. This is not a time to be short the silver miners. The bears that hoping to cover at lower prices may be in for a valuable lesson if they stick around much longer.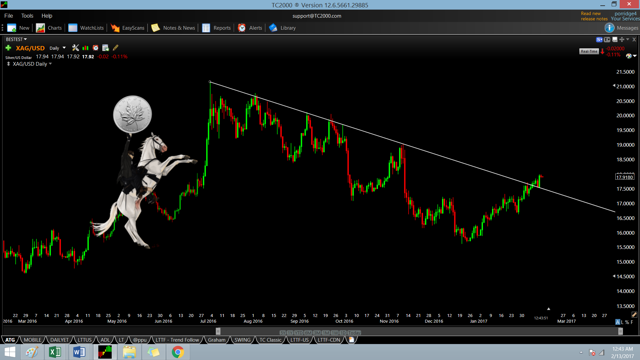 (Source: TC2000.com)
Despite being very aggressively long gold and gold stocks the past month, I was unfortunately stopped out of my silver long position in mid December. I had gone long silver from $16.69, and was shaken out of the trade just below $16.00 for a loss of 0.8% of my trading portfolio. While it's not fun to be stopped out near the lows, following my rules is more important to me. Without discipline even the best trading system in the world can see an account reduced to rubble. This is why as frustrating as it was to let go of my silver longs at the lows, I had no choice. For me, I consider a winning trade to be one that I followed my rules, even if it did result in a loss. Making money while breaking my rules is one of the least satisfying things to me, as this is only reinforces bad and reckless habits.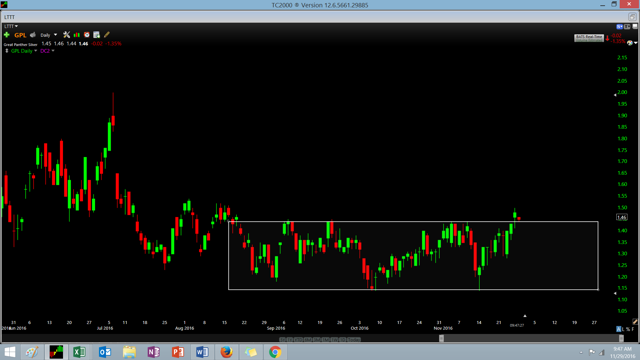 (Source: TC2000.com)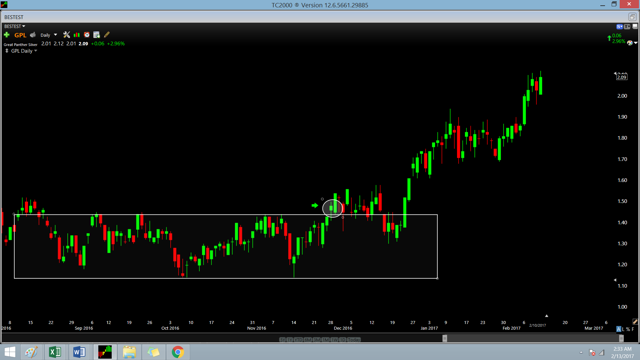 (Source: TC2000.com)
Luckily to make up for my misfortune in silver, I've been playing Great Panther Silver (NYSEMKT:GPL) since late November. I highlighted the technical breakout for the stock in my article last year, and the stock is up 45% since. The stock is the strongest performer over the past 2 months in the silver space, and has doubled the performance of the SILJ over the same period. The moral of this is that there's no need to stay with positions that aren't working, as there's always something else breaking out.
Before I veer off on a tangent about the benefits of trend following, I'll get back on track and discuss the current outlook for silver.
Bullish sentiment on silver reached its highest level in 5 years this summer, as it registered a reading of 97% bulls on July 6th. This was not a time to be starting new long positions in silver, and was a red flag to be careful of a change in trend going forward. I was not long silver at the time, but tightened up my stop significantly on my Fortuna Silver (NYSE:FSM). Since that time, bullish sentiment has fallen off a cliff, and touched the complete opposite end of the spectrum. Silver sentiment reached 6% bulls on December 15th, meaning there were over 15 bears for every 1 bull in silver. Just as the 97% reading was a time to be cautious, this was a time to be on the look-out for a trend reversal back to bullish. We can see this rollercoaster in emotions displayed in the chart I've built of DSI data below: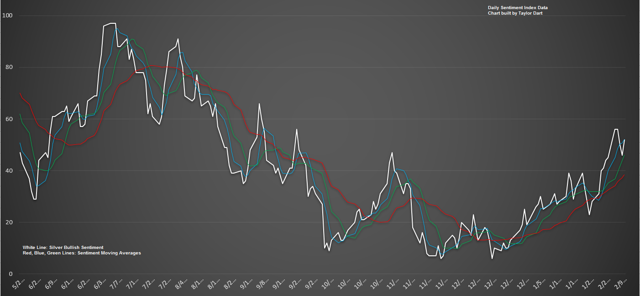 (Source: Daily Sentiment Index, Author's Chart)
As we can see in the above chart, after touching a reading of 97% bulls, sentiment broken below all of its moving averages. This was an ominous sign for the commodity, and was confirmed when the 20-day sentiment moving average (red line) finally rolled over. Bullish sentiment for silver then spent the next 4 months in a downtrend, before a final bout of panic selling in mid December. This day of panic selling actually put in a double bottom on the sentiment chart, and the increased optimism in January has allowed sentiment to break out of this downtrend.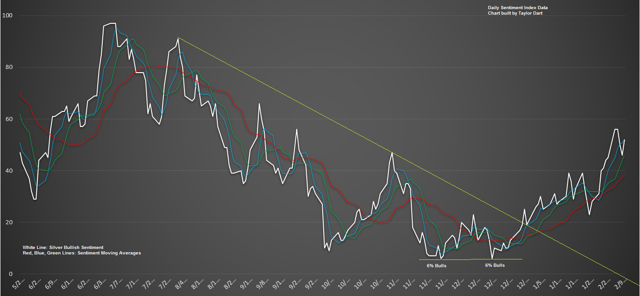 (Source: Daily Sentiment Index, Author's Chart)
So what does this mean for silver?
This setup is similar to what occurred in February of 2016 for silver, and is a very bullish development. When sentiment begins to trend higher above its moving averages after a period of extreme pessimism, it's a time when I want to be establishing positions to the long side. For this reason I went long silver on January 31st at $17.44.
As long as silver continues to ride its sentiment moving averages and trend higher, my sentiment trend system using DSI data will remain in bullish alignment. This is a very positive sign for those long silver and silver stocks, and even more encouraging is the fact that sentiment on the commodity is nowhere near exuberant.
So what about the technicals?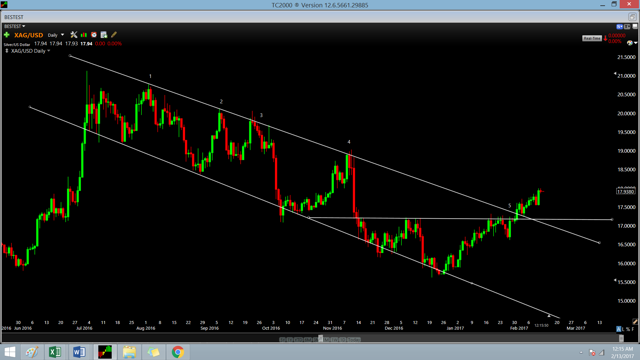 (Source: TC2000.com)
Taking a look at a daily chart of silver, we can see that the metal has been locked in a descending channel since July of this year. Silver had tapped the top of this descending channel 5 times heading into late January, and I expressed in a recent article that a breakout was likely imminent. The more obvious a pattern becomes, the less likely it is to continue working. Those that had simply shorted silver against downtrend resistance were making money far too easily, and it was time for the market to finally fool the shorts. As of January 31st silver cleanly broke out of its descending channel, and this was the basis for my new long position.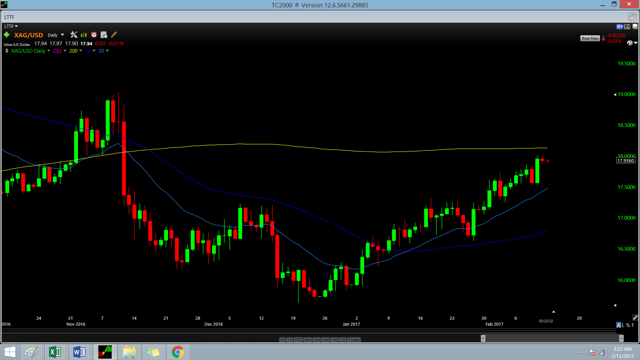 (Source: TC2000.com)
Taking a look at silver from a trend following perspective, we can see that the metal only has one real resistance level left. The 200-day moving average (yellow line) sitting above is my line in the sand for bull and bear markets, and it may provide resistance on silver's first test there. The 200-day moving average sits at $18.15 and I would likely to see silver close above here before all my time-frames kick into bullish mode. This will not change my positioning if we fail here as I have no interest in trading silver at this juncture. As long as silver remains above $16.41 I will remain in this position, and below there I'll be forced to stop out. The newly rising 50-day moving average should provide support for silver on any dips, and I am quite confident we're on the verge of a new bull market. The fact that silver has risen nearly 15% off its lows yet sentiment is still divided tells me that we still have many more bulls left to convert in the commodity.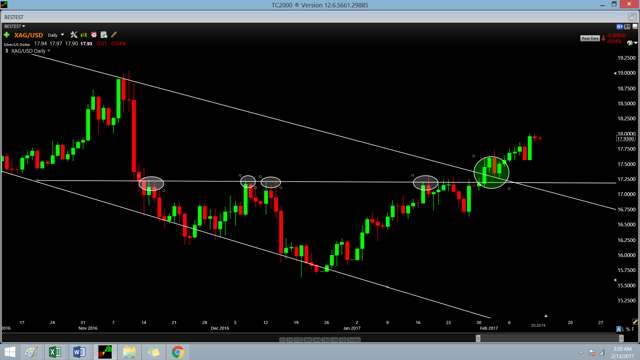 (Source: TC2000.com)
Zooming into the first daily chart above, we can see silver has not only broke out of its downtrend, but also above horizontal resistance. Horizontal resistance at $17.20 had rejected the metal 4 times in the past 3 months, and I would now expect this level to become support. Not only is $17.20 now horizontal support, it also coincides with a back-test of the downtrend line. The rising 50-day moving average is moving up at a pace of nearly a nickel per day and will also move into our $17.20 support zone within the next 7 trading days. For this reason I see $17.00 - $17.20 as very strong support, and believe this would be a buy the dip scenario. I am very underweight silver despite being 62% long gold stocks across my accounts, so I would use weakness here to begin establishing positions in the space. This does not mean I am expecting a pullback in silver, I am simply providing a level where I believe would be great risk/reward for me to get some exposure.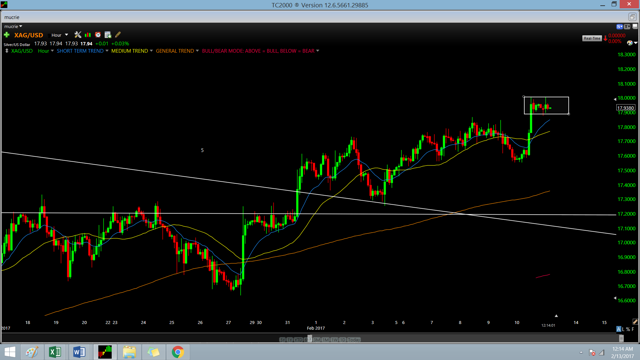 (Source: TC2000.com)
Finally moving to my shorter term trend system, we are in 'max bull' mode. The short term moving average is above the medium term moving average, while the general trend is sloped higher. According to this chart, any deep corrections should find strong support at $16.85. As we can see from the hourly chart above silver is thus far showing strong commitment to its breakout. The metal has been basing in a flag formation for the past day and is holding in the upper range of Friday's strong breakout. This is a good sign for bulls, and I believe it's only a matter of time before we take a run at resistance at $18.90. The only road-block in silver's way is the 200-day moving average, and a close above there ($18.15) will open the door to higher prices very quickly.
I expect silver to have a very strong 2017 if we can close and hold above the $18.15/oz level. I will be spending the majority of this week trying to build exposure in the silver space in breakouts that I feel present the best risk/reward. I will be highlighting potential setups in my 'best in breed' silver miners in my newsletter this week at TaylorDart.ca, and plan to free up cash to participate in these breakouts. With the sentiment trend and the price trend on the cusp of being aligned together, this is the best time to be long silver since late February of last year. The metal has come off one of its most pessimistic readings in nearly 12 months in December, and is now bullish on almost all time-frames. The last ingredient for this bull market to be confirmed is a close above the 200-day moving average, and I'll be watching this level closely going forward.
Disclosure: I am/we are long SLV, GPL.
I wrote this article myself, and it expresses my own opinions. I am not receiving compensation for it (other than from Seeking Alpha). I have no business relationship with any company whose stock is mentioned in this article.
Additional disclosure: If you liked this article and found it useful, please feel free to follow me by clicking on my name next to my avatar at the top of this article. I also invite you to follow me at www.Taylordart.ca where I showcase my top 10 takeover targets in the gold space, as well as my top 10 gold producers to play this bull market with.