Data published on Friday by the International Energy Agency (NASDAQ:IEA) purportedly show that OPEC is 90% compliant with its promised production cuts. IEA measures compliance by dividing total cuts by the sum of the individual cuts announced, not the OPEC ceiling (32.5 with Indonesia), nor by individual members.
According to one news report, there was skepticism that all OPEC producers would actually make the promised cuts, but now compliance is reported to be 90 percent. It's being called a 'record,' 'amazing' and 'fantastic,' but it's not the true bottom-line. The IEA should have known better.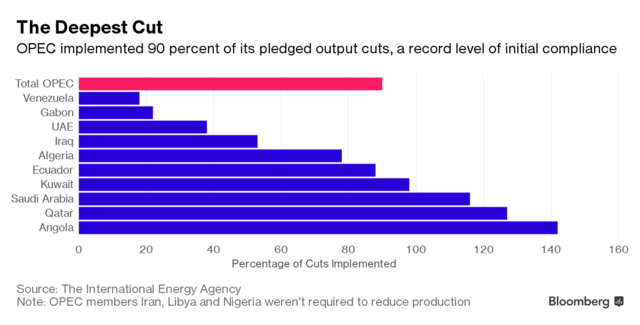 When the agreement was drawn up, it included Indonesian production volumes, even though that country had suspended its membership in the organization. As a result, the ceiling for the group (without Indonesia) is effectively 31.8.
Also, the reference production for the agreement was 33.4 (excluding Indonesia). According to the IEA, OPEC production averaged 32.1 for January. Therefore, the cut was 1.3 million.
But OPEC needed a cut of 1.6 million to reach 31.8. And therefore the cut was 81% compliant with the total ceiling. The difference is 300,000 b/d, which is significant.
In addition, only 3 members were 100% (or more) compliant in January, though Kuwait is close to 100%. At the OPEC Monitoring Meeting in January, the Kuwaiti oil minister, who chaired the meeting, stated that OPEC will accept nothing less than 100% compliance with the quotas, but his country delivered less than 100%.
One way to look at compliance is that individual OPEC members are only 30% or 40% compliant (3 or 4 in 10). This is not the 90% being reported or implied by the media.
The hole in OPEC's agreement is that there are no ceilings for Nigeria and Libya, nor any effective mechanism to adjust production levels for other members as these two producers increase production. Based on other data, those two producers plus Iran increased output by about 300,000 b/d in January.
This crack in the agreement could deepen significantly since Libya and Nigeria may be able to increase their combined output by 500,000 to one million barrels per day during 2017. The net cut in January may be the largest OPEC cut this year, as Libyan and Nigerian output increases further, offsetting other members' cuts.
Separately, non-OPEC cuts were reported to be 40% compliant. This is due to the Russian "phased-in" implementation of its cuts. I have previously explained why the Saudi and Russian reductions are largely seasonal declines, masqueraded as production cuts.
Conclusions
OPEC's compliance is being misreported. Including all OPEC members' production against the group's agreed-upon ceiling, it is 81% compliant. Counting individual countries, 30% are compliant, or 40%, if Kuwait is included.
An OPEC and non-OPEC technical committee is scheduled to meet on February 22nd to determine how to assess compliance. I think they will likely go with the method that yields 90% compliance, hoping investors do not notice the sleight-of-hand.
Disclosure: I/we have no positions in any stocks mentioned, and no plans to initiate any positions within the next 72 hours.
I wrote this article myself, and it expresses my own opinions. I am not receiving compensation for it (other than from Seeking Alpha). I have no business relationship with any company whose stock is mentioned in this article.