The S&P 500 vaulted further into record territory last week, boosted by President Trump's announcement of "big league" progress on tax reform within weeks. The rally pushed the S&P 500 up against trendline resistance, while the ongoing compression of volatility sent the VIX towards single-digit territory. Once again, gains in stock prices were fueled by optimism about the future. However, next week, the market will be forced to trade on the reality of hard economic data, with a slew of new data on inflation (both PPI and CPI), retail sales, industrial production and jobless claims.
In addition, we'll get speeches from five regional Fed Presidents and Janet Yellen's semiannual monetary policy report to congress. The heavy dose of event risk, against a backdrop of record high prices and extreme volatility compression, could set the market up for some potential fireworks.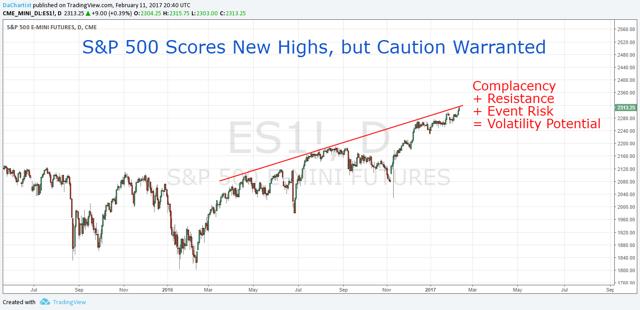 Two key points of divergence could be resolved with next week's data, including:
1) The market's rejection of the Fed's guidance, with Fed Fund futures currently pricing in less than a 35% chance that the Fed follows through on its current guidance of three rate hikes in 2017.
2) The divergence between economic hope and reality.
These divergences between expectations and reality lay the groundwork for repricing risk (i.e. volatility) across asset classes. This article highlights a potential short-term trading opportunity based on the possibility that this week's bevy of new data could provide the catalyst that rerates market expectations with regard to future monetary policy and/or the economic outlook.
Optimal Idea Expression: Currencies over Equities
Expressing a change in monetary policy or economic conditions through an equities bet is challenging due to the lack of clarity in how changes in market expectations would manifest themselves in price action. On one hand, if the Fed causes the market to revert back to a more hawkish outlook, the surface assumption would be that higher interest rate expectations would be negative for risk assets. However, this depends on the underlying economic environment.
When the Fed raises interest rates in a deflationary environment, higher interest rates are a decisive negative for risk assets. This is what happened when the Fed hiked rates in December of 2015 - a period when commodity prices were falling through the floor, GDP was barely positive, and corporate earnings were in a recession. The Fed raised rates in 2015 to preserve its credibility, not due to economic conditions, which sparked an equity market meltdown within days.
In an expansionary (or perceived expansionary) environment with higher growth and/or higher inflation, higher interest rates are less threatening to equity prices. This was the case when Greenspan raised rates from 2004-2006, which coincided with a bull market in equities. Also, last December's rate hike did nothing to stop equities from soaring to new record highs just weeks later. Further, higher rates can boost financials earnings in the short term, which represent a major contributor to the current equity rally.
On the other hand, weaker economic data and a dovish Fed could reintroduce the "good news is bad news" dynamic, where the "Fed Put" is re-established in the minds of market participants. The bottom line is that, even if we knew in advance how the Fed would guide markets next week or what the economic data might look like, it's not entirely clear how equity prices would react.
Dollar Provides Direct Exposure to Interest Rate Expectations
The U.S. Dollar, however, is trading almost entirely on interest rate expectations (save for the recent attempts at jawboning the Dollar lower by the Trump administration). The catalyst that sent the Dollar rocketing through the 100 level on the DXY in late December was the Fed's unexpectedly hawkish guidance for three rate hikes in 2017, compared to the market's expectations for only two rate hikes in 2017 prior to the meeting. Yet, equities shrugged off this forward guidance, and managed to soar to new record highs weeks later.
Thus, the Dollar is capable of extreme moves based on as little as one change in the forward schedule of rate hikes. Further, the Dollar is currently at a critical juncture, with a battle between bulls and bears playing out at the key 100 level on the DXY. This key level, combined with the current divergence between current Fed guidance versus market expectations, has set the stage for significant volatility during next week's event risk that will clarify the outlook for interest rates and monetary policy going forward, as summarized below: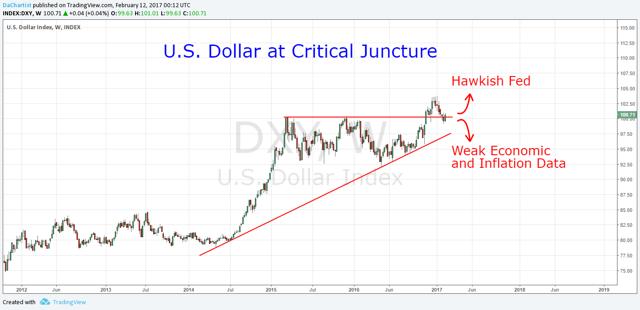 The Fundamentals: Fed Credibility Under Threat
Another reason to expect volatility next week is because the Fed's credibility has quietly come into question again in recent weeks. Despite the Fed providing guidance for three rate hikes in 2017 last December, the market is currently pricing in less than a 35% chance of this happening. Of course, the market has every reason to question the Fed. The following chart shows how the Fed has consistently over-promised and under-delivered on rate hikes for the last several years.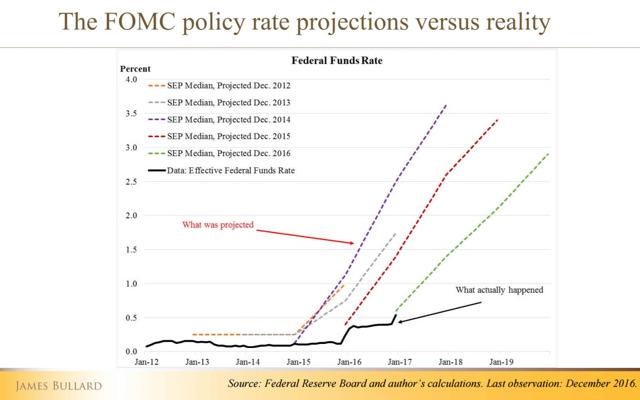 However, the Fed showed in December 2015 that it will fight to preserve its credibility, even if that means raising rates when economic conditions clearly don't warrant it. And despite some signs of cracks emerging under the surface, the bulk of the economic data the Fed supposedly pays attention to are clearly more conducive to a higher interest rate environment compared with December of 2015.
Yet, the market is essentially calling the Fed's bluff on rate hikes. The following chart shows how the market's view of the Fed following through on its forward guidance have come down since late December - mirroring the decline in the dollar during that time. With six key Fed speeches this week, will Yellen and crew want to reassert their credibility with a hawkish rebuttal? If that happens, I don't think it's unreasonable to expect similar upside movement in the dollar as what we saw in late December.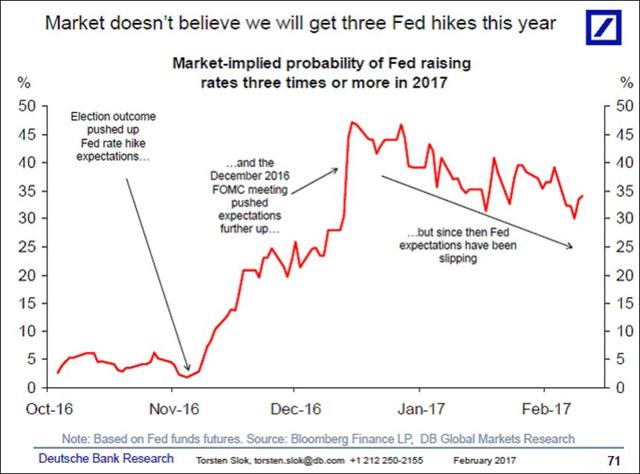 Conversely, if the Fed does roll over and walk back the guidance they just provided just weeks earlier, what data will justify this dovish reversal? The inflation numbers definitely wouldn't provide any cover, with both the CPI and the PCE trending higher over the last several months. In fact, the Fed's preferred PCE measure officially crossed the Fed's supposed 2% target in December for the first time in years.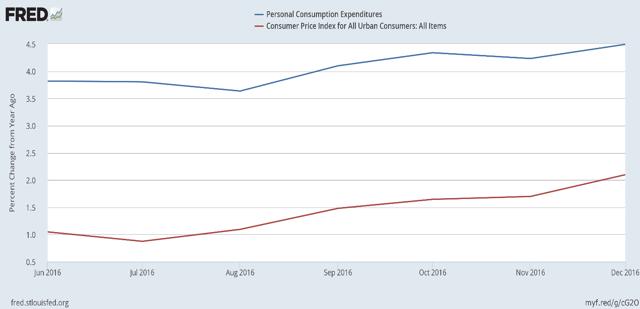 Also, import prices are surging: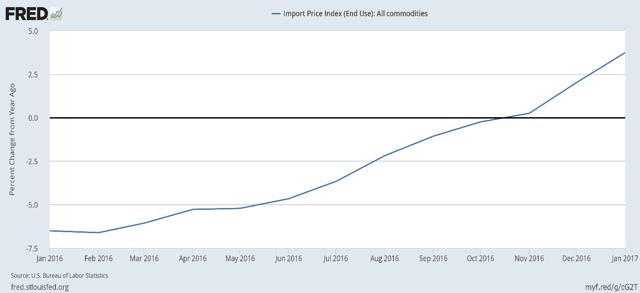 So the Fed has official confirmation that the first half of their dual mandate is more than satisfied, with their preferred inflation measure running above their 2% target. What about the other half of their dual mandate- achieving full employment? This is where the situation gets a bit murkier.
On the surface, the job market appears robust. The unemployment rate is below 5%, and the January jobs report beat expectations with a robust 227,000 jobs created last month. Under the surface, however, there's reason for caution. I covered these reasons in a recent article, which also discusses a broader range of economic data that indicate weak trends in retail sales, consumer health and business hiring/expansion.
Further, consider the following chart showing a drop-off in S&P 500 hiring: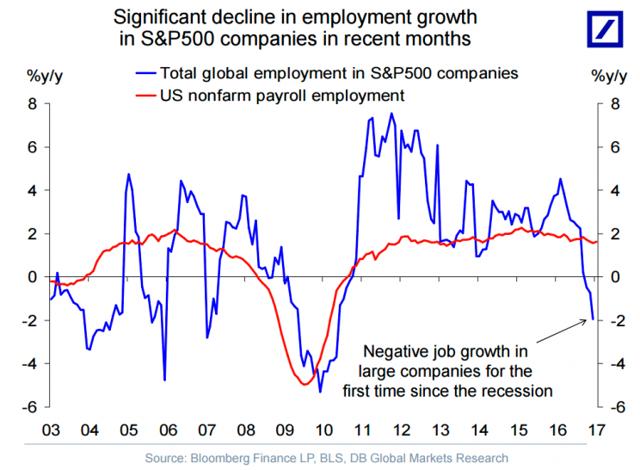 Of course, the rebuttal to the bearish outlook on the economy is the supposed upturn in corporate profits. This topic deserves an entire article by itself, but suffice it to say that corporate America is not immune to its own version of fake news, in the form of fake, or "adjusted," earnings. However, when it comes to tallying revenues/profits for tax purposes, corporations are forced by law to report honest numbers to Uncle Sam. Thus, the following chart of corporate tax receipts should prove worrisome for those buying into the prospects of improving corporate fundamentals: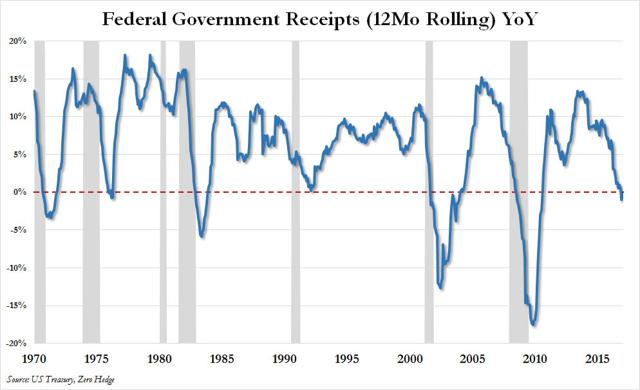 This deterioration in sales/earnings correlates with the recent drop-off in hiring, suggesting things aren't as rosy as they might appear in some of the headline numbers. For these reasons and more, I'm expecting weakness in the upcoming economic data, which could crush the recent surge in economic optimism. However, economic weakness won't necessarily imply a decline in inflation - the 1970s showed us that it's possible to have a weak economy and spiking inflation, creating the dreaded conditions of stagflation.
Next week's monetary policy speeches and economic data could provide the catalyst to realign market perceptions with either a more hawkish Fed, or the possibility of a weak and/or stagflationary economic environment. Either of these developments will likely result in major movements in the U.S. Dollar.
Unfortunately, retail investors have relatively few options to trade directly in the Dollar, but one could use precious metals as a liquid inverse proxy for the U.S. Dollar. That is, the same developments that would prove bullish for the Dollar will likely prove bearish for gold, and vice versa. Interestingly, despite next week's gauntlet of event risk, precious metals options prices are currently pricing in relatively low levels of potential volatility, creating an interesting short-term trading opportunity.
Employing a Gold Straddle to Harvest Rising U.S. Dollar Volatility
For perspective, last December when the Fed surprised the market with a guidance for three rate hikes in 2017 compared with market expectations for only two, gold prices declined by approximately 3% in two days. Then, prices stabilized and then rallied above their pre-rate hike levels as the market gradually pared back its expectations to only two rate hikes in 2017.
If the Fed provides hawkish guidance that causes the market to once again shift from the current view of two rate hikes back towards three, I suspect we could see at least a 3% move over the course of next week, plus a rise in volatility. Conversely, should the market get further confirmation of a dovish Fed outlook, and if inflation remains elevated in the context of weakening economic data, the market may begin pricing in the possibility of a stagflationary dynamic developing.
In this scenario, it's plausible to expect at least a 3% move higher in gold prices. Now, let's see what options prices currently indicate the potential range of price movements in the ETF proxy for Gold (ticker: GLD) next week:
Last Friday (2/11/2017), when the GLD ETF closed at $117.60, the $117.50 call/put option combination for strikes expiring this week (2/17/2017) were trading at the following prices:


Assuming you pay the midpoint between bid/ask prices, you could buy the 117.50 call/put straddle combination for a total premium of approximately $1.65 ($0.87 for calls + $0.78 for puts). This implies that the market currently expects GLD to move less than 1.5% in the next five days of trading.
In other words, in a week jam-packed with event risk on monetary policy and economic data, options prices currently imply less than a 1.5% move in GLD for the next five days of trading. Just for reference, between Monday and Wednesday of last week, GLD gained more than 1% with relatively little meaningful economic or monetary policy news.
Of course, with any options trade, especially those of short duration, one should be prepared for the possibility of losing their entire investment. However, in order to lose the entire straddle premium, the GLD would have to end the week nearly unchanged- something I view as a relatively low possibility. Instead, I believe there's significant potential for an approximate 3-5% move in prices, which would correspond with a potential return of 100-200% (assuming optimal buy/sell points).
For those bold enough to predict a directional outcome, even greater returns are possible, albeit with potentially greater risk.
Disclosure: I/we have no positions in any stocks mentioned, and no plans to initiate any positions within the next 72 hours.
I wrote this article myself, and it expresses my own opinions. I am not receiving compensation for it (other than from Seeking Alpha). I have no business relationship with any company whose stock is mentioned in this article.